Giant Black Bean Salad Recipe
A twist on the ubiquitous black bean salad - giant black beans and toasted almonds are tossed with a honey-jalapeno-lime dressing and served with a bit of crumbled feta over a bed of baby arugula.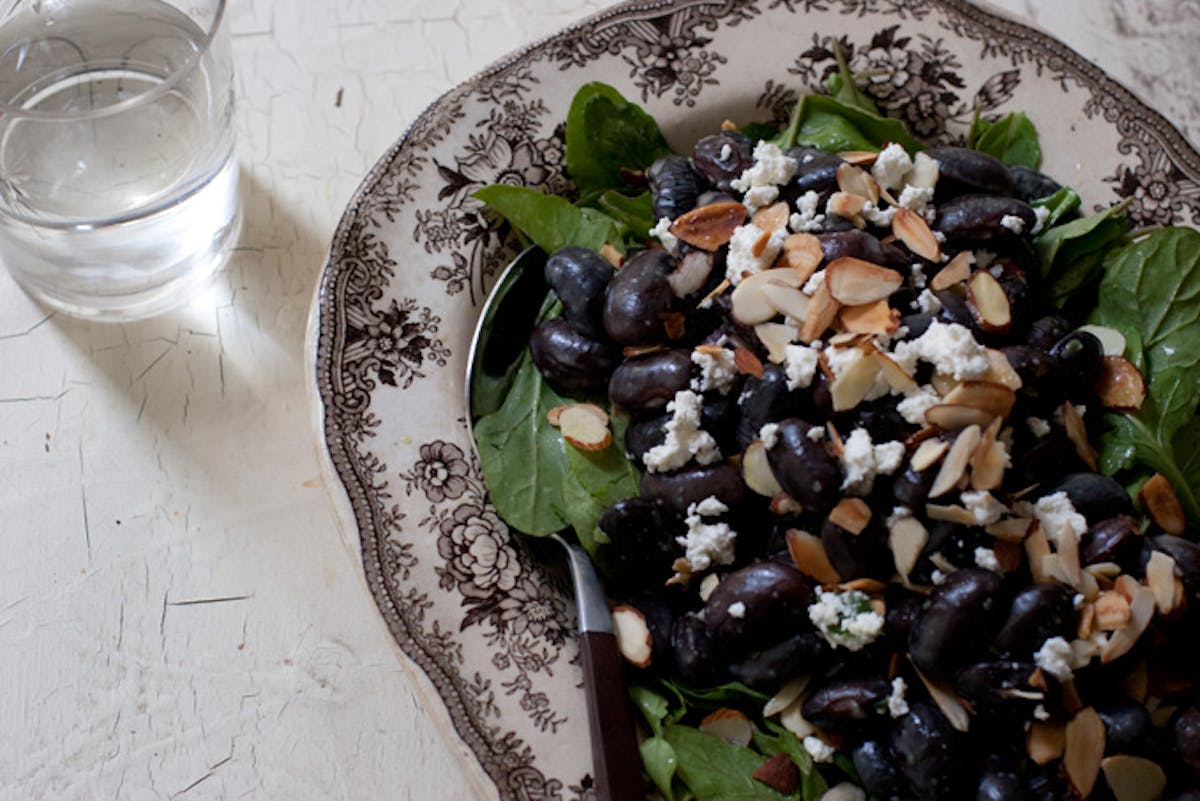 Let's go find summer. There are many times, particularly this time of year, when I turn to Wayne and say these four words. To find summer might mean taking a short stroll west, just far enough to sneak out from under the fog bank. Other times it requires getting in the car and escaping San Francisco altogether. We often go north to Napa or Point Reyes or Stinson Beach. Other times we head south to Pescadero, a little town set back from the coast a couple of miles - home to Harley Farms Goat Dairy and Phipps Country Store & Farm. The last time I was at Phipps a bin of their huge, glossy, black beans caught my attention. These were beans that looked like large black beetles. I bought a bag, and made this salad - black beans and toasted almonds tossed with a honey-jalapeno-lime dressing served over baby arugula and finished with a bit of crumbled feta.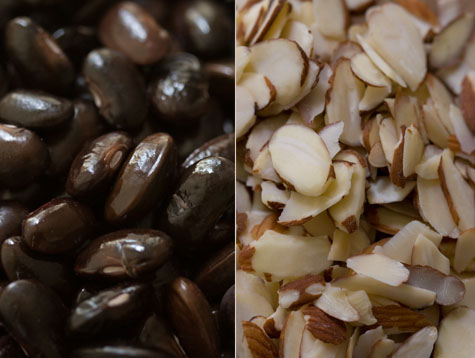 I think this is an example of how you can introduce an element of surprise and delight simply by playing with one element - in this case size. More specifically, the size of the beans. It has the potential to take the ubiquitous black bean salad into fresh territory. I took a bowl of the cooked beans to a friend's house and at a glance she thought I had a bowl full of black olives -when cooked they are the the size of my thumb, from the knuckle up. Super fun.
I think the beans were some sort of black runner beans (out of stock on their site), but don't let it deter you if you can't find the exact bean. I suspect black valentines would be nice here or midnight black beans - neither nearly as large, but still wonderful heirloom beans. I'm tempted to make this salad again using these Ayocote Negro, which I haven't used before.
Also, it probably goes without saying - it is worth it to cook up a pot of beans from scratch for a salad like this. The thing is, the beans are the star, so you want them to have great texture and flavor. But yes, you can substitute canned black beans and the sky isn't going to fall ;) The salad will still be good, a bit mushier, but still tasty.

Giant Black Bean Salad Recipe
2 tablespoons fresh lime juice
1 tablespoon white wine vinegar
1 tablespoon honey
1/2 small jalapeño, seeded, deveined and chopped
1/2 teaspoon fine grain sea salt
1 small garlic clove
1/2 teaspoon mustard
1/4 cup extra virgin olive oil

2 -3 big handfuls baby arugula (or other salad greens), well washed and dried
3 cups cooked black beans
1/4 cup feta, crumbled
1/3 cup sliced almonds, toasted
Start by making the dressing. I use an immersion blender - but a blender or food processor will work just as well. Combine the lime juice, vinegar, honey, jalapeño, salt, garlic and mustard and puree. Add the olive oil and puree until everything comes together. Taste and adjust with more salt, honey, or lime juice if needed. Set aside until you are ready to serve the salad.
Just before you are ready to serve the salad gently toss the arugula with a bit of the dressing. Arrange it on a platter. Now toss the beans and most of the almonds with a generous splash of the dressing. Arrange the beans on top of the arugula and finish by sprinkling with the remaining almonds and the crumbled feta cheese.
Serves 4 - 6.