Ginger Soba Noodles Recipe
Soba noodles tossed with a creamy-ginger dressing and topped with crispy tofu, tarragon, and toasted delicata squash seeds.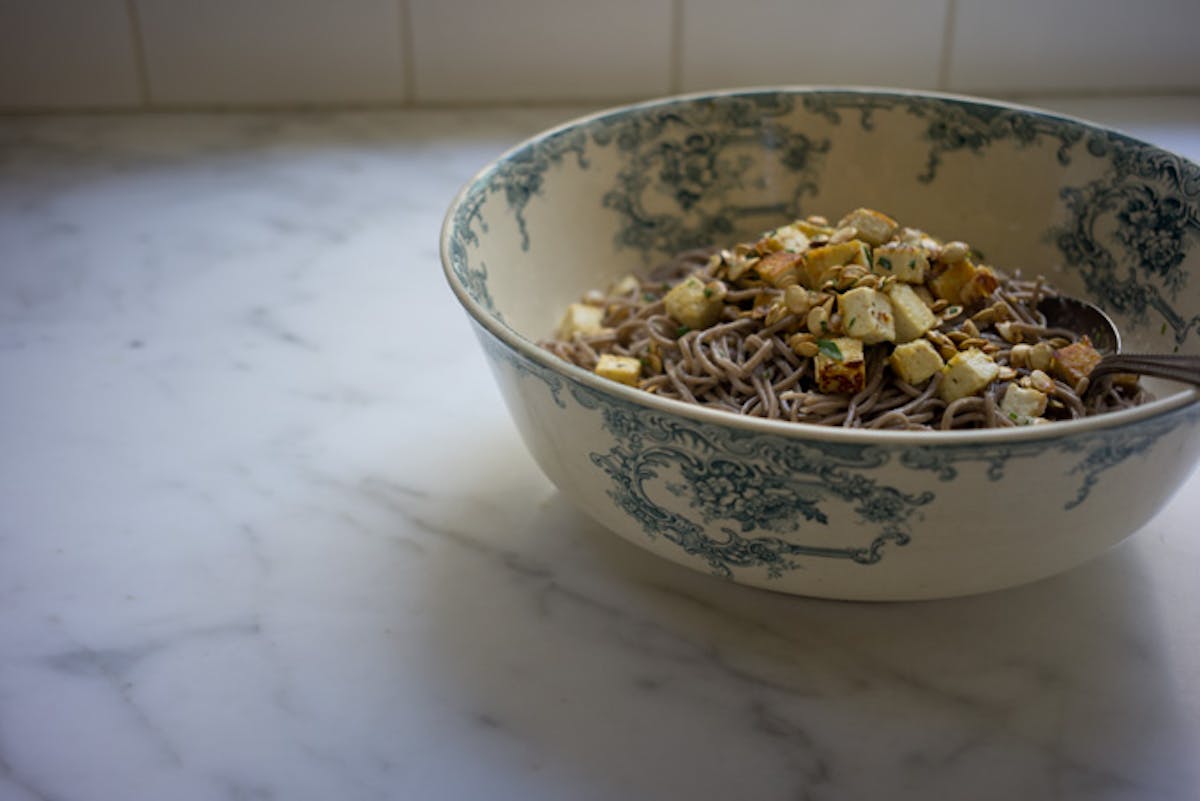 Some things I liked about the past few week: The girl with red tights and a banjo at the bus stop. Standing at Ocean Beach to watch the surfers. Roasting a pan of teensy delicata squash seeds. The skater kid wearing Japanese paper tape as rings. Happenstance meeting with Joy & Tracy outside Tartine. Seeing my girl Bea get married in Palm Springs. Reading all your nice notes. Me, Wayne, & lots of pelicans standing the shore of the Salton Sea. And eating these soba noodles for lunch.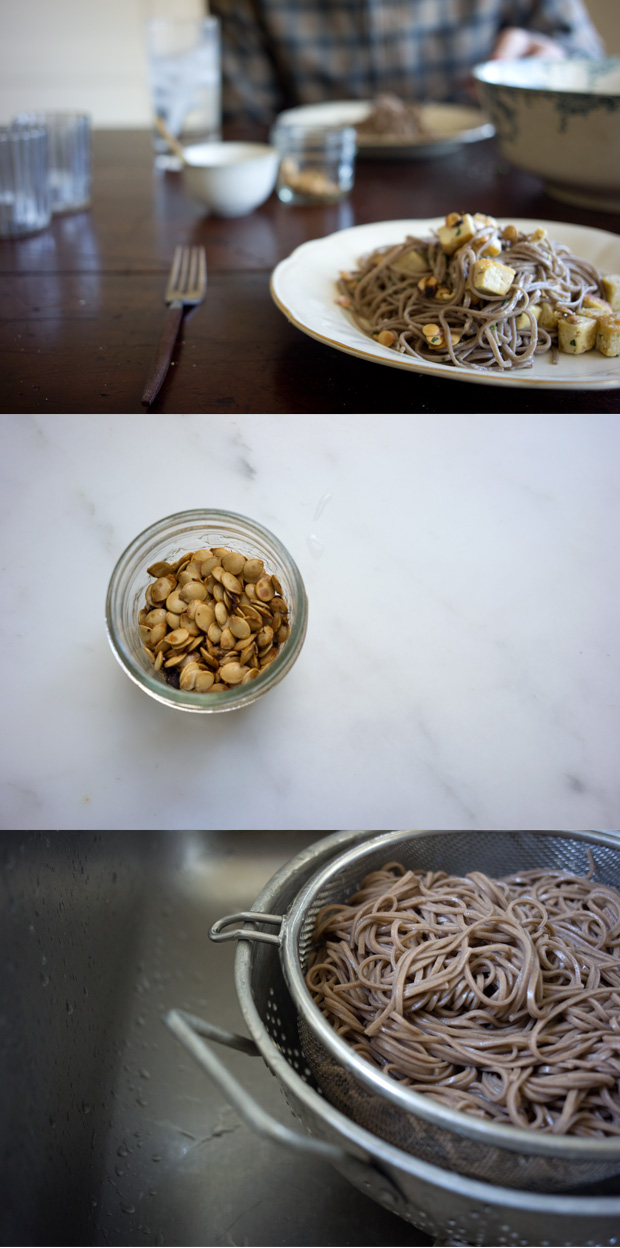 For those of you who cook/roast/bake as many delicata squash as I do this time of year - their seeds are really fun. They're tiny and tasty, and because everyone else throws them out, you rarely see them around. It's a bit of fuss, but they're great in salads, pastas, brittle, and the like. Just clean them, dry them, and roast them tossed in a bit of olive oil and salt at 350F until extra golden.

Ginger Soba Noodles
You can certainly make the dressing a day or two ahead of time. Just give it a good shake and a taste before using - then adjust the salt and balance if needed.
12 oz / 340 g dried soba noodles

Ginger Dressing:

1 tablespoon freshly grated fresh ginger
1 teaspoon toasted sesame oil
zest and juice of 1/2 a lemon
1/2 cup / 2.5 oz / 70 g chopped white onion
1 teaspoon mirin (optional)
2 teaspoons brown sugar or honey
1/2 teaspoon salt, plus more to taste
3 tablespoons brown rice vinegar
1 celery stalk, strings removed, then chopped
1/3 cup / 80 sunflower oil or untoasted sesame oil

3 tablespoons of chopped tarragon, plus more to taste

a few big handfuls of cubed tofu, pan-fried or baked until golden

1/3 cup + toasted squash seeds, pumpkin seeds, walnuts, or sesame seeds
Cook the soba noodles in well salted water, drain, rinse under cold water, and shake off as much of the water as possible.
In the meantime, make the dressing by combining the ginger, toasted sesame oil, lemon zest and juice, onion, mirin, sugar, salt, vinegar, celery, and sunflower oil in a food processor. Blend until very smooth, then press aggressively through a strainer. Taste and tweak a bit if needed - the dressing should have a bit of bite, and an edge. It'll hit the pasta and you want it to be able to cut the starchiness. Set the dressing aside.
In a large bowl, toss the soba noodles with most of the tarragon, the tofu, most of the squash seeds/nuts, and about 2/3 of the dressing. Really get in there and toss well. Add more dressing if needed (I use all of it), and season again until the noodles are to your liking. It's nice to serve this with a few wedges of lemon on the side, or a bit of brown rice vinegar. Finish with the remaining tarragon and seeds.
Serves 4 - 6.
Prep time: 10 minutes - Cook time: 20 minutes