Grandma's Grain Recipe
A simple, single pot mixed grain recipe inspired by a reader email from a grandmother of four - rice, oats, barley, and millet.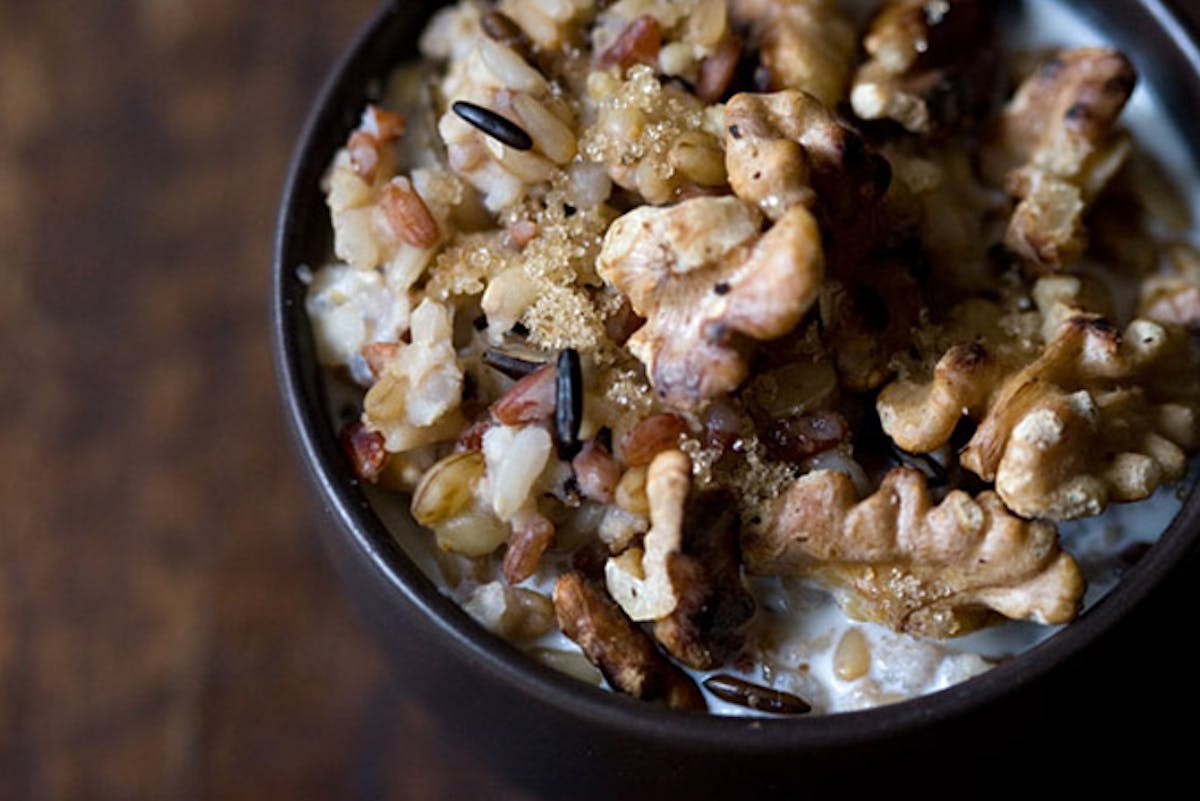 I rarely cook mixed grains because I feel compelled to cook type each grain in a separate pot - a pot for barley, one for rice, another for millet, etc. No one around here looks forward to doing the resulting dishes. It's bad enough scrubbing one rice pot, let alone a collective. Each grain cooks for a different amount of time, hence the need for all those pots - or that's what I thought. Today's recipe is a simple, single pot approach to mixed grains inspired by the following reader email, a grandmother of four...
Dear Heidi...I have three children and four grandchildren. There is one simple dish my three youngest grandchildren totally expect for me to have around when they come to see me. I have named it "Grandma's Grain" and would like to share it with those who frequent your website. It smells so good when it cooks, and is delicious! My grandchildren would rather have a bowl of this cereal than almost anything else I cook - and they can be very picky. This will stick to your ribs for about 4 or 5 hours, much longer than a bowl of regular cold cereal and milk.

We season it with extra virgin olive oil, season salt, food yeast, hot sauce, or any favorite seasoning. Avocado is a wonderful addition we thoroughly enjoy. It can also be eaten with the traditional milk and sweetener. This can also be used in a casserole the way you would use rice. The best, K.J.B.
The resulting cooked grain blend is textured, peppered with flecks of color, and filling. The millet, which cooks fastest breaks down and lends a creaminess that you wouldn't get otherwise. I can think of a hundred reasons to cook up a pot of this over the weekend and use it as the foundation for many meals - breakfast, lunch, or dinner - throughout the week. In the photo up above I've simply drizzled the grains with a bit of half-and-half, and sprinkled with a bit of raw sugar and toasted walnuts. For lunch I might go for a scoop with a poached egg and a little side salad. Or I could use it as the backbone of a "fried-rice" type dish with tofu. Or a baked version of arancini in place of day-old risotto. Or, or, or...
Also, before I sign off I want to apologize for not being very responsive in the comments the past week or so. I just got back from an inspiring trip to Chile and Argentina, which means I've been plane and hotel hopping for the past ten days. I'm looking forward to sharing some stories, recipes, and photos in the coming weeks...And thanks to everyone who emailed me suggestions :)...
Grandma's Grain Recipe
If you can't find one of the ingredients, don't be discouraged. Simply substitute more of whatever you do have - more rice, millet, etc. I made a few minor tweaks to K.J.'s recipe, mainly a bit of salt during the cooking process, along with a few little word adjustments for clarity.
1 cup long grain brown rice (I use Lundberg's)
1 cup millet
3 handfuls of whole barley
3 handfuls of whole oats (groats)
1 handful of red rice, wild rice, or a mixture of wild type rices
2 teaspoons salt
Mix all grains together, rinse, drain, and put in a large thick-bottomed pot. Stir in the salt. Cover with water up to your knuckle - about two inches above the grains. Bring to a boil, then turn down flame as low as it will go. Cook uncovered (simmering) until all water is gone, about thirty-five minutes. If you overshot the amount of water you added and your grains cook before the water absorbs entirely, strain off the extra water.

This makes a big pot of mixed grains. Plenty for a family of four to use over the course of a week.