Tokyo Five Grain Recipe
A colorful grain blend inspired by a recent trip to Japan. It features equal parts brown rice, red rice, and millet, plus some quinoa and amaranth.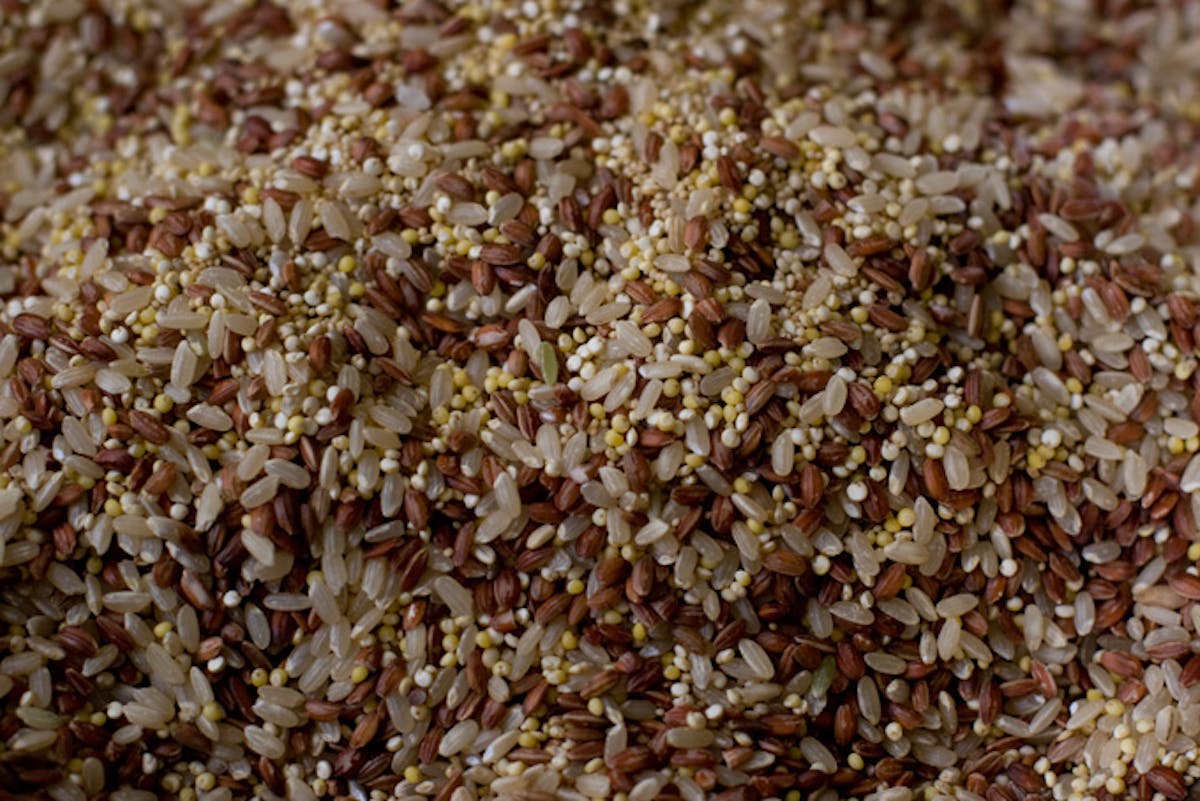 Many of the natural food cafes I enjoyed while in Tokyo stocked a small number of products available for purchase - honeys, dried beans, t-shirts, and little books full of cafe recipes. Almost all of them sold small packets of mixed grains. Some of the packets were barely the size of my palm, filled with miniscule amaranth grains, brown rice, and millet. Others packets were bigger featuring a various blends of whole grain rices, quinoa, and different beans. I've never seen anything quite like it available here at home, and I was excited to come back and play around with some new grain combinations. This particular blend was inspired by one packet I brought home. There's nothing inherently Japanese about the end result, aside from the origin of inspiration. It features equal parts brown rice, red rice, and millet, plus some quinoa and amaranth.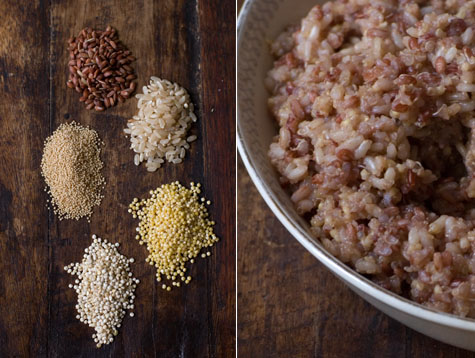 I've been enjoying it on its own, with a drizzle of soy sauce, and a couple drops of toasted sesame oil, but I could imagine this particular blend being great stir-fried with eggs and greens. Or fashioned into some sort of take on arancini by forming the cooked grains into balls, then dredging in egg-wash and breadcrumbs before pan-frying or baking. It could be a great stuffing for oven-roasted tomatoes, I could go on and on. Just keep in mind that the quinoa lends a dominant grassy note - and start thinking about ideas with that in mind.

Tokyo Five Grain Recipe
I don't rinse the amaranth along with the other grains because the grains are SO tiny they run right through my relatively fine-gauge strainer. So I stir them in later. Short grain brown rice will give you a stickier rice blend in the end, use medium if you prefer more separation. The photo up above features short grain.
1 cup short or medium grain brown rice
1 cup red Bhutanese rice
1 cup millet
1/3 cup quinoa
1/4 cup amaranth
2 teaspoons salt
Rinse the rices, millet, and quinoa. Drain and put in a large thick-bottomed pot. Stir in the salt and amaranth. Cover with water up to your knuckle - about two inches above the grains. Bring to a boil, then turn down the flame as low as it will go. Cook uncovered (simmering) until all water is gone, about 45 minutes.
If you overshot the amount of water you added and your grains cook before the water absorbs entirely, strain off any extra water.
This makes a big pot of mixed grains. Plenty for multiple meals.