Green Spaghetti Pie Recipe
Excited about this! A whole food, plant-based everyday remake of spaghetti pie - made with a special blended kale green sauce, chickpea or whole-grain pasta, and garlic.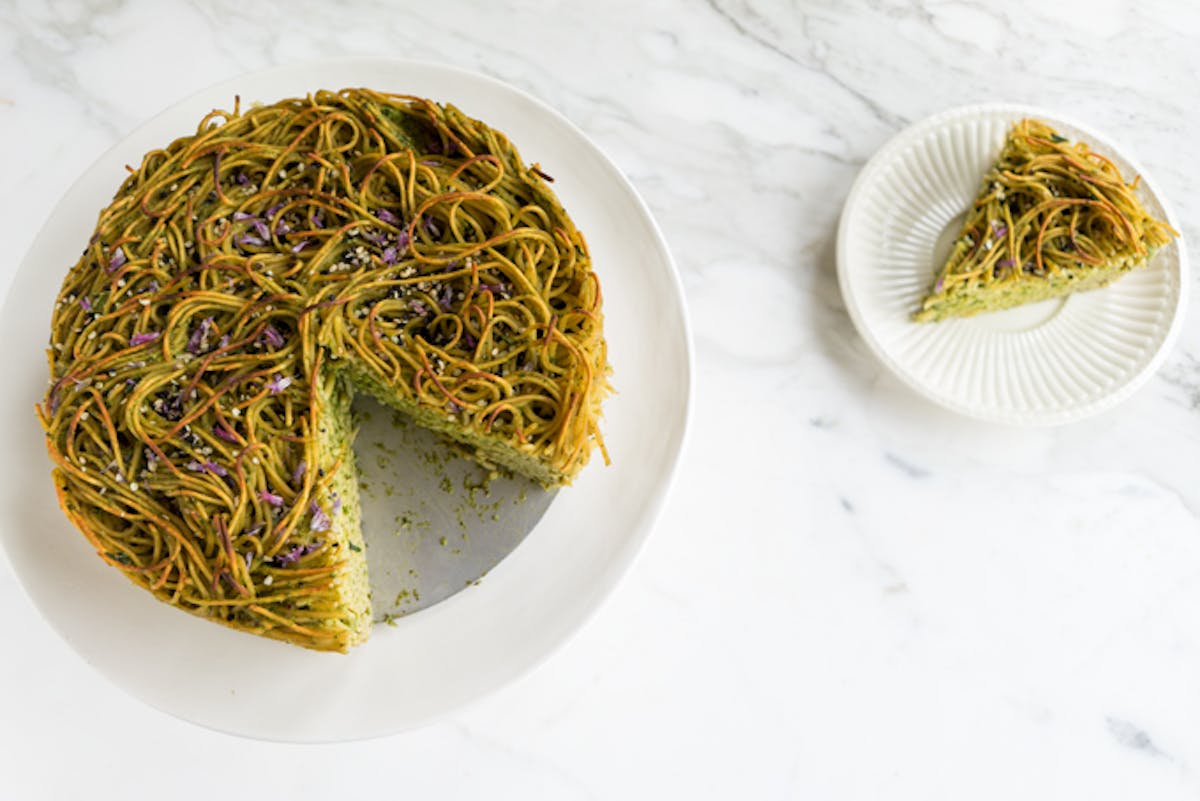 I'm unusually excited about this recipe! You ready? Spaghetti pie. I've been thinking about it lately (in part, because it's seemingly inescapable on Pinterest), and wanted to do a make-over version of sorts. When I sketched the general outline, I aimed for a few things. It would be a green version, packed with kale, spinach, or a mix. I wanted it to be vegan / plant-based - a lot of the versions out there are decadently filled with cheese, eggs, and cream. I wanted to use a good whole-grain or lentil/bean pasta. My hope was to architect an "everyday" version people can feel great about enjoying whenever. That said, when someone was eating a piece, I wanted it to be about none of that. I just wanted it to be delicious. So! Here's how it shaped up, recipe and a few notes below - enjoy! -h
To make this green version of spaghetti pie, you start by boiling a pound of your favorite spaghetti - preferably whole-grain, or one of the bean-based pastas. I used the Banza spaghetti (pictured here / not-sponsored, I just like it). While the water is coming to a boil, I make a quick blender sauce with almond milk, onion and garlic powder, and a bunch of kale. In place of eggs, I whisked some ground flax with water - you get the nutritional benefit of flax, and similar binding properties to the eggs. I grabbed a 1/2 pound of kale from my freezer (available in most freezer sections), but you can certainly use fresh kale. The green blender sauce comes together in a flash, you toss the spaghetti with it when it is cooked a bit al dente, transfer to your baking dish, and into the oven.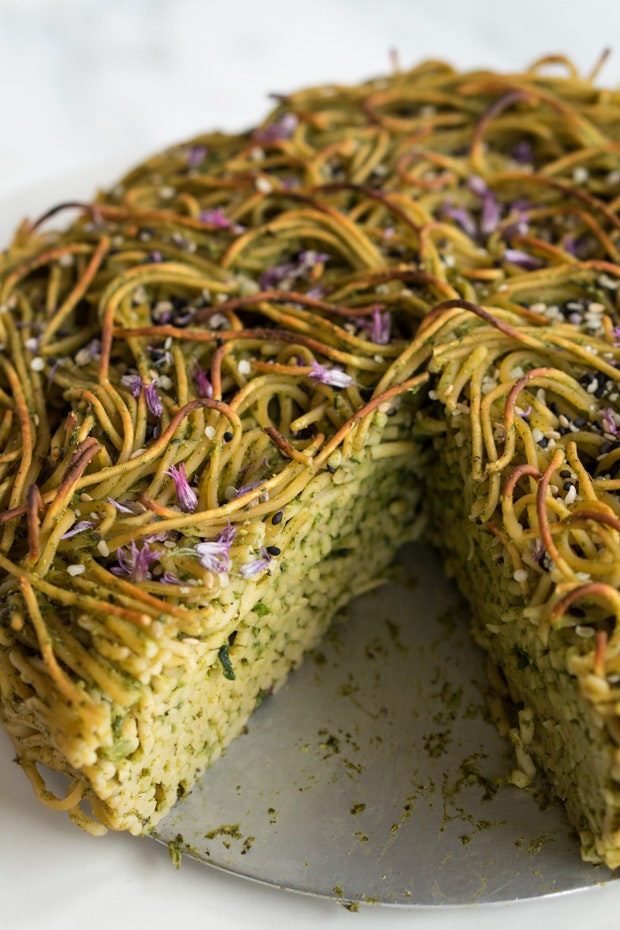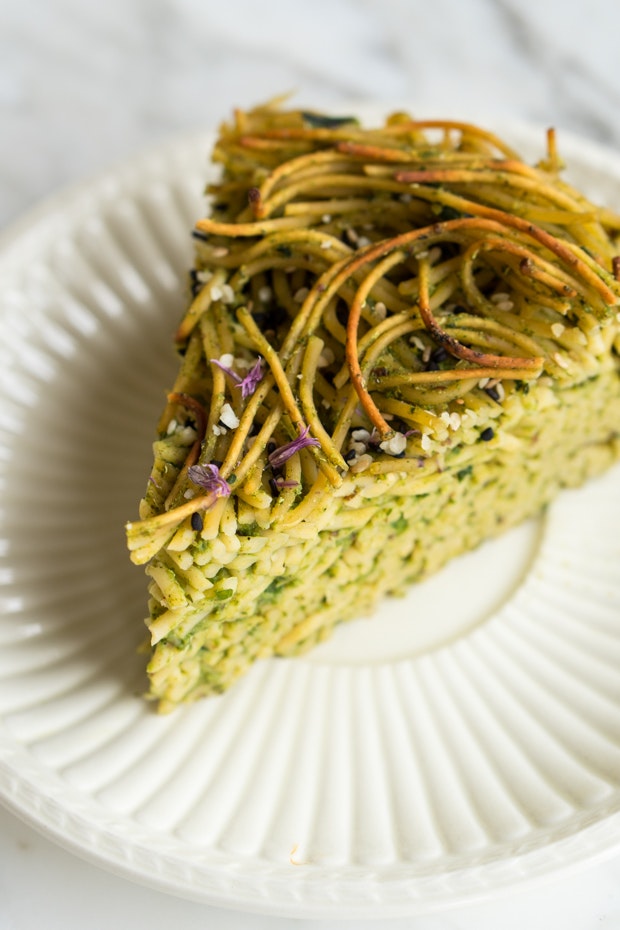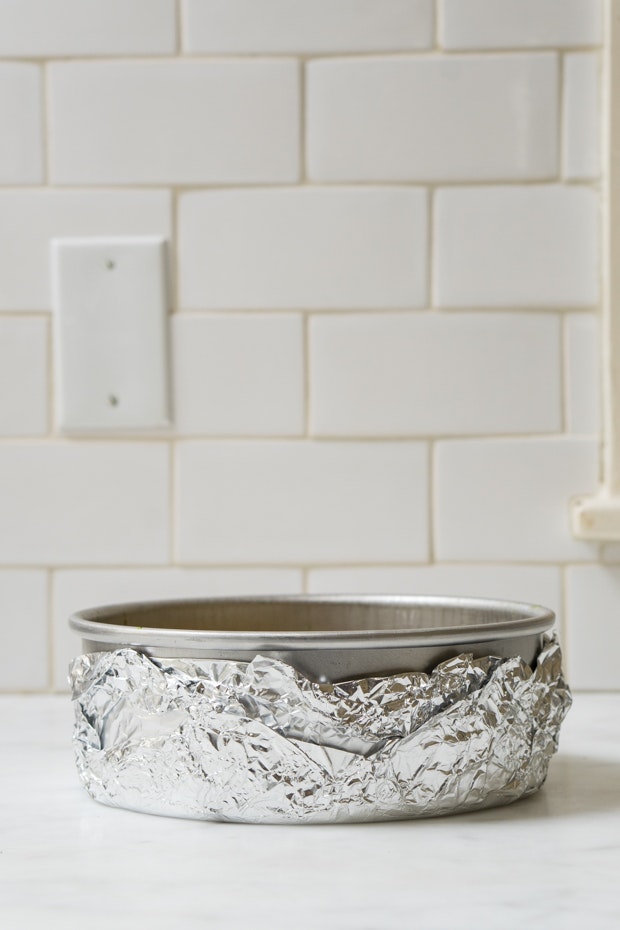 Pictured above - a snug layer of foil to catch any leakage (I didn't have any this time around), but better safe than sorry ;). xx! -h
A few notes - any whole-grain, gluten-free, or bean pasta can be used (use one you like). I used the Banza chickpea spaghetti here. Pans - if you don't have a springform pan, no big deal, use a casserole, pie pan, or even a loaf pan. Changing things up - play around with the recipe after you make it the first time - you can stir in seasonal herbs for different flavors, or use different spice blends. Give it a go this way first, and then free-style in the future.
2 1/2 tablespoons ground flax seed
7 1/2 tablespoons water
1 pound spaghetti (see headnotes)
8 ounces / 1/2 pound kale, spinach, or other greens (frozen or fresh)
1 1/2 cups / 12 ounces almond milk (or your favorite unsweetened non-dairy milk)
2 tablespoons onion powder
2 tablespoons garlic powder
2 teaspoons ground black pepper
1/2 teaspoon salt, plus more to taste

to serve (any/all of the following): mixed sesame seeds, chopped herbs, herb flowers
Preheat your oven to 425F with a rack in the top third. Wrap the outside of a (deep 8-inch or standard 9-inch) spring form pan tightly with foil - to prevent any leaking.
Whisk the flax and water together and allow to really thicken - 10 minutes or so. In the meantime, bring a large pot of water to a boil, and cook the pasta. You want to cook it per package instructions, minus a minute or two - just shy of being fully cooked. Drain, and let cool for a few minutes.
Make the green sauce: In a blender, or with a hand blender, pulse together the kale, almond milk, onion powder, garlic powder, black pepper, and salt. Transfer to a large mixing bowl, and whisk in the flax mixture. Transfer the pasta to the mixing bowl and toss the noodles and sauce together until every thing is uniformly coated. Pour into your prepared pan, gently patting the spaghetti into an even layer. Bake for about 30 - 35 minutes. I like some color on the top of my pie, but if it gets too dark, cover with foil. Not dark enough? Hit it with the broiler. Remove from the oven, let sit for five minutes before running a small knife or small spatula between the pie and pan to release it. Remove the pie from the pan, transfer onto a serving plate, and finish with any seeds or herbs, extra seasoning/salt you like.
Serves 6-8.
Prep time: 15 minutes - Cook time: 30 minutes