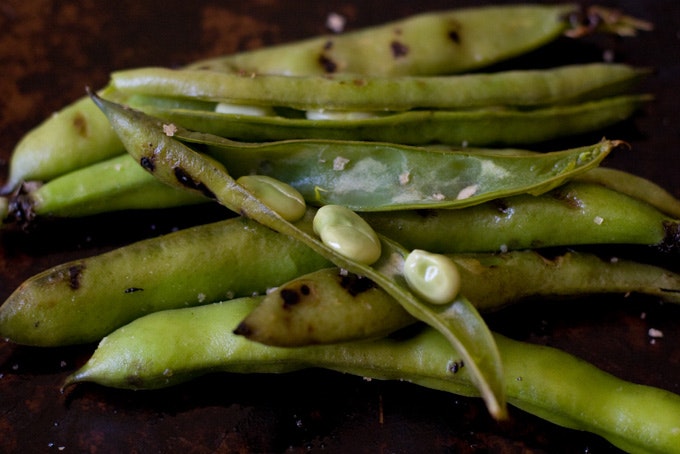 Grilled Fava Beans Recipe
When Wayne and I went to Japan earlier this year, one of the highlights of our trip was a quiet little dinner at Asahi. It is an artisan soba spot so tiny you feel as if you could touch all four walls from the center of the place. It is Tokyo's only ital noodle shop (Rastafarian veg cuisine), but the noodles weren't the only highlight. I knew we were in for a great meal when chef Koichi Nakajima started our night with two deeply charred fava beans served on a piece of paper. We split the pods open with our fingers, slipped each fava bean from its skin and popped them in our mouths one after another. It doesn't get much better - simple, smoky, perfectly cooked, and fun to eat. If you haven't tried grilling fresh favas, you must! You can make them on the grill or in a grill pan, then toss them out onto a newspaper where people can dive in and make a bit of a mess with the pods and skins.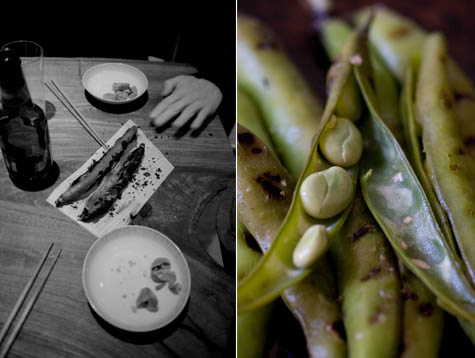 Here's the secret. Any seasoning you put on the pods will stick to your fingers. In a good way. Toss the pods with a few glugs of olive oil and some sea salt before placing them on the grill, you can certainly play around with ideas beyond that. I sometimes add crushed red pepper flakes to the olive oil, or finish the favas with lemon zest or freshly chopped dill (or chives) after they come off the grill. The key is getting the grill (or pan) the right temperature - too hot and the pods char before the beans have time to steam in their pods.
Grilled Fava Beans
1 pound of fresh fava beans, still in their pods
a couple glugs of olive oil
a few pinches of salt

optional: crushed red pepper flakes, lemon zest, and or chopped fresh herbs.
In a large bowl toss the fava bean pods with olive oil and salt. Arrange them in a single layer on a grill over medium-high heat. If you're using a grill pan, you may need to cook them in batches. If I'm using an outdoor grill I don't bother covering the favas, but when I use a grill pan, I typically cover the pan with a flat baking sheet to keep more of the heat in the pan and circulating. Grill until blistered on one side - 4 to 5 minutes, then flip and grill for a few minutes more on the other side. If you aren't sure when to pull them off, take a pod off the grill, open and taste one of the beans. You want the fava beans to be smooth and creamy when you pop them out of their skins - not undercooked. But keep in mind that they'll keep steaming in their pods for a few minutes after they come off the grill, unless you eat them as soon as you can handle the pods without singing your fingers - which is what I encourage you to do :) Season the grilled favas with a bit more salt (if needed) and any herbs or lemon zest if you like. To eat: tear open the puffy green pods, take a fava bean, pinch the skin and slide the bright green fava from its slipper. Eat them one at a time and be sure to lick your fingers.
Serves 2 - 4