Spring Ragout Recipe
This spring ragout recipe delivers a stunning pan of fava beans, green peas, and asparagus finished off with a tiny touch of cream, lemon zest, and grated cheese.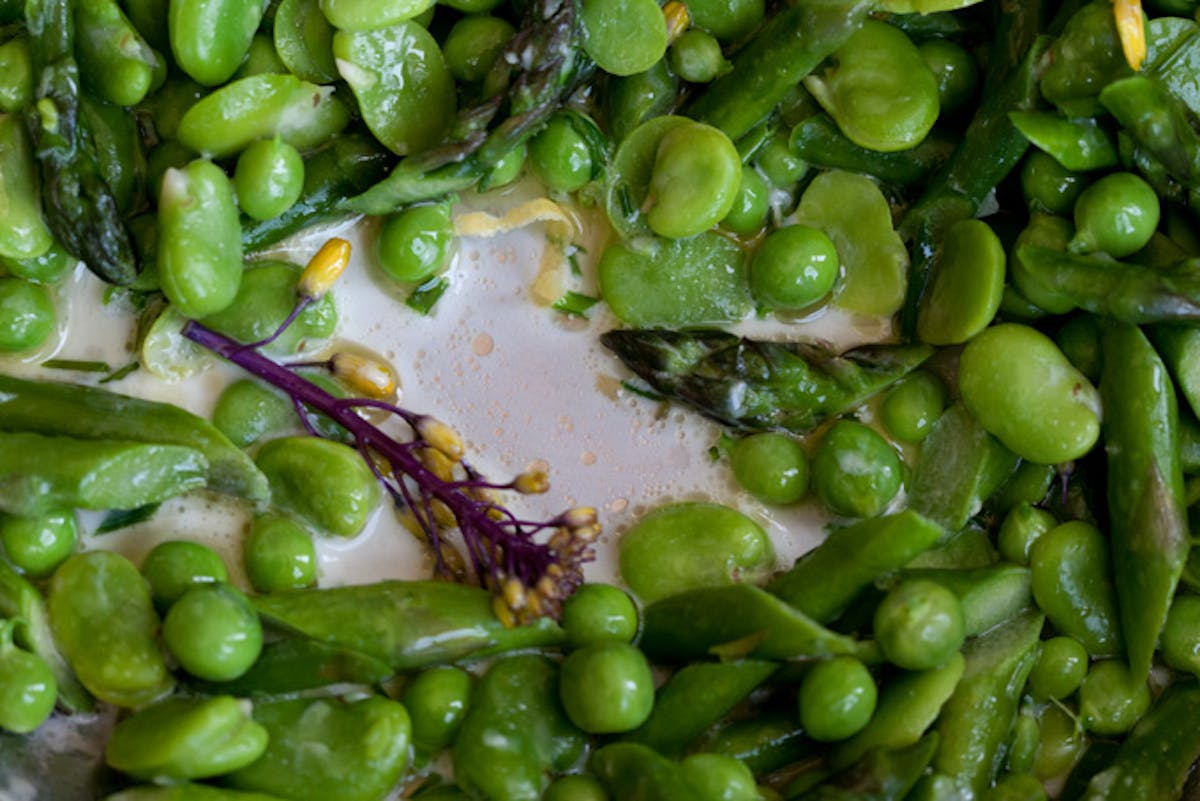 This spring ragout can take five minutes to pull together or fifty - depending on how much shelling you are willing to do. The basic idea is this - take fava beans, fresh green peas, and skinny green asparagus stems and cook until bright and vibrant - barely any time at all. Finish them off with the smallest splash of cream, a hint of lemon zest, and a dusting of freshly grated cheese. I'll be the first to say a recipe like this really shines when you use farmer's market fresh favas and peas - but I recognize that not everyone has the time (or inclination) to sit around double shelling fava beans. Never mind the fact that some of you are still snowed in ;)
The good news is that you can make a quick, end-of-a-busy-day version of this spring ragout using whatever fresh ingredients you have prepped on hand, supplemented by an ingredient or two from the deep freeze. Frozen peas work nicely in a recipe like this, and I've even come across frozen pre-shelled fava beans at Whole Foods Market. All told this recipe creates a skillet full of beautiful, bright, healthy, deliciousness. And for those of you looking for a vegan version, omit the dairy and you still have a wonderful springtime plate to enjoy. While I enjoyed the vegetables all on their own, my mind kept wandering to other serving ideas. How about:
- ladled over a serving of pan-fried gnocchi.

- served in a shallow bowl of simple broth with a drizzle of good olive oil and a sprinkling of grated cheese.

- spooned over a family-style quiche or frittata.

- mixed into a bowl of short pasta for a twist on pasta salad.

- as a component in a spring version of a ravioli salad

- Inside some skinny omelettes or crepes.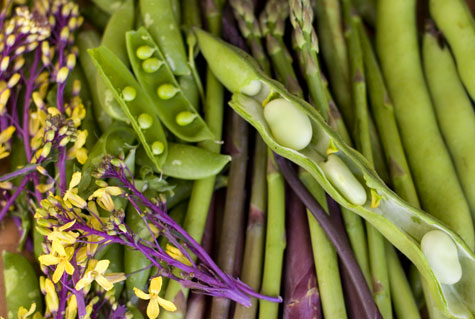 While I used fava beans, peas, and asparagus here, feel free to explore other spring ingredients. The only thing to be mindful of is cooking times - some vegetables will take more time to cook than others. For example peas are going to cook much more quickly than a thick cut of asparagus or potato. One way to even the playing field (so to speak) is to cut ingredients into into like sizes, or cook each ingredient seperately and combine them in the end. Keep your eyes peeled for baby spring carrots, fiddle heads, baby squash, morel mushrooms, baby artichokes (trimmed and quartered), and/or tiny potatoes. All would be right at home in a dish like this.
Spring Ragout Recipe
It is important to have all your ingredients washed, prepped and ready to go before you even get near the stove. The whole thing comes together fast and furiously. The edible flowers you see here are flor de kale morado, unlike many other other edible flowers you might find they can stand up to a bit of cooking - it softens up their stems a bit and makes them a more pleasant texture to eat.
20-30 fava bean pods, removed from puffy shells
extra virgin olive oil
fine grain sea salt
1 bunch thin asparagus, cut into 1/2-inch segments
1 1/2 cups peas, freshly shelled or frozen
zest of one lemon
splash of cream
pecorino cheese (Parmesan would be a fine alt.)
edible flowers for garnish (totally optional)
Cook fava beans for about a minute in a pot of salted water. Drain, run under cold water, and shell 2nd layer. To do this pinch each fava to break the skin and gently squeeze to separate the bean from the skin. Set aside.
In a cold skillet big splash of olive oil, 2 big pinches of salt, and 2 tablespoons of water. Heat over medium high heat and when the water starts bubbling add the asparagus spears. Cover and cook for 30-45 seconds, longer if the asparagus is thicker until it is barely tender and bright green. Stir in the peas peas and cook uncovered for another 20 seconds or so (maybe a touch longer if you were using peas that were frozen). Stir in the lemon zest, the tiniest splash of cream, and serve garnished with edible flowers.
Serves 4.