Grilled Potato Salad Recipe
This potato salad recipe is what happens when potato salad meets the grill. Grilled potato wedges are tossed with a vinaigrette finished with barely a hint of toasted sesame oil.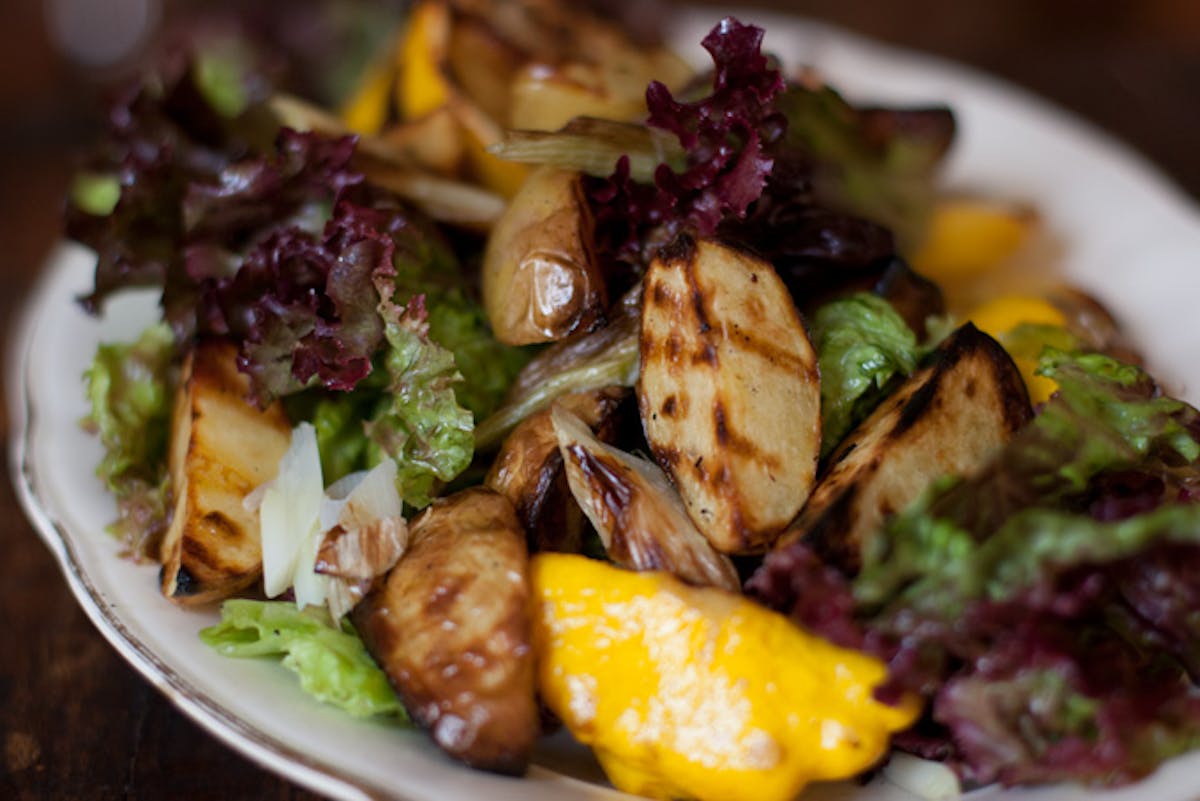 Not to be a contrarian, but the standard deli-issued potato salad isn't really my thing. Potatoes as the center-point of a salad? Sounds great, I like the general concept. But all the mayo and mush you get with many American potato salads I can do without. I thought a grilled potato salad might be a fun alternative. My game plan: throw as many of the salad ingredient as possible on the grill, whip up a simple vinaigrette, toss and enjoy.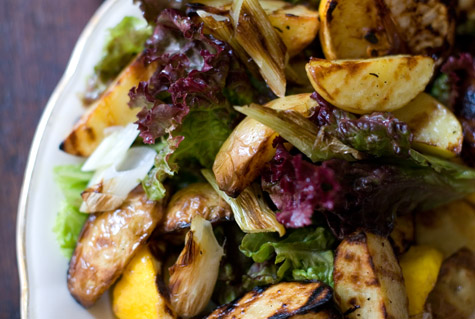 The first decision I had to make was how to cut the potatoes - slices vs. wedges battled it out in my brain. Coin-shaped slices would cook more quickly. Wedges, well who doesn't love a potato wedge? And I knew they'd hold up better. I went the wedge route. Aside from the dressing and lettuce, I arranged everything else on a medium-hot grill - pattypan squash, green onions, halved lemons, and the potato wedges.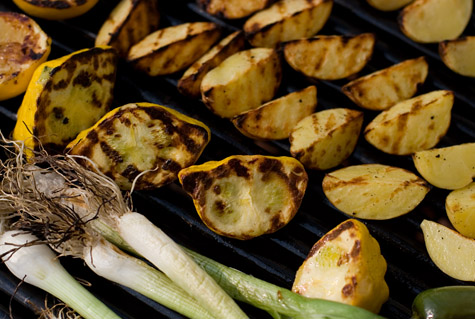 I tossed the potato salad components with a rice vinegar finished with barely a hint of toasted sesame oil this time around, but I couldn't help but think about all the different ways you could approach this. For those of you who enjoy the hedgehog potatoes (from SNC) as much as I do - I'm itching to try a creamy version where I'd toss these potato with the same yogurt mint dipping sauce I use in that recipe. Or, I bet a harissa vinaigrette would lend nice color and flavor and go well with the grilled potatoes. Or, or, or - I think its tough to go wrong here...If you have a unique twist on potato salad, give it a shout in the comments.
Grilled Potato Salad Recipe
When I went to grill the potatoes and squash I set each piece on the grill, I suspect you could also use one of those grill baskets with success as well. I also though about finishing this version with chopped jalapeno, cilantro and toasted sesame seeds - you can make it as simple or embellished as you like, depending on your individual tastes. I used a red-leafed lettuce here.
10 medium-sized new potatoes, unpeeled and quartered
3-4 small yellow summer pattypan squash, cut in half
1 bunch of green onions or spring onions
a big splash of olive oil
2 lemons, cut in half

1/4 cup rice vinegar
1/4 cup olive oil
clove of garlic, mashed and chopped
a couple drops of toasted sesame oil
salt

1/2 a head of lettuce, washed and cut into bite-sized pieces
Toss the potato wedges, squash, and green onions with a bit of olive oil and a pinch of salt. Place them on a medium-hot grill. Place the lemons on the grill as well, cut side down. Grill for 10-20 minutes or until golden and cooked through - moving around the grill if needed and flipping to get color on all sides. The squash will likely cook faster than the potatoes, remove pieces and place on a platter when they are done grilling.
While everything is grilling, whisk together the rice vinegar, olive oil, garlic, sesame oil, and a couple pinches of salt. When the onions come off the grill, let them cool for a couple minutes and then cut into 1/2-inch segments. Set aside.
Toss the lettuce with a splash of the dressing, and turn it out onto a large platter. Now toss the vegetables (but not the lemons) with a big splash of the dressing and arrange it on top of the lettuce sprinkled with the reserved grilled green onion segments. Garnish with the lemon (which I like to squeeze over my salad just before eating for an added layer of extra mellow tang that goes great with the potatoes.
Serves 6 (or so) as a side.