Grilled Salt & Vinegar Potatoes Recipe
Salt & vinegar chip enthusiasts, these are for you. You take slabs of sliced potatoes, boil them in vinegar, then grill them to a crisp. Not for the faint of heart, or anyone with particularly sensitive taste buds ;)...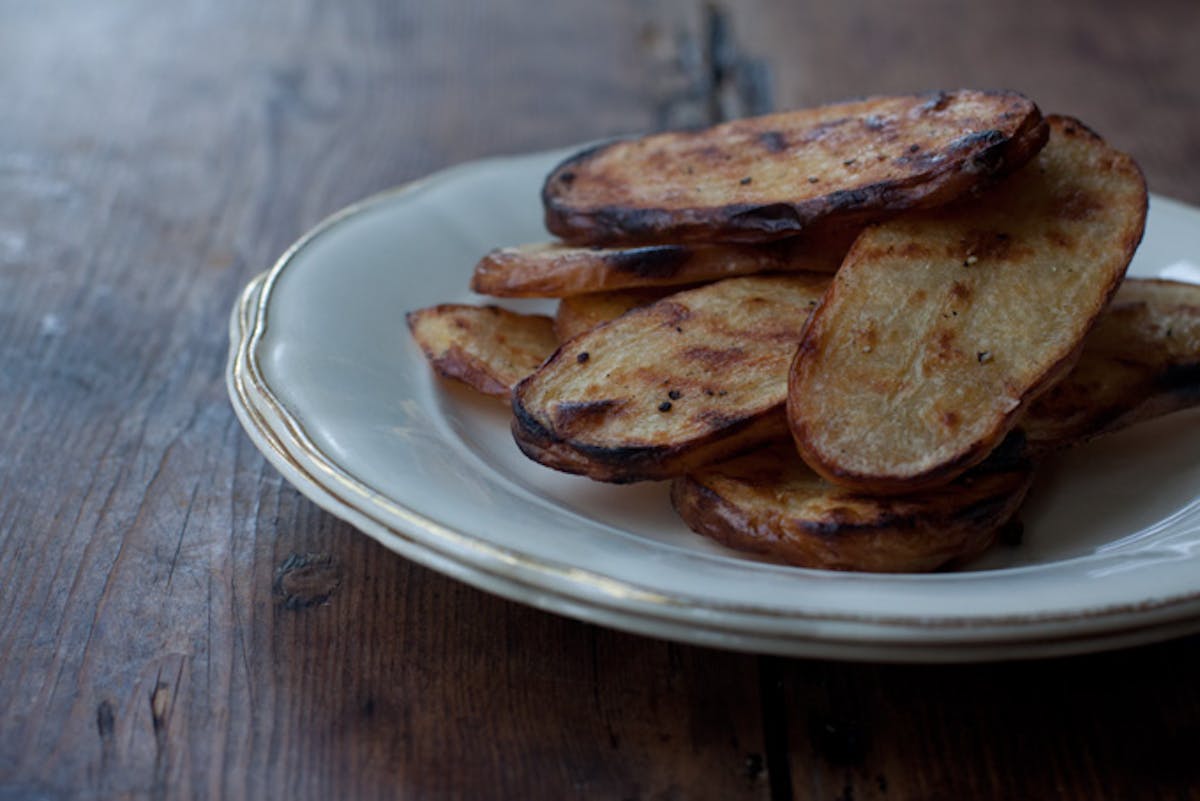 Certain people have a thing for salt & vinegar potato chips. Ok, let me be more specific. Certain people in this household have a thing for salt & vinegar potato chips. I'm not one of them. Tangy, salty, crisp potatoes - I get it. On paper it all sounds good. I don't know what my problem is. But I have a really hard time with these chips. I find the vinegar flavor blindingly strong, and despite my best efforts to resist, they make my lips pucker and my face scrunch up. But Wayne loves them, so when I came across a recipe last year for potatoes boiled in vinegar, then grilled to a crisp, I set it aside for grilling season. It sounded hardcore.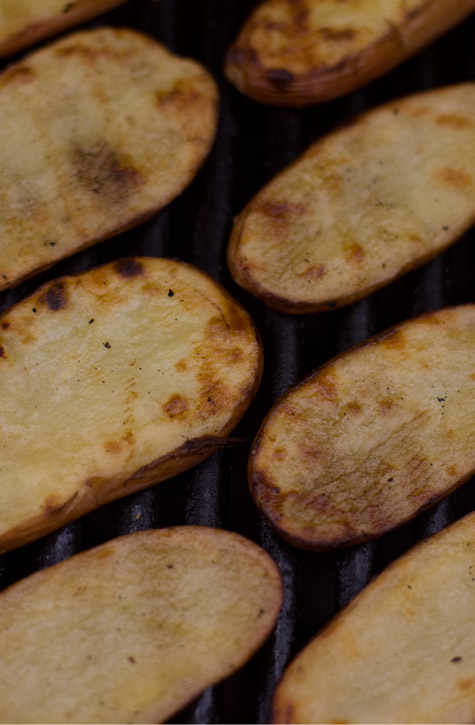 Here's what I'll say about them. If you love the whole salt n' vinegar thing, you've got to make these. Surprise to me - I actually liked them quite a bit. And although the vinegar flavor is booming here, it seems to have less of an edge than the chip version. Just before trying them, I sprinkled the tops with a bit of fennel salt (recipe below), but was imagining dunking each potato slab in some garlicky aioli would hit the spot as well.
One of the other things that caught my attention about this recipe (which originally ran in Martha Stewart Magazine), was the idea that you could flavor potatoes by boiling them in a strongly-flavored liquid, before finishing them off on the grill. It got me thinking of all sorts of other ideas - like a really strong herb-flecked broth, or a strong garlic broth, or would a strong beer work?
Grilled Salt & Vinegar Potatoes
The original recipe calls for white vinegar. I used a white wine vinegar instead - but you can use either. I suspect you could actually experiment over time w/ different types of vinegar. I used fingerling potatoes that were on the large size, but any waxy potatoes will do.
2 cups / 475 ml white wine vinegar

1 pound / 16 oz / 450 g waxy potatoes (see head notes), cut into 1/4-inch slices

2 tablespoons extra virgin olive oil
1 teaspoon flaky sea salt, plus more for seasoning
1/4 teaspoon freshly ground pepper

fennel salt* to taste (optional)
Pour the vinegar into a medium saucepan, then stack (or arrange) the potatoes so the vinegar covers them completely. Bring to a boil, then reduce the heat and simmer for about 5 minutes, or until the potatoes are just fork tender. You want them to hold their shape, so they don't fall apart on the grill later. Let the potatoes cool in the vinegar for 30 minutes. Drain well, then very gently toss with olive oil, salt, and pepper.
Heat the grill to medium high. Grill potatoes, covered if possible, until golden on one side, then flip and grill the other side - roughly 3 - 5 minutes per side. Serve sprinkled with salt or fennel salt to taste.
Serves 4.
*To make fennel salt: toast 1 tablespoon of fennel seeds in a skillet, pound to a powder with a mortar and pestle, then combining it with about two tablespoons of flaky sea salt.
Adapted from a recipe in Martha Stewart Magazine, June 2009

Prep time: 35 minutes - Cook time: 10 minutes