Heirloom Beans & Seitan Recipe
This is simply heirloom beans and roasted broccoli with shallots and pan-fried seitan. Something I threw together one night after getting home from the airport. It's filling and hearty, and quick to make - particularly if you have cooked beans stashed in the freezer...but canned beans will work too.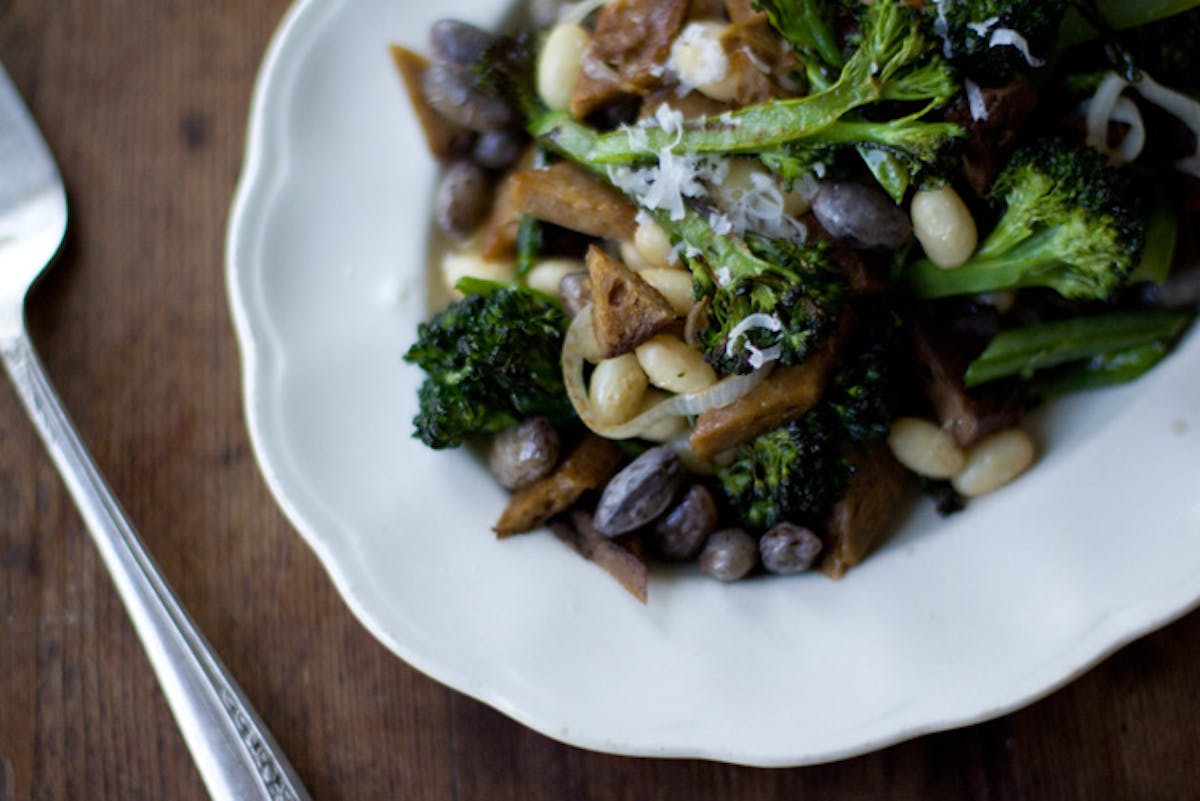 A few weeks back Wayne and I spent three days visiting Palm Springs. The weather was hot (in a good way), and the weekend was set against the backdrop of a piercingly clear blue sky. We visited date farms, browsed vintage furniture shops, brunched outdoors under giant umbrellas, lounged around near the hotel pool, and went to a beautiful evening wedding at the Corona Yacht Club. We arrived home late Sunday night, neither of us felt like going out again, and it became one of those nights where dinner comes together as I pick and pull from every shelf, drawer, and pocket in the refrigerator/freezer. We ended up having this heirloom bean and broccoli bowl with shallots and seitan. It's filling and hearty, and the roasted broccoli works nicely with the beans and the dusting of cheese I add at the end. I've cooked this three or four times since that night, and thought it might be the kind of thing you'd like to make too.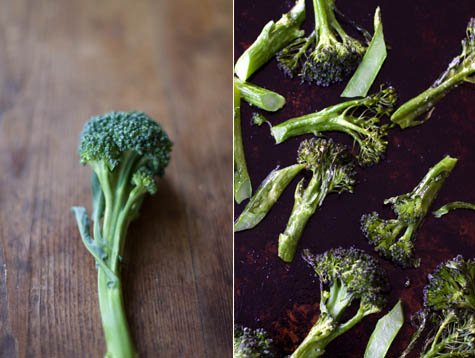 I suspect some of you might not be familiar with seitan. You can buy it at many natural food stores, and the Whole Foods Markets here in San Francisco stock it as well. But let me back up a bit and say, I've only recently become enamored with seitan. In fact, it has always been one of those ingredients I would skip over at the store. I suspect this was because I've never been interested in making meals with faux meat. In addition to that, I think we can agree, seitan is not an attractive ingredient. To my eye it looks like dense, wet, papier-mâché. Nicknames? Some people call it wheat meat....again, not very charming. All that aside, I've come to enjoy seitan. Here's how.
Wayne came home with some "cutlets" one day (this one). He chopped them into small chunks which he then pan-fried. The little pieces got nice and brown, and crispy. I had to admit it was quite good. Ever since, and despite its status as the least photogenic ingredient in my refrigerator, I've been making an effort to been cooking with more and more of it - mostly in stir-frys, or as a protein-packed topping on chunky soups, or in a range of throw-it-all-in-the-skillet type meals like this one.
For the other components in this particular recipe? I almost always have bags of leftover cooked heirloom beans in my freezer, so I used those. And then tossed a few handfuls of broccoli in olive oil and roasted it for just a few minutes. That's pretty much it.
I'll leave you with a couple snapshots from Palm Springs. Here's a picture of Wayne enjoying a morning espresso. And a photo of one of the date farms we visited. I made date cookies when I got home using little date chunks and a recipe I found on the side of a bag of the date pieces. Unfortunately, they were quite bad, which is why they never made it onto the site :/
Heirloom Beans & Seitan Recipe
Feel free to tweak the ratio of beans to seitan if you like more beans or less. You might also crisp up the beans if you like - I've also thought about adding the beans to the broccoli pan and heating them up that way....You can use any number of beans here - preferably beans that hold their shape. In my freezer I happened to have some heirloom beans bought and cooked from the farmers' market (some sort of cranberry bean?), as well as some Hutterite soup beans from Rancho Gordo - so I used this slightly bizarre combination (this is what you see in the photo). But I've also used white cannelini beans in the past, and chickpeas are great too. From a can will work - just drain, rinse, and shake off any extra water before using.
1 small-medium head of broccoli or broccolini, cut into bite-sized pieces
1 tablespoon extra virgin olive oil
fine grain sea salt

4 ounces seitan, sliced into smallish bite-sized pieces
2 shallots, thinly sliced
1 tablespoon clarified butter or extra virgin olive oil
2 cups of your favorite cooked beans (see head notes)
3 tablespoons freshly grated Parmesan or Grana Padano
Preheat oven to 400F degrees. Toss the broccoli with the olive oil and a couple pinches of salt, and place in a single layer on a baking sheet. Bake for about 10 minutes or until the broccoli is cooked through and has starting to char just a bit where it is touching the pan. Alternately you might boil, steam, or saute the broccoli - but I like roasting the broccoli for this, it works particularly well.
In the meantime, in a large non-stick or (preferably) well-seasoned pan, over medium high heat, saute the seitan and shallots in a bit of clarified butter or olive oil. I like to get the seitan nice and dark and a touch crispy at the edges. The shallots should brown up nicely as well - ten minutes or so. Stir in the beans and cook until they are heated through, you can even let those brown up a bit if you like. At this point, stir in half the grated cheese, taste, and adjust seasoning if needed with more salt.
Turn the beans and seitan out onto a large plate or platter, top with the roasted broccoli and finish with the remaining cheese.
Serves about 2 as a main, 4 as a side.
Prep time: 10 minutes - Cook time: 20 minutes