Job's Tears – You Need to Check Out this Power Ingredient Recipe
Job's Tears - you're missing out if you're not cooking with them. They're incredibly delicious, nutritious, and practically non-existent on the menus and tables I encounter. Here I share some of their perceived benefits, how I cook with them, and a Job's Tears in Coconut Broth recipe.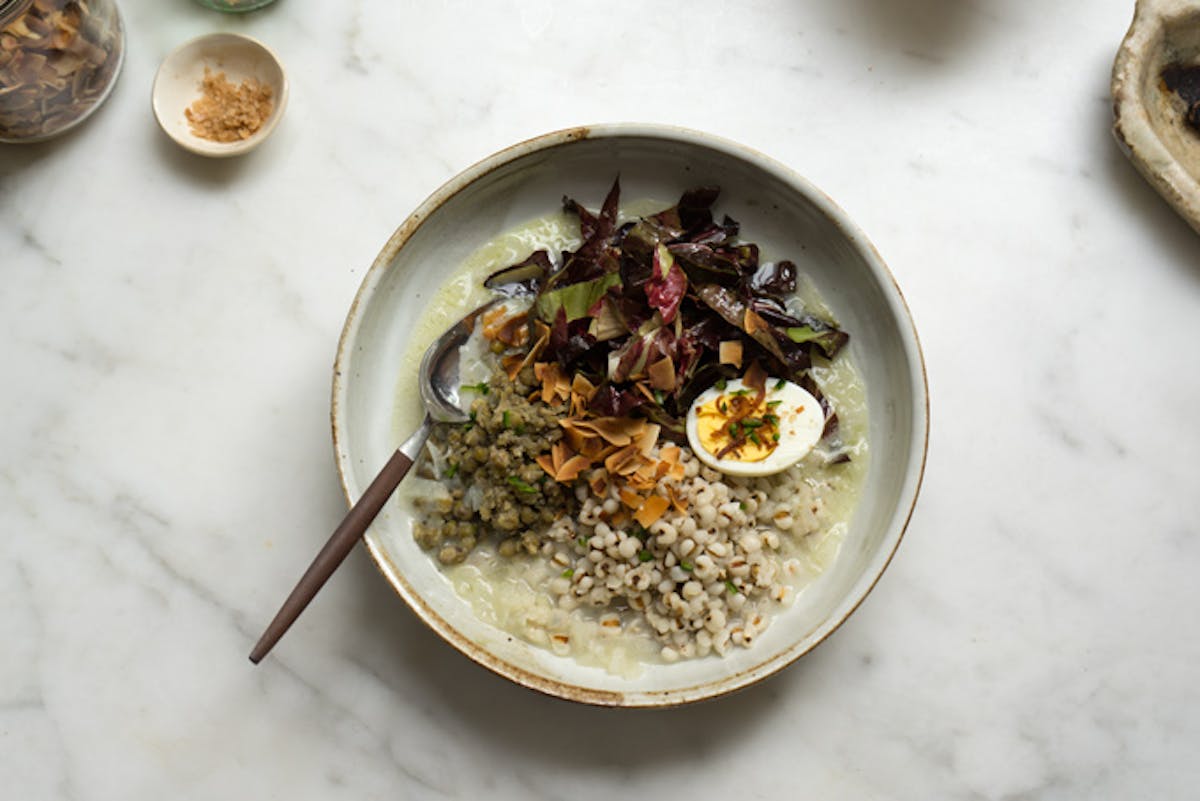 Job's tears are incredibly delicious, nutritious, and practically non-existent on the menus and tables I encounter. It perplexes me, because I love this ingredient. We're talking about an ancient heirloom pseudo-grain - it looks like a plump back tooth or molar. Technically, Job's tears come from a grass that produces these edible, ivory, bead-like seeds - pictured below. It is nutritionally significant, with a high protein to carbohydrate ratio, and is consumed in many cultures -- India, Japan, Korea, Burma, Thailand, the list is long -- to promote a wide range of benefits, and to support wellness in general. A notable exception, pregnant, and nursing women are often advised to avoid it, as are individuals on diabetes medications (because of its ability to lower blood sugar). Check with your medical professional if you're in either category. Job's tears are gluten-free, and although you might (also) see it labelled as Chinese barley, it is unrelated to barley. Check for gluten-free certification if you are concerned about cross-contamination with other grains containing gluten. I also see it around labelled hato mugi.
I'm still anticipating a few blank stares here, but I so love these unusual, versatile, and beneficial little weirdos, that I figure highlighting them might inspire you to welcome them to your repertoire if you haven't already. You can use Job's tears in an infinite number of ways, but here's how I did it last. My idea: make a thin, flavor-forward coconut broth which would envelop the Job's tears. Incorporate toasted coconut, spicy mustard oil, and the fresh curry leaves I had in the freezer. Here's how it worked.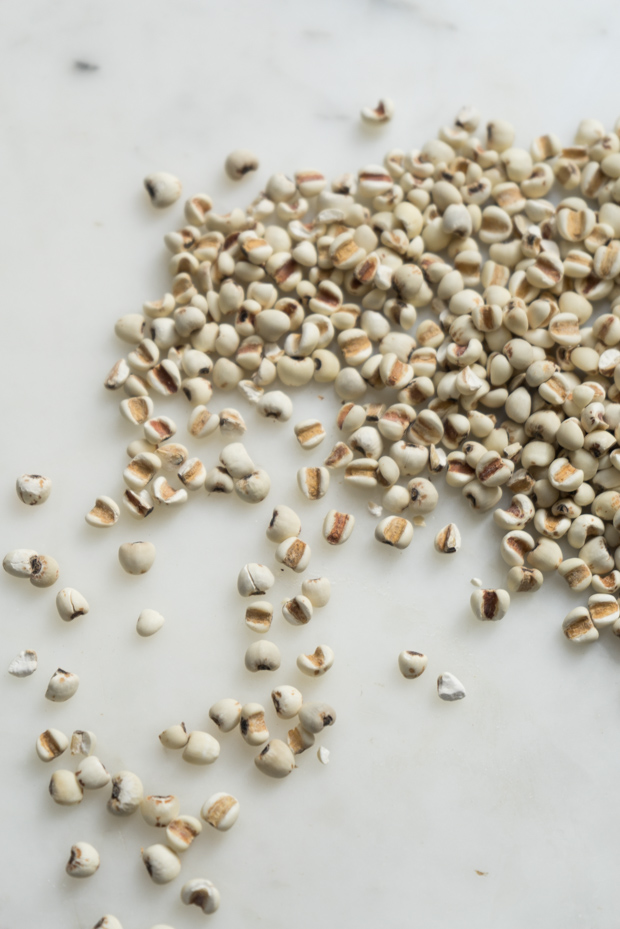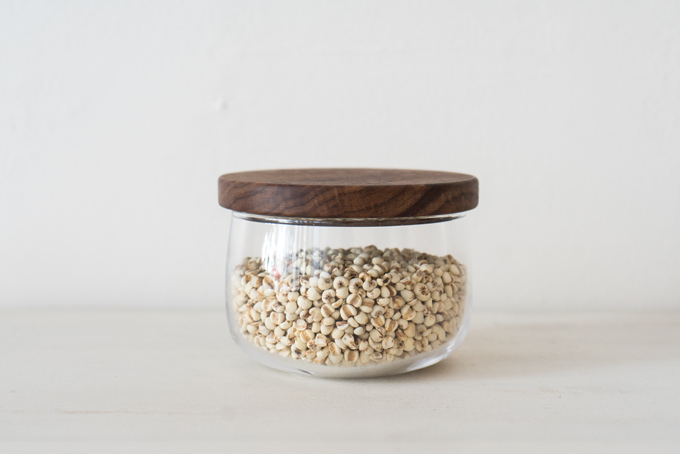 After cooking a pot of Job's tears -- which, by the way, plump beautiful into chewy, substantial bites that have a texture that falls somewhere between pearled barley and pozole -- I set them aside. That's the most time intensive part of what becomes a perfect wintery-warming stew. From there, open a can of coconut milk, skim the cream from the top and use that as the cooking fat and base for a coconut broth. Give more dimension with a quick paste of shallots, garlic, serrano chile, and curry leaf, and increase the volume of the broth with the remainder of the coconut milk and some water. Add the cooked Job's tears to the pot once the broth comes to a simmer, then flare it out upom serving with extra texture and flavor when serving. It didn't occur to me until this very second that quick-pickled mustard greens with be the perfect topping, in addition to the other ideas listed in the recipe below, but there you have it. I save the broth from cooking the Job's tears, and make a tea with it, or use it as a component in preparations later in the week.
There is more information on Job's tears here, and a cool article about Job's tears used in baking flour here. As far as sourcing goes, you're most likely to find them in natural food stores, in the Asian section of some grocers, or do a search for organic Job's tears online. I'm hoping that if you happen to cook with them, perhaps you'll share your ideas and experiments in the comments here as well. That would be exciting for me. Keep scrolling for the full coconut broth recipe - it's down the page just a bit - enjoy! -h
Job's Tears in Coconut Broth
I sometimes make this stew using Job's tears, other times I'll do 1 1/2 cups cooked Job's tears plus 1 1/2 cups cooked mung beans for an added protein boost (as pictured above)...use whatever you have on hand. Skip the curry leaf if you don't have one, don't let that be a deterrent here. Also, you can use the broth from cooking the Job's tears in place of some of the water called for in the recipe if you like.
1 14-ounce can full-fat coconut broth
1 medium onion, chopped
3 medium shallots, chopped
2 small garlic cloves, peeled
1/2 serrano chile, de-stemmed and seeded
2 1/2 teaspoons fine grain sea salt
1 fresh curry leaf
5 cups water or broth
3 cups | 15 oz | 425 g cooked Job's tears*
3 cups | 4 oz | 115 g chicory lettuces, cut into 1 1/2-inch | 4cm pieces.

Toasted coconut, chopped chives, spicy mustard seed oil, quick pickled mustard greens, and/or hard-boiled egg to serve.
To a large pot over medium heat, scoop the thick cream from the top of the can of coconut milk, this is going to be your cooking fat. Saute the onion until soft, five minutes or so. While that is happening, use a mortar and pestle to smash the shallots, garlic, chile, and salt into a paste. If you don't have a mortar and pestle use the flat side of a knife to carefully smash, and chop. Add this paste to the the onions, and saute for another few minutes. Add the curry leaf, the rest of the can of coconut milk, and the water, and bring to a simmer. Remove the curry leaf. Taste, and adjust the broth if needed. Stir in the Job's tears, and bring back to a simmer.
Toss the chicory with a small splash of olive oil, and a sprinkling of salt. Serve the stew, topped with a generous tangle of the chicory, and whatever other toppings you are planning to use. I've listed a number above but you might use as many or few as you like.
Serves 4.
*To cook Job's tears, soak them for twenty minutes (or up to a couple of hours), cover with water by a few inches, salt, and boil until they are tender. If I'm pressed for time, I'll skip the soak. After cooking, drain (reserving the broth for another use), and use the Job's tears in whatever preparations you like.
Prep time: 7 minutes - Cook time: 15 minutes