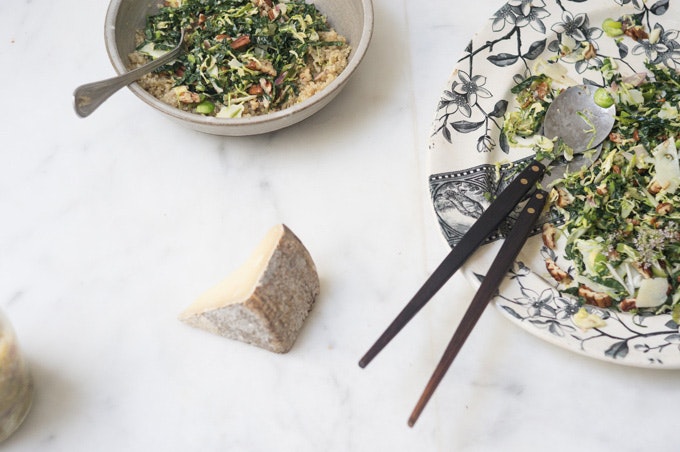 Lacinato Kale and Pecorino Salad Recipe
UPS sent two U-Haul trucks on Tuesday to pick up the last of the QK holiday orders. We pack each box with a lot of love, then send them off with a kiss, and I catch myself in a cycle of reloading the tracking dashboard to see how they are progressing across the country. Thankfully some quiet and calm has descended in the days since, and I've spent much of the extended holiday weekend tidying, both at home and the studio. Bills are getting paid, emails returned, articles are being read, and books have now been picked up where I abandoned them. And, I've had a few nice culinary stints in the kitchen. All of this means I'm going to close out 2014 with a hodge-podge of a post. A mix of links, and the most wintery of kale salads - a good one.
The salad is easy enough, without being obvious or predictable. It builds on a base of finely shredded lacinato kale to which and abundance of toasted pecans, pecorino cheese, and shredded Brussels sprouts are added. A strong lemon-tahini dressing is leveraged to brighten things up and take the raw edge off of the kale.
- New York Times 100 Notable Books of 2014
- David Hockney In the Now (in six minutes)
- Strategies for a Minimalst Wardrobe (parts 1, 2, 3, 4, 5)
- Soups
- Iran's Female Surf Pioneers (via Samin)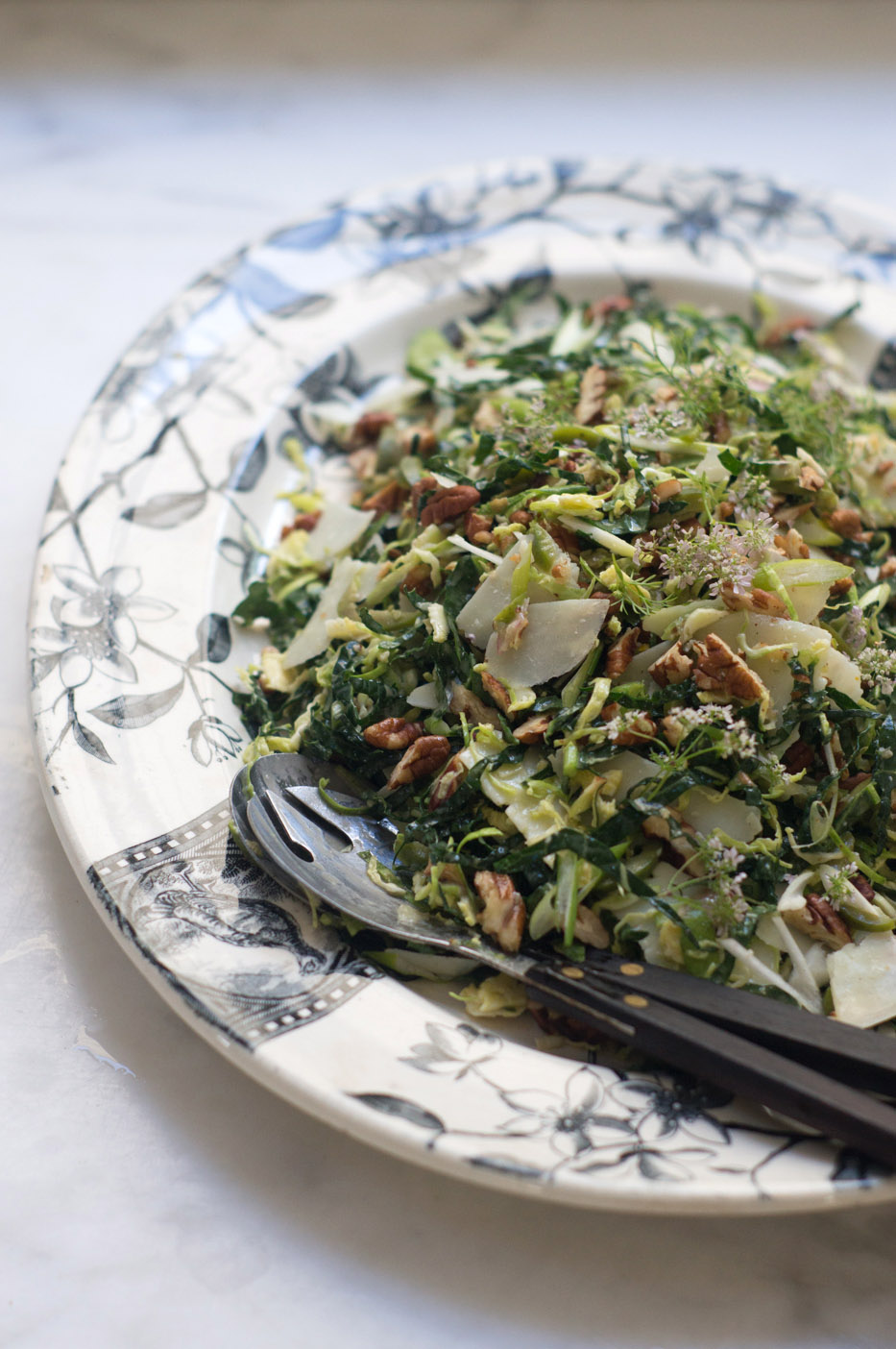 Lacinato Kale and Pecorino Salad
For the intended results, a few notes. I love pebbly-leafed, dark lacinato kale here. Shred it very finely and there is no need to de-stem each leaf (see photo). Also, you can toss the salad ahead of time, and pack it for lunch. On the olive front, Castelvetrano olives are my preference, but any meaty, good tasting green olives will do. Serve over quinoa, or other grain for a nice, substantial meal.
1 finely chopped shallot
scant 1/4 cup freshly squeezed lemon juice
1/3 cup extra virgin olive oil
2 teaspoons tahini
honey and salt to taste

1 bunch of lacinato kale, finely shredded
12 brussels sprouts, finely shredded
3 green onions, trimmed and finely sliced

1 cup toasted pecans, sliced
20 large green olives, pitted and sliced
2/3 cup shredded pecorino cheese

to serve: any herb flowers you might have (in this case I used coriander blossoms), optional, of course
Start by making the dressing. In a small bowl, combine the shallot with the lemon juice. Allow to sit for 5-10 minutes before whisking in the olive oil, tahini, honey, and salt.
Toss the kale, sprouts, and green onions with the dressing. Really mix it well, preferably with your hands, and then allow it to rest for ten minutes. Taste and add more salt if needed. Add the pecans, olives, and pecorino, and gently toss once more before serving topped with chopped herbs and/or herb blossoms.
Serves 4-6.