Leek Soup with Dill Oil Recipe
A rustic leek soup topped with an electric green drizzle of dill oil and crunchy toasted almonds.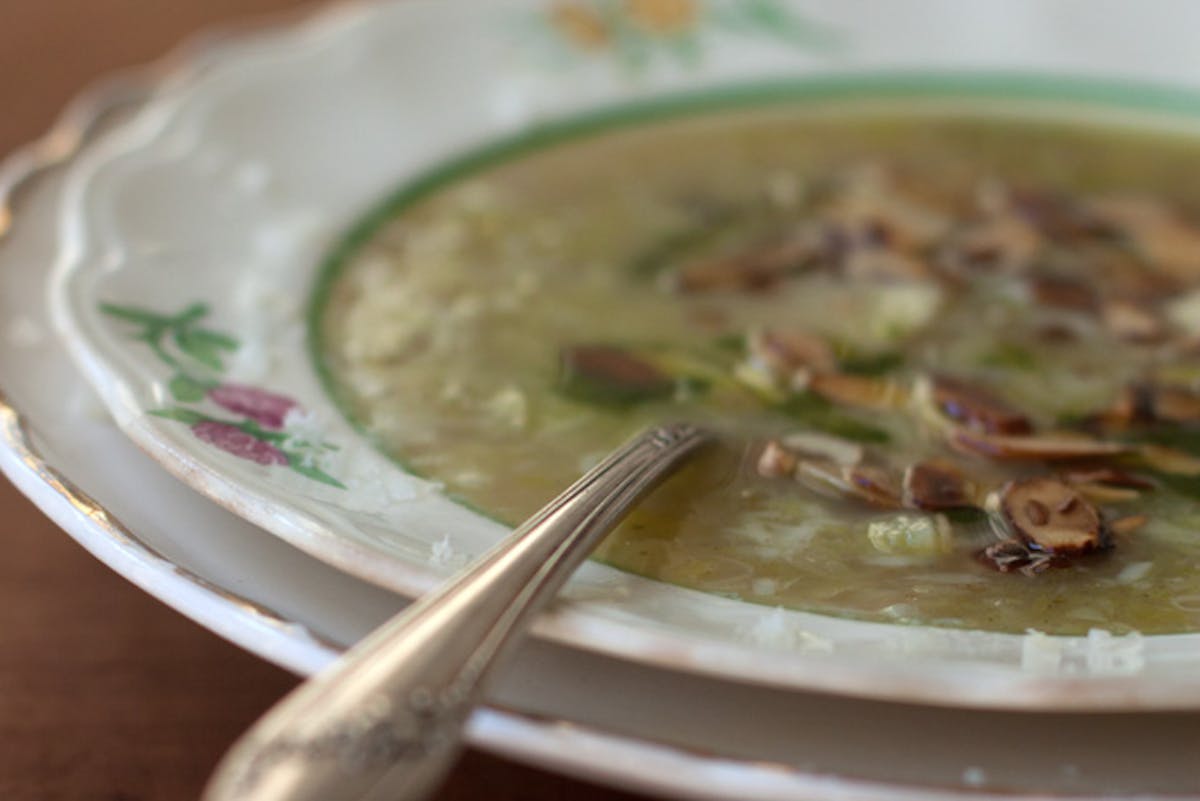 I'm in the midst of packing for a quick trip up to Portland, but I wanted to share this leek soup recipe before I go back to attempting to shoehorn my clothes, laptop, toothpaste and such into a carry-on. The soup. Well, I was quite excited about how this particular leek soup turned out. I think a couple things came together to make it a success. First, I kept the soup base simple, then tricked things out on top with an electric green dill oil and crunchy toasted almonds. Second, I cooked everything together - the leeks, potatoes, garlic etc. - and THEN added hot broth at the end.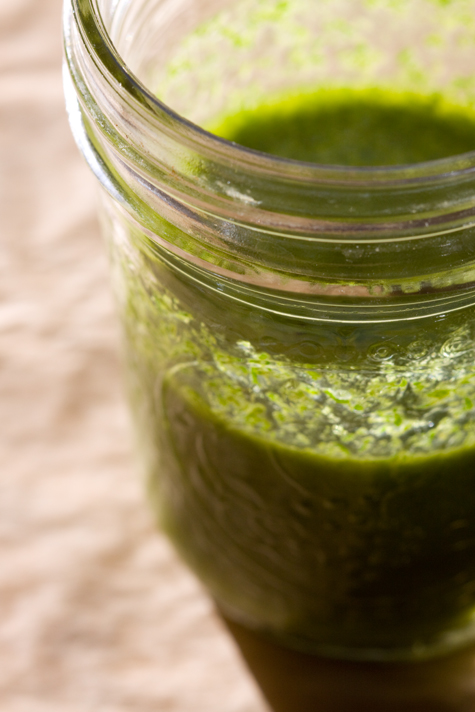 Here's the dill oil. I made it by pureeing fresh dill and olive oil. Done. I used a portion of it in the soup base, and the remaining as a drizzle across the tops of the hot bowls of soup. Soup aside, the oil is also great drizzled on just about any kind of egg, over tarts, on potato dishes/salads - it even made a cracker spread with goat cheese a little more special.
The biggest headache related to cooking with leeks is getting them clean. You want to make sure there is no grit hiding. I regularly find pockets of mud three layers in. It's sneaky like that, and you really don't want it in your soup.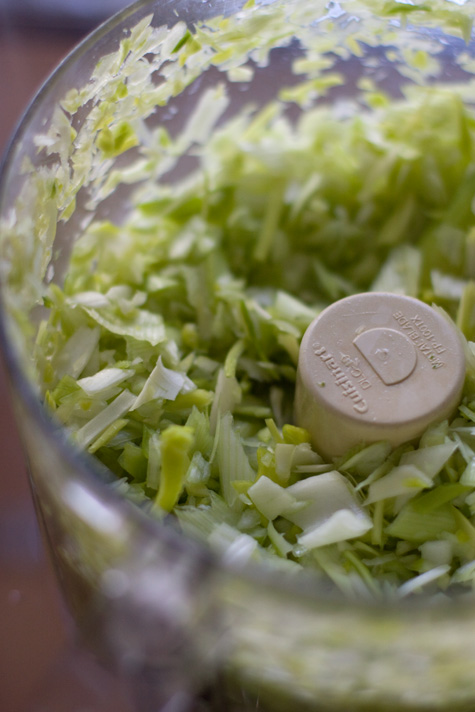 I also decided to make quick work of the leek chopping here, by enlisting my food processor. I wanted the leeks chopped well, into little flecks, so they'd collapse down and cook into soup that wouldn't necessarily need to be pureed. I mean, there's no reason you couldn't puree the soup if that's the texture you prefer, but I mashed up this soup by hand, and liked the more rustic texture.
If you give this a try let me know. Even better, report back if you take it in a slightly different direction you end up happy with. I really loved the way the toasted almonds worked as a finishing touch. I had a bowl with croutons as well, and it just wasn't as good.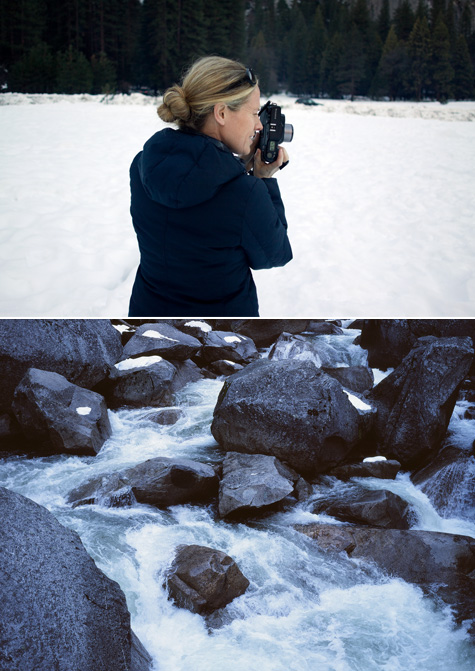 As promised, here are a few more Yosemite pics. For those of you who missed the last post and are thinking about a winter Yosemite visit, there are a few more pics here. I thought everything was going to be frozen over, but there was water running beautifully throughout the park.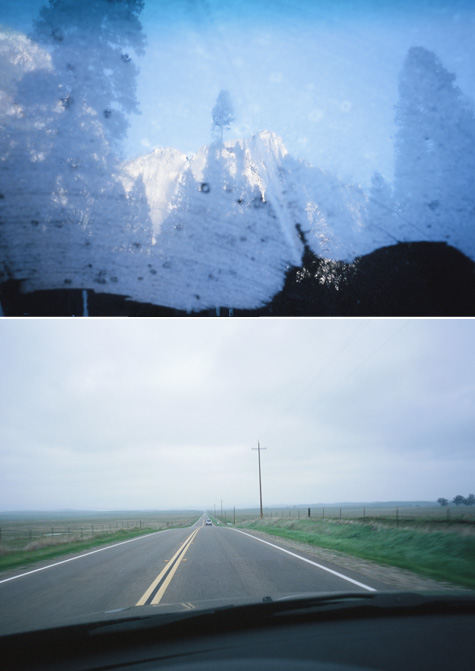 I have a hard time resisting a through-the-windshield shot. The first is the view from the parking lot through a frosted window first-thing in the morning, and the other is the wide open fields approaching the foothills. I was amazed at how green everything was approaching the mountains. Later in the year everything dries out in the heat and turns shades of gold and yellow.
Leek Soup with Dill Oil
You can freeze this after letting it cool completely. In freezer bags. It's also worth mentioning that I've been enjoying leftovers of this over scoops of cooked farro. Brown rice would be great too.
1 small bunch of fresh dill ~ .5 oz / 15 g
9 tablespoons extra virgin olive oil
3.5 pounds / 56 oz / 1.5 kg leeks
6 tablespoons unsalted butter
fine grain sea salt
2 large, thin-skinned potatoes, thinly sliced
3 medium garlic cloves, thinly sliced

6.5+ cups / 1.5+ liters good-tasting vegetable broth, preferably hot

toasted almond slices, for topping
grated gruyere cheese, for topping
Use a hand blender or food processor to puree the dill and olive oil into a creamy green emulsion. Set aside.
Cut the dark, tough green leaves from the leeks, trim off the roots, and wash/rinse well. You can slice the leeks lengthwise to get inbetween the layers, or make a few rough chops and give them a quick soak, or whatever method you prefer. Use a food processor to chop the leeks in two batches. You can also chop them by hand, but I was in a pinch for time here, and the processor made quick work of this step.
In a large soup pot, heat the butter and 5 tablespoons of the dill oil over medium-high heat. When the butter has melted and is bubbling, stir in the leeks and a couple big pinches of salt. Stir well, then cover. Cook, stirring occasionally, until the leeks soften up and collapse, 6 - 8 minutes. Now, stir in the potatoes and garlic and cook, uncovered, stirring regularly, for another 15-20 minutes or until the potatoes are very, very soft. If the leeks at the bottom of the pot are getting too much color, dial back the heat a bit more and be sure to scrape the bottom of the pan when you're stirring. At this point you can mash everything with a potato masher or large fork. If you prefer a smoother soup, use a hand blender, but this soup is great a little on the chunky side. Stir in the hot broth, adjusting the amount based on whether you like a thick or thin soup. Bring back to a simmer, serve topped with almonds, grated cheese, and a generous drizzle of the remaining dill oil.
Makes a big pot - enough for 8 -10 servings.

Prep time: 10 minutes - Cook time: 25 minutes