Yellow Split Pea Soup Recipe
Healthy, beautifully textured, and colorful this split yellow pea soup makes for a terrific lunch. The yellow split pea soup base is topped with a tzatziki-inspired yogurt dollop, a touch of mint, a spoonful of finely chopped black olives, and a drizzle of olive oil.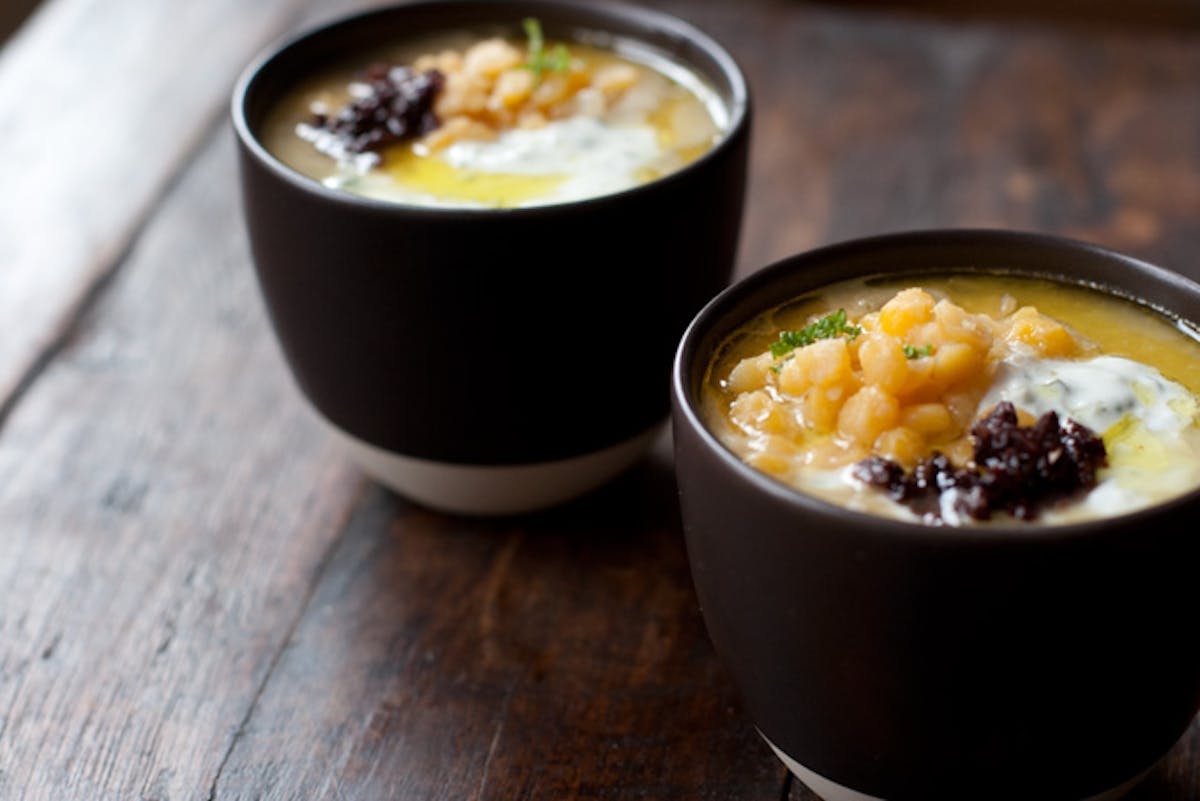 Over the past month yellow split peas have become a frequent go-to ingredient for me. Ingredients fall in and out of favor around here and past darlings have included staples like black lentils, farro, mesquite flour, ruby grapefruit olive oil and toasted hazelnuts. But somehow, until now, the charms of the yellow split pea have eluded me. Today's yellow split pea soup recipe changed that. I experimented with a few different directions to take the soup, and this version immediately became my favorite. It's a simple split pea soup base (similar in spirit to the one I did for the green split pea soup a few weeks back), but I topped this soup with a tzatziki-inspired yogurt dollop, a touch of mint, a spoonful of oily, finely chopped black olives, and a drizzle of olive oil. Healthy, beautifully textured, and colorful - it makes for a terrific lunch.
For those of you who like a bit more kick, I did a Thai-flavored curry version as well. Very similar to the recipe down below with a few twists - start with a small dollop of red Thai curry paste in a pot with a bit of oil, then add the onions, then add a blend of light vegetable stock and coconut milk (less coconut milk for a lighter soup), finished with a good handful or so of chopped cilantro.
Other recent soup recipes:
- Lively Up Yourself Lentil Soup
- Rustic Cabbage Soup
- Chickpea Hot Pot
- Cauliflower Soup with Gorgonzola
- Ultimate Chickpea Noodle Soup
Yellow Split Pea Soup Recipe
I wrote this version of the soup instructing you to cook the split peas separately, this way if you want to double the amount of split peas you cook, you can save half for some other use. You can use a vegetable stock if you like in place of the water. I've mentioned before that I like Rapunzel Herb Bouillon with Salt (available at many stores), I use about 1/2 of one cube in a soup like this to kick things off - it makes a nice, light but flavorful broth. If you want to go 2% on the Greek yogurt, that is fine. You can find yellow split peas in the bins at many Whole Foods Markets (or natural food stores).
2 cups dried split yellow peas, picked over and rinsed
6 cups water

1 tablespoon extra virgin olive oil
2 large onions, chopped
1/2 teaspoon fine-grain sea salt
3 cups water

1 7-ounce container of greek yogurt
1/2 cup shredded unpeeled cucumber, (deseed before shredding)
1 clove garlic, mashed and minced
scant 1/4 cup fresh mint, chopped
big pinch of salt

chopped olives
more olive oil to drizzle
Bring 6 cups of water to a boil in a large saucepan, add the yellow split peas, and cook for 20 -30 minutes, or until tender. Drain, salt to taste and set aside.
Add olive oil to a big pot over med-high heat. Stir in onions and salt and cook until the onions soften, just a minute or two. Add the cooked split peas and stock/water. Bring to a simmer and let cook for a few minutes. Now remove from the heat. Using a large cup or mug ladle half of the soup into a bowl and set aside. Using a hand blender (or regular blender) puree the soup that is still remaining in the pot. Stir the reserved (still chunky) soup back into the puree - you should have a soup that is nicely textured. If you need to thin the soup out with more water (or stock) do so a bit at a time. Give the soup a taste, if it needs more salt, add more a bit at a time until the flavor of the soup really pops.
In the meantime make the yogurt topping by mixing together the yogurt, cucumber, garlic, mint, and salt. Set aside.
Ladle soup into bowls or cups, and serve each with a generous dollop of the yogurt, a drizzle of olive oil, a touch of chopped mint (any that was left on the cutting board), and a sprinkling of black olives.
Serves about 4.