Lemony Chickpea Stir-fry Recipe
A tasty, quick, and easy stir-fry recipe featuring golden crusted, pan-fried chickpeas, chopped kale, summer squash, tofu, and a bit of lemon zest.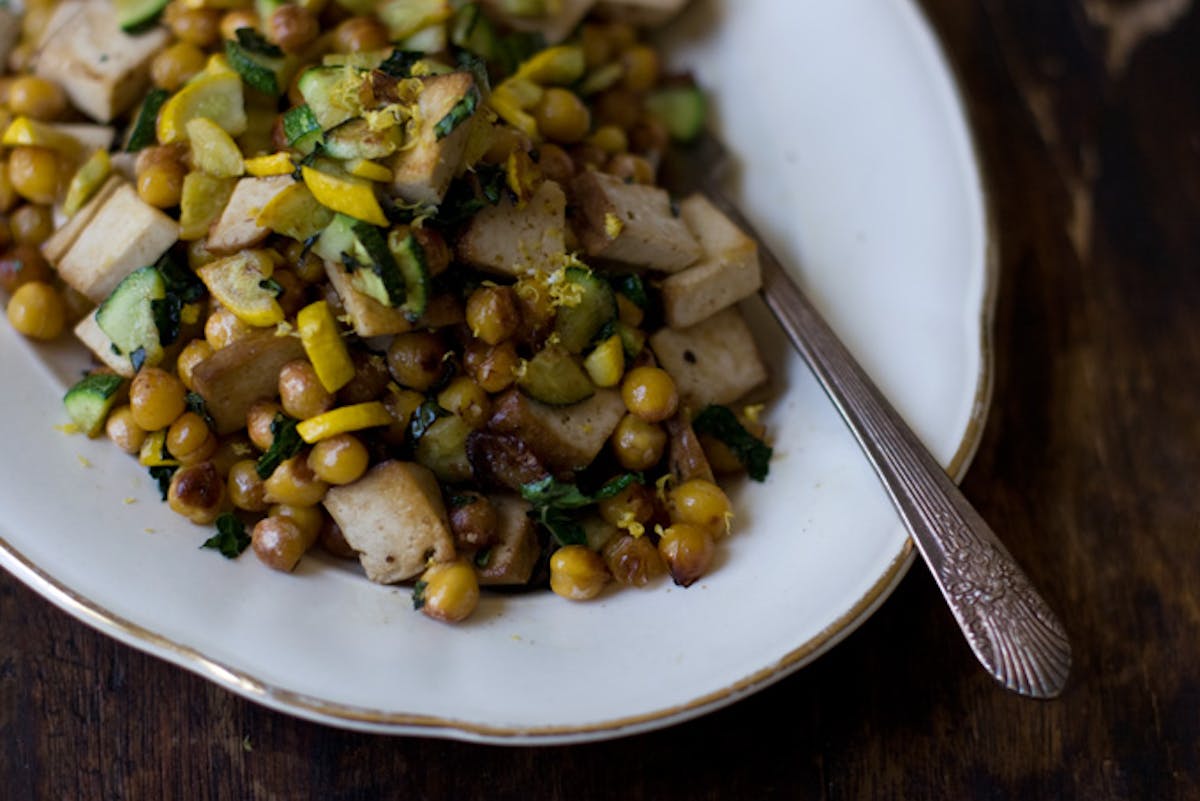 A quick single-skillet stir-fry thrown together with ingredients picked up at the Slow Food Nation Marketplace. There are few things tastier than golden, crusty, pan-fried chickpeas - and this is where we start. It also features chopped kale, summer squash, and a bit of tofu. I should note that I used a great locally produced ghee as the cooking medium. It has a subtle, sweet nuttiness that pairs beautifully with chickpeas and withstands high cooking temperatures nicely. A kiss of lemon juice (and a bit of zest in the pan) at the end of the cooking process sets off a fragrant finale signaling to anyone in the vicinity that it is time to eat.
I also can't resist throwing in a quick update about our new Kiva / 101 Cookbooks lending team. As of this moment we have more members than any other lending team(!). So exciting. Upload your pictures, fill out your profiles, and let's keep this ball rolling the right direction - since my last post we've sponsored nearly $5000 in loans. For those of you who missed the original Kiva post, you can read more here.
Lemony Chickpea Stir-fry Recipe
I used Soy Deli Savory Organic Tofu here, but plain is fine too.
2 tablespoon ghee or extra-virgin olive oil
fine grain sea salt
1 small onion or a couple shallots, sliced
1 cup cooked chickpeas (canned is fine, if you don't want to cook up a pot of dried chickpeas)
8 ounces extra-firm tofu
1 cup of chopped kale
2 small zucchini, chopped
zest and juice of 1/2 a lemon
Heat 1 tablespoon of the ghee/olive oil In a large skillet over medium-high heat and stir in a big pinch of salt, the onion, and chickpeas. Saute until the chickpeas are deeply golden and crusty. Stir in the tofu and cook just until the tofu is heated through, just a minute or so. Stir in the kale and cook for one minute more. Remove everything from the skillet onto a large plate and set aside. In the same skillet heat the remaining tablespoon of ghee/olive oil, add the zucchini and saute until it starts to take on a bit of color, two or three minutes. Add the chickpea mixture back to the skillet, and remove from heat. Stir in the lemon juice and zest, taste, and season with a bit more salt if needed. Turn out onto a platter and serve family style.
Serves 2 - 4.