Macaroon Cherry Tart Recipe
My go-to cherry tart recipe - unfussy, and quick to make with a moist, coconut macarooned top.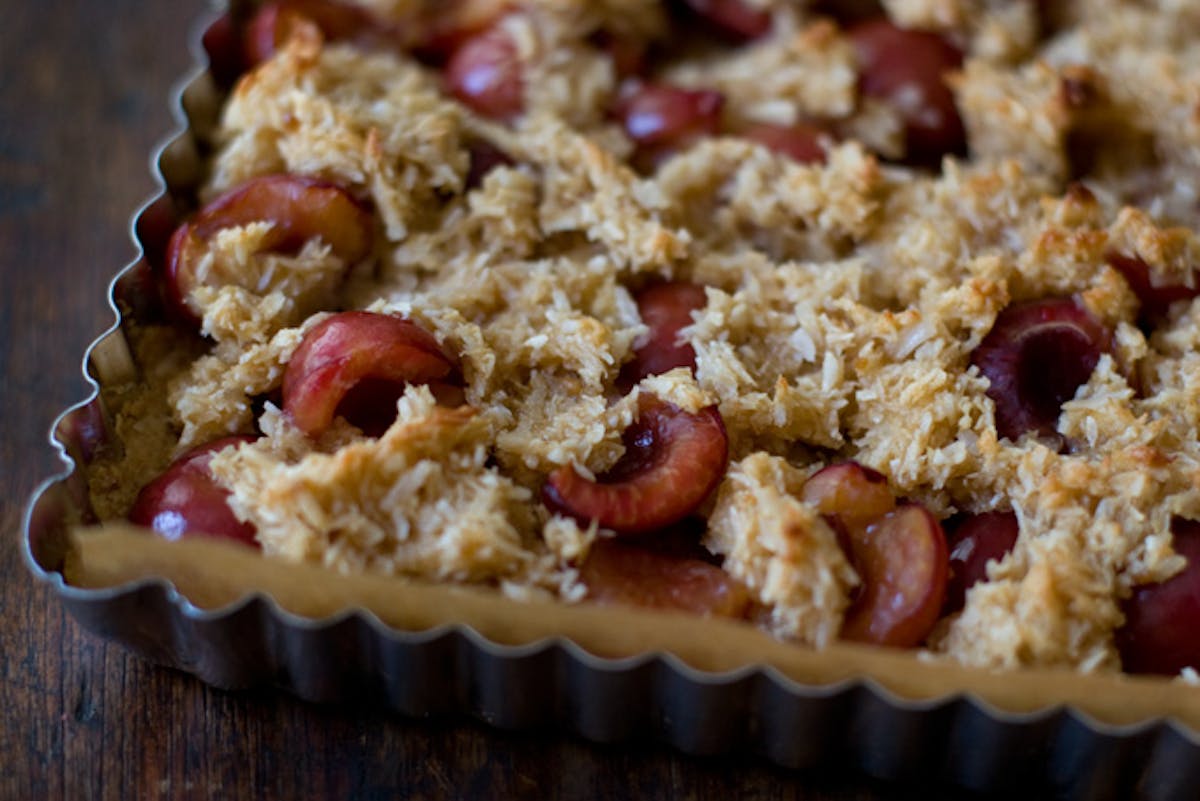 Last week I watched the paint melt off the walls in my kitchen. It was that hot here in San Francisco. It won't surprise most of you to hear that during this heat wave I spent most of my time in the kitchen - with the oven (and all burners) blazing. My sister is seven months pregnant and Sunday I threw her a baby shower. Other than a spending a couple days in an overheated kitchen, pulling together the food was fun, and a welcome change for me. I mean, you see how I typically cook - for two (with lots of leftovers!). I made lots of different things for the party and it was tough for me to decide which recipe to share with you first. This macaroon cherry tart won out. For those of you who think tarts are too fussy - as far as tart-making is concerned, this is about as unfussy as they get.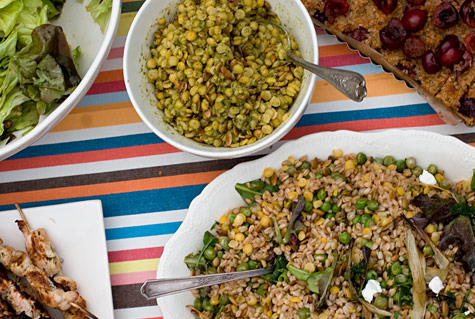 The tart came about on a bit of whim. Cherries are flooding the markets here right now. I had a couple baskets of Brooks cherries on hand and decided to go for it. I grabbed for other ingredients in my immediate vicinity - coconut, eggs, a favorite sugar, and decided on a press-in-pan, coconut, too-lazy-to-roll-out, crust. For the effort that goes into making a tart like this (minimal), the payoff is excellent. I also love the way they look - but I suppose I am biased ;)...For a gluten and wheat-free version of the tart, please look to the head notes.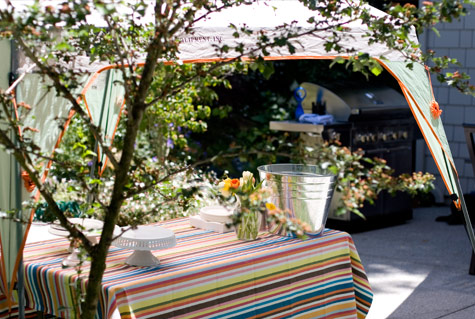 For those of you who might be curious about some of the other plates that were served (you can see some of them in the photo up above):
- a big farro salad with citrus dressing and lots of springtime goodies.
- a new version of ravioli salad with a cilantro pesto and other tasty bits
- a big butter leaf salad with a a few crushed pistachios
- goat cheese garlic-rubbed crostini (similar to the one in SNC)
- special split yellow peas
- a big bowl of lemon-zested toasted pepitas
- big bowls of citrus wedges
- Mark (my beer-brewing, fantastic brother-in-law) grilled up a platter of lemon chicken skewers, and Wayne did the spicy-lemon tofu version for the vegetarians
Unfortunately, the heat wave has now passed. We're officially fogged in, and I'm sitting here bundled up in a sweater with a hood. If anyone sees the sun, could you send him back to SF for a few more days - perhaps dialed down just a touch? It would be much appreciated.

Macaroon Cherry Tart Recipe
I made this tart a day in advance and it served up nicely. Don't get too hung up on the exact pan size, anything in the general ball-park of 8x11 will work. On the cherry pitting front, here's the trick (if you don't own a cherry-pitter): take a pair of clean needle nose pliers and use them. Once you get the swing of things it goes fast. Insert the pliers into the side of the cherry at a 90-degree angle - straight in the side. When you go in through the side with the pliers open just a hint you're able to get a grip on the pit at a comfortable angle and rip it right out. This technique leaves the cherry intact for the most part as well. Gluten free alternative: Mary, one of my readers wrote in to say she made the tart gluten and wheat free by substituting 1c almond flour and 1/2 sweet rice flour for the 1 1/2c of regular flour, "It was delicious!!!"

1/2 pound cherries, washed
1 1/2 cups white whole wheat flour (regular apf flour will work)
2 3/4 cup unsweetened finely shredded coconut (divided)
1 1/4 cup raw cane (or brown) sugar, lightly packed (divided)
scant 1/2 teaspoon fine grain sea salt
10 tablespoons unsalted butter, melted
4 large egg whites
Preheat oven to 350F degrees with racks in the middle. Butter an 8x11 tart pan (or rough equivalent) and line with parchment paper. Pit the cherries (see headnote), tear each cherry in half, and set aside.
In a large bowl combine the flour, 3/4 cup of the coconut, 3/4 cup of the sugar, and salt. Stir in the melted butter and mix until dough is crumbly but no longer dusty looking. Press the mixture into the prepared pan (it should form a solid, cohesive base), and bake for 15 minutes. Remove and set aside.
In the meantime prepare the coconut topping by combining the remaining 2 cups coconut, the remaining 1/2 cup sugar, and egg whites. Mix until well combined.
Evenly distribute most of the cherries across the tart base. Now drop little dollops of the macaroon topping over the cherries (I dirty up my hands for this part), and mush/press the coconut topping around a bit into the spaces behind the cherries. Be sure to let at least some of the colorful cherries pop through the topping for visual flair. Bake for about 20 minutes or until the peaks of the macaroon topping are deeply golden. Let tart cool, and garnish by sprinkling any remaining fresh cherry halves across the top.
Makes about 48 petite bites.