Minty Chocolate Christmas Cookies Recipe
This cookie combines thin chocolate wafers with a thick, creamy peppermint filling. A wonderful holiday or Christmas cookie.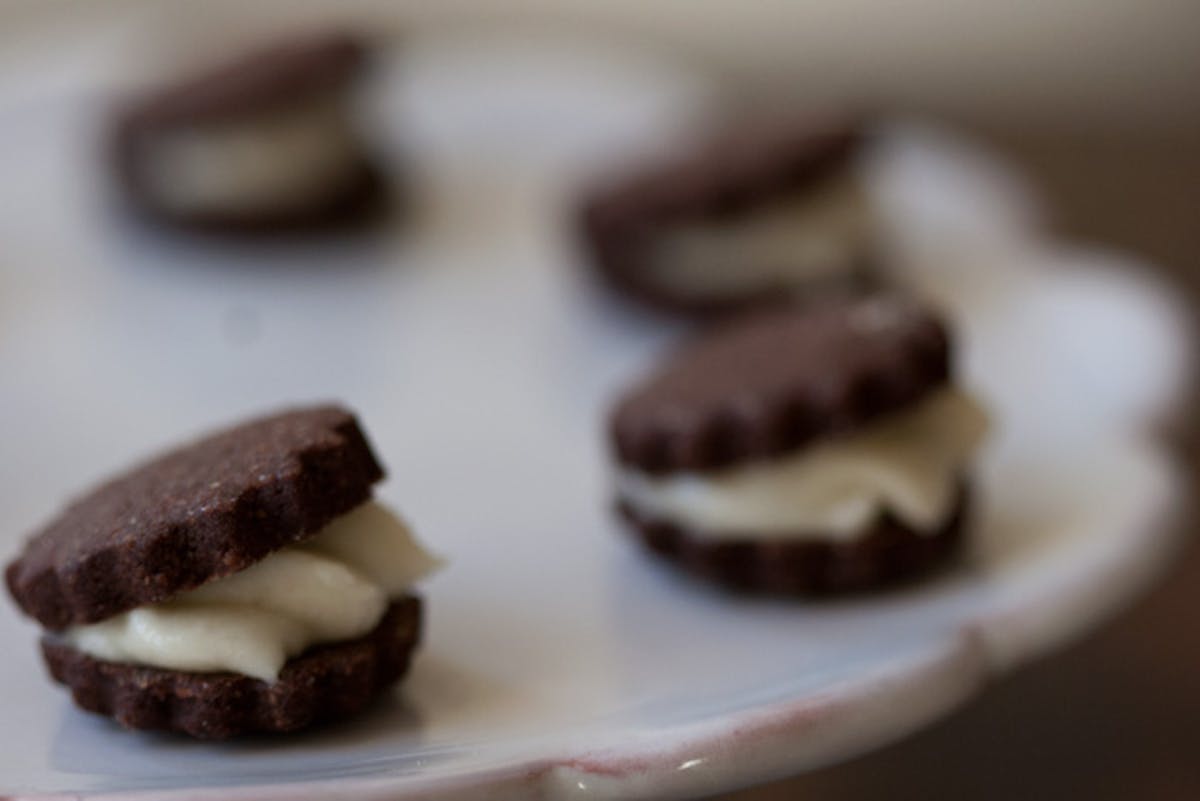 I suspect many of you are on the prowl for Christmas cookie recipes. I have to admit, I've been quite excited about attempting to put my own personal twist on a few cookie classics this year. After quite a bit of tinkering in my kitchen, I have a few different cookie recipes to share with you over the next two weeks - you'll have to let me know what you think. This first cookie combines thin chocolate wafers with a thick, creamy peppermint filling. I was imagining something along the lines of a homemade, peppermint, Oreo-type sandwich cookie. I stamped them into cute, tiny, bite-sized shapes - so they wouldn't be too overwhelming.
Many of you will recognize the chocolate wafer cookies - they are very similar to the ones I use in the Thin Mint Cookies in Super Natural Cooking, so if you've made those, you know the drill. I rolled the dough extra thin here, so the cookies wouldn't be taller than they were wide. A few non-holiday versions of this cookie that came to mind while making these...how about a sweet peanut butter filling in place of the peppermint - then giving the cookie a dunk in melted chocolate for a coating. Sweet pistachio butter might be delicious as well. Or some sort of banana or coconut filling, or banana & coconut :) Again, the possibilities are endless.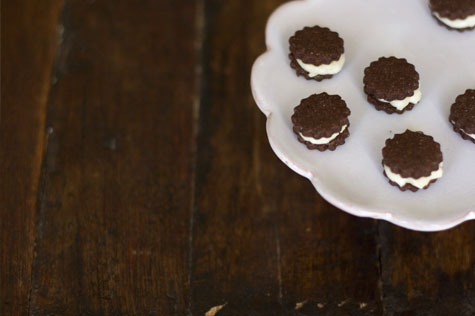 Minty Chocolate Christmas Cookie Recipe
I use Dagoba cacao powder for these cookies, but that's a personal preference. I also seek out organic powdered sugar, which isn't as bright white as typical powdered sugar, but once you beat a bunch of air into it, it brightens right up (see photos). This recipe calls for whole wheat pastry flour, but you can use unbleached all-purpose flour if you like.
1 cup unsalted butter, at room temperature
1 cup powdered sugar
1 teaspoon pure vanilla extract
1 cup nonalkalized cocoa powder
1 egg white
3/4 teaspoon fine-grain sea salt
1 1/2 cups whole-wheat pastry flour

Peppermint cream filling:

2+ cups powdered sugar, sifted
10 - 15 drops peppermint extract (to taste)
1/4 cup half and half (or water if you are going to keep the cookies around unrefrigerated for a while)
Pre-heat the oven to 350F degrees, position the racks in the middle of the oven, and line two baking sheets with parchment paper or a Silpat.
Using a stand mixer or handheld mixer, cream the butter until light and fluffy. Add the powdered sugar and cream some more, scraping the sides of the bowl a time or two. Stir in the vanilla extract, cocoa powder, egg white, and salt and mix until the cocoa powder is integrated and the batter is smooth and creamy and the consistency of a thick frosting. Add the flour and mix just until the batter is no longer dusty looking. It might still be a bit crumbly, and that's okay.
Turn the dough out onto a floured work surface, gather it into a ball, and knead it just once or twice to bring it together into a smooth mass. Divide into two pieces place each into a plastic bag and flatten into disks roughly 1 inch thick. Put the dough in the freezer for 20 minutes to chill.
One bag at a time remove the dough from the freezer. On a well floured surface roll it out very thin (remember these are going to be sandwich cookies) - roughly 1/8 inch thick. Or you might find it easiest to roll it out between to Silpats or pieces of plastic. Stamp out cookies in whatever shape you like - I used tiny scalloped circles here. Place on the prepared baking sheets, and bake for 7-10 minutes, or until they small of deep warm chocolate with toasty overtones. Larger cookies will take longer to cook than smaller ones. Remove from the oven and cool completely on a wire rack (if you have one).
While the cookies are baking, go ahead and make the filling. Using a stand mixer or handheld mixer, whisk together the sugar and half and half until nice and fluffy. You want the filling to be thick enough that it doesn't ooze out the sides of the cookies after they are filled, so if you need to add more powdered sugar, do so in small increments. If you need to thin out your filling, add more half and half a few drops at a time. Whisk in the peppermint extract a bit at a time, and taste as you go, the peppermint flavor shouldn't be overwhelming. When the cookies have completely cooled slather a bit of filling on half of the cookies. Top each slather with another cookie and enjoy!
Makes about 3 dozen 1 1/2-inch sandwich cookies.