Winter Green Miso Paste (and Ten Ways to Use It)
A herbaceous, green miso paste with some garlic bite, rounded out with lots of scallions, cilantro, ginger, and some rosemary. Plus ten simple ways to use it!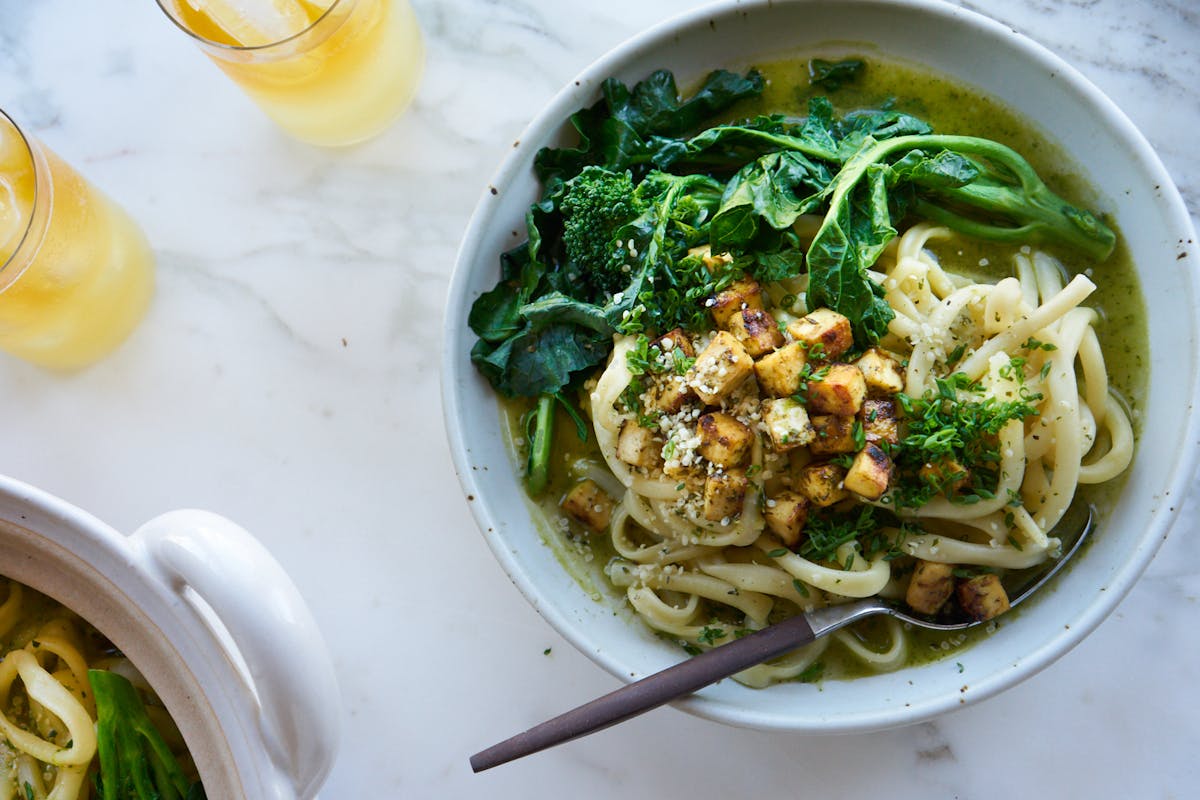 Let's chat about shortcuts! Having a rainbow-colored lineup of homemade curry pastes in the freezer is one of my favorite, slightly cheaty culinary strategies. Tricked out miso pastes fall into this category as well. A few times a year, I take an hour or two, and make a range of favorite pastes. I freeze them in little snack-sized baggies, and stack them flat in the freezer enabling quick thaws for flash-quick weeknight curries, vibrant broths, and noodle bowls.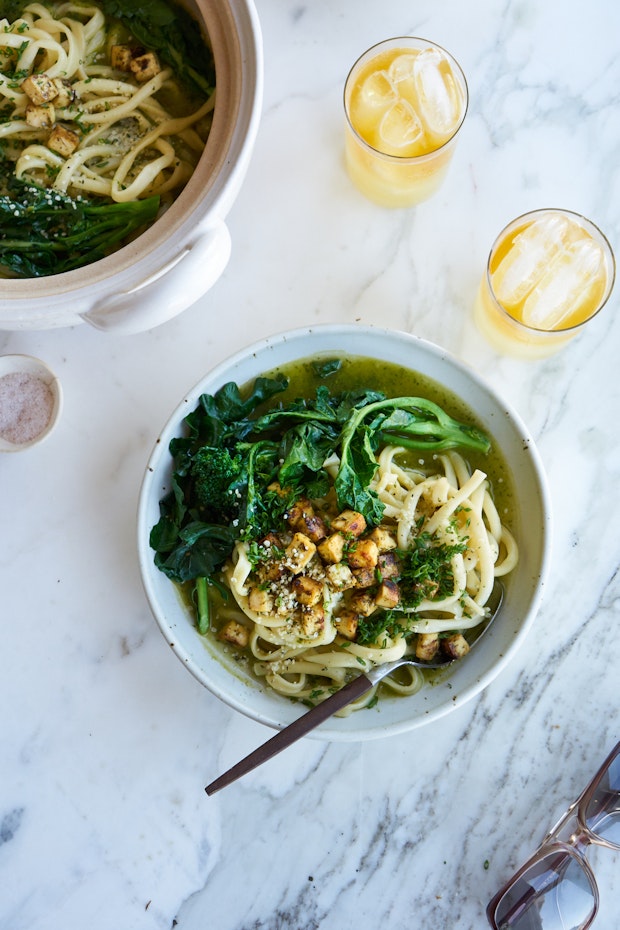 A lot of you are familiar with this Lemongrass Turmeric Curry Paste (a long-time favorite), and today's recipe is a beautiful rosemary spiked alternative. It's a herbaceous, green miso paste with some garlic bite, rounded out with lots of scallions, cilantro, and ginger. The brothy noodle bowl pictured above is a winter green miso soup along with noodles, winter-miso roasted tofu cubes (notes below), with hemp seeds. Also, lots of chopped chives, and some leafy broccoli (cooked in the pasta water for the last minute). I'm also including ten other ways I like to use it - but, I'm sure you can think of more! :)
Ideas & Variations:
- Winter Green Miso Soup: add a big(!) dollop of the miso paste to 4 - 6 cups of hot water (just shy of simmering), for an herby green miso soup. Season with more paste for more flavor, and take some time to salt to taste.
- Winter Green Miso Guacamole: For a twist on guacamole, mash a dollop of the miso paste into a ripe avocado, along with a squeeze of lemon or lime juice, and a pinch of salt.
- Winter Miso Veggie Burger: Stir a big dollop into your favorite veggie burgers
- Winter Green Miso Roasted Tofu: (Pictured here, on noodle bowl) Cut tofu into small cubes and toss with a generous amount of paste. Arrange on a baking sheet, and bake at 375F until tofu is golden.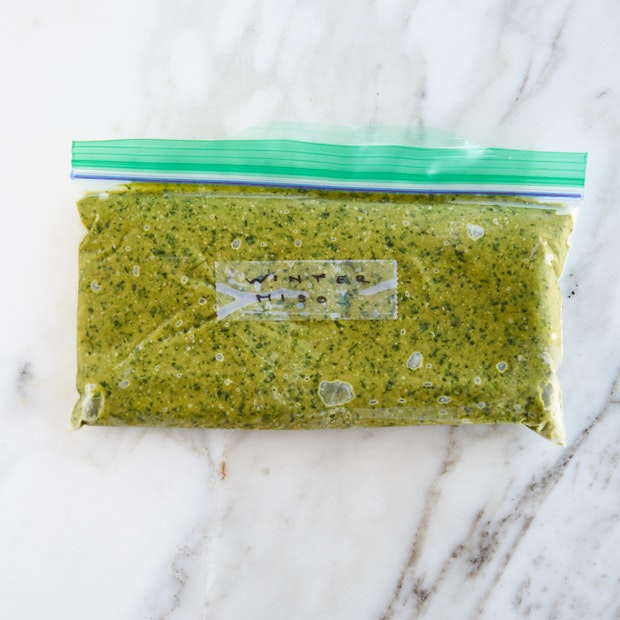 - Winter Green Miso Roasted Vegetables: Same idea as the tofu. Toss with some paste in a bowl, arrange on a baking sheet, roast at 375F until golden. I love this approach to chubby slices of delicata squash, broccoli florets, and cauliflower.
- Winter Green Miso Vegetable Bowl: Make a broth using half water, half cashew milk, and a big dollop of miso paste. In a separate skillet, cook some sliced onions/shallots, add some favorite vegetables, and some tofu. Combine the cashew broth with the veggie mixture, and finish with a big squeeze of lime juice. Taste, and season with salt, and/or more winter miso paste.
- Winter Miso Mashed Potatoes: You know this is good whisked into your best mashed potatoes, right?
- Winter Miso Lettuce Wraps: Smear a bit on lettuce wraps, they really light up.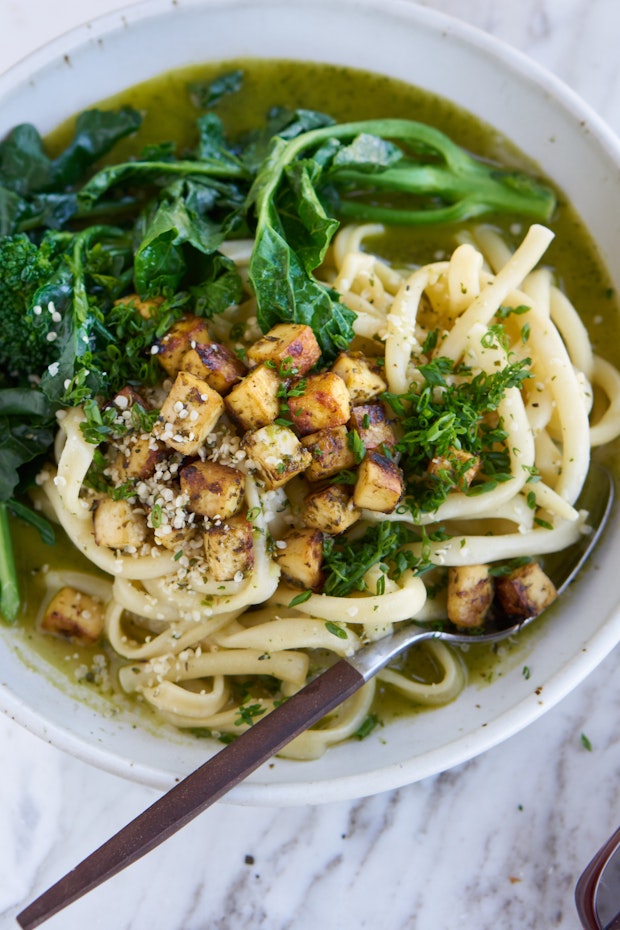 - Winter Green Miso Ravioli/Dumpling Bowl: Make a quick miso soup using the paste. Cook your favorite raviolis or dumplings in a separate pot. Drain, transfer to individual bowls, ladle miso over, and finish with some fried, crispy shallots and/or toasted almonds.
Winter Green Miso Paste
The one thing to keep in mind here is that some miso are much saltier than others. You can always add salt to taste, but it's a little tricky to take salt away. I'll often add a generous dollop to a pot of hot water, add more paste until the flavor is strong enough, and then finish with salt to taste. If the flavors aren't popping, or things are tasting flat, simply add more salt, a bit at a time. This make a generous batch, store as much as you might use in a week in the refrigerator, and freeze the rest in small baggies, or ice cube trays. If you are avoiding soy, seek out chickpea or other non-soy miso.
Ingredients
1/2

cup

organic miso

2/3

cup

extra-virgin olive oil

4

medium cloves of garlic, peeled

2

tablespoons

fresh rosemary

2

bunches of cilantro, leaves and stems

16

scallions, trimmed

2-

inch

segment of ginger, peeled
Instructions
Use a food processor or blender to puree all ingredients into a paste. Taste, adjust seasoning, and use.
Notes
Makes about 2 cups.
To make the pictured noodle bowl, make a simple pot of winter green miso soup. Cook noodles on the side, adding some broccoli at the last minute. Drain. Roast miso-slathered tofu (and/or veggies) in a 375F oven until deeply golden. Arrange noodles, broccoli, tofu in bowls, pour miso soup over, and finish with hemp seeds and lots of chives. Enjoy!
Related Recipes
More Recipes
Popular Ingredients