Miso Sesame Winter Squash
Inspired by a recipe in Bryant Terry's cookbook, The Inspired Vegan. Roasted winter squash (and tofu) is combined here with a wonderful miso, maple, sesame and citrus sauce.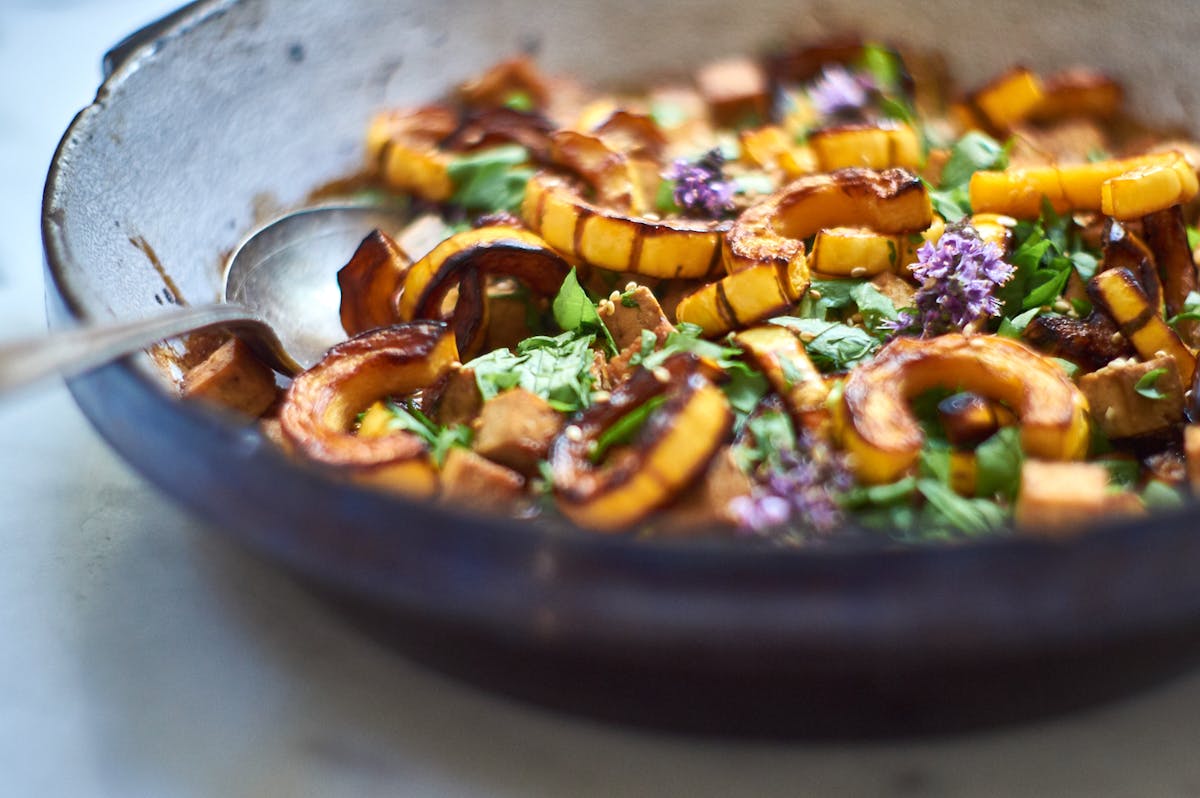 This roasted winter squash medley is a riff on one of the recipes in Bryant Terry's cookbook, The Inspired Vegan. I'm a forever fan of Bryant and his flavor and ingredient combinations for good reason. His recipes are always flavor-forward, and across the span of a book he tends to pull from a global pantry. Beyond that, he's just the sort of person I like to turn to when I need someone to yank me out of the occasional culinary rut every cook finds themselves in. It was his Molasses, Miso, and Maple Candied Sweet Potatoes that caught my attention.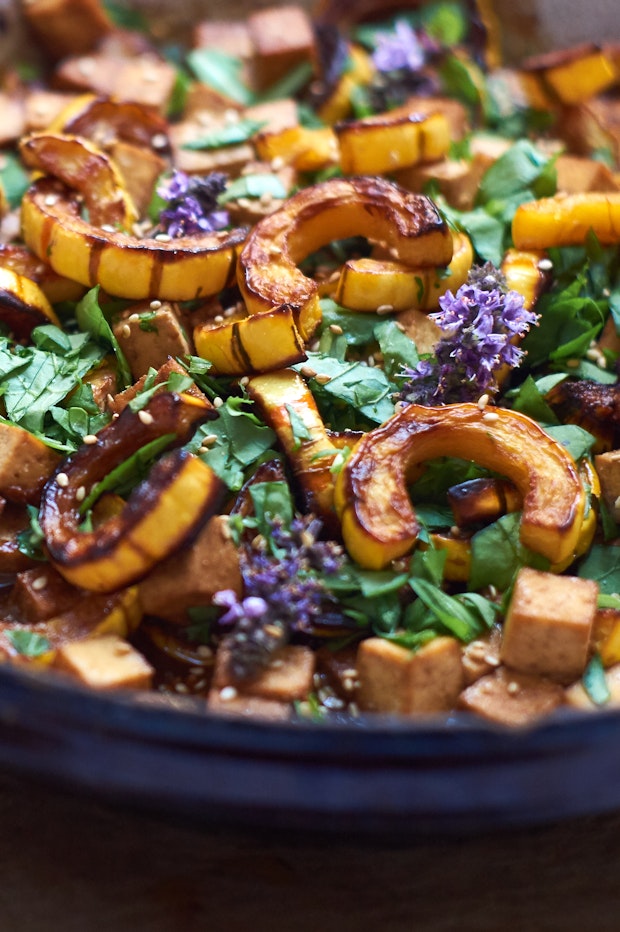 While I didn't have sweet potatoes, I went ahead based on what I did have on hand.  By swapping in delicata squash and tofu for the sweet potatoes, you're looking at what turned out to be a spectacular one-pan meal. If you end up liking this recipe, be sure to take Bryant's amazing green rice for a spin.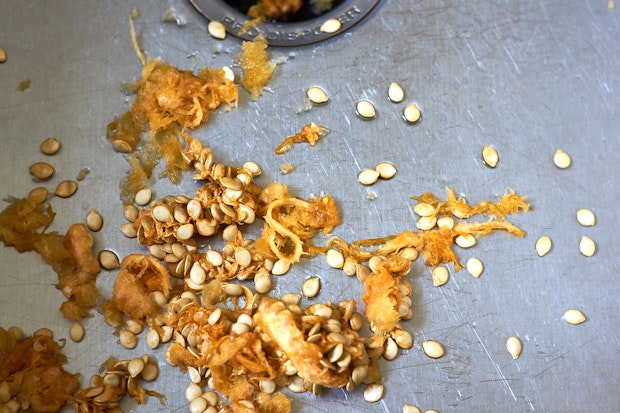 The Game Plan
Here's how today's recipe shapes up. Your primary ingredients are tossed with a citrus-spiked, maple-molasses marinade of sorts. The sappy sweetness is balanced by the salty complexity of miso and tamari/shoyu. A toasted sesame backdrop is added for good measure. It works brilliantly. Thinking more about it, I imagine you could use the sauce/marinade to roast any number of ingredients beyond winter squash or sweet potatoes - for ex: tempeh, broccoli, cauliflower. Let me know if you do a take on this that works particularly well!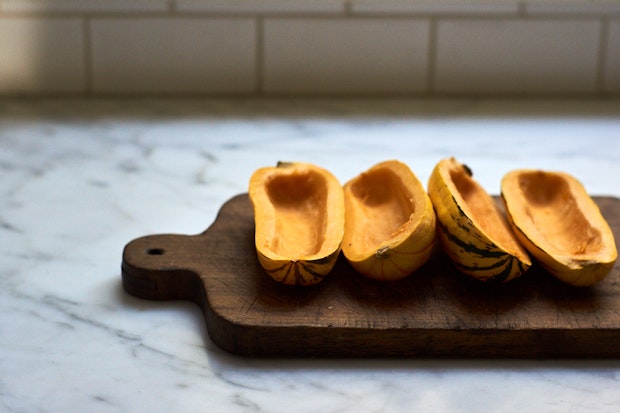 Slice the squash lengthwise, clear out the seeds (above), and then cut across into thin, fast-roasting, crescents (below)!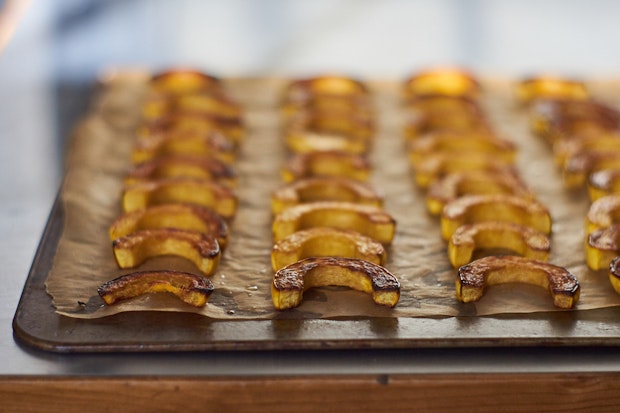 I'm re-emphasizing the fact that you can leave the skin on delicata squash. It's edible and a key part of what makes them one of my favorite squashes to use - fast and flavorful. Roasted winter squash of other varietals should generally be peeled, although I often leave the skin on kabocha squash.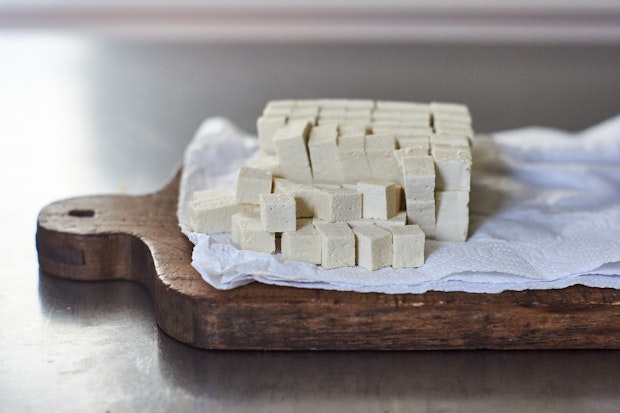 For this recipe, opt for extra-firm tofu. I like to cut it into little cubes (see above) not much larger than then ones you might get in a miso soup at a restaurant. Enjoy!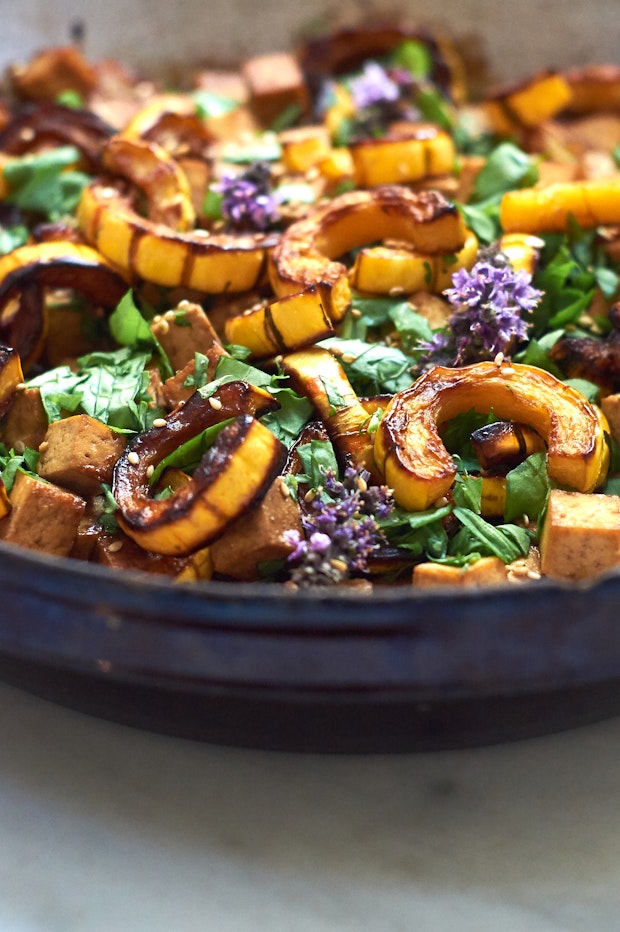 A Couple Variations
Make it spiced: GG Mora weighed in with this, "

I tossed the marinade (which I augmented with a goodly tablespoon of sambal oelek) and squash with a full bunch of red kale, chopped coarsely. This will become part of my regular weeknight rotation – it was delicious (and nicely 'low-impact')."

Ponzu style: Duff shares, "

This is a great recipe. I have made it twice. The 2nd time, I used Ponzu in place of the tamari/lemon juice. It was, imho, even a little bit better."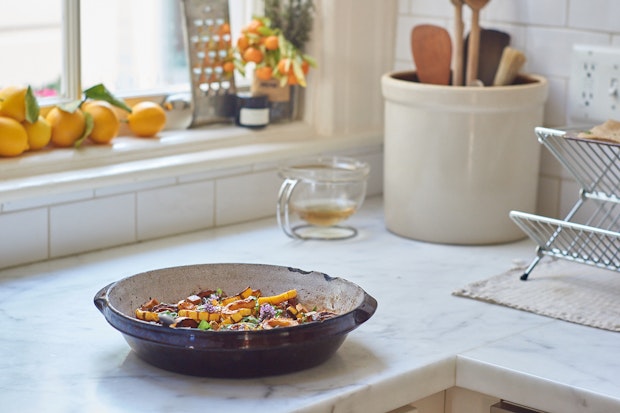 More delicata squash recipes
Miso Sesame Winter Squash
As I mention up above, I used unpeeled, seeded delicata squash here, but you can use other winter squash. Peel it first though. Bryant uses 2 1/2 lbs. peeled sweet potatoes and no tofu.
Ingredients
2

pounds

delicata squash (~3), halved, seeded, and cut into 1/2-inch inch thick pieces

2

tablespoons

toasted sesame oil

2

tablespoons

molasses

1

teaspoon

tamari or shoyu

2

tablespoons

pure maple syrup

1

heaping tablespoon white or yellow miso

1/4

cup

freshly squeezed orange juice

1

tablespoon

freshly squeezed lemon juice

1/4

teaspoon

grated lemon zest

5

tablespoons

water

8

ounces

organic extra-firm tofu, pressed, cut into 1/2-inch cubes

Various toppings: toasted sesame seeds, chopped arugula, basil, basil flowers, lemon wedges
Instructions
Preheat the oven to 425°F / 220°C, with a rack in the middle.

In a large bowl, toss the squash with 1 tablespoon of the sesame oil. Spread the squash on a parchment-lined or well-greased baking sheet in a single layer and roast for 40 minutes, turning over with a fork after 20 minutes. Or, until golden on both sides.

In the meantime, in a medium-size bowl, whisk together the molasses, tamari, maple syrup, miso, orange juice, lemon juice, lemon zest, water, and the remaining tablespoon of sesame oil. Add the tofu, toss to coat, and set aside.

When the squash is deeply golden on both sides, remove from the oven.

Transfer the squash to a 2-quart baking dish. Pour the tofu mixture over the squash, and gently toss. Bake, uncovered, for 30 minutes, or until a good amount of the marinade boils off. Toss gently a couple times along the way. Finish under the boiler if you like, or if you like a bit of extra color on top. Remove from the oven, and season with salt, if needed.

Finish with some toasted sesame seeds, chopped arugula, and/or herbs, and serve immediately with lemon wedges on the side (to squeeze on top).
Related Recipes
More Recipes
Popular Ingredients