Miso Vegetables & Tofu Recipe
A one-dish meal, inspired by a recipe in Harumi Kurihara's Everyday Harumi - asparagus, broccoli, and tofu tossed with a salty-sweet miso dressing.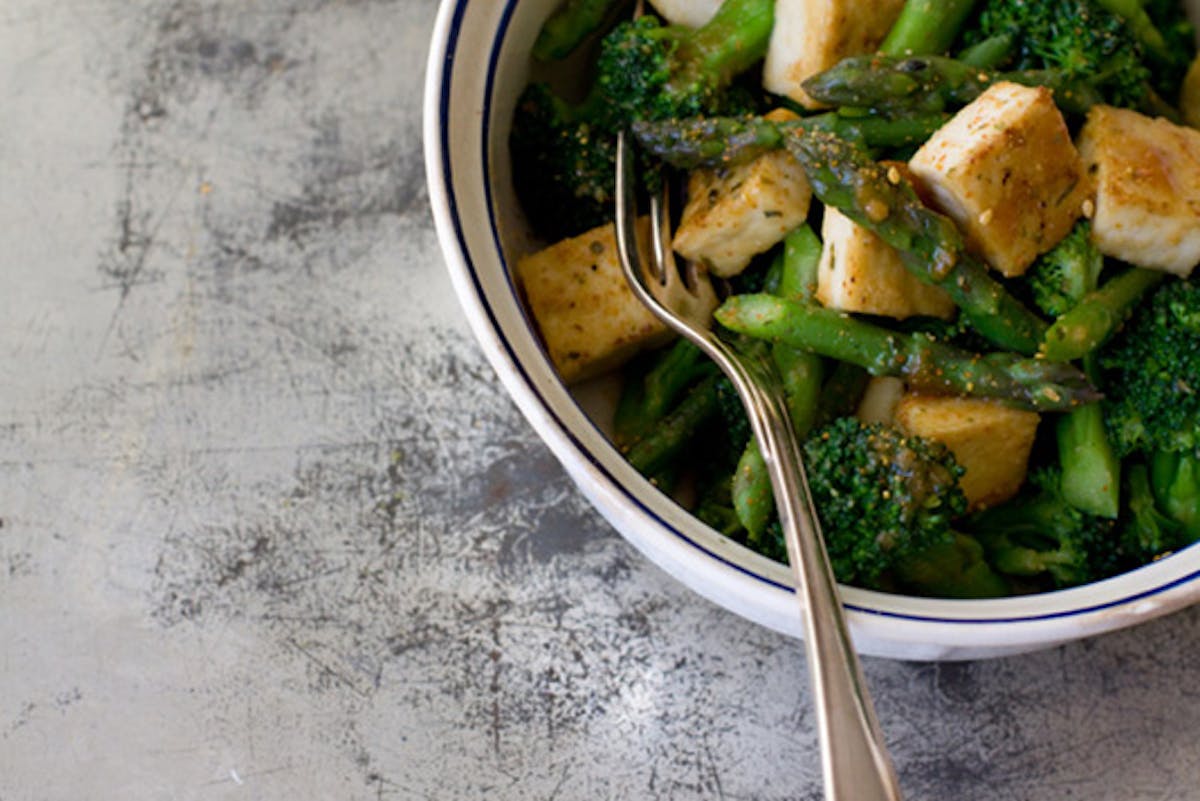 My apologies in advance. It has been a bit busy on this end, and although this post will be on the short side, the recipe itself is particularly tasty. Eight ingredients and a few simple steps come together into something special. A light meal that still satisfies. The flavor profile is Japanese, and it's one of those preparations where an interesting dressing and good quality vegetables come together into something vibrant and uplifting. It's the sort of thing I like to have for lunch, but could also make a nice component in an al fresco dinner.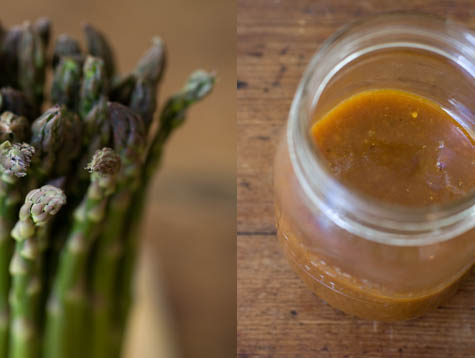 It's based loosely on a recipe I came across in Harumi Kurihara's beautiful Everyday Harumi cookbook. Harumi makes a seductively colorful side dish by dressing lightly blanched green beans, broccoli, and cauliflower in a salty-sweet miso dressing. I wanted to make a one-dish meal based on this general idea. I used in-season vegetables (the asparagus and broccoli caught my eye yesterday's market), and in addition to that, tofu I'd browned in a pan. You can certainly experiment with whatever vegetables are in season where you are.
Have a look at Everyday Harumi if you come across it, I bought a copy a few weeks ago, and there are quite a number of recipes I'm excited to try. It is beautifully produced, photographed, and designed. The recipes are completely (weekday) approachable, with plenty of inspiration for vegetarians and non-vegetarians alike.
Also, for those of you not familiar with Harumi, Julia Moskin wrote a nice profile of her a few years back for the New York Times - Empress of Domesticity Drops In.
Again, my apologies for being so short with this post - house guests, book writing, and preparing for a couple little trips - all creating the perfect storm of distraction this week!
Miso Vegetables & Tofu
A couple notes: This recipe makes more dressing than you'll need. But the leftover will keep refrigerated for a week or two. As far as vegetables go, I used a combination of thin asparagus and broccoli florets here (in season), but Harumi uses green beans, cauliflower, and broccoli. Have fun experimenting with different in-season ingredients wherever you are.
6 oz awase miso (or blend or equal parts white & red miso)
1/4 cup sake
1/2 cup mirin
3 tablespoons sifted natural cane sugar
red pepper flakes or shichimi tōgarashi, a big pinch or two

4 cups / 12 oz / 340 g bite-sized veggies (see headnotes)

12 ounces / 340 g baked or grilled (or lightly pan-fried) firm tofu, cut into bite-sized pieces
Start the dressing first. Combine miso, sake, mirin, and sugar in a small saucepan. Bring just to a boil, dial down the heat and simmer gently for about 20 minutes, or until it thickens a bit. Toward the end, stir in the red pepper flakes, adding to taste. Remove from heat and allow to cool.
In the meantime, bring a pot of water to a boil. Salt the water and blanch the vegetables very briefly, just long enough to take the raw edge off, no more than a minute. I knew the broccoli might take 20-30 seconds longer to cook than the thin asparagus, so I added it to the pot first. Use your best judgment based on whatever vegetables you are using. Drain and immediately run under cold water to stop the cooking. Drain well, you want to try to get as much water off the vegetables as possible.
In a large serving bowl gently toss the vegetables until thoroughly coated with 1/3 cup / 80 ml of the miso dressing. Add the tofu and toss again. Taste and add more dressing if you like, just keep in mind, this particular dressing is quite strong and rich. Serve family-style or individually topped with a bit more shichimi tōgarashi or a sprinkling of red pepper flakes.
Serves 4 - 6, plus leftover dressing.
Inspired by a recipe in Harumi Kurihara's Everyday Harumi. Published by Conran, 2009.
Prep time: 10 minutes - Cook time: 20 minutes