Moroccan Baby Carrot Salad Recipe
Carrots tossed in a honey-kissed orange dressing, punctuated by toasted pine nuts, black olives and a hint of cumin.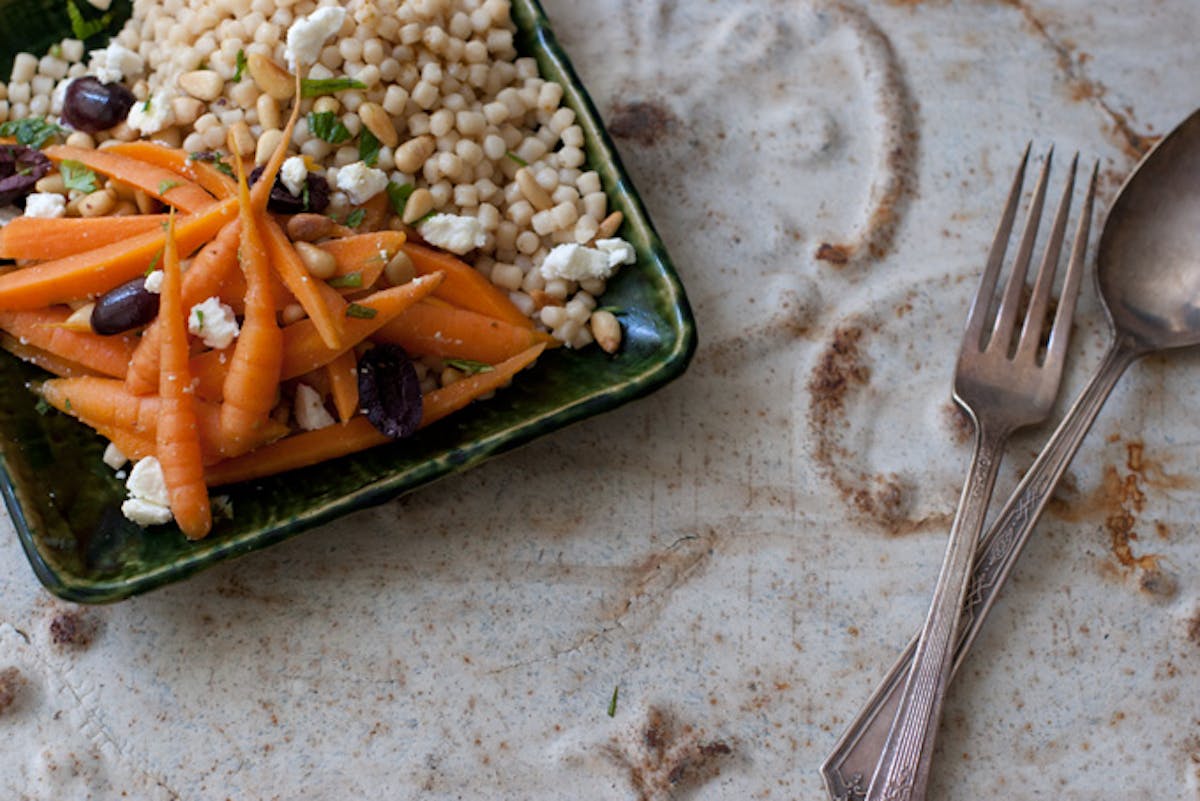 The last time I went to my favorite "girls-night" potluck, my friend Robin trumped all other offerings by breaking out a bottle of Chateau d'Yquem Sauternes to finish up the evening. Needless to say, I recommend inviting Robin to your parties as well. This time around, I brought a carrot salad. Before you yawn, let me just tell you that I've been fixated with carrot salads after having a delicious version at Boulette's Larder, followed a few weeks later by another delicious version at Piccino. Both completely changed my perception of what a carrot salad could be. So when I came across a version from one of my favorite San Francisco restaurants I couldn't resist trying it.
Today's Morrocan Carrot Salad is a slight riff on the version of the recipe chef Mourad Lahlou of Aziza contributed to the San Francisco version of the 86 Recipe card deck (available later this summer). It has a heady cumin flavor, is tossed in a honey-kissed orange dressing, and is punctuated by toasted pine nuts and black olives. I've become mildly obsessed with Aziza in recent months in part because of the house-made couscous, in part for the amazing Moroccan flavors I've experienced there (absolutely warrants its own post). So, while this post started rooted in a recipe contributed by Mourad, I'd say it turned into a Cali-interpretation of his Moroccan Baby Carrot salad. I intended to follow the recipe to a tee, and well...you know how that goes. Whatever it is, it's delicious.
At the potluck in addition to the Moroccan carrot salad, the five of us contributed to a spread of savory tarts, homemade semolina flatbreads, muhammara dip, good wines, and decadent Burrata cheese. Lulu finished it off with bright and tangy lemon verbena frozen yogurt topped perfect, juicy-sweet, ruby-colored strawberries and thin shortbread wafers (I had seconds, and had to resist thirds). I'll link to those recipes if any of the ladies end up posting about them on their sites.
This photo you see above is a bit of the leftover carrot salad served over some nutty Sardian pasta called fregula. It would be good over couscous, and any number of other grains - wheatberries or pearl barley also come to mind.

Moroccan Baby Carrot Salad Recipe
To be totally honest, I'm nearly always too lazy to peel carrots. I look for fresh bunches of spring carrots, or the smallest, babiest of spring carrots topped with lively, healthy-looking greens. In addition, peeling these guys strips away much of their barely rustic personality - another reason not to bother. I give them a good, hearty scrub, and they are ready to go. I cut back quite a bit on the ground cumin (feel free to use more!) and loaded up on the add-ins here, more than the original recipe calls for - also threw in some crumbled manouri cheese (totally optional) - feta or goat cheese would also do nicely, each in its own way.
2 teaspoons cumin seeds
1/4 cup olive oil
1 pound baby carrots (or spring carrots), washed and cut into halves and/or quarters lengthwise

sea salt to taste
1 tablespoon honey
lemon juice from one lemon
1/2 cup black olives (Moroccan, Kalamata, etc), each torn in half

1/2 cup orange syrup (1 cup orange juice reduced by half over medium heat)

1 tablespoon cilantro, chopped
1 tablespoon mint, chopped
1/3 cup pine nuts, toasted
Put cumin seeds in a heavy pan over medium heat and toast until fragrant, approximately five minutes. Grind cumin seeds in a spice grinder and set aside. Alternatively, if you don't have a grinder, use pre-ground cumin.
Pour olive oil in a skillet over high heat and add carrots. Cook 2 - 3 minutes. Lower heat to medium and cook another few minutes until the carrots become just barely tender, and loose much of their crunch and raw flavor. Salt to taste.
Drain carrots in a colander to get rid of excess oil.
Transfer carrots to a mixing bowl and add honey, lemon juice, olives, orange syrup and about half of the cumin. Toss gently. Taste, add more cumin if you like.
Just before serving toss in the cilantro, mint and pine nuts. Add a bit more salt to taste if needed. Serve next to your favorite tiny pasta, grain, or rice. Sardinian fregula is shown in the photo at the begining of the post.
Serves 4 to 6.