Oregano Brussels Sprouts Recipe
New year, new brussels sprouts recipe. This one pan-fried and then finished with a drizzle or oregano deliciousness, and toasted almond slices.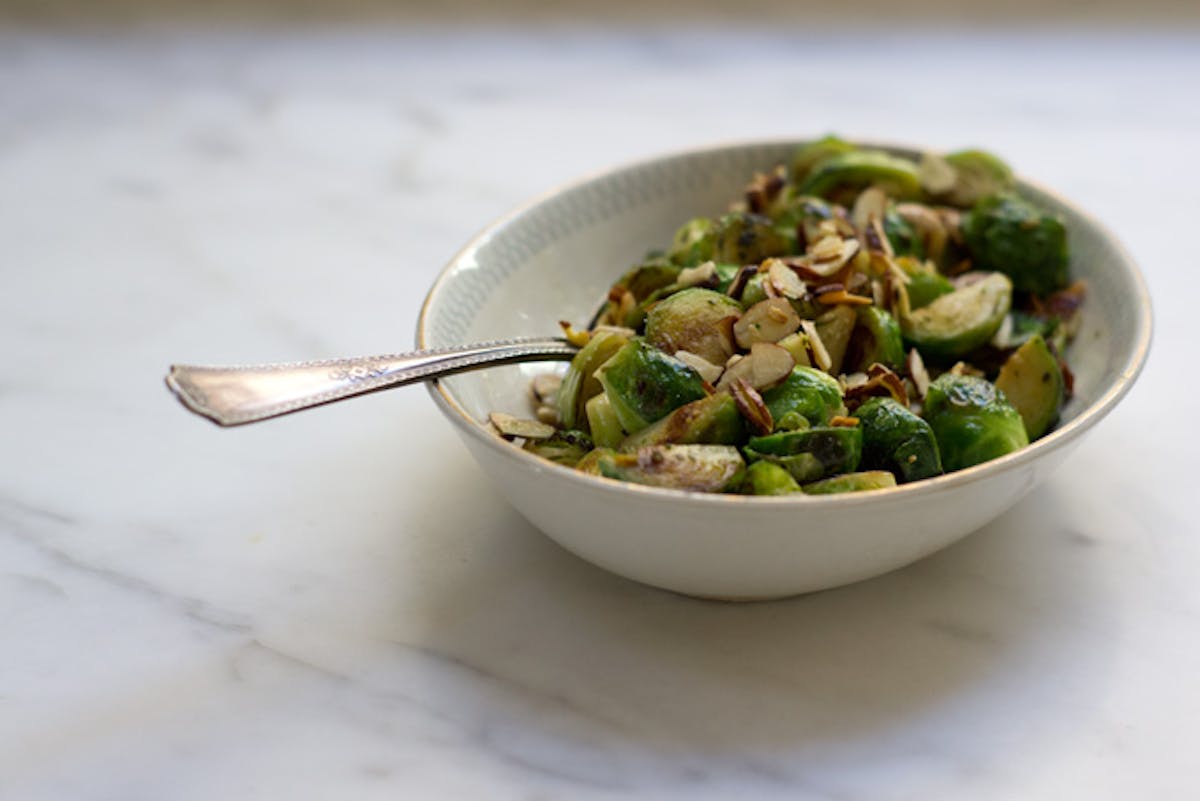 2011 was the best kind of chaotic year. There's no other way to say it. I flew to London, Portland, Palm Springs, and West Virginia. I rode rails to Paris, drove to Marfa, and walked my way through the soles of three pairs of shoes. I moved. Not far, it took the moving truck just under four minutes to drive from house A to house B. But how we filled that beast of a truck with our stuff, I'll never understand. What else? I took a lot of photos. There was a five-alarm fire scary close. I turned my kitchen / basement into a brewery. I spent time, in person, with people I'd previously admired from afar. And I spent a good number of quiet hours on Saturday mornings trimming flowers. A hobby that helped, because at exactly this time last year I was quite nervous/excited/apprehensive about sharing this with you.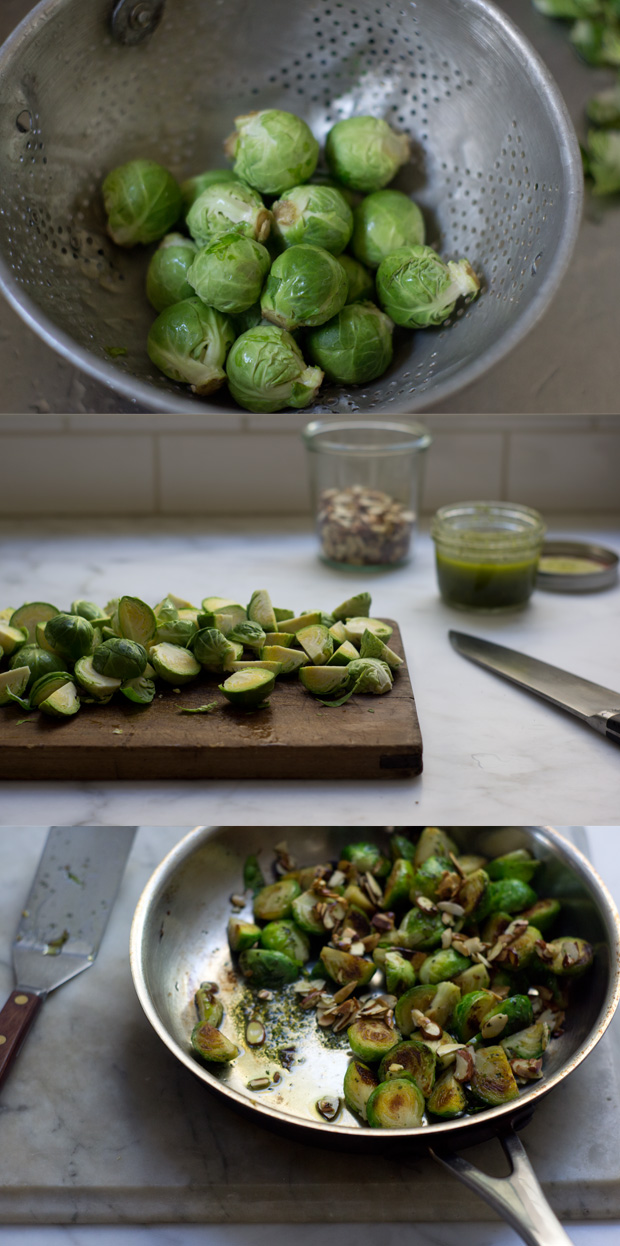 Now that we've crossed into 2012, I feel like there is a clean stretch of road in front of me. I have projects I'm excited to spend more time thinking about, places I can barely wait to visit, friends I hope to cross paths with again. And, of course, plenty of cooking to do. I threw these brussels sprouts together as part of my lunch on New Years Day. Honestly, the brussels sprouts I had on hand we're a bit brutish - larger than I like, cosmetically rough, and past their prime. But after giving them a good scrub, and preening all the raggy outer leaves, they came around quite nicely. I browned them in a pan, the oregano "pesto" I seem to always have around these days made for a nice drizzle, and a handful of toasted almond slices was just the right nutty, crunchy finishing touch.
Happy new year all. If nothing else, let's make 2012 interesting. -h
Oregano Brussels Sprouts
To make a meal of this, serve over farro, quinoa, rice, or on top of a frittata. Use leftover oregano drizzle over everything from roasted squash, frittatas, baked potatoes, or with a good amount of fresh lemon juice, as a salad vinaigrette.
24 small brussels sprouts (less if you can only find larger sprouts)
extra virgin olive oil
fine grain sea salt

Oregano Drizzle
3/4 cup extra-virgin olive oil

1/4 cup fresh oregano, chopped

1/4 cup fresh parsley, chopped

1 large garlic clove

1/4 teaspoon fine grain sea salt, plus more to taste.
1 tablespoon extra-virgin olive oil, plus more for rubbing

a big handful of toasted almond slices
Wash the brussels sprouts well. Trim the stem ends and remove any raggy outer leaves. Cut in half from stem to top (quarter, if using larger sprouts) and gently rub each half with olive oil, keeping it intact. Or if you're feeling lazy, just toss them in a bowl with a glug of olive oil.
Make the oregano drizzle by pulsing the olive oil, oregano, parsley, garlic, and salt in a food processor until the herbs are just little flecks of green. Season with more salt if needed, and set aside.
Just a few minutes before you're ready to eat, heat 1 tablespoon of olive oil in your largest skillet over medium heat. Don't overheat the skillet, or the outsides of the brussels sprouts will cook too quickly. Place the sprouts in the pan flat side down (single-layer), sprinkle with a couple pinches of salt, cover, and cook for roughly 5 minutes; the bottoms of the sprouts should only show a hint of browning. Cut into or taste one of the sprouts to gauge whether they're tender throughout. If not, cover and cook for a few more minutes.
Once just tender, uncover, turn up the heat, and cook until the flat sides are deep brown and caramelized. Use a metal spatula to toss them once or twice to get some browning on the rounded side. Remove from heat and drizzle and toss with as much (or little) oregano pesto as you like. Season to taste, and serve sprinkled generously with the almonds as soon as possible. They really are best straight from the stove top.
Serves 4 as a side.
Prep time: 5 minutes - Cook time: 8 minutes