Pan-fried Corona Beans & Kale Recipe
Love these - white beans pan-fried until they're golden, with kale, Parmesan, lemon, walnuts, and nutmeg.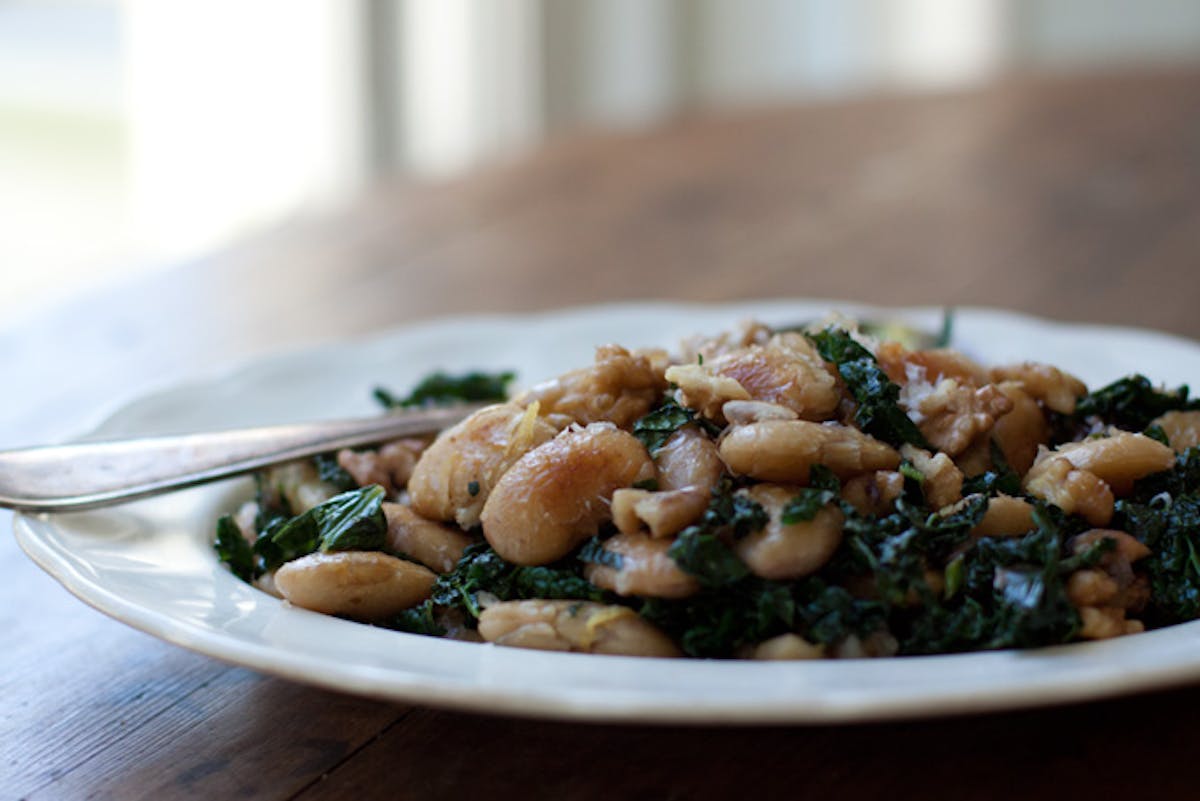 The other day I found myself in the basement of San Francisco's Anthropologie store. I'd fallen for the rose & tuberose solid Frazer Parfum on my way down, and was at the base of the grand staircase, looking at starlight rings and beaded necklaces, when a pretty lady, sitting with her daughter, smiled at me. A few minutes later she asked if my name was Heidi, and she said she knew me from my site - this site!...
I'm so glad she said hello. It turns out we have quite a number of things in common, and I'm sure we could have talked about cooking, or photography, or places to visit for hours. Her daughter was a sweet pea and very patient with us. Anyhow, I feel like I left the house looking for a pair of black ballet flats, and ended up making a friend instead. It turns out she has a site too- and as I was looking through it, this lemon kale pesto with nutmeg jumped out at me. I had some beans soaking at home and decided to somehow weave the beans and the lemon kale pesto idea together.
I deconstructed the kale pesto, and didn't end up chopping it finely (or pureeing it). In the end, the whole thing was very similar to one of the recipes I included in Super Natural Cooking - but at the same time, remarkably different. Because of the toasted walnuts (I didn't have pecans on hand) and the hint of nutmeg, an entirely different flavor profile developed. The fresh lemon zest and juice, added for the finale, tied all the flavors together in an unexpected, complex, and offbeat way. If you've been a fan of that SNC recipe (page 152), give this version a try, and take note of how a few little ingredient tweaks can make such a huge difference. Don't leave out the nutmeg. Dare I say I like this one better?
Thanks for the inspiration Jessica. I'm so glad our paths crossed.
Pan-fried Corona Beans & Kale
A few notes related to the recipe - be sure to wash the kale well, so you don't end up with grit in your beans. I use dried beans (that I've cooked myself) here, and would highly recommend using them over canned beans - they brown up better and are less likely to go to mush. I used giant corona beans, but you could use runner cannellini, or something similar. I like the white beans because they take on a lot of color in the pan. Alternate recipe - I'm confident you could do this preparation with gnocchi (don't boil the gnocchi first) in place of the beans.
1/2 bunch / 6 oz / 170 g dino kale or lacinato kale, remove stems

2 tablespoons extra virgin olive oil

2 - 3 big handfuls of cooked large white beans (see head notes)

1/4 teaspoon fine grain sea salt
1/3 cup / 1 1/2 oz / 45 g walnuts, lightly toasted
1 clove garlic, minced
1/8 teaspoon freshly grated nutmeg
scant 1 tablespoon fresh lemon juice
zest of 1 lemon
1/3 cup / 1/2 oz / 15 g freshly grated Parmesan cheese
Finely chop the kale, wash it, and shake off as much water as you can. Set aside.
Heat the olive oil over medium-high heat in the widest skillet you own. Add the beans in a single layer. Stir to coat the beans, then let them sit long enough to brown on one side, about 3 or 4 minutes, before turning to brown the other side, also about 3 or 4 minutes. The beans should be golden and a bit crunchy on the outside.
Add the kale and salt to the pan and cook for less than a minute, just long enough for the kale to lose a bit of its structure. Stir in the walnuts and garlic, wait 10 seconds, then stir in the nutmeg. Wait ten seconds and stir in the lemon juice and zest. Remove from heat and serve dusted with Parmesan cheese.
Serves 2 - 4.
Prep time: 10 minutes - Cook time: 10 minutes