Peach Gnocchi Recipe
A savory peach gnocchi in a champagne shallot sauce inspired by a trip to Valparaiso, Chile.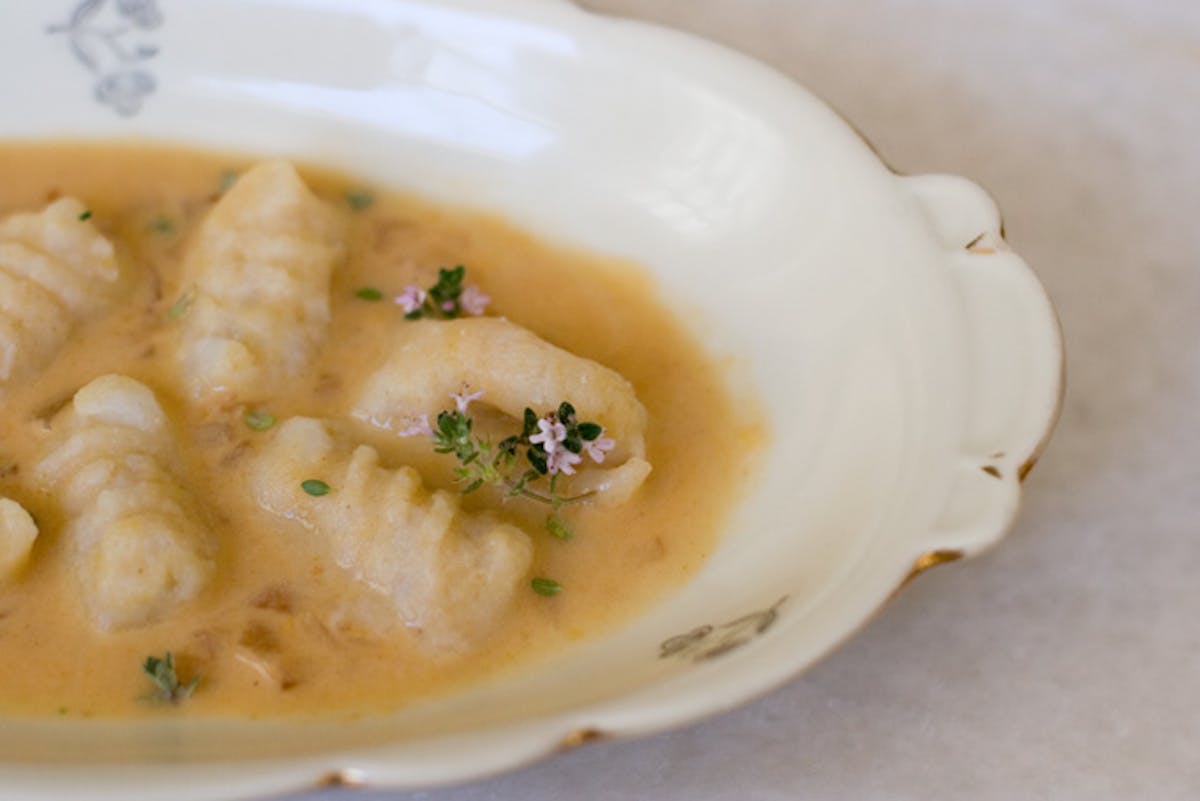 If you're up for a project, this is it. When I visited Valparaiso, Chile a few weeks back, we had dinner with a big group of friends at Pasta y Vino, a cute neighborhood hotspot nestled in the hills above the sea-side port - just a short stroll down the hill from our hotel. Rodrigo, who was in Chile for a family wedding (and also happens to be the winemaker at bio-dynamic Benzinger Family Winery in Sonoma), let me taste one of the strawberry gnocchi he ordered. Savory not sweet, bursting with bright strawberry flavor and served with some sort of light champagne sauce, it was flat out amazing. When I stumbled on a few "cosmetically challenged" Frog Hollow peaches for a bargain upon my return to San Francisco, I thought a savory peach version might be an interesting twist. I added some fresh peach puree to the gnocchi base and paired it with a quick and simple, peach-accented, shallot and champagne sauce.
Those of you who have been readers of the site for some time know I make gnocchi like this. I normally boil the potatoes. I knew in this version more liquid ingredients would be added, so I thought I'd better compensate for that. Someone made a comment years ago on the basic gnocchi recipe page recommending baking the potatoes instead of boiling. The logic being that the dry heat of an oven will keep potatoes dry as possible - drier than if you boil them - important if you want to avoid damp, gummy gnocchi. So I tried the baked potato approach for the first time and it went well.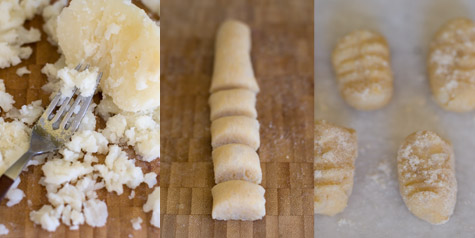 It was an interesting experiment. I love the lightness of this gnocchi and sauce combination, but I'd also love to do a version with a much more concentrated peach flavor in the gnocchi itself - I'd scale back on the peaches and cream in the sauce - opting for a lighter sauce. Let me know if you have any ideas. I thought about cooking the peaches way, way down ahead of time, or boiling down peach juice to a syrupy concentrate - but in the end thought that fresh, uncooked peaches might be nicer...anyways, I'm interested in hearing other approaches.
Peach Gnocchi Recipe
Just know what you are getting into here before you start. Have plenty of time, and plenty of counter space at your disposal if at all possible. This recipe makes enough for a crowd, but I'd recommend a test run before inviting a crowd over for a gnocchi feast. It can take a bit of time to get the swing of things the first time you try this. If you have a ricer on hand by all means use it to get your potatoes mashed, but using a fork works well too. For those of you wanting to do some of the preparation in advance, you can mash the potatoes a day ahead of time, put them in a covered bowl overnight, and incorporated the peaches, egg and flour the next day if you like.
Scant 2 pounds of starchy potatoes (2 large russets, or 3-4 smaller ones)
1/4 cup egg, lightly beaten

4 peaches, extra ripe, cut in half, pitted and peeled and pureed with the juice of half a lemon (you should end up with about 1 cup of puree)

1/2 teaspoon fine grain sea salt
1 cup of whole wheat pastry flour OR unbleached all-purpose flour

1/2 cup shallots, minced
1 tablespoon unsalted butter
2 cups Champagne
cream
salt
a bit of fresh thyme
Bake the potatoes in a preheated 350F degree oven for about an hour or until well-cooked through. When fully cooked you can pick them up using an oven mitt and give a gentle squeeze - they will give generously in your hand. If in doubt, cut into one to be sure the middle of the potato is cooked through. Try to peel each potato as soon as possible after removing from the oven (without burning yourself) - I've found a paring knife comes in handy here. Peel all the potatoes first, and then move on to the "mashing". You want to work relatively quickly so you can mash the potatoes when they are hot, it's critical that they don't sit around steaming in their jackets. To mash the potatoes you can either push the potatoes through a ricer, or do what I do, deconstruct them one at a time on the cutting board using the tines of a fork - mash isn't quite the right term here. I run the fork down the sides of the peeled potato creating a nice, fluffy potato base to work with (see photo). Don't over-mash - you are simply after an even consistency with no noticeable lumps. Let the potatoes cool spread out across the cutting board - ten or fifteen minutes, long enough that the egg won't cook when it is incorporated into the potatoes.
When you are ready, pull the potatoes into a soft mound - drizzle with the egg, 1/3 cup of the peach puree (reserve the rest for your sauce), salt and about 3/4 cup of the flour. I've found that a metal spatula or large pastry scraper are both great utensils to use to incorporate the flour and eggs and peaches into the potatoes. Scrape underneath and fold, scrape and fold until the mixture is a light crumble. Very gently, with a feathery touch knead the dough. This is also the point you can add more flour (a sprinkle at a time) if the dough is too tacky. I usually end up using most of the remaining 1/4 cup flour (and in this case a touch more), but it all depends on the potatoes, the flour, the time of year, the weather, and whether the gnocchi gods are smiling on you. The dough should be moist but not sticky. It should feel almost billowy. Cut the dough into eight pieces. Now gently roll each 1/8th of dough into a snake-shaped log, roughly the thickness of your thumb. Use a knife to cut pieces every 3/4-inch (see photo). Dust with a bit more flour.
You can skip this step if you are having trouble. To shape the gnocchi hold a fork in one hand and place a gnocchi pillow against the tines of the fork - the cut ends should be facing out. With confidence and an assertive (but very light) touch, use your thumb and press in and down the length of the fork. The gnocchi should curl into a slight "C" shape, their backs will capture the impression of the tines as tiny ridges (good for catching sauce later). Set each gnocchi aside, dust with a bit more flour if needed, until you are ready to boil them. This step takes some practice, don't get discouraged, once you get the hang of it it's easy. And like I said, if you are having too much trouble - skip it.
Before you cook the gnocchi, get your sauce ready. Saute the shallots along with the butter and a pinch of salt in a big skillet over medium-high heat. Cook until the shallots are deeply golden and nicely caramelized. Stand back a bit and (carefully) deglaze the pan by adding about 1/2 the champagne to the skillet. After the initial hissing subsides pour in the rest. Stir and get all the bits off the bottom of the pan and let the mixture reduce way down until just about 1/3 is left. Remove from heat and stir in the peach puree, a generous splash of cream, a big pinch of fresh thyme leaves, and you'll likely need a bit more salt as well. Set aside.
Now that you are on the final stretch, bring a big pot of (salted) water to a boil. Cook the gnocchi in batches by dropping them into the boiling water roughly twenty at a time. You will know when they are cooked because they will pop back up to the top. Fish them out of the water a few at a time with a slotted spoon ten seconds or so after they've surfaced. Have a large platter (or individual plates) ready with a layer of the champagne sauce. Place the gnocchi on plates/platter. Continue cooking and plating in batches until all the gnocchi are done. Serve immediately with a few sprigs of fresh thyme.
Serves six to eight.