Persian Yogurt Soup Recipe
Traditional and tasty, this soup is a test of patience and restraint. If you're easily distracted, skip it. If you can mind a pot, stirring, singularly-focused, for a half hour, perhaps longer, you'll be rewarded with a beautiful, vegetarian version of the herbed, Persian yogurt soup, Ashe Mast.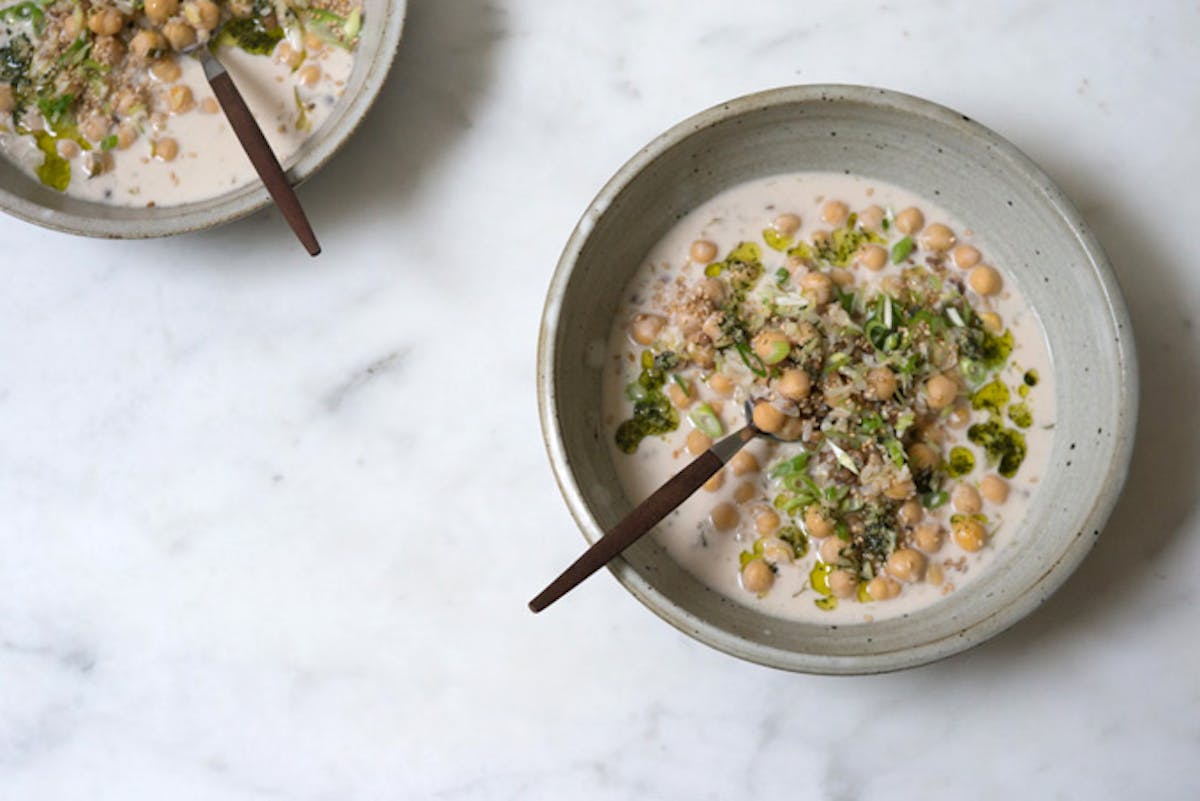 This soup is a test of patience and restraint. If you're easily distracted, skip it. If you can mind a pot, stirring, singularly-focused, for a half hour, perhaps longer, you'll be rewarded with a beautiful, herbed, Persian yogurt soup, Ashe Mast. This is a vegetarian version - chickpeas, lentils, brown rice, and herbs bathed in thin, savory yogurt broth. Each bowl is finished with a drizzle of minted garlic butter. Lately, I've been browsing my old cookbooks late at night, I used Maideh Mazdeh's Ashe Mast recipe, from In a Persian Kitchen, as a jumping off point here. Her cooking technique requires babying the broth throughout the cooking process, you don't want the yogurt to curdle or break - which means, you can't let the mixture get too hot. Things can go downhill fast if you're not mindful. That said, I'd like to encourage those of you who are game for a bit of a challenge, to take a deep breath, step up to the stove, and stay there with this beautiful yogurt broth until it thickens and let's you know it's ready. And now that I've cooked this a few times, I have some thoughts and shortcuts I'll note below.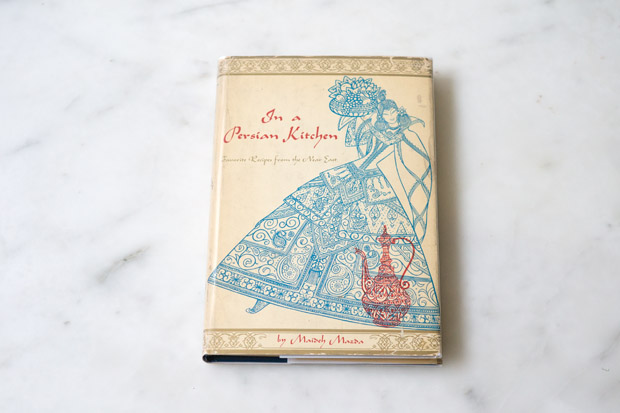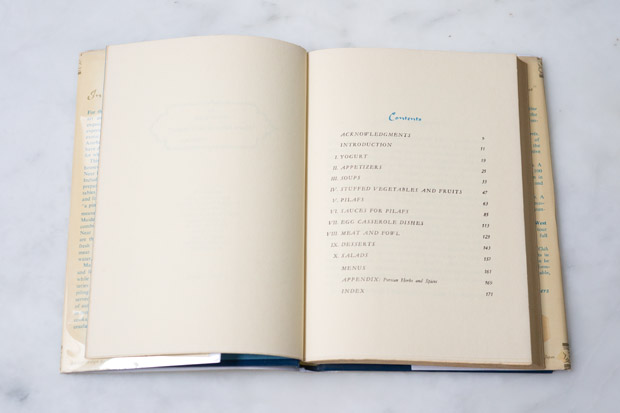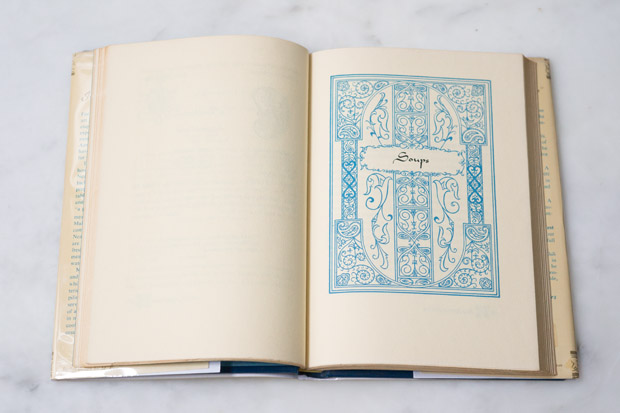 Before I get into some of the soup-making strategy down below, I wanted to share a few snapshots. The book itself is a beautiful object. In a Persian Kitchen was printed in 1960 in Tokyo by the Charles E. Tuttle Company of Rutland, Vermont & Tokyo, Japan. Jacket Design by M. Kuwata. It sold in the U.S. for $3.25. Charles E. Tuttle's is the subject of what might be the best line in any obituary I've read. "He was a learned bibliophile and scholar of American and Japanese literature, a successful businessman, a genuine and generous friend, and a loving husband to his wife of 42 years, Reiko Chiba Tuttle. He was also a prodigious drinker, and was not infrequently tossed out of, and off, bars and restaurants, golf courses and tennis courts, on six continents - unabashedly, and not without some elan, one might add."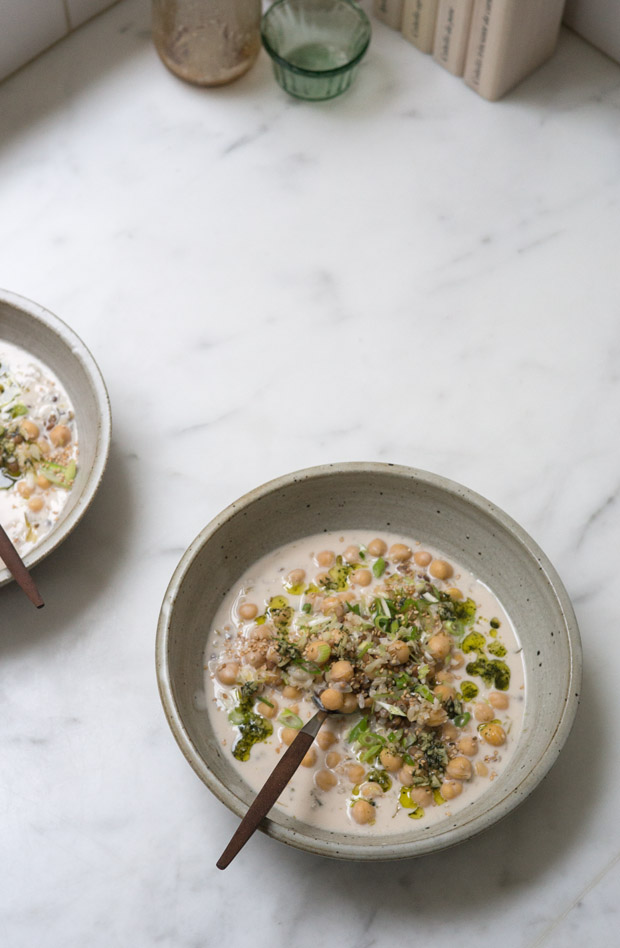 The soup. Make note of the shortcuts I've outlined (below) in the recipe head notes. If you have pre-cooked rice, or beans, or lentils, you can simply focus on the broth. Part of the challenge of Maideh Mazdeh's version of Ashe Mast is that you're waiting for the rice to thoroughly cook through IN the yogurt broth. This takes a stretch, particularly when you're concerned about breaking the broth. I've seen versions where the yogurt is added to a sub-simmering soup at the last minute, but I'm on board with this version for now, I think there is something to the long simmer, with the shallots, that rounds out the yogurt tang nicely. I mention below to use full-fat yogurt because it's more stable. Aside from that, to the handful of you who might brave this ;) let me know how it goes!
Holiday Event: Just a heads up, I'll be at the Remodelista Holiday Market at Heath Ceramics in San Francisco this Saturday, December 14 from 10 a.m. to 5:00 p.m. If last year was any indicator, it will be another fantastic gathering of some of my favorite artisan producers and designers & some A+ holiday shopping. I'll have pre-signed copies of Super Natural Everyday available, and I'm also happy to sign books you already own. We're bringing a selection of items from QUITOKEETO as well. Hope to see many of you there. xo -h

Persian Yogurt Soup - Ashe Mast
HS: You can use yellow split peas here (traditional), although Umbrian or lentils du Puys are great if those are easier to come by. Shortcut: This soup comes together MUCH more quickly if you have pre-cooked brown rice, lentils, etc. on hand....you can patiently make the yogurt broth base, and then warm these ingredients in the final stages with the herbs and onions.
1 small onion or 6 peeled shallots, grated on box grater
4 cups FULL FAT plain yogurt, room temperature
1/2 cup brown rice, well rinsed
1/2 cup yellow split peas, well rinsed
1 large egg
1 tablespoon flour or organic cornstarch
4 1/2 cups barely warm water
1 1/2 teaspoons fine grain sea salt
1/2 teaspoon freshly ground pepper
3/4 cup chopped green onions
1/2 cup parsley or cilantro
1/4 cup chopped dill or fennel fronds
2 cups cooked chickpeas, or more to your liking

4 tablespoons unsalted butter
3 medium cloves garlic, finely chopped
1 tablespoon dried mint
generous pinch of salt
toasted sesame seeds
Prep all your ingredients before starting. Because if you don't, you'll be chopping them, you'll forget to stir the soup, and you'll likely have to figure out a plan B for dinner.
Use your thickest-bottomed soup pot or casserole here. A large one. This will help keep the heat even and steady. Thin pans will make this tricky. To the cold pan add the shallots, yogurt, rice, split peas, egg, and flour. Stir until well combined and uniform. Stir in the water and cook over low-medium heat. You want to very slowly bring the mixture just a hint shy of a simmer - this should take at least 20 minutes. It should thicken a bit at this point. Keep it here, barely any bubbling, stirring, stirring until the rice is cooked through. See my headnote for the shortcut version. If you had pre-cooked rice/pulses, you could simply stir them in at this point. If not, this will take a while. When the rice and lentils are cooked through, stir in the salt, pepper, 1/2 cup of the green onions, parsley, dill, and chickpeas. Stirring, stirring, all the while. You want the chickpeas to heat through completely. Remove from heat. Taste and add more salt if needed, if you don't get the seasoning right, the soup will taste flat.
In a small saucepan over medium heat, melt the butter, add the garlic, mint, and salt, and sauté until the garlic softens a bit, barely a minute. Remove from heat.
Serve each bowl of soup with a drizzle of the mint butter, a sprinkling of green onions, and a few sesame seeds.
Leftover tip: thin with barely warm water, warm slowly, over very gentle heat.
Serves 6-8.

Prep time: 10 minutes - Cook time: 60 minutes