Pomelo Green Beans Recipe
A one-pan green bean side with a walnut-garlic dressing and highlighted with pomelo segments. Transform it into an easy main with the addition of some seared tofu or a poached egg.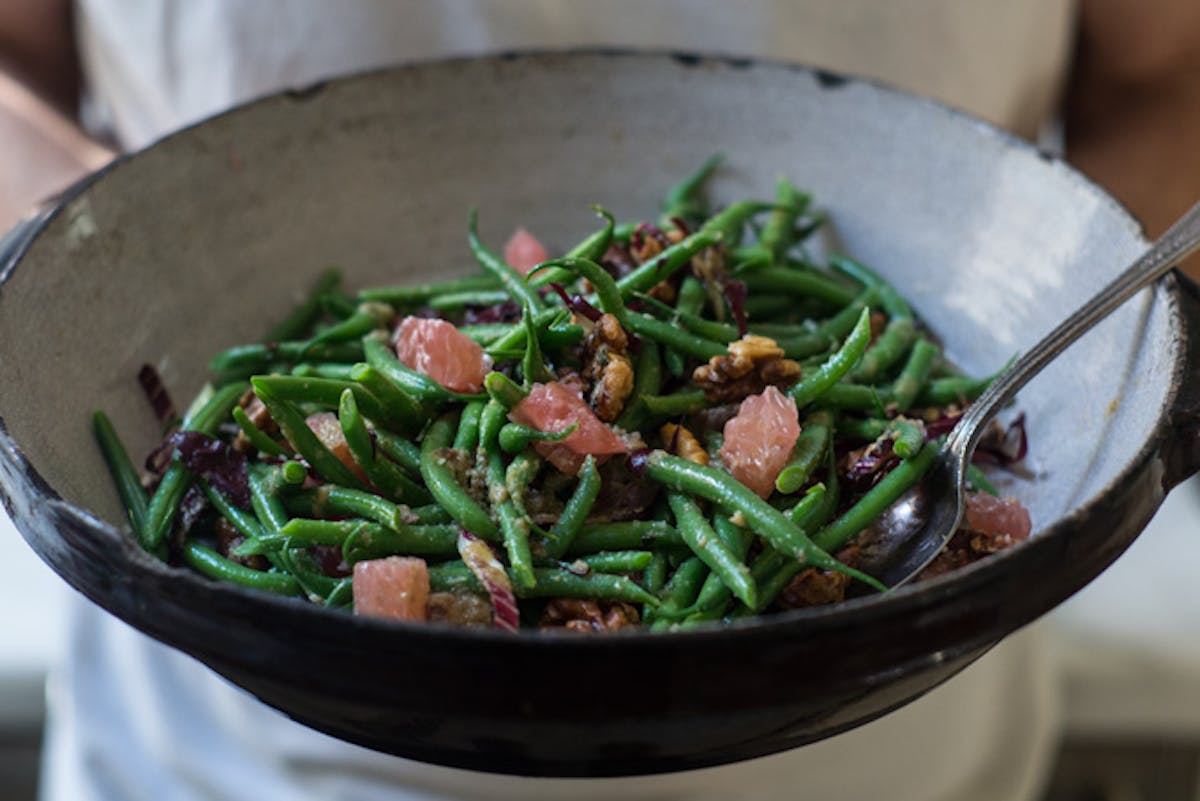 This time last month I was setting off on a journey that started with me flying through Charles de Gaulle airport to Marrakech where we spent the better part of the week in the historic medina. There was a train ride from there to Fez, where we stayed in the restored residence of a 17th century imam, and wandered guide-less through the medina's thousands of intricate alleyways eating beghrir and msemmen. I loved seeing the historic madrassas in both cities, and did my best to finish each day sitting atop one of the many high terraces, letting my eyes hopscotch across the rooftops. There were ancient dead-ending alleyways, communal cab rides, orange blossom dreams, and much bad French spoken (on my part). We made our way back through Paris, before hopping the long flight home to San Francisco with an extra suitcase and the snotty remnants of a nasty cold. Three weeks out of a small suitcase, and as much as I love to explore far-away cities, it is, indeed, nice to be home.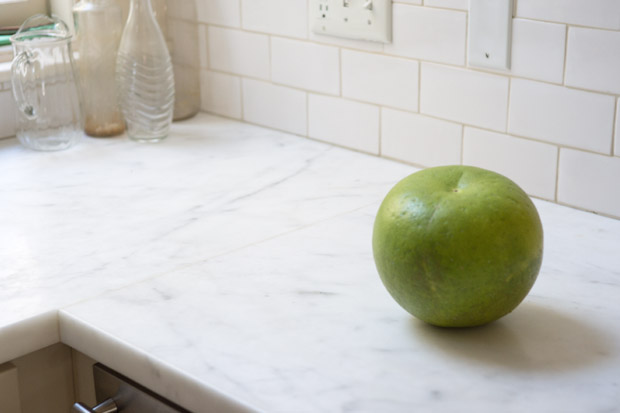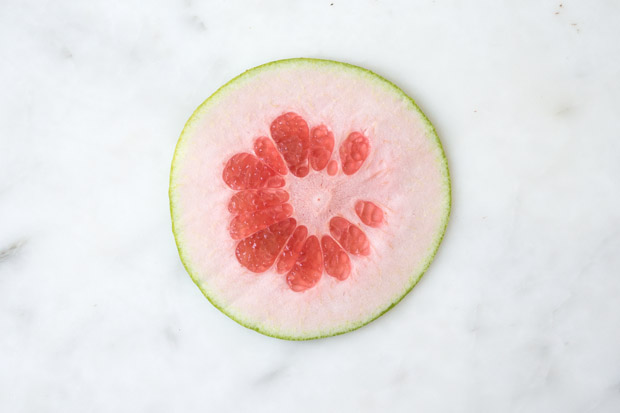 The farmers' market was completely transformed by the time I got back. Bursting with persimmons, pomelos, pomegranates, radicchio, bag-busting squash, and citron - it was a brilliant homecoming. I piled haricot vert green beans into my bag along with a huge green Chandler pomelo, then made this little number as part of our lunch. It's a one-pot side where I soften garlic in the water set to boil the green beans. You work the garlic into a dressing with a few walnuts while the beans have a quick boil, and toss it all together with pomelo (or citrus segments). You can serve it like this, as a side, or add some seared tofu or a poached egg to make a meal of it - which is what we ended up doing with the leftovers.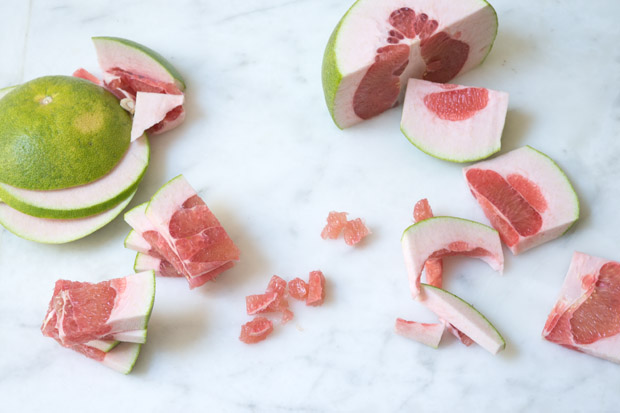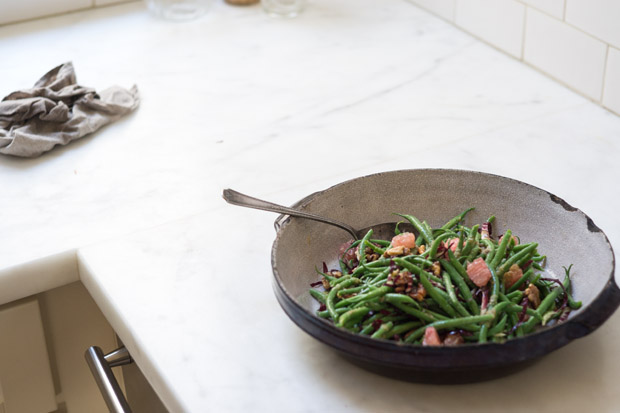 Tell me, what are you all planning to cook for Thanksgiving? I'd love it if you'd post some links or descriptions. I'll try to wrangle some as well. I'm not entirely sure what I'm cooking yet, but I think I might do something savory with quince/preserved lemons, my mom typically does the stuffing/dressing, but I keep thinking a citron-accented version would be nice. Persimmon salad of some sort? xo -h
Pomelo Green Beans
6 medium cloves of garlic, peeled
1/2 cup toasted walnut halves
scant 1/4 teaspoon fine grain sea salt
1 tablespoon fresh herbs (oregano, chives, etc)
3-4 tablespoons extra virgin olive oil
1 pound green beans (or hericot vert), trimmed
1 cup of pomelo or orange segments
1 small head of radicchio, finely shredded
Bring a large pot of water to a boil, salt well, and cook the garlic cloves for ten minutes. Remove with a strainer or slotted spoon and transfer to a mortar and pestle. Mash along with 5 of the walnut halves, the salt, and herbs into a paste. Gradually add the olive oil until the consistency is to your liking. Taste and adjust with more salt, if needed.
Cook the green beans in the boiling water until they are bright, just a minute or so. You want them a bit tender, but still with a good amount of structure. Drain, and transfer to a serving bowl. Toss well with the garlic-walnut dressing, then add the pomelo, radicchio, and remaining walnuts. Give a quick toss, and serve.
For a one-dish meal, add some sautéed tofu or a poached egg.
Serves 4.
Prep time: 5 minutes - Cook time: 8 minutes