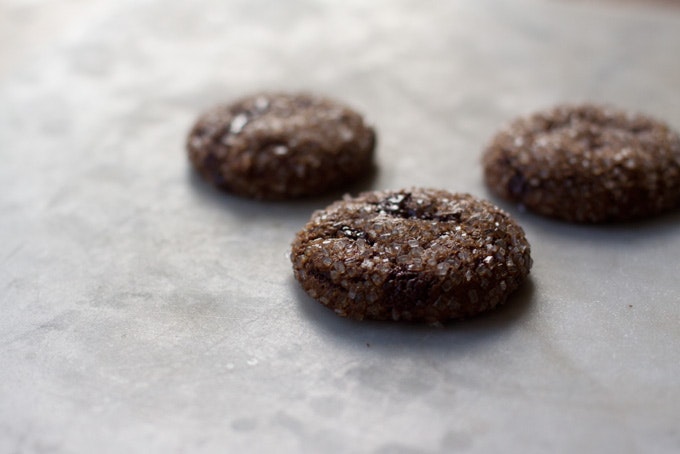 Sparkling Ginger Chip Cookies Recipe
Today I'm participating in the 12 Days of Cookies on one of the sites I love to visit most, Lottie + Doof. It's exciting (and a bit intimidating) to be following Dorie, and Avery Wittkamp from Marlow & Sons - each day L+D will feature a new cookie recipe (through December 12). My contribution is these Sparkling Ginger Chip Cookies. They are tiny, bite-sized holiday cookies made with two kinds of ginger and lots of shaved chocolate. The turbinado sugar crust gives them a bit of crunch which is a nice contrast to the ooey-goey chocolate (when they're still warm). For the people who have been visiting my site for a while, think of them as the love child of the itsy bitsy chocolate chip cookies and the triple ginger cookies. That's what I had in mind as I set out to make them.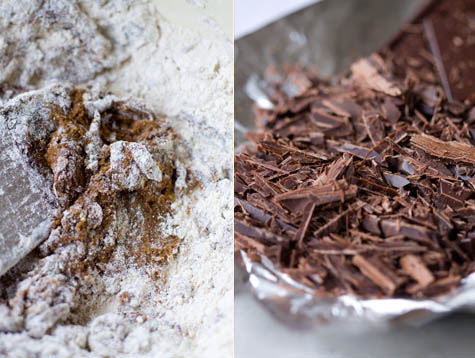 They are a breeze to mix up by hand, meaning there's no reason to dirty up your electric mixer. Said another way, you don't need to cream the butter into the sugar, which is where most of the effort is usually required. Instead you mix the sweeteners into barely-melted butter, add the egg, and pour that over the flour mixture. No sore arm muscles ;)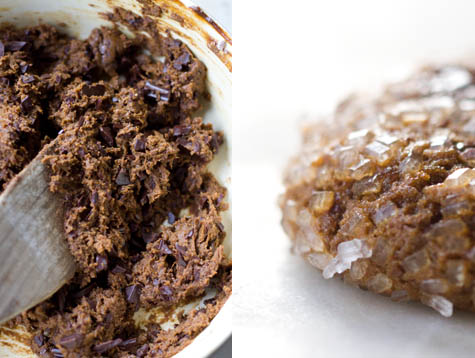 And while we're on the topic of holiday cookies, I thought I should point two favorites from last year. I loved these elegant, powder-kissed Swedish Rye Cookies, and my pal Sante's Hermit Cookies were great as well - they're full of nuts and spices and currants, topped with a snow-cap of icing. There's a more comprehensive list of Christmas Cookies here as well!
Thanks again to Tim at Lottie & Doof for inviting me to participate. Can't wait to see who is up next.
Sparkling Ginger Chip Cookies
If you can't locate whole wheat pastry flour, you can substitute spelt flour. Or feel free to use all-purpose flour if that is what you have on hand. As far as the unsulphured molasses goes, I use Wholesome Sweeteners or Plantation Organic Blackstrap Molasses. I used a Scharffen Berger Bittersweet 70% here. You can use light brown sugar, or light muscavado sugar in place of the natural cane sugar.
1/2 cup / 3.5 oz / 90 g turbinado sugar
6 ounces / 170 g bittersweet chocolate
2 cups / 8.5 oz / 245 g whole wheat pastry flour
1 teaspoon baking soda
4 1/2 teaspoons ground ginger
1/2 teaspoon fine grain sea salt
1/2 cup / 4 oz / 113 g unsalted butter
1/4 cup / 2 oz / 60 ml unsulphured molasses

2/3 cup / 3.75 oz / 100 g fine grain natural cane sugar, sifted

1 1/2 tablespoons grated fresh ginger, peeled
1 large egg, well beaten
Preheat the oven to 350F / 180C degrees - racks in the top and bottom third of the oven. Line a couple baking sheets with unbleached parchment paper or a Silpat mat, and place the large-grain sugar in a small bowl. Set aside.
Finely chop the chocolate bar into 1/8-inch pieces, more like (mostly) shavings really.
In a large bowl whisk together the flour, baking soda, ground ginger, and salt.
Heat the butter in a saucepan until it is just barely melted. Remove from heat and stir in the molasses, sugar, and fresh ginger. The mixture should be warm, but not hot at this point, if it is hot to the touch let it cool a bit. Whisk in the egg. Now pour this over the flour mixture, and stir until just combined. Fold in the chocolate.
I like these cookies tiny, barely bite-sized, so I scoop out the dough in exact, level tablespoons. I then tear those pieces of dough in two before rolling each 1/2 tablespoon of dough into a ball shape. From there, grab a small handful of the big sugar you set aside earlier and roll each ball between your palms to heavily coat the outside of each dough ball. Place dough a few inches apart on prepared baking sheets. Bake for 7-10 minutes or until cookies puff up, darken a bit, and get quite fragrant.
Makes roughly 4 dozen.
Prep time: 30 minutes - Cook time: 10 minutes