Quinoa with Currants, Dill, and Zucchini Recipe
Made from a quirky combination of quinoa, dill, shredded zucchini, and currants - a quinoa salad from Maria Speck's book, Ancient Grains for Modern Meals.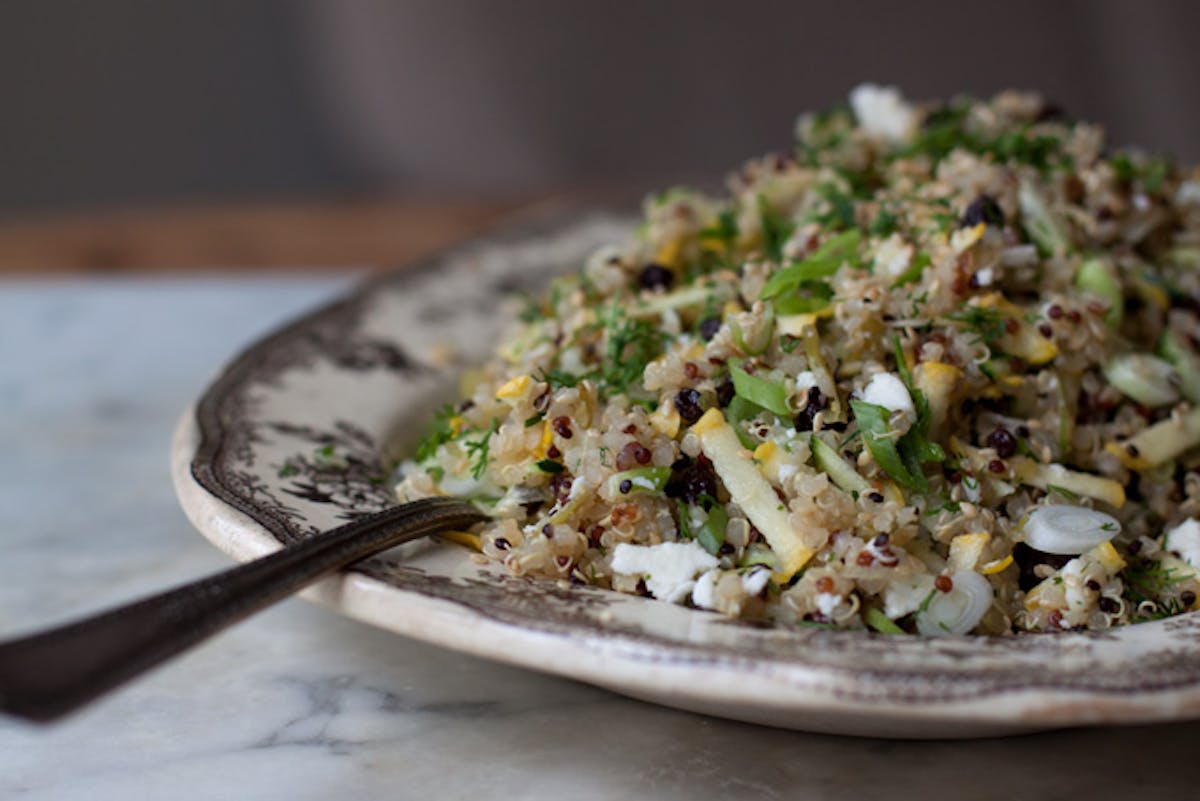 I know you all love a good quinoa salad. And, my apologies, it has been a while since one was featured here. I've been waiting for just the right one to come my way. And here it is :) It was a quirky mix of green onions, dill, sesame, lemon and currants that caught my attention in this version from Maria Speck's new book. Crumbled feta lends a bit of saltiness to play off the sweetness of the currants, and shredded zucchini brings a moistness that can be missing in some grain-based salads. All around, really tasty.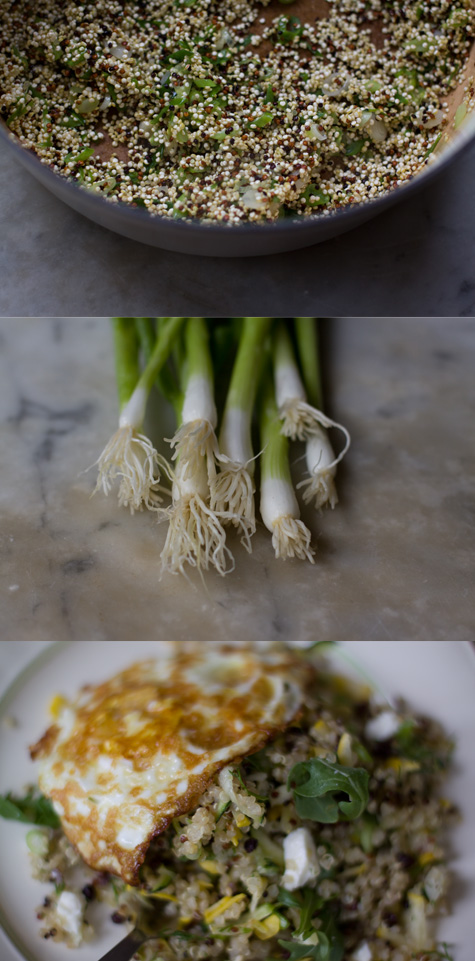 This is one of those recipes that comes together in far less time than you'd think. Quinoa cooks up rather quickly, and I prepped the rest of the ingredients while it was simmering away. It's great as a side, or topped with a fried egg - pictured just above. And I'm imagining it being one of those easy-going summer salads that I can prep in advance and not worry about serving hot. I made quinoa patties with the leftovers, and left notes about how to do that in the head notes down below.
I should also note that I made a few tweaks to Maria's original recipe based on personal preference. For example, I scaled back on the currants a bit. But as Maria mentions, this is the sort of salad that is endlessly adaptable based on what you like. Play around with nuts in place of the seeds, and different fresh herbs in place of the dill. But if you can stand it, try it this way at least once, it's a really fresh combination of ingredients that you might not put together otherwise.

And for those of you looking for more ideas, I have a lot of good quinoa recipes, as well as a page where I've collected all my favorite zucchini recipes. Enjoy and happy cooking!
Quinoa with Currants, Dill, and Zucchini
This is great with crumbled feta. But it's also perfect with thinned-out, salted, plain yogurt. Also, for those of you who are fans of quinoa patties - I made patties out of the leftovers by combining a scant 3 cups of leftovers with 4 beaten eggs, and enough breadcrumbs to thicken things up a bit - 1/2 cup or so. Press with hands firmly into patties, then pan-fry, covered.
1 tablespoon extra-virgin olive oil
1 bunch green onions, chopped
3/4 teaspoons fine-grain sea salt
1 cup / 6.5 oz / 185 g quinoa, well rinsed and drained
2 cups water
1/4 cup / 1 oz / 30g dried currants
1 lemon
2 sm-med zucchini, grated on box grater
4 tablespoons toasted sesame seeds
4 tablespoons chopped fresh dill

feta cheese, crumbled - as much or as little as you like
To make the quinoa, heat the olive oil in a medium saucepan over medium heat. Add most of the green onions, a pinch of the salt, and cook until the onions soften, just a couple minutes. Add the quinoa and cook, stirring occasionally, until the grains dry out and toast a bit, roughly another 3 minutes. Add the water, the currants, the remaining salt; bring to a boil. Dial back the heat and simmer, covered, until the water is absorbed and the quinoa is just cooked through- 15 minutes or so. Be mindful here, you don't want to overcook the quinoa, and have it go to mush.
While the quinoa is cooking zest the lemon, and squeeze 2 tablespoons of lemon juice into a small bowl.
When the quinoa is cooked, remove the pan from the heat. Stir in the zucchini, lemon juice and zest, most of the sesame seeds, and most of the dill. Taste and adjust for salt.
Serve, turned out onto a platter, topped with crumbled feta, and the remaining green onions, sesame seeds, and dill.
Serves 6.
Adapted from the Lemon Quinoa with Currants, Dill, and Zucchini in Maria Speck's Ancient Grains for Modern Meals, published by Ten Speed Press, 2011.