Raspberry Mega Scones Recipe
A fun twist on a traditional scone recipe. Instead of cutting dough into small pieces, a big piece of lemony scone dough is slathered with raspberry jam and folded in on itself.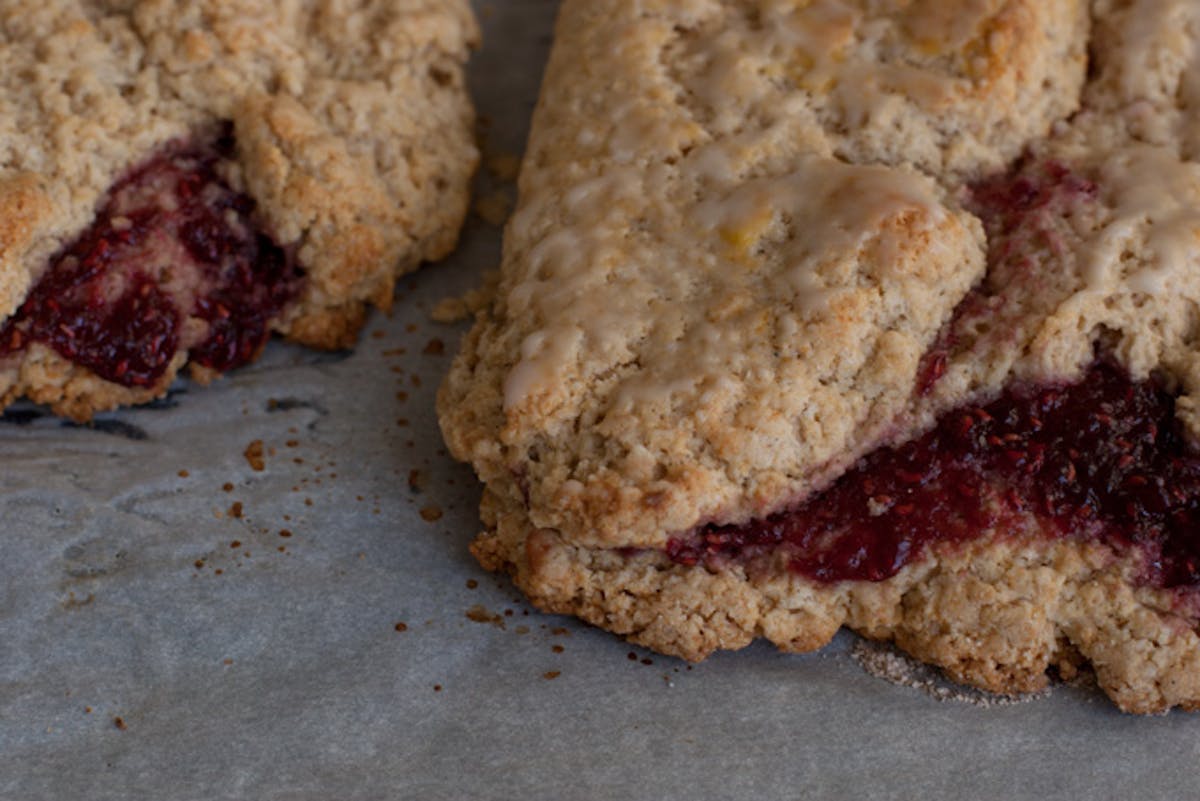 We're going to wrap up 2007 with a buttery-sweet bang. The theme: scones. I'm sure many of you will agree, a good scone recipe is an incredibly useful thing to have - crumbly sweet scones in the morning, savory scones dunked in soup later in the day. They're hard to beat. And while I'm sure plenty of you have baked scones, I'm betting very few of you have delved in the realm of the mega scone.
This is a recipe that came out of being one part lazy, and one part determined to come up with something just a little bit different. It goes something like this: roll your scone dough into a slab and instead of cutting scones into triangles or stamping them into shapes, slather the big slab with a generous scoop of chunky jam. Fold the dough inward, like you would a letter. The jam oozes out of the top seam as the big scone is baking, and after it comes out of the oven the pale golden top is brushed with a simple lemon icing that becomes perfectly crusty as the giant scone cools.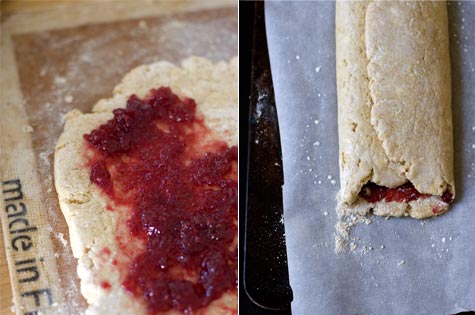 Broadly speaking this is a scone recipe that is slightly less fussy to make than cookie-cutter shaped scones, and more rustic out of the oven. People can slice off whatever size slice they like. I like them best after they've cooled for a few hours - and they are still plenty delicious the day after baking.
Raspberry Mega Scones Recipe
This particular scone recipe lends itself to endless combinations. I used raspberry jam here because of its color and flavor, but use whatever you have on hand - the chunkier the better. If you can't be bothered with making the glaze, just sprinkle some coarse raw sugar over the scone before baking after brushing with a bit of cream.
4 cups whole wheat pastry flour (or unbleached all-purpose flour)
3 tablespoons aluminum-free baking powder
1 teaspoon fine-grain sea salt
1 stick unsalted butter (4 oz), chilled and cut into 1/4-inch cubes
3/4 cup fine grain natural cane sugar or granulated sugar
1 1/4 cups half-and-half ( or you can also use heavy cream or whole milk)
1 teaspoon vanilla extract
zest of one lemon

2/3 cups raspberry preserves

Glaze:
1/2 cup powdered sugar
1 tablespoon lemon juice
zest of one lemon
Preheat oven to 375. Line a baking sheet with parchment paper or a Silpat.
Combine the flour, baking powder, and salt in a bowl. Using a food processor, cut the butter into the flour mixture until it resembles little pebbles in a beach of sandy flour (about 20 quick pulses). You can also cut the butter in using a knife and fork. Pulse in the sugar. Now add the half-and-half, vanilla extract, and lemon zest. Pulse (or mix until) dough just comes together - don't over mix, but if the batter is too dry add more cream a bit at a time.
Turn out onto a floured piece of parchment paper or Silpat mat, divide into two equal sized pieces of dough and set one aside. Take the first piece of dough and roll out into (roughly) a 9x9 inch square, 1/2-inch thick. You want to keep the dough from sticking to the mat/paper if possible, so sprinkle with more flour if needed. Slather the slab of dough with the jam and fold the left side of the dough in toward the center. To discourage the dough from breaking or falling apart I fold it in by folding the Silpat in and then peeling the Silpat back afterwards. Fold the other side in using the same technique (if I'm not making sense, see the photo). Slide onto prepared baking sheet. Repeat with the other piece of dough. The two scones will fit on one baking sheet but give them a few inches between each other so they don't bake into each other. Brush with a bit of cream (optional), and bake for about 25 minutes or until golden where the scones touch the pan.
While the scones are baking, prepare the glaze. Combine the powdered sugar, lemon juice, and lemon zest in a small bowl. Stir until well combined, and set aside. When the scones come out of the oven brush them generously with the glaze and let cool. Slice into pieces as big or small as you like.
Makes two mega scones.