Rustic Cabbage Soup Recipe
Hearty, healthy, and satistfying - this cabbage soup recipe is super simple to make. Slice a cabbage into thin ribbons and cook it down in a simple pot of sauteed potatoes, onions, beans, garlic and flavorful broth. Finished each bowl with a generous drizzle of great olive oil and a dusting of shredded cheese.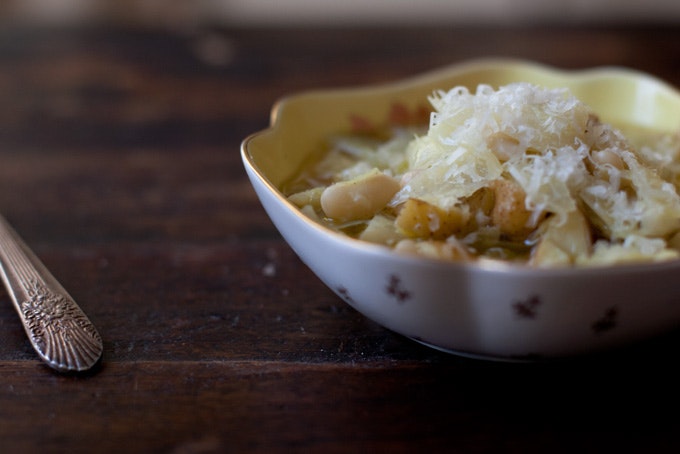 Every few weeks I get in my car, cash in pocket, and drive to a pre-determined location. This is where I meet my dealer. I turn over a wad of greenbacks and she hands off a huge bag of the good stuff. Most of the time I don't really know exactly what I'm paying for. I scurry back to my car, drop the booty in the trunk, peel back the plastic and peer inside. If I'm lucky a neighborhood streetlight will be nearby to illuminate the contents of the bag. This time of year I might see the eyes of impossibly petite potatoes peering back at me, they could be nestled alongside a kaleidoscope of vibrantly colored carrots, or shouldered up against a of pile of parsnips. It's a mystery box, and $25 gets me something like twenty pounds of meticulously grown delights direct from Mariquita Farm in Watsonville, Ca (just down the coast from us city folk). Today's rustic cabbage soup recipe was inspired by the contents of their latest delivery. I sliced a moon-shaped cabbage into thin ribbons and cooked it down in a simple pot of sauteed potatoes, onions, garlic and flavorful broth. Each bowl was finished with a generous drizzle of great olive oil and a dusting of shredded cheese.
But before I get too far ahead of myself on the soup front, let me tell you a bit more about Mariquita Farm and what Andy and Julia are doing. There's a bit of back story...I used to buy produce from Mariquita at the farmers market on Saturdays. After many years they decided not to do the market anymore (long story). Keep in mind Mariquita sells my all-time favorite carrots, and I was convinced I was going to have to find a new source. Not the case, Julia emailed some of her regulars last summer mentioning that she would be making the occasional delivery to San Francisco...would we be interested in doing a pick-up? She also mentioned the option of buying one of Andy's specially curated mystery boxes - which have since become all the rage.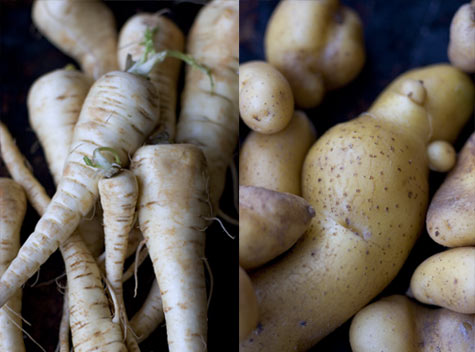 This isn't a CSA, it's more guerilla than that. As it stands now, every other week(ish) Julia and Andy pack a huge delivery truck with many, many mystery boxes. Julia then climbs into the big truck and navigates her way over the Santa Cruz mountains down into Silicon Valley and then north toward San Francisco proper. She parks the truck in front of a previously designated neighborhood restaurant and people come from all over the city to trade cash for mystery crops. It's great. I try all manner of ingredients I might not buy otherwise - and as you can see from the photos, they're beautiful and bright because Andy takes such care in growing and handling them.
With out sounding too mushy, this is just one more reason I love living in San Francisco. On a good night, not only do I go home with the box (er, bag - the boxes get reused), but sometimes I even get to sit down for a drink or slice of pizza and catch up with Julia. It's a real treat.
A note to any Mariquita fans in SF: The Mariquita laptop was stolen and their mailing list was lost entirely. If you're interested in knowing when/where future mystery nights are taking place you can mail Julia from this page.
A few related links:

- Mariquita Farm (website)
- The Ladybug Letter (Mariquita blog)
- Julia's blog
- Mariquita Farm's Mysterious Thurdays
I threw this cabbage soup together last night, it was even better when I ate the leftovers for lunch today. I suspect many of you have all the ingredients needed on hand. Well, maybe not the cabbage. Pick one up and give it a try.
Rustic Cabbage Soup Recipe
Chances are I'm not making my own stock on the average weeknight. I am a big fan of Rapunzel Herb Bouillon (available at many stores), I use about 1/2 of one cube in a soup like this to kick things off - it makes a nice, light but flavorful broth. I'll crush it into a powder and add it to the pot just before I add water. I had some Rancho Gordo flageolet beans already cooked so I used them here, but no worries if you have to turn to the can. For the vegans out there, just skip the Parmesan, and you're in business.

1 tablespoon extra virgin olive oil
a big pinch of salt
1/2 pound potatoes, skin on, cut 1/4-inch pieces
4 cloves garlic, chopped
1/2 large yellow onion, thinly sliced
5 cups stock (see head notes)
1 1/2 cups white beans, precooked or canned (drained & rinsed well)
1/2 medium cabbage, cored and sliced into 1/4-inch ribbons

more good-quality extra-virgin olive oil for drizzling
1/2 cup Parmesan cheese, freshly grated
Warm the olive oil in a large thick-bottomed pot over medium-high heat. Stir in the salt and potatoes. Cover and cook until they are a bit tender and starting to brown a bit, about 5 minutes - it's o.k. to uncover to stir a couple times. Stir in the garlic and onion and cook for another minute or two. Add the stock and the beans and bring the pot to a simmer. Stir in the cabbage and cook for a couple more minutes, until the cabbage softens up a bit. Now adjust the seasoning - getting the seasoning right is important or your soup will taste flat and uninteresting. Taste and add more salt if needed, the amount of salt you will need to add will depend on how salty your stock is (varying widely between brands, homemade, etc)...
Serve drizzled with a bit of olive oil and a generous dusting of cheese.
Serves 4.