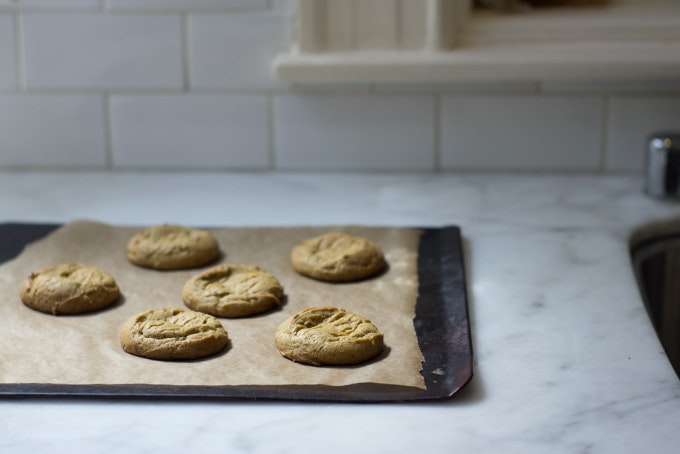 Saffron-Vanilla Snickerdoodles Recipe
The Saffron-Vanilla Snickerdoodles sold at Blue Bottle Coffee are a favorite cookie of mine. I like to sit in the sun on the beautiful stone slab benches across from the Blue Bottle Coffee kiosk in Hayes Valley here in San Francisco. It's just a short walk from my house in an alleyway, a not-so-secret spot, slightly off the main strip.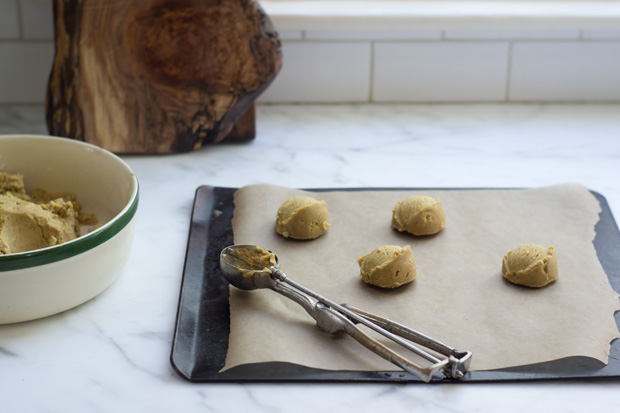 I also love to have lazy breakfasts beneath the tall ceilings, light streaking through the massive windows, in their cafe at Mint Plaza. I've known there was a Blue Bottle Coffee book in the works, and each time I go, I find myself uttering the same nine words, usually with my mouth full - I really hope this recipe is in the book.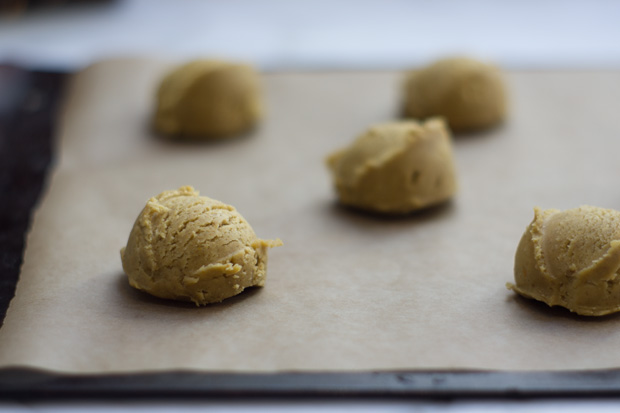 In addition to their coffee, which I'm more than happy to brave a line for, I have a list of go-to favorites from their beautifully concise and inspired menu. My hope was that all would be in the book: these Saffron-Vanilla Snickerdoodles, the Pickled Fennel Egg Salad, the Sesame Absinthe Cigars, and Catalan Eggs with Braised Greens. Check, check, check, and check! Every one is in the book. And like all things Blue Bottle, this is worth the wait.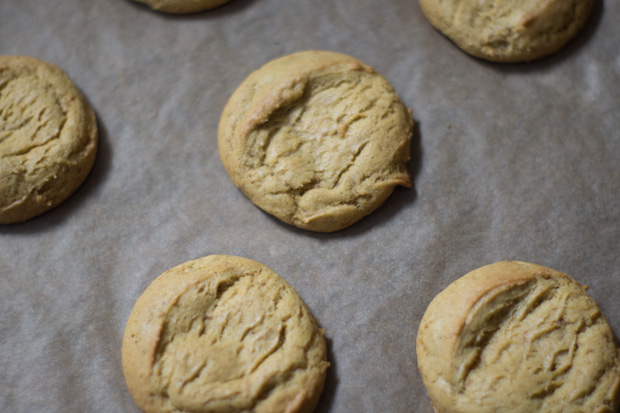 The book will be released October 9th, but I've been hassling Ten Speed to get me an early copy for months. In part because I wanted to bump up my coffee know-how, but (no surprise) I was particularly excited about the recipes - the Saffron-Vanilla Snickerdoodles were first up. In contrast to traditional snickerdoodles, Caitlin describes them as having "an unusual butterscotch flavor from the combination of saffron, brown sugar and vanilla." Now, I know these cookies well, and this recipe delivered a version that is a dead-ringer of the original - buckle in the middle, kiss of saffron, a thin golden crust that gives way to a fudge-textured center. Thank you. I made a double batch for a family trip to Lake Tahoe last week - baking half for the drive there, freezing the remaining pre-scooped dough to bake at the cabin. Everyone loved them.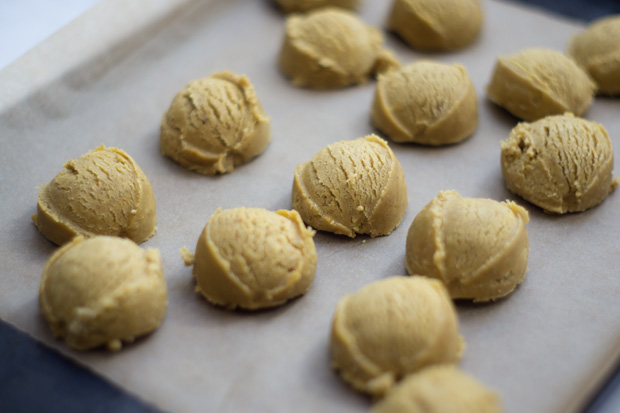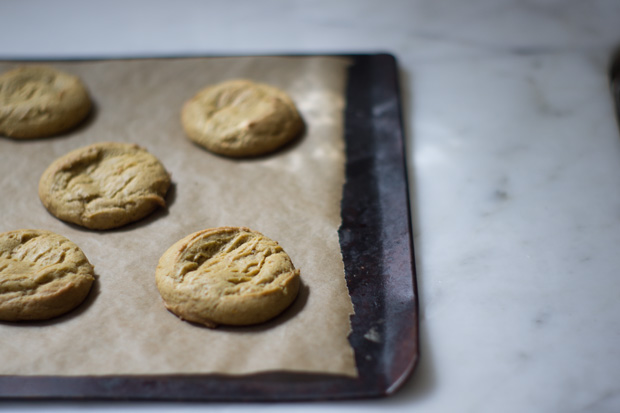 I hope you like these as much as I do, make a double batch and freeze half of the pre-scooped dough for later baking. And be sure to measure the saffron carefully -it's easy to go too light/heavy. xo -h
Saffron-Vanilla Snickerdoodles
HS note: As I mention up above, it's worth making a double batch here. Bake off what you need in the short-term, and save the rest to bake as needed. Also, rather than use a vanilla bean, you can double the vanilla extract.
about 30 threads of saffron (to yield 1/8 teaspoon ground saffron)
1/2 vanilla bean
2 tablespoons milk
2 cups (9.9 oz / 280 g) all-purpose flour
1 teaspoon baking soda
1/2 cup (4 oz / 113 g) unsalted butter, at room temperature
1/2 cup (3.5 oz / 100 g) granulated sugar
1/2 cup (3.8 oz / 109 g) packed light brown sugar
1 teaspoon kosher salt
1 egg (1.8 oz / 50 g), at room temperature
1/2 teaspoon vanilla extract
Crush the saffron threads with a mortar and pestle until powdery or grind them in a clean spice grinder; alternatively, you can finely mince the saffron. The finer the powder, the more intense the saffron color and flavor in the cookies.
Split the vanilla bean in half and scrape the pulp into a small saucepan. Add the vanilla pod, milk, and saffron and cook over very low heat, just until bubbles begin to form at the edges, between 180°F and 190°F (82°C and 88°C). Alternatively, combine the vanilla pulp, pod, milk, and saffron in a small microwavable bowl, and microwave just until the milk is hot, 20 to 30 seconds. Cover and let steep for about 10 minutes; the milk should have a sunny yellow color.
Sift the flour and baking soda into a medium bowl.
In the bowl of a stand mixer fitted with the paddle attachment, beat the butter on low speed until smooth, 1 to 2 minutes. Add the granulated sugar, brown sugar, and salt and mix on low speed until well combined. Scrape down the sides of the bowl, then mix on medium speed until light and fluffy, 4 to 5 minutes.
Remove the vanilla pod from the milk, squeezing off any liquid or pulp clinging to it back into the milk. In a medium bowl, combine the milk mixture, egg, and vanilla extract and whisk vigorously until well blended. With the mixer on medium speed, add the egg mixture very slowly, in a steady stream, and mix until well-incorporated and very smooth, about 30 seconds. Scrape down the sides of the bowl, then mix on medium speed for 30 more seconds.Scrape down the sides of the bowl, then add the flour mixture. Mix on low speed just until uniform in texture. Using a rubber spatula, scrape the dough out into an airtight container or onto a piece of plastic wrap. Cover the container, or, if using plastic wrap, shape the dough into a rough disk, wrap tightly, and refrigerate for at least 3 hours and up to 5 days.
Preheat the oven to 350°F (175°C). Line a baking sheet with parchment paper or a silicone mat. Roll 1/4-cup (60 ml) portions of the dough into balls, and place them on the baking sheet, spacing them at least 2 inches (5 cm) apart. Bake for about 16 minutes, until golden but not too dark, rotating the pan midway through the baking time. Ideally, the baked cookies will be tall and slightly undercooked in the center, and will buckle shortly after coming out of the oven. If the cookies don't buckle, don't worry; they'll still be delicious. Let the cookies cool on the pan for 10 minutes before removing. These cookies are best when eaten warm, shortly after they come out of the oven. However, they can be stored in an airtight container at room temperature for up to 2 days. Alternatively, the dough can stored in an airtight container in the refrigerator for up to 5 days, so consider baking only as many cookies as needed and saving the rest of the dough to bake another day.
Makes 9 large cookies.
From
The Blue Bottle Craft of Coffee: Growing, Roasting, and Drinking, with Recipes by James Freeman, Caitlin Freeman, and Tara Duggan.
Prep time: 20 minutes - Cook time: 20 minutes