Slow Cooker Ribollita Recipe
By popular request! A wonderfully hearty, slow cooker version of ribollita, the famous Tuscan stew made with bean, vegetables, dark greens, and day-old bread.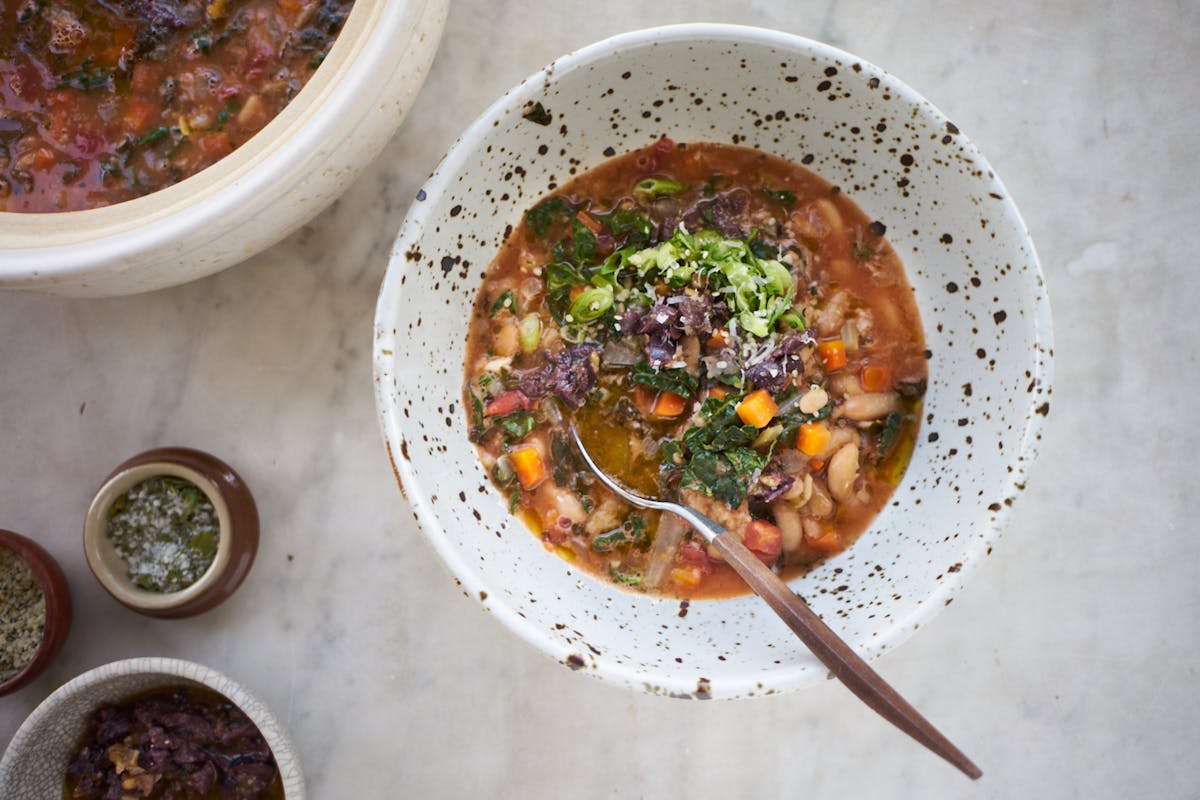 Here it is, by popular request! A wonderfully hearty, slow cooker version of ribollita, the famous Tuscan stew made with bean, vegetables, dark greens, and day-old bread. You can start it in the morning, and let it cook over the next 6-8 hours. Just look at the ingredient list, there's nothing fancy here, and that's part of what I love about this sort of food.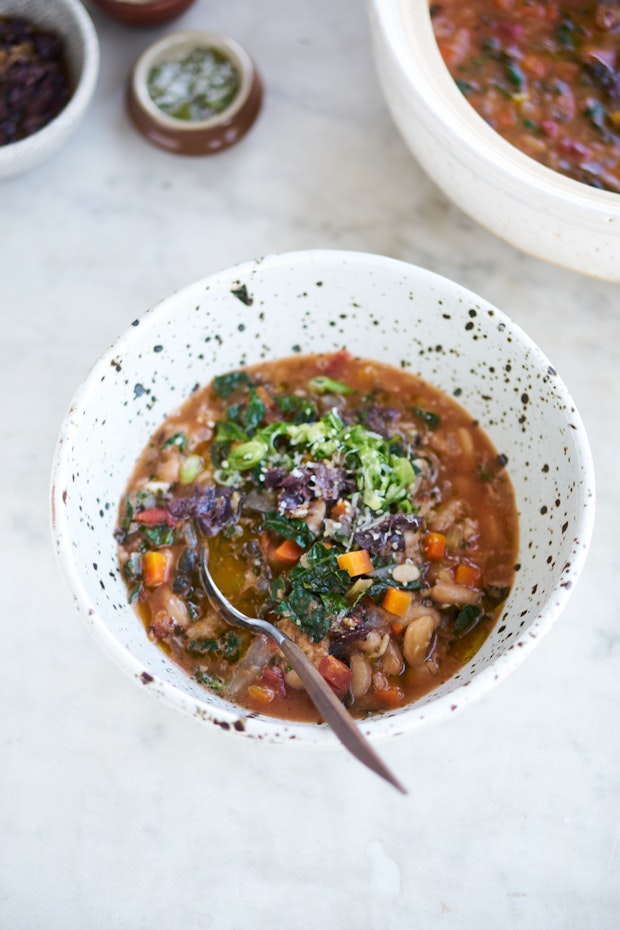 Ribollita means "reboiled" in Italian - it's a soup that was cooked in order to use up leftovers and straggler ingredients. In that spirit, please use this recipe as a jumping off point. If you have sweet potatoes instead of carrots, use those. A yellow onion instead of red? That's fine. It's completely a-ok to riff on the general concept here, and chances are, you'll end up with a substantial pot of goodness.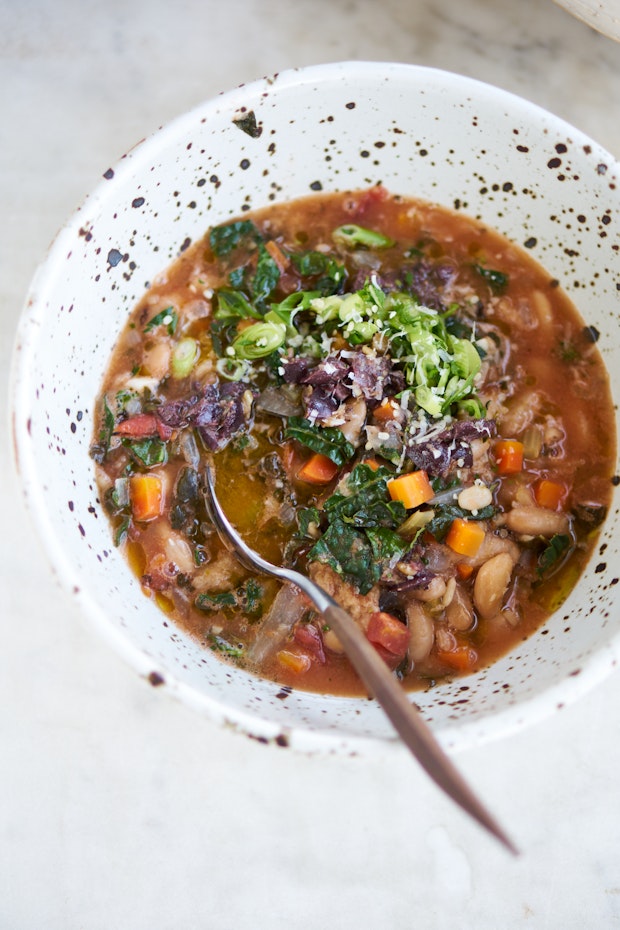 And lastly! One of the things I'm particular about when using a slow cooker is the order in which I add ingredients. There are often times I'll hold an ingredient back until the very end. In many cases this is to maintain as much of the brightness and clarity of flavor as possible. Or, it could be a textural thing. In this ribollita, for example, I like to hold back the tomatoes, kale, bread, and lemon zest until the final hour. You end up with a more vibrant stew for the initial serving. And then, for the leftovers, a nice melding of flavors happens overnight. So, in this case, I'm going for melding, and trying to avoid any overcooked flavors and textures. Hope that makes sense!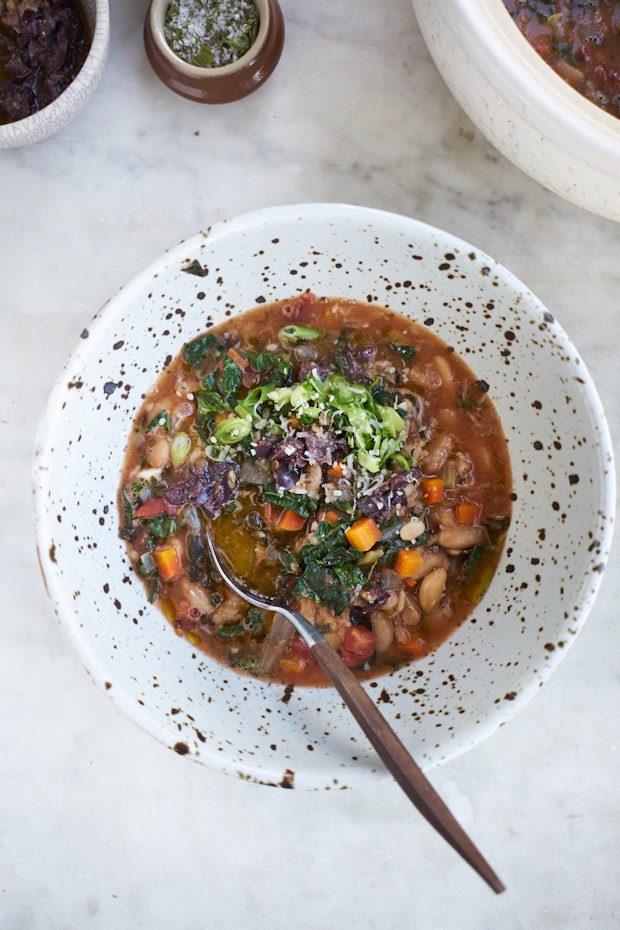 Slow Cooker Ribollita
If you're using canned beans, use 2 14-ounce cans, drained and well-rinsed.
3 tablespoons extra-virgin olive oil, plus more for drizzling
4 celery stalks, chopped
3 medium cloves garlic, chopped
2 medium carrots or equiv. winter squash, chopped
1 medium red onion, chopped
1/2 teaspoon crushed red pepper flakes
1 1/2+ teaspoons fine grain sea salt
4 cups / 22 oz / 620g cooked white beans
1 14-ounce / 400 ml can crushed tomatoes

1 pound / 16 ounces / 450g cavolo nero (lacinato kale, Tuscan kale), stems trimmed off and leaves well chopped

1/2 pound / 8 oz / 225g crustless loaf of bread
zest of one lemon
to serve: lots of well-chopped oily black olives, sliced scallions (opt.)
Heat the olive oil, celery, garlic, carrots, red onion, red pepper flakes, and salt in a large pot over medium-high heat. If you have an Instant Pot or other multi-cooker, you can do this directly in the device. Cook for 10 minutes, sweating the vegetables, but avoid any browning. Mash 1 cup of the beans into a puree (a mortar and pestle works great here), and add these to the pot along with the remaining 3 cups of beans. Stir in 8 cups / 2 liters of water. Slow cook on LOW for 6-8 hours.
Roughly an hour before you're ready to serve, stir in the tomatoes, kale, torn up pieces of the bread, and lemon zest.
Serve immediately, or cool and refrigerate overnight. Serve reheated, or "ribollita" meaning reboiled, the next day ladled into bowls. Finish each serving with a drizzle of olive oil and some chopped olives, perhaps some scallions.
Makes a large pot of soup - enough for 10 servings.
Prep time: 15 minutes - Cook time: 360 minutes