Slow Cooker Black Bean Chili with Kahlua
A slow cooker black bean chili for the weeknight win. This version is Kahlua-spiked with chili powder and good dose of chipotle.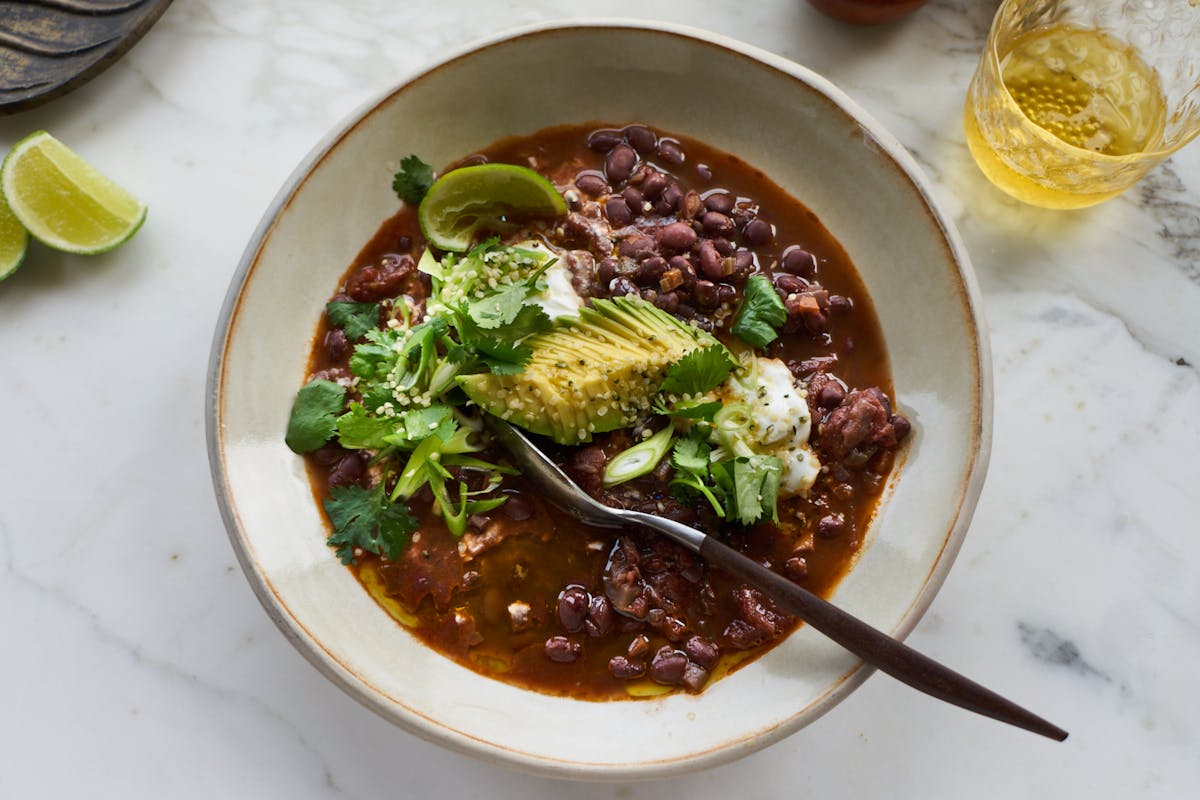 This black bean chili is a little bit naughty, but mostly nice as we round the corner into the new year. Quite honestly, I'm not sure the world needs another chili recipe, but this one checks a number of boxes that are sometimes tricky to check.
Slow Cooker Black Bean Chili - The Details
It's vegan. But don't let that scare you off! It's flavor-forward. It's hearty, and feisty, and easy to tweak (more heat, less heat, etc). It's perfect for a slow cooker, and it has a wild card ingredient - Kahlua. But don't worry, the alcohol cooks off, and the liquor just leaves a nice bass note of sweet coffee-ness. Not too much sweet, just a kiss, and I think it gets balanced out by the cumin and cayenne in most chili powders, and the smokiness of the chipotle. Slow cooker black bean chili for the weeknight win. I've also include notes for a stovetop version, and Instant Pot (pressure cooker) version, so everyone can join along.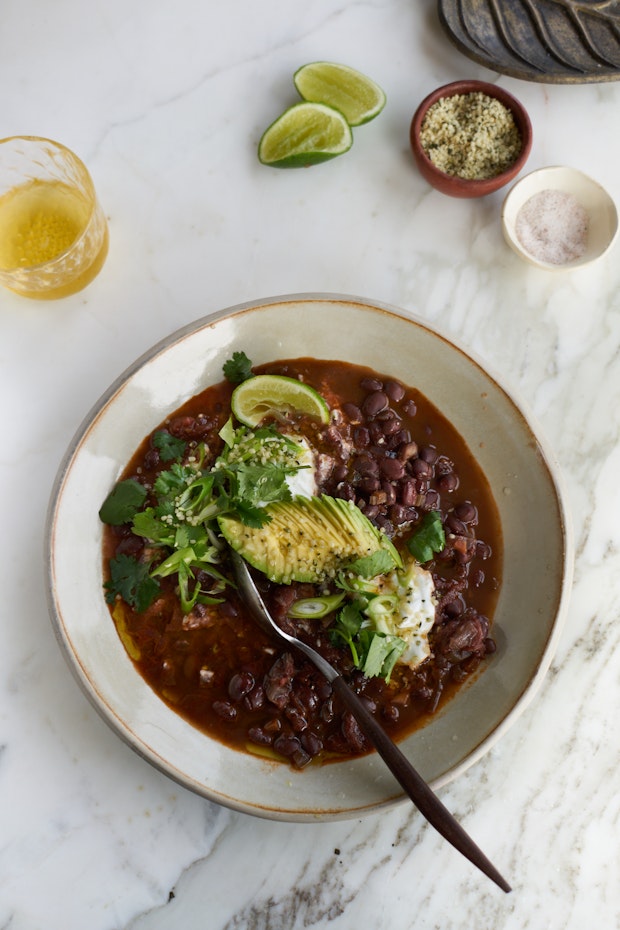 I know, black bean chili is pretty much the Birkenstock of slow cooker staples, but I wanted to take a fresh look at it, and lock down a good go-to version with pay-off. Also, to write a recipe that doesn't have thirty ingredients, but tastes like it does. ;)

Shout out to my friend Chris at Bi-Rite Market, who always listens to me thinking out loud about what I'm working on. I was running through all the typical black bean chili wildcard ideas - pumpkin, orange juice, espresso, etc...We landed on Kahlua (before flirting with a whisky version)....and it turned out NICE!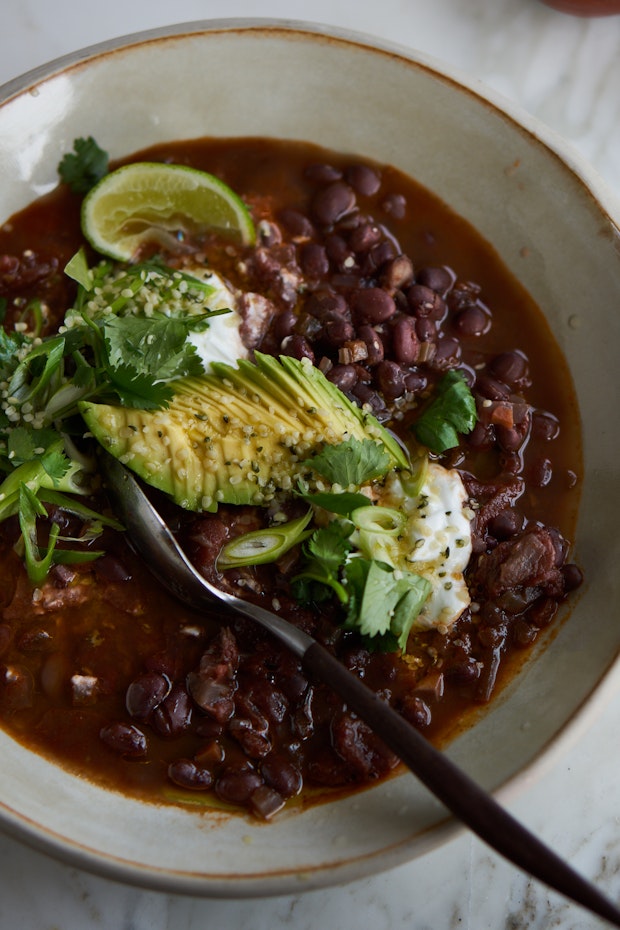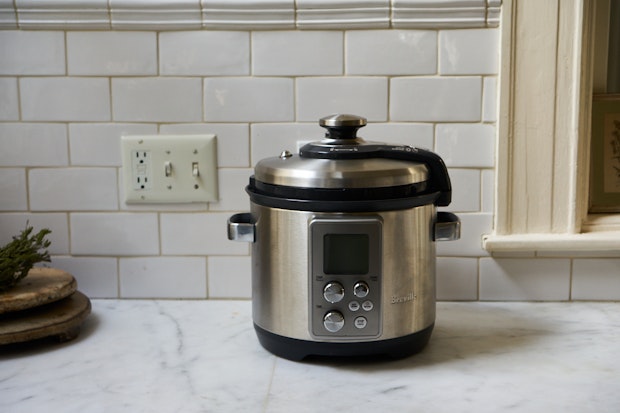 Here's a shot of the Breville Fast Slow Pro. It was the multi-cooker I originally purchased. Unfortunately, it was damaged during shipping, and I replaced it with the Instant Pot DUO Plus 6 Qt 9-in-1. Then, Breville kindly sent me a new one to work with. Long way of saying, I've been testing, and experimenting with both now, and have a bit of a strengths/weaknesses chart going. I'm not going to do a product review at this point, just know, the recipes work in both.
Slow Cooker Black Bean Chili with Kahlua
The only active, time-intensive part of this recipe is chopping the aromatics (onions, garlic, etc.). You can do this a day before, and store in an airtight container, refrigerated, until you're ready to cook. If you don't have Kahlua (or other coffee liqueur), it's fine to substitute beer, broth, or even coffee. Use a favorite chili powder - I call for a range here, use more if you think you can handle it, less if you like a milder chili.
Ingredients
2

tablespoons

extra virgin olive oil

2

medium onions

diced

4

cloves

garlic

minced

5

stalks of celery

diced

2

medium carrots

diced

2

chopped chipotle pepper in adobo sauce

(~1/4 cup)

1 - 2

tablespoons

chili powder

1 1/2

teaspoons

fine grain sea salt

or to taste

1

pound

of black beans

soaked 4-6 hours or overnight

1 28-

ounce

can of whole tomatoes in juice

3 1/2

cups

water / broth

1/3

cup

Kahlua or other coffee liqueur
Instructions
Heat the oil in a large skillet over medium heat. Add the onion, sauté for 2-3 minutes. Stir in the garlic, celery, and carrots, and cook, stirring occasionally, until soft, about 7 minutes. Add the chipotle, chili powder, and salt. Stir until combined and cook for another minute or so. Transfer to a 6-quart (or larger) slow cooker.

Add the beans, tomatoes, breaking them up with your hands as you add them, their liquid, the water, and Kahlua. Stir to combine, cover, and cook on the LOW setting until the beans are tender, 5- 6 hours. Stir occasionally, if convenient. Adjust seasoning, ladle into bowls, and top with any of the suggested toppings you like.

Store leftover in the refrigerator for up to a few days, or freezer for a month or two.
Notes
Instant Pot Pressure Cooker method: If you don't have 5-6 hours for the slow cook, you can use the Instant Pot to pressure cook this chili. Use the SAUTE function, to start, and once you've made it to the point where you've added all the ingredients, press CANCEL. Close the pot, secure the lid, set the pressure release valve to SEALING. Press MANUAL for 15 minutes at high pressure (bump up to 25-30 if you think your beans might be old). When cooking is complete, carefully QUICK RELEASE. Gently shake or tap the pressure cooker, and THEN carefully open away from you.
Conventional stovetop method: Bring everything to a simmer (after all the ingredients have been added). Cover, and cook, over the lowest heat (while still maintaining a low simmer), until the beans are tender. If you need to add more broth or water at any point, do so, and re-season. I think you could likely cook this in a Dutch oven in a 300F for a long stretch as well.
For reference, this recipe was tested in this Instant Pot DUO Plus 6 Qt 9-in-1, as well as this Breville Fast Slow Pro (Breville sent me one after I received a damaged one purchased through Amazon). It's great, because I can experiment with both now, and at some point I'll try to write a review/comparison.
Related Recipes
More Recipes
Popular Ingredients