Smash-and-Toss Roasted Potato Salad Recipe
A flavor-forward potato salad you can make a meal of - French lentils, sun-dried tomatoes, ginger, garlic, almonds, and basil. All together. In one beautiful roasted potato salad.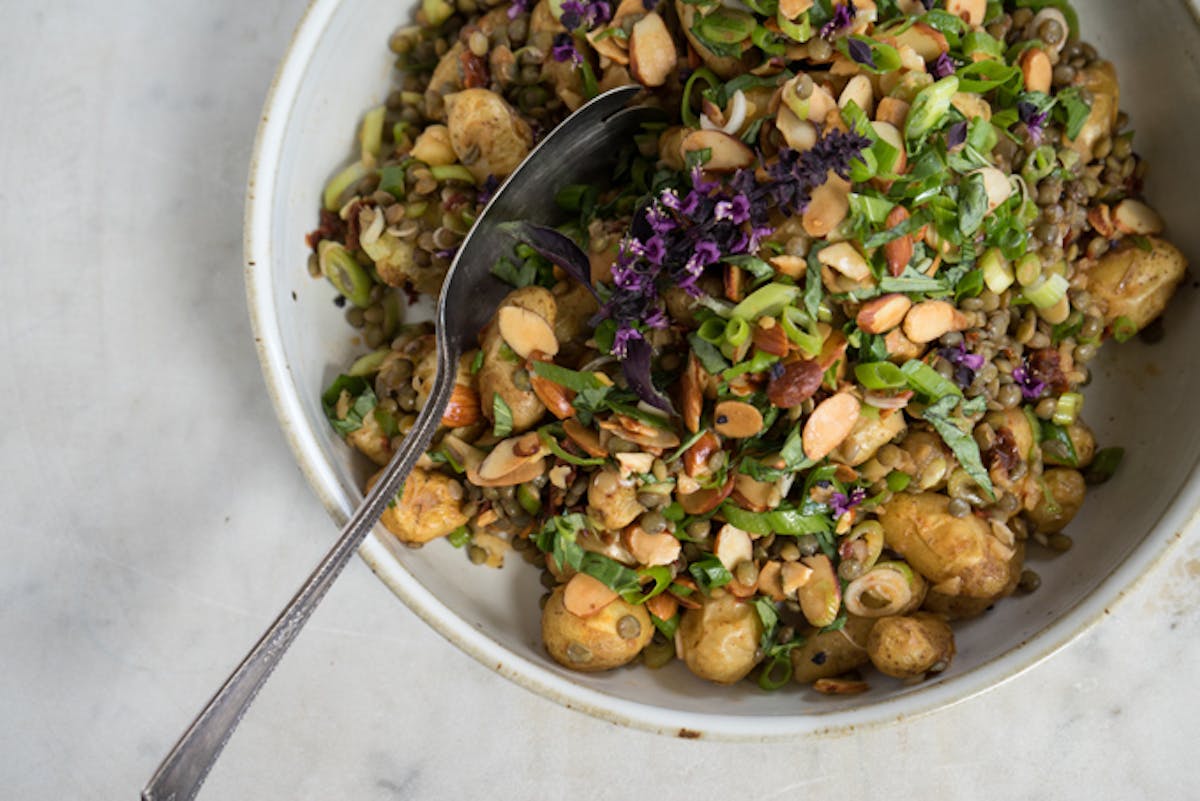 I'll kick this off by saying, this is a roasted potato salad with a secret weapon ingredient. Or, if you prefer, a wild card. Pickled sushi ginger. It sounds odd, but I'm going to argue that it works. Here's what's happening. I took the tiniest, little baby potatoes I could find, and threw them in a hot oven until they were fluffy and tender. Not long at all. Then I smashed a portion of them, and tossed the whole lot with French lentils, plus a mix of ingredients that really punch when it comes to flavor - sun-dried tomatoes, garlic, scallions, pickled ginger, and lemon juice.
We had some leftovers, and I plan on working them into a frittata I'm planning on making tonight.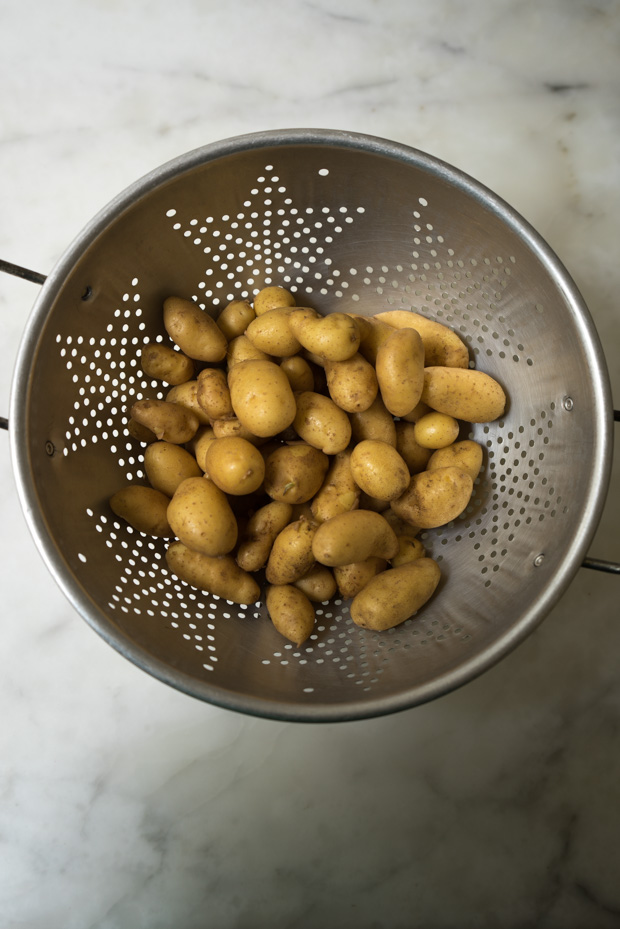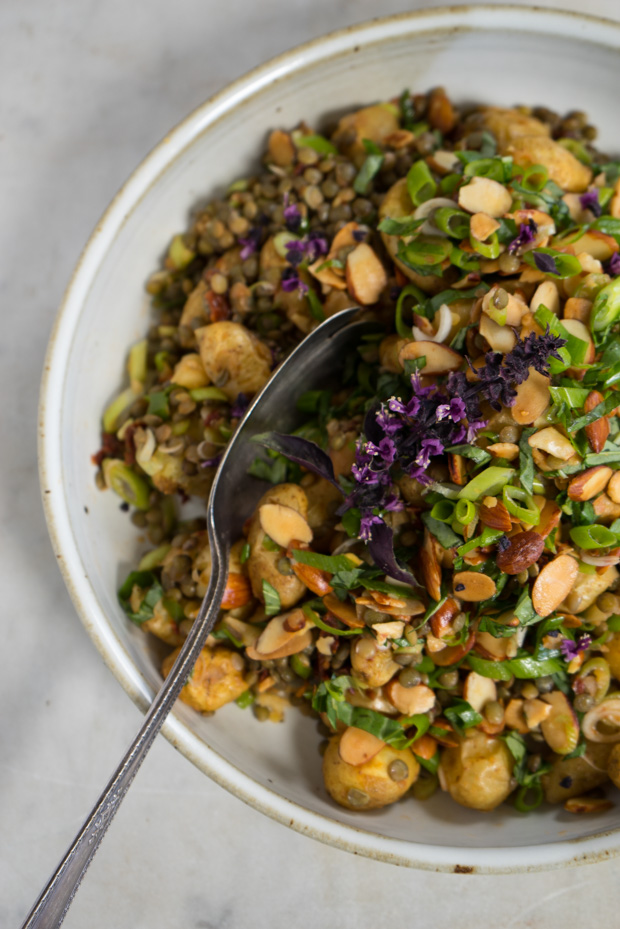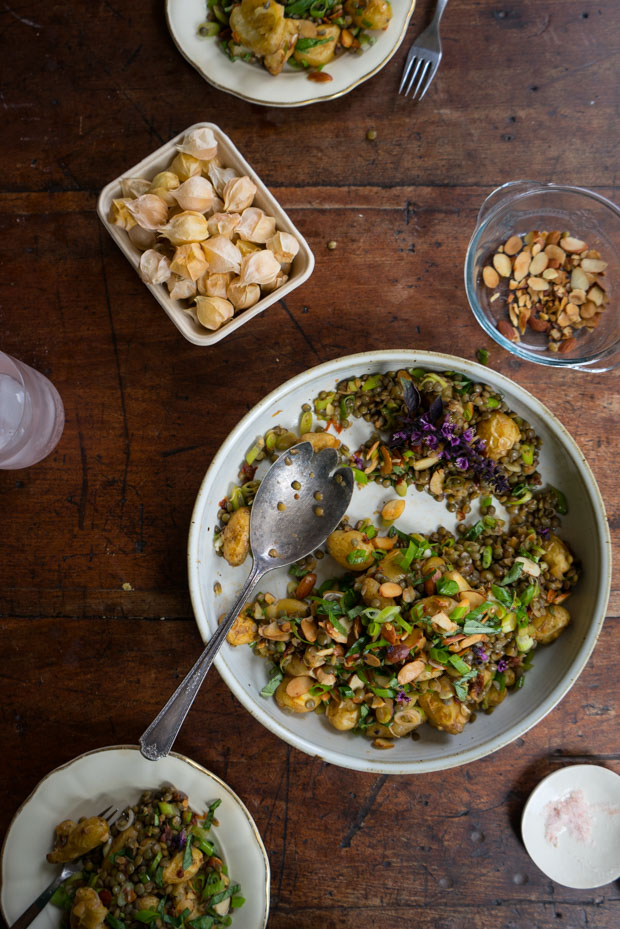 For those of you who appreciate variations - I can imagine a smashed chickpea version of this, or roasted cauliflower. I made this with sun-dried tomatoes driving the flavor profile, but kept thinking a version with preserved lemons and preserved lemon oil would also be a stand out! Enjoy!
Smash-and-Toss Roasted Potato Salad
If you can't find jars of pickled ginger, leave it out. Still delicious!
1 pound small potatoes, smaller is better
1 1/2 cups cooked lentils, room temperature

3 tablespoons chopped sun-dried tomatoes (oil packed)
2 tablespoons oil from sun-dried tomato jar
1 tablespoon pickled sushi ginger
1/2 teaspoon fine grain sea salt
2 cloves garlic, smashed and chopped
5 scallions, chopped
Juice of half a lemon, or to taste

1/3 cup toasted, sliced almonds
a handful of basil, slivered
basil flowers, to finish
Heat oven to 425F. Rinse the potatoes, and pat dry with a clean dish towel, absorbing as much extra water as possible. Place the potatoes on a baking sheet and sprinkle with a bit of salt. Roast until well-cooked through - you want them to be fully cooked, fluffy and tender. Remove from the oven, wait five minutes, take a fork, and press about half of the potatoes. You want to smash the potatoes, while still having them retain some structure.
In a large bowl, toss the lentils with the sun-dried tomatoes, sun-dried tomato oil, ginger, sea salt, garlic, most of the scallions, and lemon juice. Toss well. Add the potatoes and gently toss again. Top with the remaining scallions, the almonds, and basil.
Serves 4.
Prep time: 10 minutes - Cook time: 25 minutes