Spiced Tomato Gratin Recipe
In a Indian spiced departure from a favorite Suzanne Goin recipe - this is a rustic, deeply flavorful summer gratin made with sliced tomatoes, potatoes, caramelized onions, curry powder, and a kick of red chile flakes.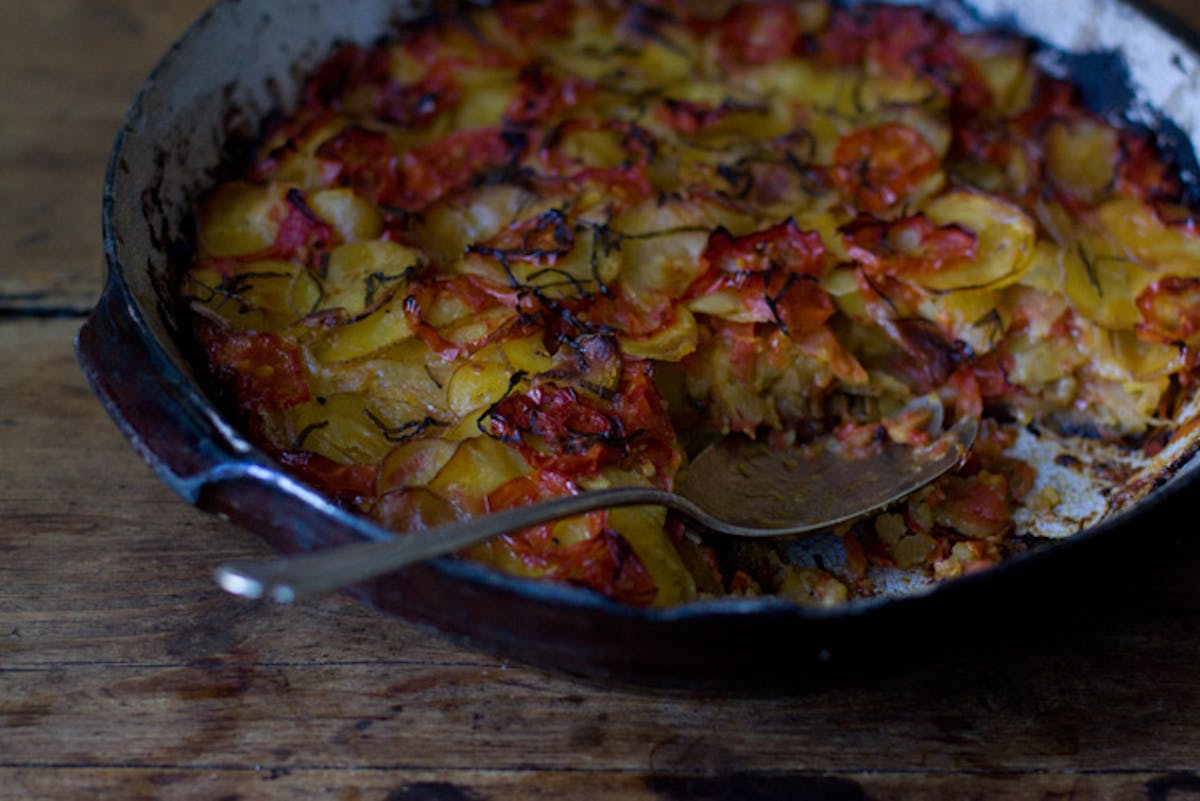 We have family visiting from out of town this week. Meaning, I've been a bit tied up, with not as much time to write. But, on the flip side, I have been cooking quite a bit. And in a change of routine, we've been eating dinners outside thanks to a new table purchase. I'm stubbornly determined to enjoy many al fresco meals sitting at it, even if it means wearing three layers of sweaters. So, for our first under-the-fog meal at our new table, I made this twist on a favorite Suzanne Goin Potato-Tomato Gratin recipe. It's a bit of a project, but worth it if you have the time and are in the mood for a slicey-dicey sort of afternoon in the kitchen.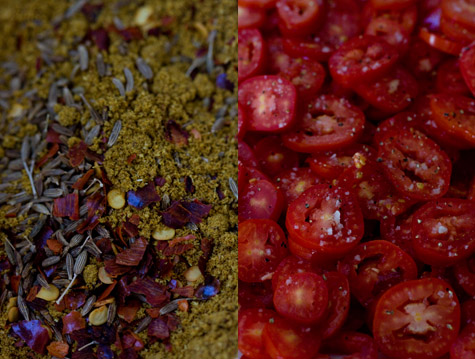 One of the things I like about Suzanne's gratin is the way she strikes bright, flavorful, deep and rustic notes in a preparation that isn't overly decadent. I'm not a fan of creamy starch-bomb gratins. And this is not that. Instead, you line a baking dish with layers of deeply caramelized onions, thinly sliced potatoes, ripe tomato slices, and slivered basil. The potatoes are tossed with a modest amount of cream which ends up percolating through the other ingredients while baking. On a whim, I decided to take a detour from the version in Sunday Suppers at Lucques which happens to be beautifully thyme-centric. Instead, I combined Indian curry spices with the onions, and introduced those flavors to the gratin.
Either way, this is the sort of thing that is perfect just out of the oven. Or reheated the day after. Or the day after that. But be sure to read through the recipe entirely before committing to it - the prep takes some time, and it takes a good amount of time to bake.
Spiced Tomato Gratin
I don't bother to peel the potatoes, but you can if you like. You're going to want to use a mandoline, if you have one, to slice the potatoes. If not, you can use a knife, it just takes a bit longer.
1 teaspoon whole cumin seeds
2 teaspoons curry powder
1/2 teaspoon red pepper flakes
1/4 cup extra-virgin olive oil

6 cups thinly sliced yellow onions (about 2 pounds / 32 oz / 910 g)

1 tablespoon unsalted butter
1 1/4 pounds / 20 ounces / 570 g Yukon Gold potatoes
1/2 cup / 120 ml heavy cream
2 pounds / 32 oz / 910 g ripe tomatoes
a small handful of basil leaves, slivered
sea salt and freshly ground pepper
Preheat the oven to 350F / 180C with a rack in the top third.
Combine the spices in a small bowl and set aside.
You can get a jump start on the onions while you slice the potatoes and tomatoes. Heat half of the olive oil, 2 tablespoons, in your largest skillet or dutch oven over high heat. When hot, stir in the onions along with a few pinches of salt. Cook for a few minutes, stirring often, until the onions soften up - 4-5 minutes. Turn the heat down to medium and stir in the butter. Stirring regularly, cook another 10 - 15 minutes at this temperature, or until the onions just begin to caramelize a bit. Dial the heat back a shade more, and cook until the onions are deeply golden, this might take another 20 minutes. A minute before the onions are finished cooking stir in the spice mixture. Remove the pan from heat and set aside the onions.
In the meantime, use a mandoline to slice the potatoes into 1/8-inch thick rounds. Place in a medium bowl along with the cream, 1 teaspoon of salt, and bit of pepper. Toss well, and set aside.
Use a knife to cut the tomatoes into 1/4-inch thick slices. Arrange across a large plate and sprinkle with another teaspoon of salt and some pepper.
Smear half the caramelized onions across the bottom of a 10x10 inch (or equivalent) gratin or baking dish. Take half of the potatoes and half of the tomatoes and arrange on top of the onion layer (see photo). Drizzle with a couple tablespoons of cream from the potatoes and a tablespoon of olive oil. Season the layer with a pinch of salt and half the basil.
Scatter the remaining onions across the potatoes and tomatoes already in the pan. Then arrange another layer of tomatoes and potatoes on top. This will be the top of your gratin, so do your best to make it look nice. Pour the remaining cream, from the potatoes, and last tablespoon of olive oil across the top. Season with another pinch of salt and the remaining basil. Gently press down on the vegetables so the cream comes up through the layers of vegetables evenly.
Cover tightly with aluminum foil and bake for 2 hours, or until the potatoes are completely tender throughout. Increase the oven to 450F / 230C, carefully uncover the gratin, and cook another 30 minutes, or until the top takes on a nice golden color.
Serves 10 as a side.
Recipe inspired by the Tomato Potato Gratin in Sunday Suppers at Lucques by Suzanne Goin, Knopf 2005.
Prep time: 30 minutes - Cook time: 180 minutes