Spicy Polenta-Cheese Crackers Recipe
Made from polenta, buttermilk, cayenne pepper, and Parmesan cheese, this is a perfect party cracker recipe.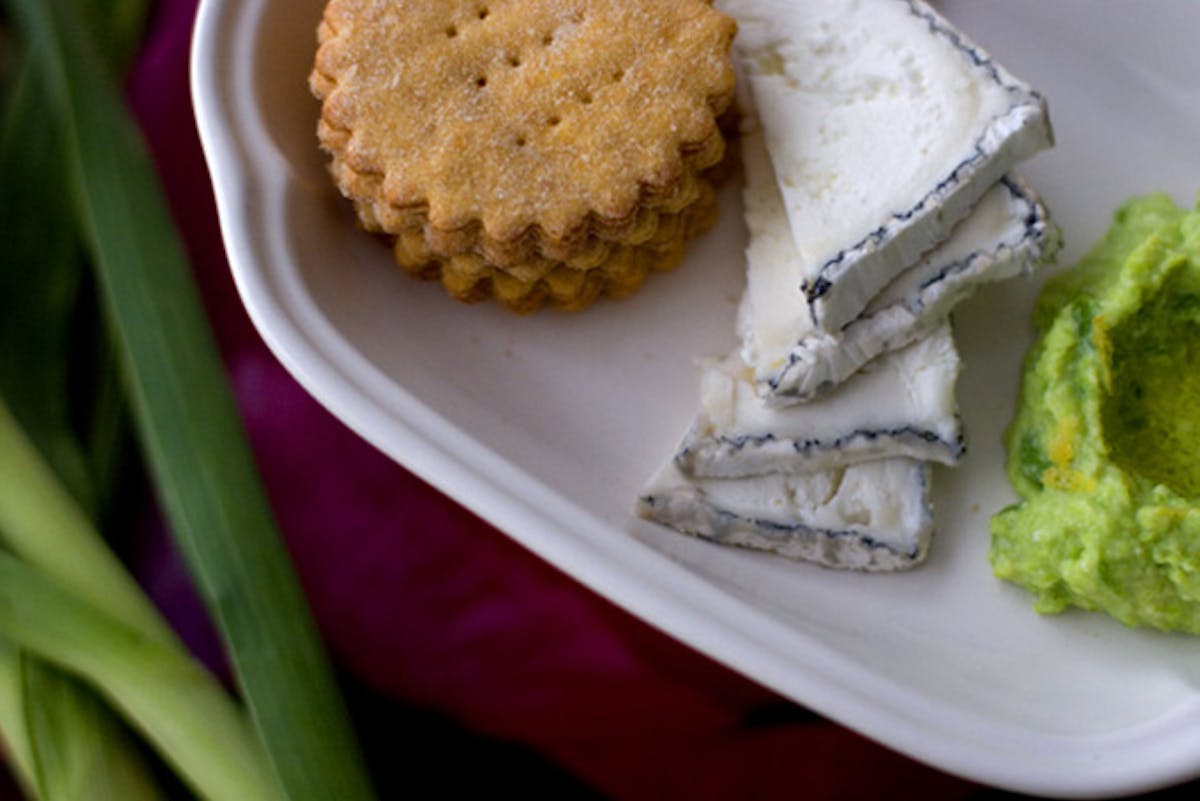 A good cracker is hard to find. I steer clear of many of the mass-produced brands. Many of the artisan types can be expensive and heavy on flavorings - black pepper, rosemary, etc. Inevitably, when I pop into a store to stock up, the more neutral flavors that I like to serve with certain wines or cheeses are sold out. My theory? The key to a good and reliable cracker supply is zeroing in on a good cracker recipe. Once you lock onto a solid cracker-making technique, like the one I'm going to highlight today, making crackers is a breeze. Thank you Patricia Wells.
I have in my possession Patricia's new book, Vegetable Harvest: Vegetables at the Center of the Plate. I have most (all?) of her books and prize them for their direct, accessible, and inspiring recipes - I wrote about her Honey Ice Cream from The Paris Cookbook a couple years back. Looking at her new book, it took me a looong time to figure out which recipe to try first, eventually deciding on her crackers. Because of the focus of the book, I thought about going for one of the more veg-centric recipes, but the crackers eventually won me over.
I went for the crackers in part because I was curious about the polenta-based dough, and also because I've had numerous conversations about making crackers in the past two weeks. It seems as if crackers are in the air - one friend was telling me about making the worlds best crackers for a wedding she catered with a friend. Another friend was telling me about a class taught by Peter Reinhart where they apparently made the ultimate crackers from whole-grain flour (and various seeds, if my memory serves me correctly). Peter's book should be out relatively soon, so I'll see if he'll hook us up with that cracker recipe to celebrate the occasion when the time comes.
So, in the end, cracker curiosity won me over - and this turned out to be a good thing because I was absolutely delighted with Patricia's recipe. I loved the unique polenta/flour blend for the cracker, the polenta sucks the buttermilk right up and makes the dough extremely easy to deal with once you've let it sit for a few minutes. Rolling it out extremely thin is no problem whatsoever. As far as cracker design goes, you can cut the crackers any shape you like. Next time I'm going to do long slab-like strips. This version has a touch of cayenne, but you could easily do a more neutral version. I can imagine many many variations on this cracker incorporating different spice blends and add-ins (or not) - whatever you end up doing just be sure nothing is too chunky, you'll run into trouble rolling out the dough.
In addition to this recipe, Vegetable Harvest is overflowing with ideas. I've earmarked more recipes than I'll ever get around to making - and it's clear, Patricia's love of chickpeas rivals my own. I counted seven recipes featuring them. Others recipes from the book that caught my attention:
Jerusalem Artichoke Soup with Hazelnut Oil
Warm Goat Cheese and Artichoke Cannelloni
Golden Cauliflower and Rice Pilaf
Lamb's Lettuce Puree
Pumpkin Gratin with Pistachios and Pistachio Oil
Goat Cheese "Oreos" with Truffles
Sheep's Milk Yogurt Sorbet
Also worth noting, the 300+ page book includes lots of ingredient-based photographs (vs. recipe illustrating photographs). Separately, while the emphasis of this book is on vegetables taking center stage, Patricia does incorporate fish & shellfish, meat & poultry chapters. Enjoy!
Spicy Polenta-Cheese Crackers
Heidi notes: Don't burn them, cooking time will vary depending on how thin you've actually rolled them - they can burn in no time. I started watching these in the oven at 6 minutes, mine were really on the thing side, so I pulled them out after eight minutes.
Equipment: A food processor or a blender; 2 nonstick baking sheets; a 1 3/4-inch round biscuit cutter or a glass.

1 cup bread flour (hs note: white whole wheat flour works as well)
1 cup instant polenta
3/4 teaspoon fine sea salt
1/2 teaspoon baking soda
1/4 teaspoon cayenne pepper
1/2 cup freshly grated Parmigiano-Reggiano cheese
2 1/2 tablespoons cold unsalted butter, cut into 1/4-inch pieces
3/4 cup buttermilk, shaken to blend
Preheat the oven to 375 degrees F.
In a food processor or a blender, combine the flour, polenta, sea salt, baking soda, cayenne pepper, and cheese. Process to blend. Add the butter and process just until the mixture resemble coarse meal. Add the buttermilk and process until the dough just forms a ball. Transfer the dough to a lightly floured surface and knead for a few seconds. Wrap in plastic and set aside at room temperature for 15 minutes.
Cut the dough into quarters. Set one quarter on a lightly floured surface; cover the remaining pieces with plastic. Roll out the dough 1/16 inch thick. Using a 1 3/4-inch biscuit cutter or a glass, cut out rounds of dough and arrange them on a nonstick baking sheet. Repeat with the remaining dough. Place the baking sheets in the oven and bake until the crackers are golden and crisp, 12 to 15 minutes. Once cool, transfer to airtight containers. The crackers can be stored in an airtight container for up to two weeks.
Makes 75 crackers.