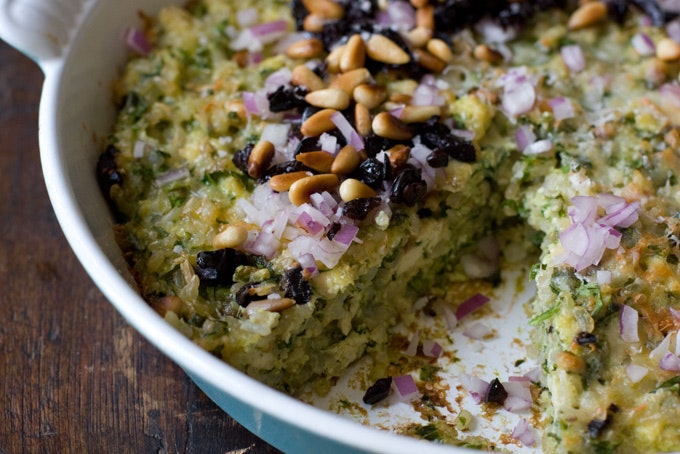 Spinach Rice Gratin Recipe
I opened my sister's freezer the other day and was greeted by stacks of individually portioned, vacuum sealed lasagnas. My sister is seventeen months pregnant right now - kidding, but that's how she feels. She told me they've been stock-piling easy, meals they can simply reheat or pop in the oven once the baby arrives. This got me thinking about healthy, baked, single-pan recipes. I threw this together the other night using a bunch of things I had on hand - brown rice, spinach, black olives, crumbled tofu, a bit of cheese, pine nuts, and a few eggs. It's the kind of thing you could prep in advance and pop in the oven anytime it's convenient. In short, I tossed all the ingredients together in a big bowl, turned them out into a baking dish, and after a thirty minute stint in the oven sat down to a hearty plate of baked rice flecked with spinach. The top bakes into a golden cheese crust made even better with a generous sprinkling of black olives, red onions, and toasted pine nuts.
Come to think of it - you could bake portions of the rice mixture in individual ramekins - that might be cute. And using the rice/egg/tofu ratio you can certainly remix this based on whatever accent ingredients you prefer or have on hand.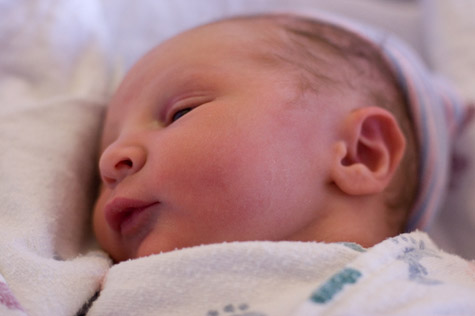 Update: Look who made his appearance yesterday. :)
Spinach Rice Gratin Recipe
2 1/2 cups leftover/pre-cooked brown rice, room temp
1 1/2 cups cups well finely chopped spinach
4 ounces firm organic tofu, crumbled
10 black olives, chopped
1/2 medium red onion, diced
1/3 cup pine nuts or almonds, toasted
2 tablespoons olive oil
1/2 cup shredded Manchego cheese (or Parm, or Gruyere)
3 large eggs
1/2 teaspoon fine grain sea salt
Preheat oven to 400F degrees. Rack in the top third. Grease a 10-inch round baking dish (or equivalent) with a bit of olive oil.
In a large bowl combine the rice, spinach, and tofu. Now, reserving a bit of each for garnish, stir in the olives, and red onion, pine nuts and olive oil. Now stir in 1/4 cup of the cheese. In a small bowl whisk together the eggs, and salt. Fold the eggs into the rice mixture, pour into the prepared baking dish, and sprinkle with remaining cheese. Bake for 30 minutes or until the casserole is set, and the top toasty and golden. Remove from the oven, and sprinkle with remaining onions, olives, and nuts. Sprinkle with a bit more salt before serving - or taste and get a sense of whether you need any.
Serves 8 - 12.