Summer Vegetable Curry Recipe
A summer vegetable curry punctuated with the citrusy pop of fresh coriander seeds.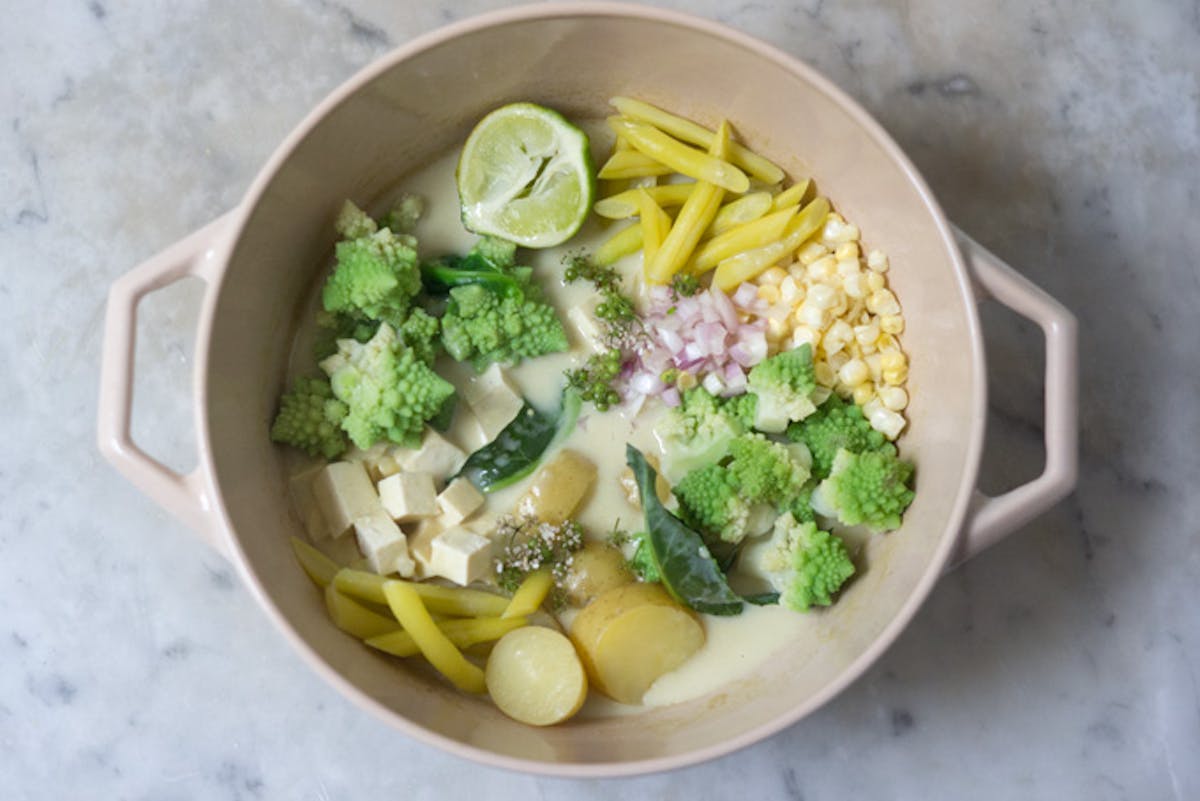 Fresh coriander seeds have been showing up at the farmers' market these past few weeks. They're sold in bunches of long whispy limbs, dotted with bright green seeds and tiny pinprick white flowers. I bring them home, trim the ends, and place them in a big jar of water on my counter - directly in my line of sight, easy to reach for whenever I'm cooking. The seeds are incredibly aromatic, intensely flavored, vibrant and citrus-forward. And texturally, they deliver a bit of pop and punctuation.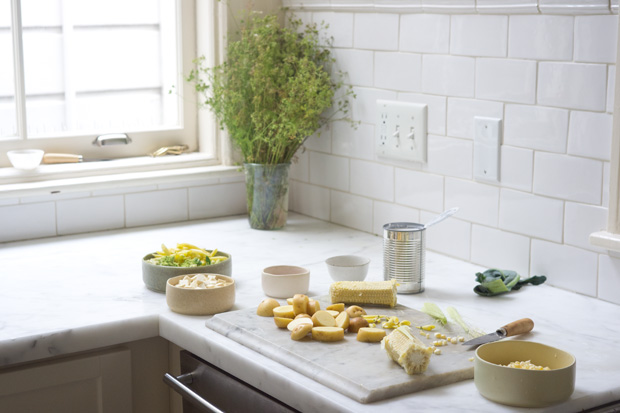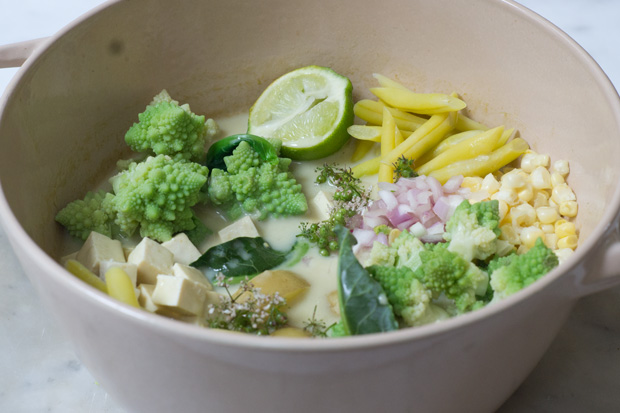 In the cycle of a coriander/cilantro plant, you'll first see leaves develop, then flowers, followed by electric green seeds. I use them as an accent here in this summer vegetable curry (and if you're making your own curry paste, you can certainly add some there), we've also been working it into pesto, smashing them into pastes to top soba noodles, and I'd bet there's an excellent summer cocktail to be made with them - high on my list to experiment with...
I know it's an ingredient you rarely see at the grocers, but I suspect many of you actually grow coriander/cilantro in your gardens. The flavor is incredible, and I'm wondering if any of you have special uses, or favorite ways to use the seeds. I'm also going to buy a good amount in the coming weeks and freeze and/or dry the fresh seeds - see how they hold up.

Summer Vegetable Curry
HS: You can use a store-bought green curry paste here, or make your own. I'll include a recipe for green curry paste I learned in Chiang Mai, Thailand.
1 14-ounce can coconut milk*
4 medium shallots, chopped
2 tablespoons green curry paste, or more to taste
1/2 teaspoon sea salt
1/2 pound waxy potatoes, washed and sliced 1/2-inch thick
1/4 pound yellow (or green) beans
1/4 pound Romanesco florets (or broccoli)
8 ounces extra firm tofu, cut into 1/4 inch cubes
kernels from 1 ear of corn
1 lime, halved or quartered
fresh coriander seeds (or chopped cilantro)
Spoon a few tablespoons of thick coconut cream from the top of the coconut milk, place it in a large pot over medium-high heat and bring to a simmer.
Add 2/3 of the shallots and saute until they soften a bit, 2-3 minutes. Stir in the curry paste and salt, and cook for another minute or two. Have a taste, and decide if you want to adjust the flavor - adding more curry paste or salt if needed.
Squeeze some lime juice over remaining shallots and set aside.
Add the rest of the coconut milk to the pot along with the potatoes, cover, and simmer until they are just starting to get tender throughout - about 10-15 minutes. At this point add the yellow beans, romanesco, and tofu. Let simmer for a couple of minutes, the potatoes should be completely tender by this point. Add the corn and remove from heat.
Serve each bowl topped with a sprinkling of the remaining shallots, fresh coriander seeds and feathery sprigs (or chopped cilantro), and more lime juice, to taste.
Serves 4.
*You have some options here. I've cooked this with full-fat coconut milk, low-fat coconut milk, and another time with a blend of full-fat coconut milk + broth (half of each)....all are good. Full fat tastes quite decadent here, very rich. Although I normally don't buy lite coconut milk, I had a can on hand and used it - it was ok(!) for this curry. Or for a lighter broth without using "light" coconut milk, you can simply thin full-fat coconut milk to the consistency you like with some great-tasting broth - this also works great.
Thai Green Curry Paste
2 green hot chilies (Thai chilies)

1 tablespoon chopped garlic

1 tablespoon chopped shallots

1 teaspoon chopped galangal

1/2 teaspoon chopped lime rind
 (pref. makrut lime)
1 tablespoon chopped lemongrass

1 tablespoon chopped krachai

1/4 teaspoon toasted cumin seeds

1/4 teaspoon toasted coriander seeds

1/2 teaspoon salt
If you have a good-sized mortar and pestle, put the green chilies in the mortar and pound, add the garlic and pound. Now add the shallots and pound - continue down the ingredient list pounding away. Alternately, give it all a whirl in a food processor.
Prep time: 30 minutes - Cook time: 10 minutes