Want to Weave Millennial Pink into your Kitchen, Tabletop, and Photos? Here's how. Recipe
A selection of millennial pink tabletop and culinary items in a range of prices, eras, and design styles.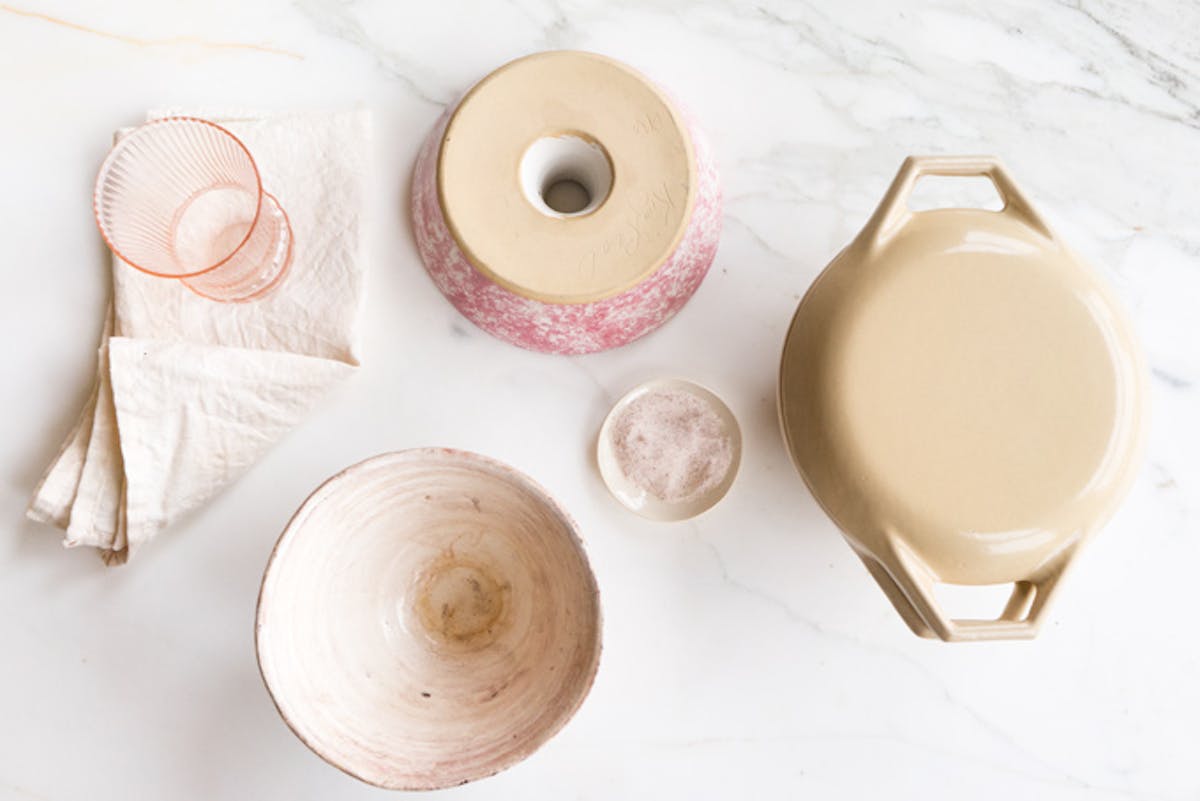 I was shopping for plates the other night (for a photo shoot), and had a very specific idea of what I wanted - millennial pink, clean lines thick, modern rim. I wasn't finding the plates I was after, but did come across quite a lot of blush amazingness. It occurred to me that posting some of my tabletop finds, along with a few musings on the topic might be interesting to some of you? Details styling, sourcing links, and the like...let's give it a shot.
Find the right pink. I'm sure most of you know what I'm referring to here, but for anyone who isn't sure, millennial pink is that salmony-pink, blush, pale grapefruit pink you see everywhere now. There's actually a single millennial pink in my mind, but you actually see products and designs in a range of pinks intending on hitting this mark. There's a lot out there in millennial pink land, in quite a wide spectrum. I'm pretty specific about the shade range I prefer. The zone right around the Pantone Pale Dogwood shade is where it's typically at for me - it's not super saturated or bubblegum, and can function as a nice neutral in many ways.
Avoiding the trend-trap. I think the key to incorporating a color like this into your kitchen, or table, and (correspondingly for many of us) photos, is usually to find individual pieces, or ingredients versus appliances, or anything installed or super permanent. I mean, there are certainly exceptions to this, but I tend to prefer to invest in a lot of neutral foundation elements, and then accent with whatever I'm enamored with at the time. Here'the the key, try to focus on picking up pieces that will age well, and will outlive any current trend. I love sourcing old or vintage pieces, so you end up with a very now color, but from fifty years back.
Think beyond plates and products. The spectrum of color in food and individual ingredients is magic to me, and I love to work pale pink into my photos (and my meals) when it makes sense. There's pink Himalayan sea salt, pale rose wines, herbal teas (for example, a weak hibiscus tea), blended strawberry almond milks, and raspberry oatmeals.
So! Here's a selection of items I came across the other night, in a range of prices, eras, design styles, etc. In addition to favorite shops, I like to haunt eBay and Etsy, and, in this case, searched using terms like - millennial pink tabletop, blush ceramics, vintage pink plate, pale pink textile, blush tablecloth. Some of my finds are one-of-a-kind, so anything is out of stock, search around! I suspect you can find so much more. The individual products are numbered in the graphics, with corresponding links just below.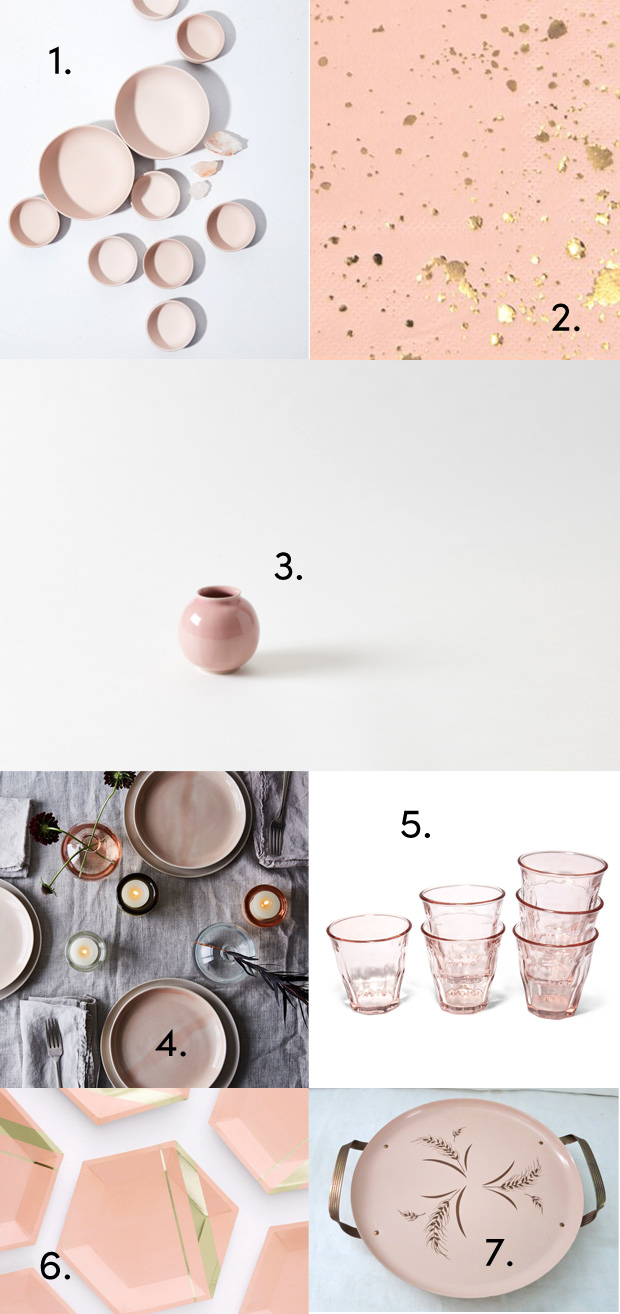 Sources
- 1. Powder Pink Earthenware Bowl - Herriott Grace
- 2. Gold Platter Party Napkins - Oh Happy Day
- 3. Christiane Perrochon Soft Pink Petite Boule Vase - MARCH
- 4. Blush Watercolor Salad & Cake Plates - FOOD52
- 5. Caravan Bistro Glasses - GOOP
- 6. Blush Stripe Party Plates - Oh Happy Day
- 7. Vintage Pink Serving Tray - Etsy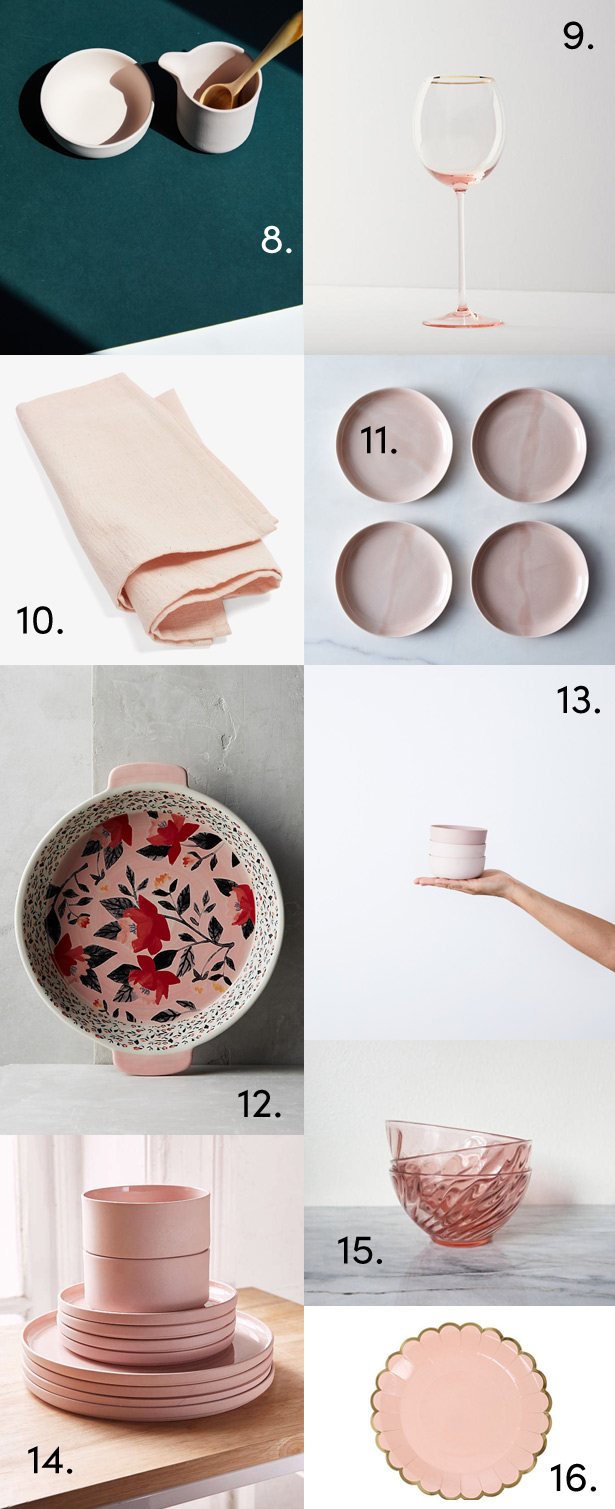 - 8. Powder Pink Jug - Herriott Grace
- 9. Gilded Rim White Wine Glass - Anthropologie
- 10. Kas Table Linens - ABC Carpet & Home
- 11. Blush Watercolor Salad & Cake Plates - FOOD52
- 12. Petalpress Pie Dish - Anthropologie
- 13. Small Powder Pink Bowl - Herriott Grace
- 14. 12-piece Modern Dinnerware Set - Urban Outfitters
- 15. French Arcoroc Bowls - Etsy
- 16. Pink Coral Birthday Plates - Etsy
Let me know if you like these sorts of posts. Happy to do more if you like! -h