Weekday Vegetable Soup Recipe
A simple vegetable soup recipe. Perfect for weekdays. Made with tomatoes, white beans, celery, and some herbs. It's simple, and straight-forward with a finishing basil accent.
Vegetable soup has become a staple lunch of weekdays around here. I typically use whatever vegetables I have on hand, some beans and grains, and a few spice accents. The payoff is great. When you invest the time to make a pot of soup, it rewards you with days of effortless, nutritious, substantial meals. It saves us from eating lunch out more than we'd like. This relatively straight-forward soup has a simple basil pistou finish, a vibrant streak of magic that elevates the rest of the bowl.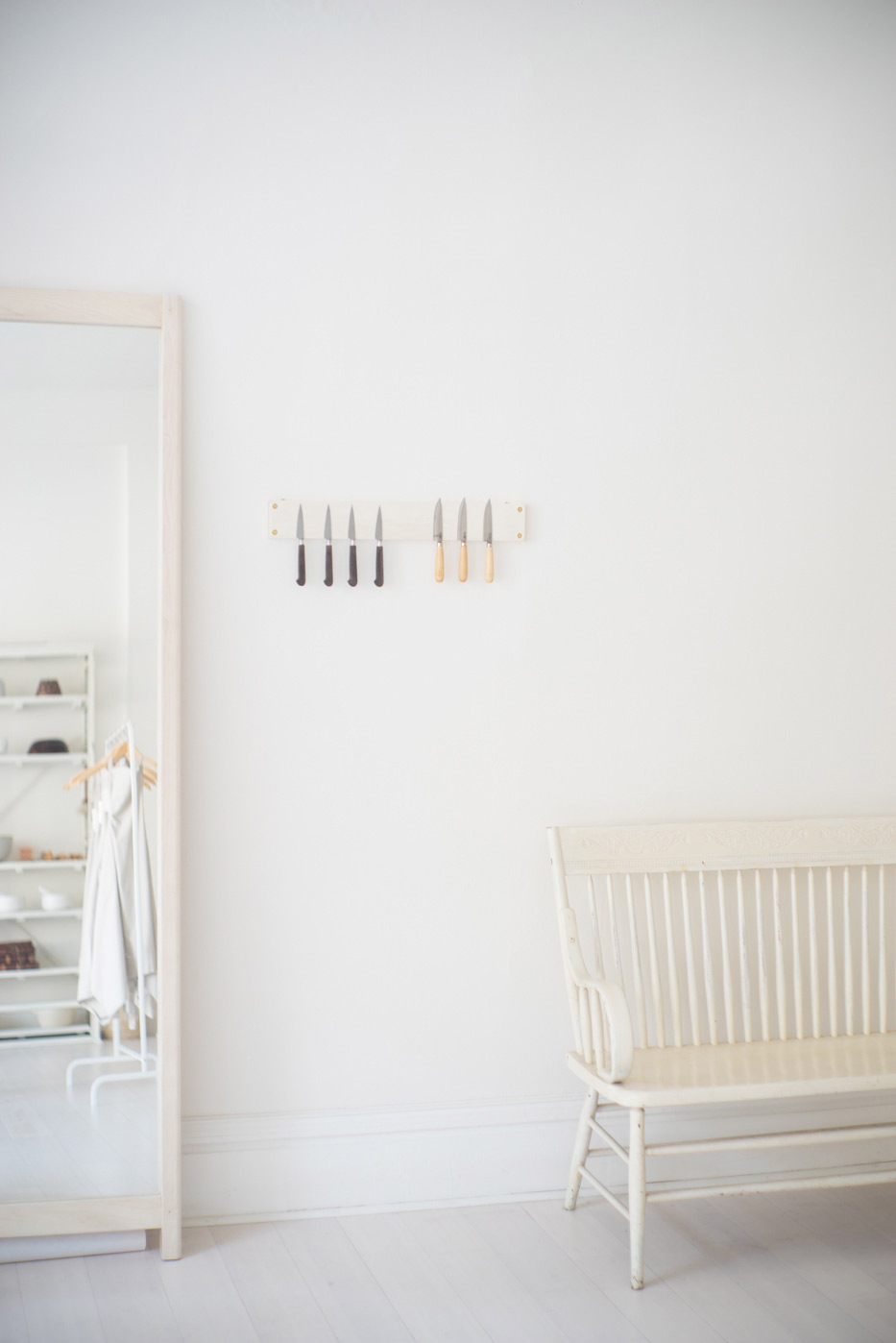 Allow me tell you a bit about where we enjoyed it. One of the first purchases I made for the Quitokeeto studio was a little white bench. It is sturdy and unassuming, desperately in need of a fresh coat of paint. This bench seats two comfortably, three awkwardly. When I bought it, I imagined we'd arrange it outside on days when it is sunny. We'd enjoy lunch, or drinks, or conversation while sitting in the sunshine. To date, it has been used for just about everything but.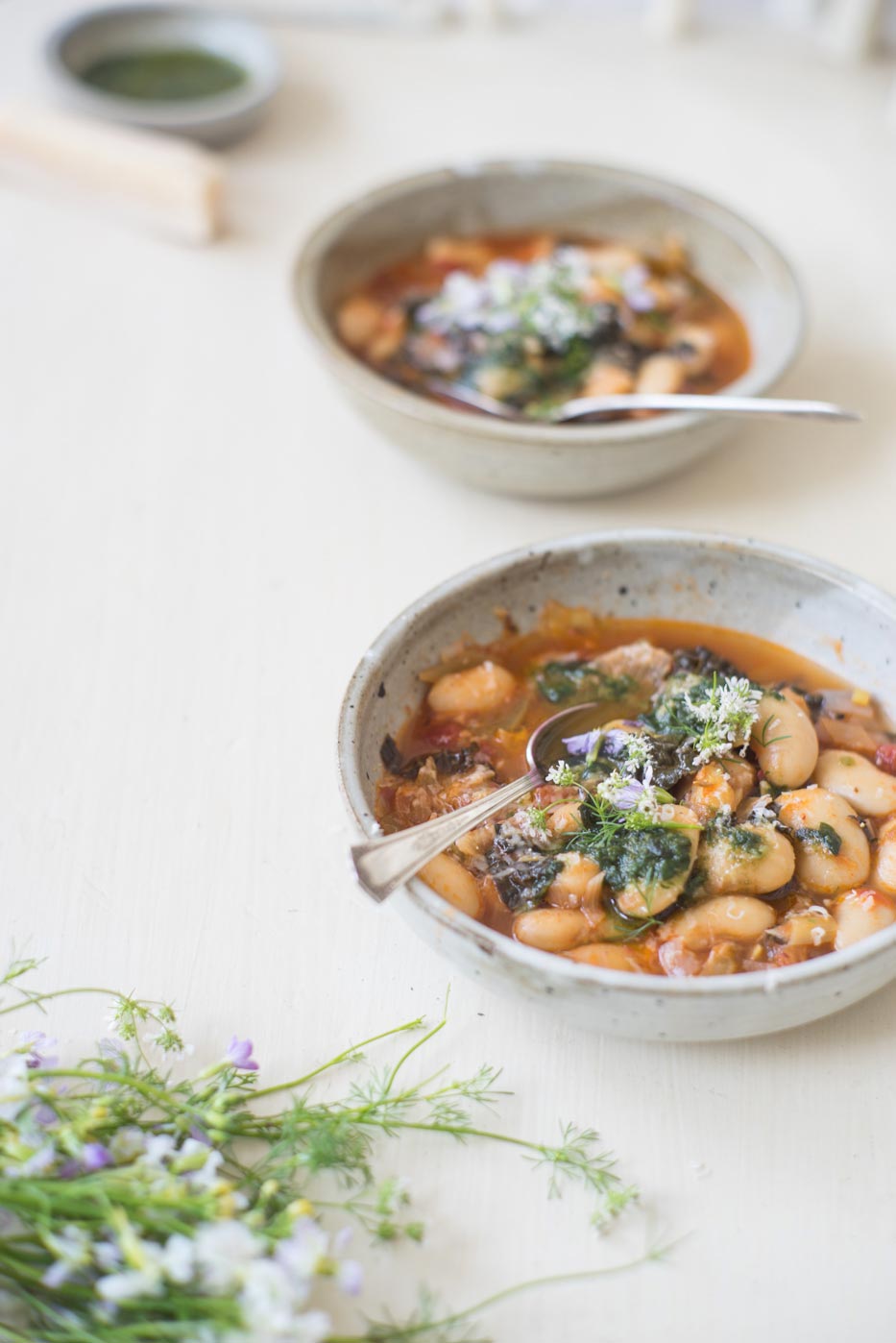 The bench primarily lives indoors, and silently suffers under piles of books and folders related to various projects. I clear it on occasion because it is a brilliant stepping stool. In a pinch it's also a darn good photo surface. Finally, for lunch yesterday, I cleared it off, pulled it in front of the big, sunny windows, and had bowls of vegetable soup. We watched the parade of people making their way down the block. We saw big dogs and small, their walkers, the school children walking to the community center, and the old man who knows there is a secret mirror on the backside of the pillar in front of our door.

If this soup isn't right for you, browse the soup recipes category!
Weekday Vegetable Soup
1/3 cup / 80 ml extra virgin olive oil
1 red onion, chopped (about 1 1/4 cups)
1 cup chopped leeks
8 stalks of celery, sliced 1/4-inch thick
1 teaspoon caraway seed, crushed
1 teaspoon chile flakes
1 14-oz can crushed tomatoes

1 lb. cooked white beans (I used giant corona)
7 cups of water
2-3+ teaspoons fine grain sea salt, or to taste

1 cup basil leaves
1/4 teaspoon fine grain sea salt
1/3 cup freshly shredded Parmesan
1/3 cup / 80 ml extra virgin olive oil

to serve: cilantro or radish flowers (optional)
In a large saucepan over medium-high heat place the olive oil, red onion, leeks, and a pinch of salt. Stir well, and cook until the leeks begin to take on a hint of color. At this point stir in the celery, caraway, and chiles, then saute, stirring regularly, until everything begins to caramelize and take on color. Stir in the tomatoes, followed by the beans, and then the water. There should be more than enough water to cover the beans. Bring to a simmer for at least ten minutes, although I like to simmer it longer if I have the time. Stir in the salt, and adjust if needed.
While the soup is simmering use a mortar and pestle (or chop by hand) to smash the basil and salt into a paste - the smoother the better. Add the Parmesan and olive oil, a bit at a time, and work into a green drizzle.
Serve each bowl of soup topped with a generous drizzle of the pistou. And a bit of cilantro or edible flowers to finish.
Serves 6.
Prep time: 15 minutes - Cook time: 20 minutes