Whiskey & Wheat Berry Salad Recipe
A wheat berry salad recipe inspired by a crostini I tasted in Denver, Colorado made by chef Jennifer Jasinski of Rioja. It features whiskey-soaked golden raisins, adobo-kissed goat cheese, herbs, and toasted pine nuts are tossed with a bit of lettuce.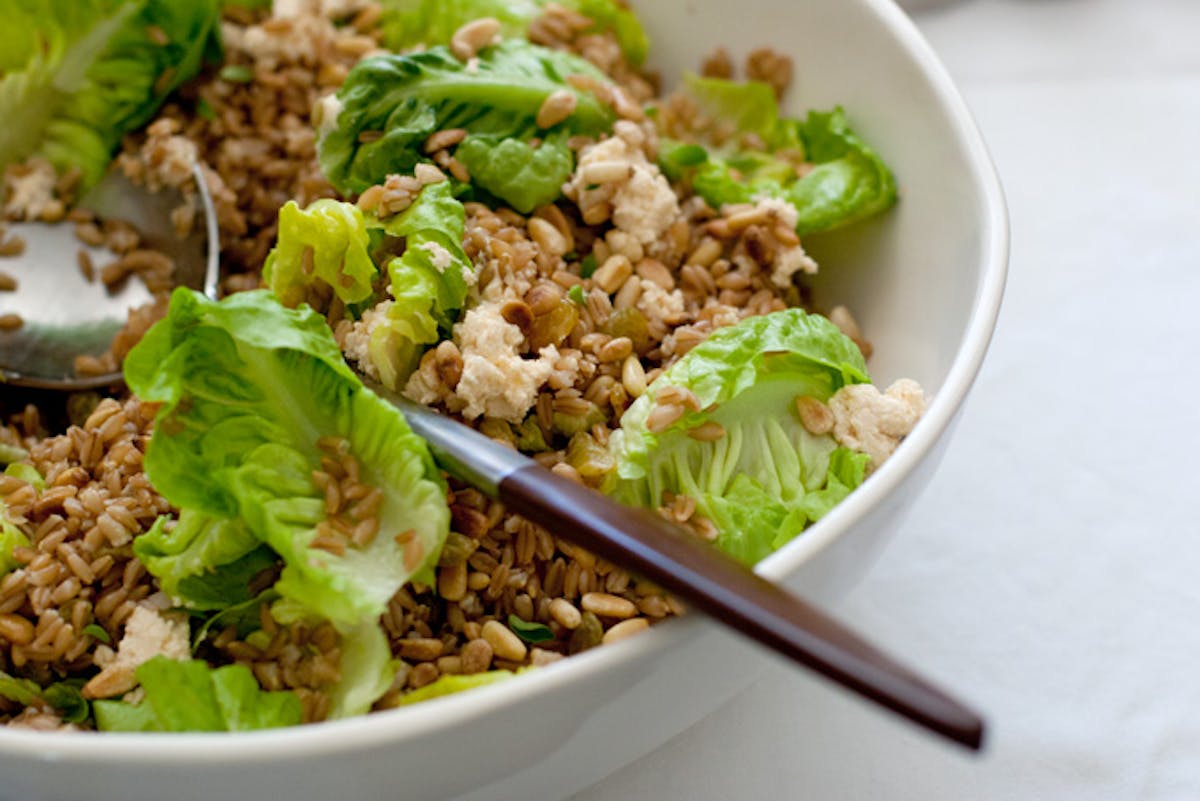 This morning I opened my eyes and was greeted with a beautiful day. The chubby robins that live in the trees out front were chirping and the sky was big and blue and punctuated with cotton ball clouds. We got things started with a couple of coffees (Wayne is the barista around here), and then made our way to a friend's house a few doors up the block for an Easter egg hunt and brunch. Ann asked me to bring a salad, and instead of bringing one of my standbys I decided to wing it and try something new. The inspiration came from an appetizer I tasted last week at the IACP Conference in Denver. At the opening party, chef Jennifer Jasinski of Rioja served a brioche crostini topped with a subtly-smoked goat cheese. The edges of the goat cheese were rolled in a chopped herb salad, and the cheese was then finished with whiskey-soaked yellow raisins and toasted pine nuts. It was a fascinating explosion of sweet and smoke, booze and tang. I thought the components in her crostini would be great deconstructed and put into play in a wheat berry salad. So that was the plan this morning.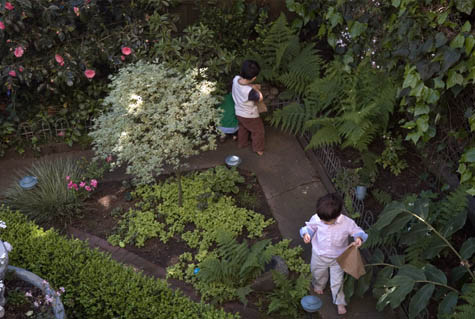 I mashed a touch of adobo sauce from a can of chipotle peppers into some goat cheese to give it that smoky back note, and soaked the yellow raisins overnight covered in whiskey with a bit of brown sugar. I tossed some little gem lettuce into the salad for color and crunch - the little leaves ended up being perfect for scooping up wheat berries. I made a simple dressing with olive oil, a bit of lemon zest/juice, and the whiskey leftover from soaking. The only thing that took anytime with this salad was boiling the wheat berries - something you could do a day or two ahead of time.
I hope you all had a nice weekend - I have to say, it's days like today that I really love where I live. I feel lucky to be flanked on all sides by friends and familiar faces. Today being the exception, on our block, the backyards don't seem to get much use. Everyone seems to like sitting out front, on their steps chatting, people watching, playing with the kids. On the nicest nights of the year, someone inevitably opens a bottle of wine, another neighbor might bring over a bit of cheese and bread, more and more glasses come out as people make their way home from work. It's pretty great.
Whiskey & Wheat Berry Salad Recipe
1 pound wheat berries, cooked*
3/4 cup golden raisins
1/2 cup whiskey
1 tablespoon natural cane sugar (or brown sugar)
5 ounces goat cheese
1 1/2 teaspoon adobo sauce (from a can of chipotle peppers)
1/3 cup olive oil
1 tablespoon lemon juice
zest of one lemon
fine grain sea salt
1 cup pinenuts, toasted
3 big handfuls of lettuce, spinach, or arugula
scant 1 tablespoon fresh oregano leaves (or other chopped herbs)
Cook the wheat berries and set aside.
Place the raisins in a small bowl, add the whiskey and sugar, and let soak for a couple hours (or overnight). When the raisins are done soaking, drain off (and save) the leftover whiskey. You'll use it in the dressing.
Mash the goat cheese with the adobo sauce until it is well incorporated and set aside.
Make the dressing by whisking the olive oil, lemon juice and zest, 3 tablespoons of the whiskey (leftover from soaking the raisins), and a couple pinches of salt. Whisk well and set aside.
Just before serving, in a large bowl, gently toss the wheat berries, raisins, pine nuts, lettuce and a few more pinches of salt. Sprinkle with goat cheese and oregano, toss once or twice and serve.
Makes a party or potluck-sized salad.
*To cook wheat berries: Combine the pound of wheat berries with about 8 1/2 cups of water and 1 tablespoon of salt in a large saucepan over medium-high heat. Bring to a boil, lower the heat, and simmer, covered, until plump and chewy (and a few of the berries split open), about an hour or so. The berries will stay al dente, and the only way to be sure they're done is to taste a few. Drain and set aside.