Seaweed Risotto Recipe
A seaweed risotto recipe inspired by a trip to Chile. This version calls for dried nori seaweed, pearled barley, lots of finely chopped spinach, and a blend of cheeses.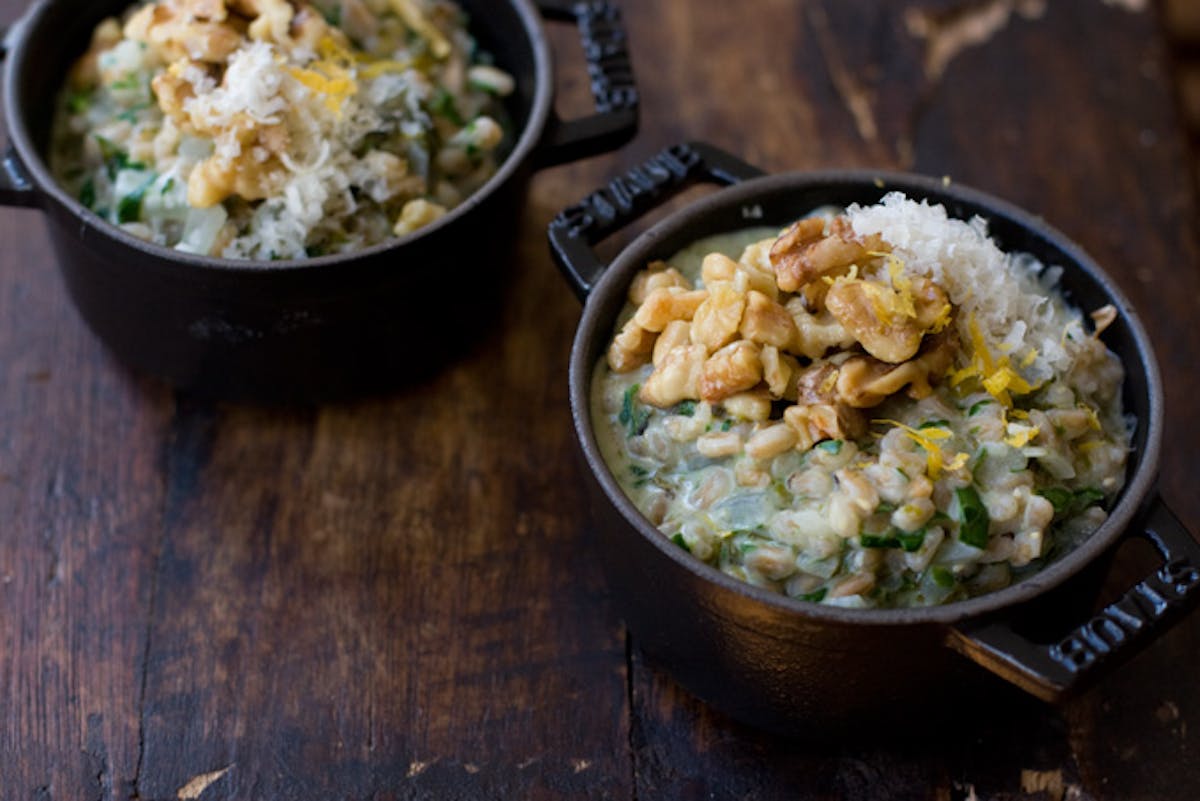 Last August when I was in Santiago, Chile I enjoyed an exceptional risotto made with fresh seaweed, or as my Chilean friends call it - cochayuyo. My Spanish is bad, and after a lot of hand signs and a bit of show-and-tell, Chef Raimundo Tagle communicated to me that it has long been used in peasant cooking, and unfortunately because of that, not many chefs were using it in the fancier restaurants in Santiago. The delicate flavor and toothsome texture of the cochayuyo was a perfect pairing with the creamy risotto in front of me, and it got me wondering why we don't see more fresh seaweed preparations here in the United States - particularly within our coastal communities. Chef Rai slices the fresh seaweed tentacles into rings half the width of my thumb, sautés them a bit, and then combines them with a rice-based risotto along with asparagus, walnuts, and freshly-grated cheese. I realize that finding fresh seaweed is going to be a challenge for a good percentage of the people who visit my site, so I decided to do a variation on the general theme using dried nori seaweed (which just about everyone can track down), pearled barley, lots of finely chopped spinach, and a blend of cheeses.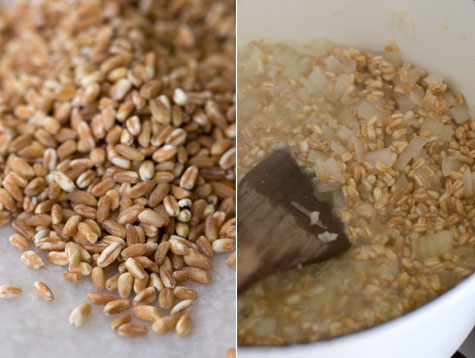 I used chopped spinach in this recipe for a couple of reasons. I like the vegetal flavor and nutrients it delivers, but I also like the bright green flecks it brings to this risotto. It counter-balances the green-brown of the toasted seaweed nicely, lending a fresh, appetizing appearance. The toasted walnuts lend a good amount of earthy crunch, and the lemon gives a kick of acidity to counter-balance the creaminess. A pinch of of smoky-smoldering merken pepper (think of it as the definitive Chilean spice) would be the perfect finishing touch. I'm pretty sure Whole Foods Markets now carries it nationwide in the spice section.
Seaweed Risotto Recipe
If you can't find mascarpone, feel free to substitute creme fraiche, or even a bit of grated gruyere. You are after something to give the risotto that creamy body (which normally comes from the Arborio rice). Also, I call for a relatively modest amount of dried seaweed here, and nori itself is relatively mild in flavor, but if you think you want a more pronounced sea vegetable flavor - feel free to increase the amount to 1/2 ounce - or add it to taste. Also note that if you end up with leftovers, the flavor develops some overnight as well.
3 tablespoons extra-virgin olive oil
1 large yellow onion, chopped
2 medium shallots, chopped
3 cloves garlic, chopped
3/4 teaspoon fine-grain sea salt
2 cups lightly pearled barley or pearled farro
1 cup good-quality dry white wine
6 cups water or lightly-flavored vegetable broth
1 lemon, zest and some juice
1/3 cup mascarpone cheese
1/2 cup freshly grated Parmesan cheese
1/4 ounce dried nori seaweed, toasted
1 1/2 cups finely chopped spinach
1 cup walnuts, toasted
Heat the olive oil in a large, heavy saucepan over medium heat, then add the onion, shallots, garlic, and salt. Saute, stirring constantly, for about 4 minutes, or until the onion begins to soften a bit.
Add the barley to the pot and stir until coated with a nice sheen, then add the wine, and simmer for 3 or 4 minutes, until the barley has absorbed the liquid a bit. Adjust the heat to maintain a gentle, active simmer.
In increments, add about 6 cups of water (or broth), 1 cup at a time, letting the barley absorb most of the liquid between additions. This should take around 40 minutes altogether - sometimes I only end up using 4 or 5 cups of water, it really depends. Stir regularly because you don't want the grains on the bottom to scorch. You will know when the barley is cooked because it won't offer up much resistance when chewing (it will be chewier than Arborio rice though). I like my risotto on the brothy side, so don't worry if there is a bit of unabsorbed liquid in the pot.
When the barley is tender remove from heat and stir in the lemon zest, mascarpone cheese, and most of the Parmesan. Then stir in the seaweed, and lastly the chopped spinach. Taste and adjust the seasoning if needed, adding a bit of lemon juice too if needed. Serve topped with walnuts and the remaining Parmesan.
Easily serves 6+.