A Simple Brown Rice Sushi Bowl
This sushi bowl recipe is simply a de-constructed sushi roll - brown rice, tofu, avocado, toasted nori and green onions served with a simple citrus-soy dressing. Simple and delicious.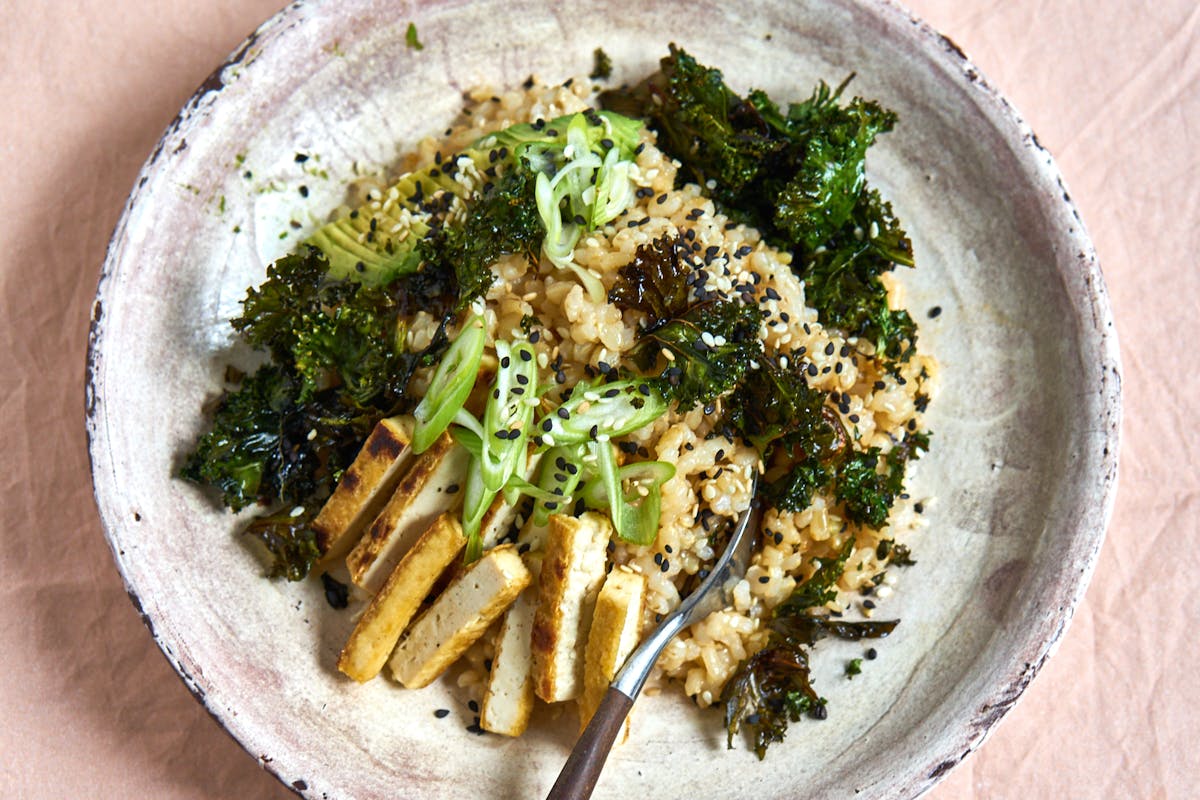 I first published this recipe in 2007, on page 156 in Super Natural Cooking - the Sushi Bowl. Looking back at the recipes included in that book, this is one that has remained a personal favorite of mine (top five for sure), and from what many of you have told me, it has long been a favorite for many of you as well. Simply stated, we are talking about a de-constructed sushi roll - brown rice, tofu, avocado, toasted nori and green onions served with a tangy, sweet citrus-soy dressing. When I don't have toasted nori on hand, I swap in a handful of crushed kale chips.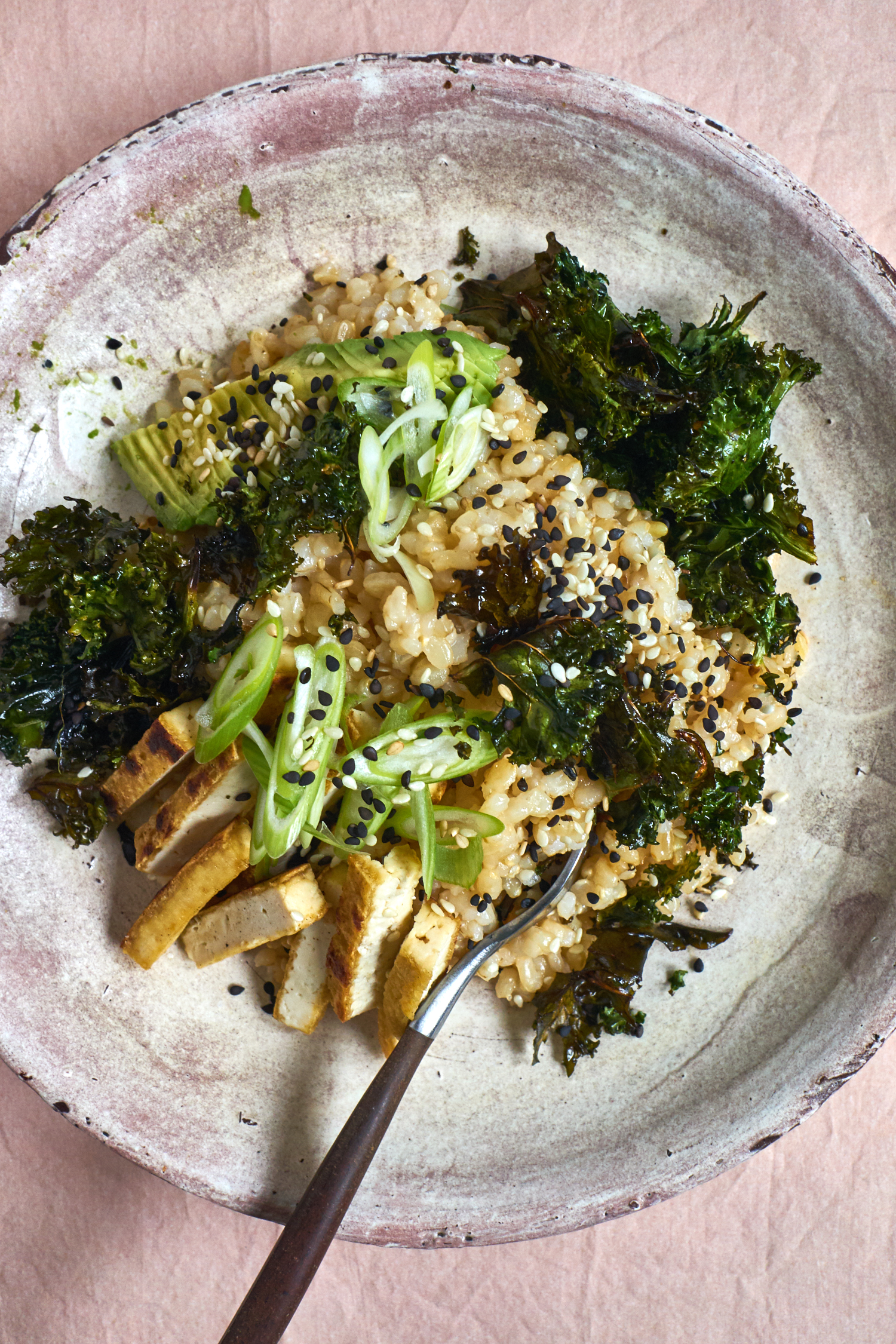 The Citrus Dressing
This dressing rules. You do a quick simmer of a bit orange and lemon juice, and then season it with a bit of brown sugar and rice vinegar. I wrote the recipe calling for orange and lemon, but I often make the dressing with grapefruit or blood orange juice, and it is exceptionally good - puckery citrus sweetness coating the grains of rice throughout each sushi bowl.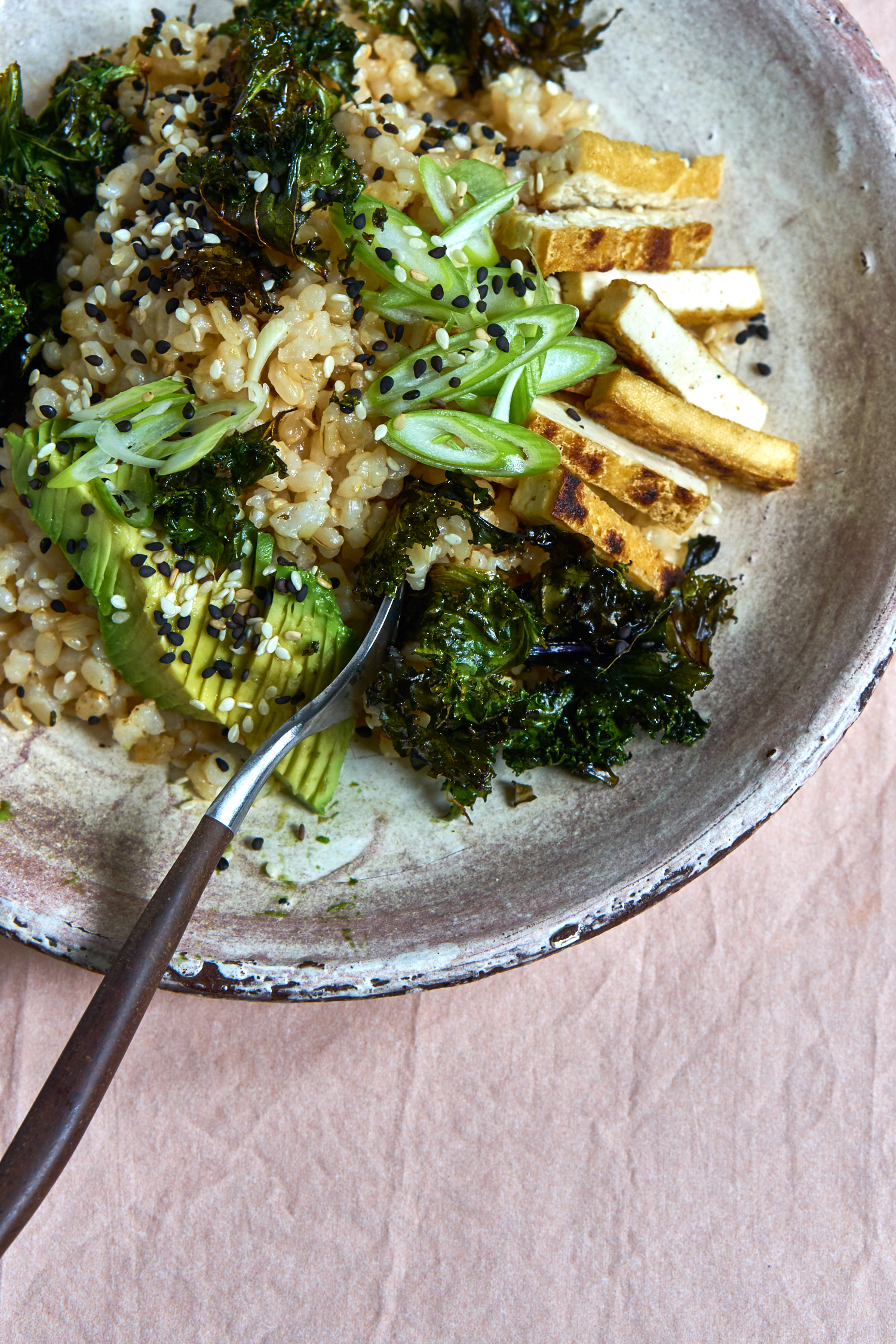 So! If you love avocado rolls, this is a tricked out version, in bowl form. So simple, especially if you have cooked brown rice at the ready. This is the sushi bowl from lunch today, made with kale chips in place of toasted nori. If you have guacamole on hand, by all means use that in place of the avocado. Keep it casual & tasty!
Sushi Bowl-ing
When I originally wrote this recipe, it was conceived as a lazy day way to enjoy my favorite sushi roll ingredients. In an attempt to pre-empt comments related to sushi & bowls, I'll leave you with this. I think there is occasional confusion with the idea of a sushi bowl, because the perception is that sushi is the roll itself. But, as Haruhiko mentions in the comments down below, "Sushi is a term that technically refers to the seasoned rice itself. There's makizushi, inarizushi, chiraishizushi, etc., and what they have in common is the seasoned rice. You don't need raw fish for sushi to be sushi." xo Haruhiko! Hope this helps!
A Simple, Brown Rice Sushi Bowl
I've included the instructions for cooking brown rice here, but when I'm pinched for time I just grab for frozen, pre-cooked brown rice (freeze it yourself, or look for it in the freezer section at Whole Foods).
Ingredients
2

(4-inch) square sheets nori seaweed

6

ounces

extra-firm tofu

grated zest and juice of one orange

grated zest and juice of 1/2 lemon

2

tablespoons

(raw) brown sugar (reg. sugar is ok too)

2

tablespoons

shoyu sauce (or soy sauce)

2

tablespoons

(brown) rice vinegar

4

cups

cooked brown rice, warm

4

green onions, chopped

1

avocado, peeled, pitted, and thinly sliced

3

tablespoons

sesame seeds, toasted
Instructions
Toast the nori in a preheated 300F degree oven or a medium-hot skillet for a few minutes. Crumble or chop coarsely.

Drain the tofu and pat it dry. Cut the block of tofu lengthwise through the middle to make four 1/4-to 1/2-inch thick sheets of tofu. Two at a time, cook in a dry skillet or well-seasoned skillet over medium-high for a few minutes until browned on one side. Flip gently, then continue cooking for another minute or so, until the tofu is firm, golden, and bouncy. Let cool, enough to handle, then cute crosswise into matchsticks (see photo). Repeat with the remaining sheets.

To make the dressing, set the sheets aside. Combine the orange juice lemon juice, and sugar in a small saucepan and bring to a gentle boil. Cook for 1 or 2 minute, the add the shoyu and vinegar. Return to a gentle boil and cook another 1 or 2 minutes, until slightly thickened. Remove from the heat and stir in the zests.

Stir in 1/3 cup of the dressing into the rice and add more to taste. Scoop the rice into individual bowls and top with the toasted nori, green onions, tofu, avocado slices, and a sprinkling of sesame seeds.
Notes
Makes 4-6 servings.
Related Recipes
More Recipes
Popular Ingredients