Winter Punch Recipe
A beautiful winter punch recipe. Made from prosecco, winter citrus, gin, and rosemary sugar. It's simple to pull together, beautiful, easy-drinking, but not overly-strong. you can use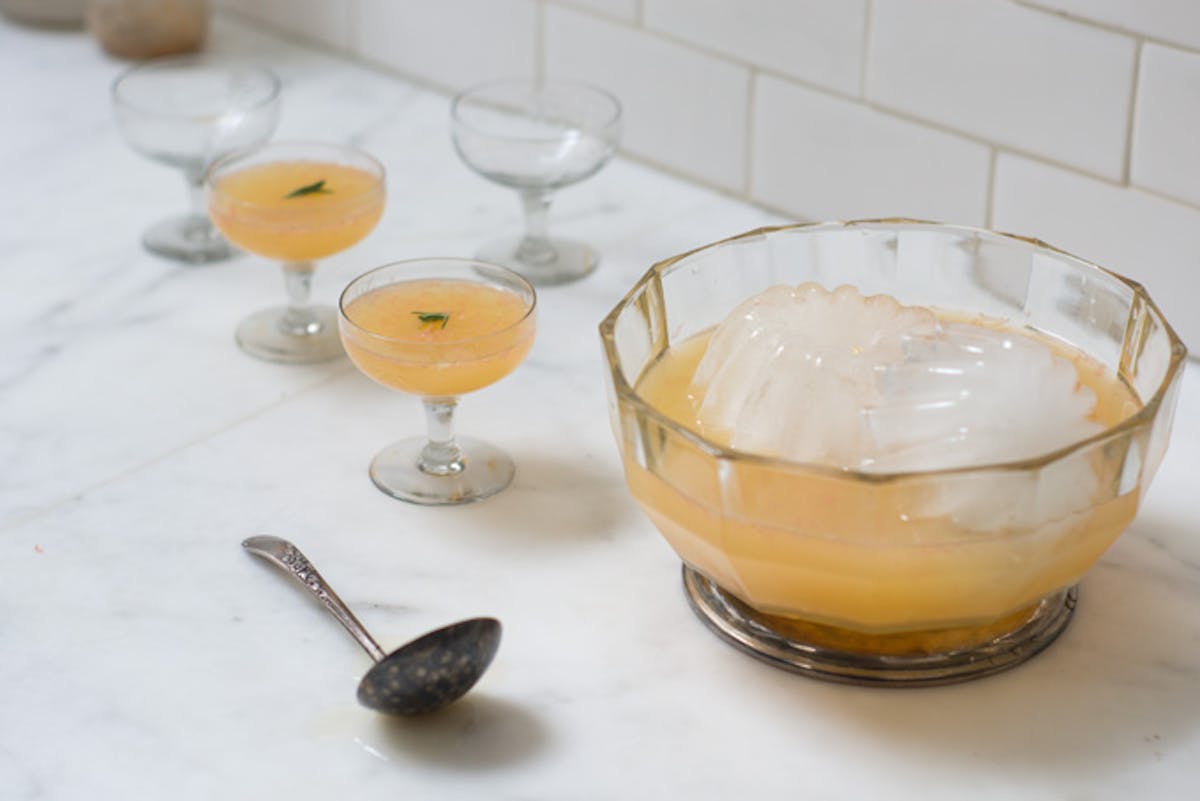 It's a bit unclear how it happened, but well over a decade has passed on this site without a punch recipe. Punch, in theory, is a wonderful thing. One of the most communal beverage experiences, everyone ladling from a single bowl, it's brilliant. A good bowl of punch magnetically draws a party close, becoming the best sort of centerpiece. Pretty, festive, and ready to drink - it's too bad so many punches go off the rails. It's also funny that while I have opinions about punch, I never have a great answer when friends ask for a favorite punch recipe. So, I thought it was just the time of year to pull together one I'd be excited to share. I knew I wanted to make a winter punch here, but not holiday per see. Citrusy, with a hint of herbaceousness, avoiding the warming, spicy angle completely. I went for an all-purpose punch - a bowl that could liven up parties, brunches, showers - something that would be suitable to ring in the new year. It would be a punch that wouldn't wreck the imbiber if he or she happened to go a few sips too far. I imagined it the palest pink (pink grapefruit?), or soft yellow (pomelo?). A little sweet, a little sour, dance on the tongue, light up the eyes...here's where we landed.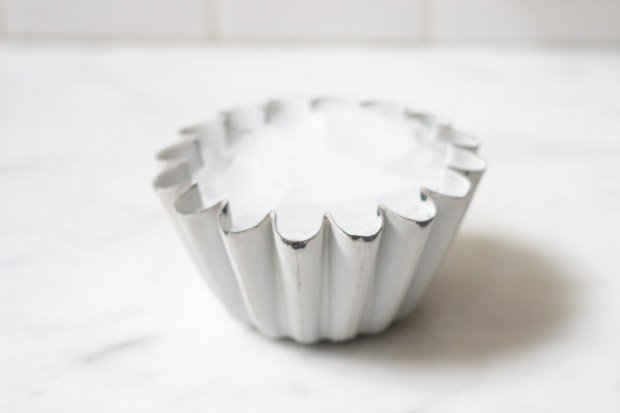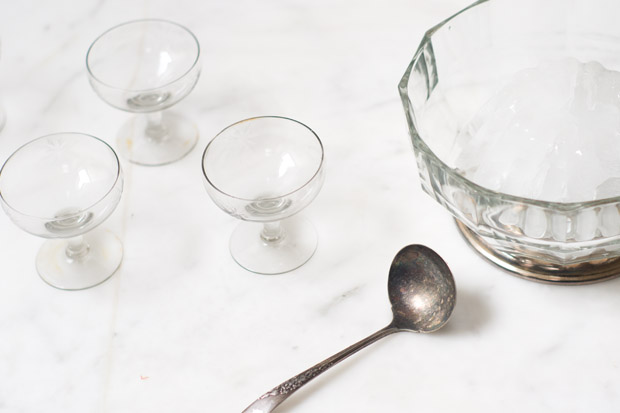 I knew we'd want a couple of big ice floats, so I dug around the pantry for anything that might lend an interesting shape. Enameled metal cake pans did the job brilliantly. I filled two of them 3/4 full and left them in the freezer over night. A quick dunk in a bowl of warm water released them from their molds, no problem.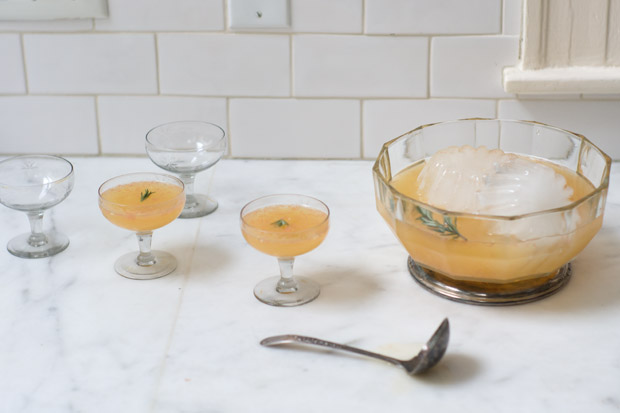 Happy holidays all, and cheers! .+*!~*. xo -h
Winter Punch
Use whatever citrus you like here, we did a blend of 2/3 cara cara orange juice + 1/3 grapefruit juice. The cara cara lent the beautiful blush color, but you can also get that from pink grapefruit. On the gin front, I used St. George Botanivore gin for its green herbaceousness. And don't bother splashing out on the sparkling wine, something tasty, but not overly-pricey is just fine.
1 750-ml bottle of prosecco
2 cups / 480 ml freshly squeezed citrus juice, strained
1 cup gin
1/2 cup rosemary simple syrup (below), or to taste*

1 - 2 tablespoons fresh ginger juice (grate peeled ginger and press through a strainer to collect the juice)

sparkling water to taste, 1-2 cups, or so
a few rosemary sprigs
plenty of ice
In a large bowl combine the prosecco, citrus juice, and gin. You'll build and adjust the flavor balance from here. Add most of the 1/2 cup rosemary syrup, stir well, and taste. Add more if needed. Stir in 1 tablespoon of the ginger juice, stir, taste, and add more if needed. Dilute with sparkling water (your guests will thank you!!), stir, taste again and adjust with more syrup or ginger juice if you like. Serve in a punch bowl with plenty of ice, and a few rosemary sprigs, keeping in mind that the ice will dilute the punch more over time. This recipe is easily doubled or tripled depending on how many people you're serving.
*To make rosemary simple syrup: 1 cup of water, 1/2 cup sugar, 2 tablespoons of fresh rosemary needles in a small saucepan. Bring to a simmer for 3-5 minutes, or long enough for the sugar to dissolve. Remove from heat and let infuse for 10 minutes. Strain into a jar until ready to use. You can also use honey in place of the sugar.