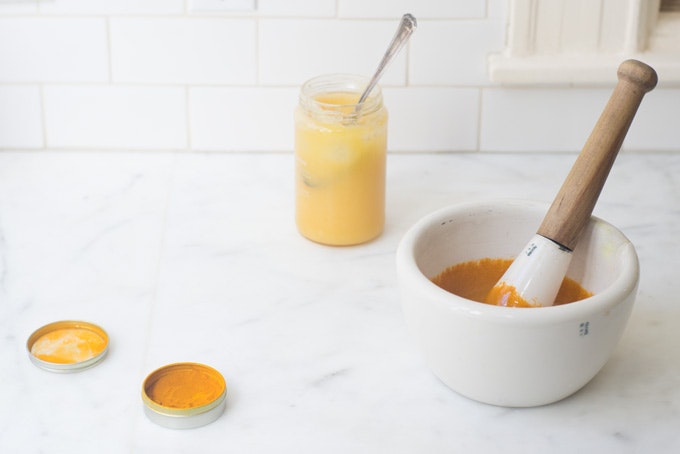 This is how turmeric tea worked its way into my life. The backstory - for a while it felt like someone was sticking a hot poker between my shoulder blades, particularly if I moved my neck in certain directions, like left or right. And the mornings? Ouch. I'm not entirely sure what I did, but I think it might have something to do with shepherding heavy boxes up and down our stairs. Over and over. Apologies for the complaining, but it was something that had been bothering me for the past few weeks, and nothing was really helping until it occurred to me to bump up the turmeric in my diet. It has significant anti-inflammatory properties (as well as a host of other benefits), and I started going for it - adding extra turmeric to curries, drinking turmeric tea in the morning and evenings, and generally keeping it out on the counter for easy access.

Turmeric Tea Inspiration
I remembered an Ayurvedic turmeric paste I'd read about when I was flipping through books in the Los Angeles Library earlier in the summer, and started using that as my tea base. And it helped! I like turmeric in general, but the tea is, flat out, a favorite. I make a paste of honey and turmeric that keeps in a jar for easy use. I heat water, pour it over a spoonful of the paste, and finish with a big squeeze of lemon and a substantial amount of freshly ground black pepper. It's good stuff - the black pepper makes it invigorating (and also helps the body absorb the turmeric), and the honey sets off the earthy-acridness of the spice enough that the tea is still delicious.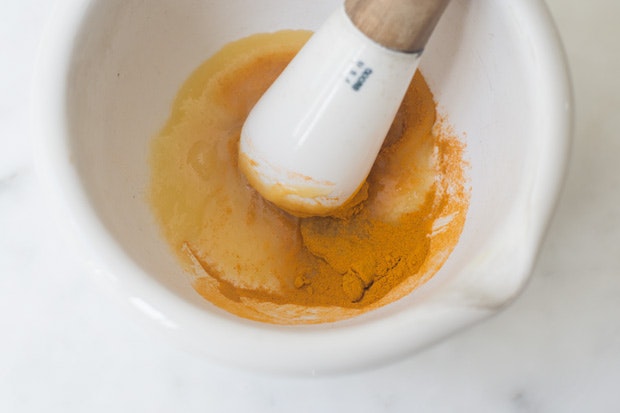 One thing - use mildly hot water here, but not boiling - to help preserve the properties of the raw honey. I'll make note in the recipe below, but wanted to call that out in particular. You can also blend the paste into smoothie, or swirl it into yogurt. Hope you like it as much as I do. xo
Turmeric Tea
Turmeric tends to stain anything it comes into contact with, so be careful.
Ingredients
1/3

cup

/ 80 ml good, raw honey

2 1/2

teaspoons

dried turmeric

lemon

lots of freshly ground black pepper
Instructions
Make the Turmeric Paste
Work the turmeric into the honey until it forms a paste. You can keep this on hand, in a jar, for whenever you'd like a cup.
Brew the Tea
For each cup of tea, place a heaping teaspoon of the turmeric paste in the bottom of a mug. Pour hot (but not boiling water) into the mug, and stir well to dissolve the turmeric paste. Add a big squeeze of juice from a lemon, and a good amount of black pepper. Enjoy! Stir now and then as you drink so all the good stuff doesn't settle to the bottom, or top off with more hot water as you drink it.
Related Recipes
More Recipes
Popular Ingredients