A Vibrant Beet Caviar
Inspired by a loaf of 100% einkorn bread passed to me by a friend (and the cookbook by Silvena Rowe I had in my bag at the time) - a beet caviar. Perfect for slathering - sweet earthiness of roasted beets accented with toasted walnuts, chives, dates, and a swirl of creme fraiche.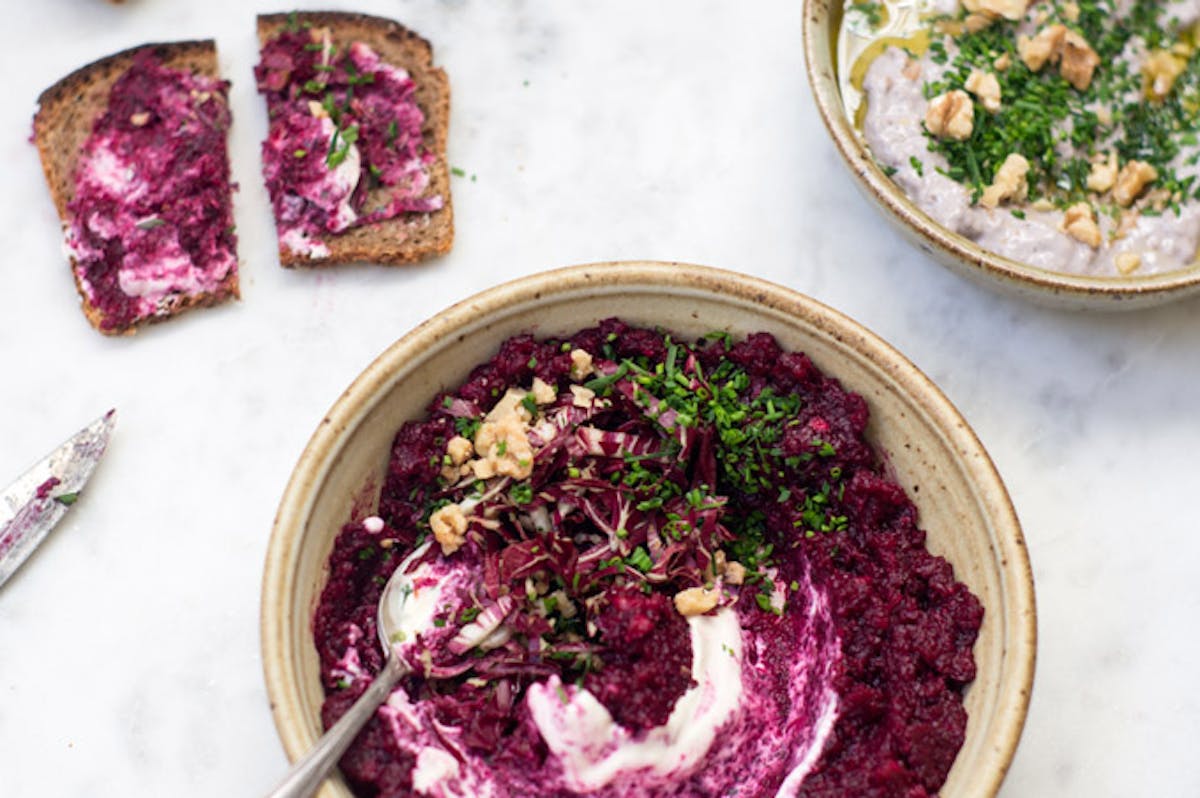 This amazing beet caviar, a beautiful beet spread came about in a serendipitous way. I'm lucky to be the occasional recipient of Josey Baker experimentations. The other day Josey handed me a still-hot loaf of 100% einkorn bread - substantial, fragrant, a dark brown crumb with a craggy top-crust. It smelled like a great brewery - all malt, and grain, and warmth. And it begged to be treated right.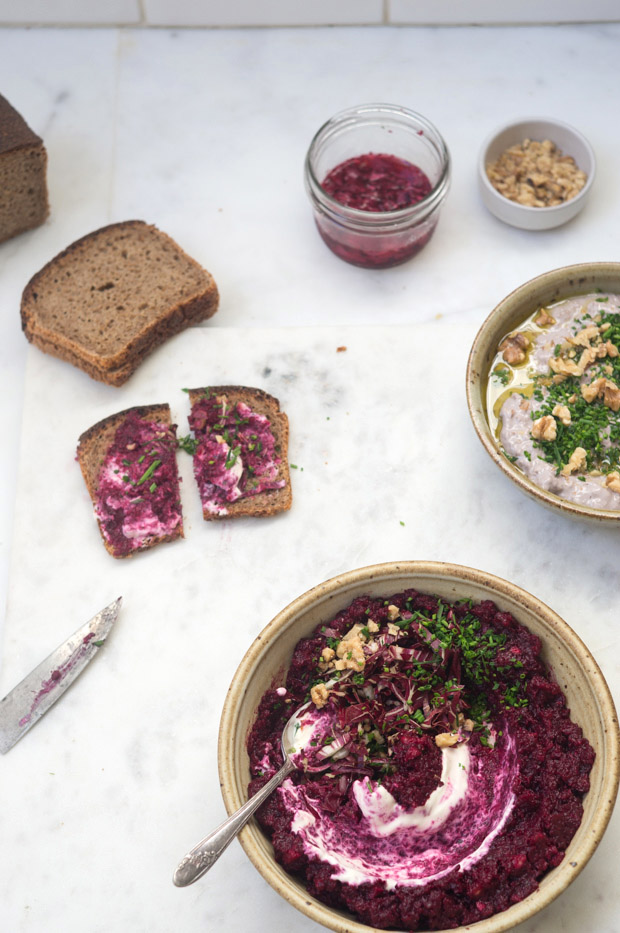 The first question to come to mind was slicing strategy...the consensus was: 1) Allow the bread to cool completely. 2) With this loaf - not too thick, not too thin. Not to digress too much, but when it comes to toast, the thickness or thinness of the slice is key. Some breads lend themselves to a thick slab - Blue Bottle Cafe (in downtown San Francisco) cooks an egg-in-the hole of Acme's pain de mie. Perfect. There are other breads I like thinly sliced and extra-toasted - Josey's rye comes to mind, also Anna's Daughters' Rye - a beautifully distinctive local bread. Once this was sorted, Josey got on with his afternoon, and I started thinking about what I'd eventually put on the bread.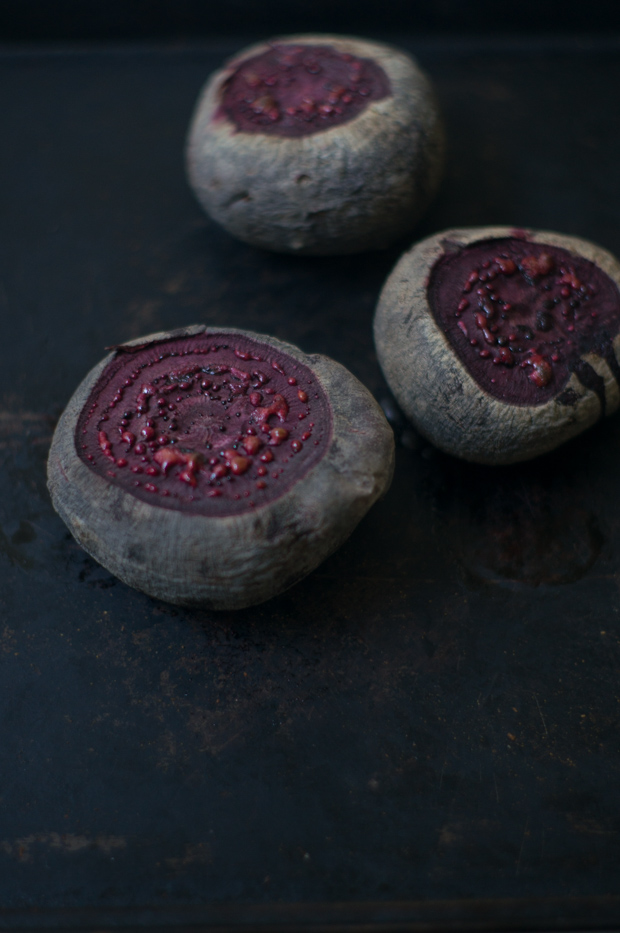 Silvena Rowe's book had been in my bag for a few days, I was reading it when I was on the bus, or waiting on a coffee. So I started paging through, and settled on a beet spread I knew would be beautiful - the sweet earthiness of the roasted beets accented with toasted walnuts, chives, dates, a bit of booziness, and a swirl of creme fraiche.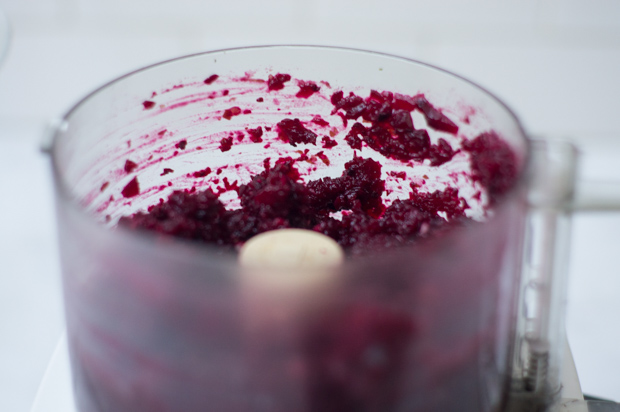 Silvena has written a couple of other books I have in my library - I suspect a good number of you might find them inspiring as well. I first purchased Purple Citrus and Sweet Perfume: Cuisine of the Eastern Mediterranean, and then Orient Express: Fast Food from the Eastern Mediterranean.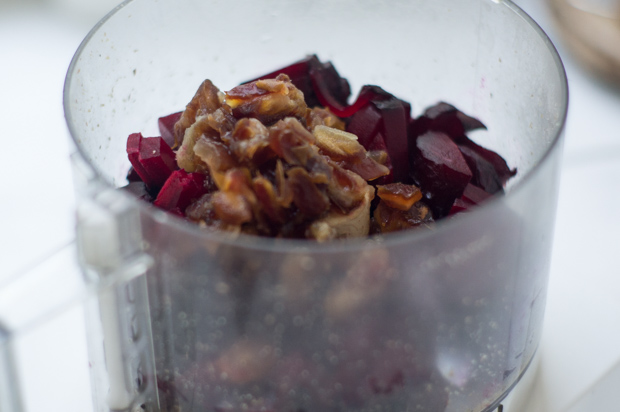 The beet caviar was a nice accompaniment to the einkorn, and I imagine it would be brilliant as a spread or dollop on just about anything - from toasted pita, to a harvest soup. A swirl would be nice in risotto, or as part of a mezze spread. Enjoy!
More Dip Recipes
A Vibrant Beet Caviar
If you have bourbon or vodka on hand, you can use one of those in place of the cognac.
Ingredients
4

medium beets, washed and trimmed

5

plump dates, pitted and chopped

2

tablespoons

cognac (bourbon, or vodka)

4

garlic cloves, peeled and smashed

2

tablespoons

lemon juice, plus more to taste

1/2

cup

chopped toasted walnuts

3/4

teaspoon

fine grain sea salt

3

tablespoons

creme fraiche, plain yogurt, or sour cream

lots of freshly chopped chives
Instructions
Preheat the oven to 400F with a rack in the center. Puncture the beets with a fork a few times, and roast for an hour, or until the beets are completely tender when you test by cutting into the center with a knife.

In the meantime, gently heat the cognac in a small saucepan. Place the dates in a glass bowl, and, when just hot, pour the alcohol over the dates. Jostle around a bit, and soak for at least 10 minutes.

When the beets are cooked and cool enough to peel, remove the skins and chop into cubes. Place in a food processor with the dates, cognac, and garlic. Puree until the texture is to your liking - I left a bit of texture here, but you can go smoother if you prefer.

Transfer to a serving bowl before adding the lemon juice, walnuts, and salt. Taste, and adjust the seasoning if needed. Serve swirled with the creme fraiche, and finished with chives.
Related Recipes
More Recipes
Popular Ingredients