Big Sur Bakery Hide Bread
From the Big Sur Bakery cookbook, a seed-packed pocket bread recipe contributed by a good friend of the bakery. Sesame, sunflower, flax and poppy seeds, quinoa and oat bran impressively cram themselves into these delicious, hearty rolls.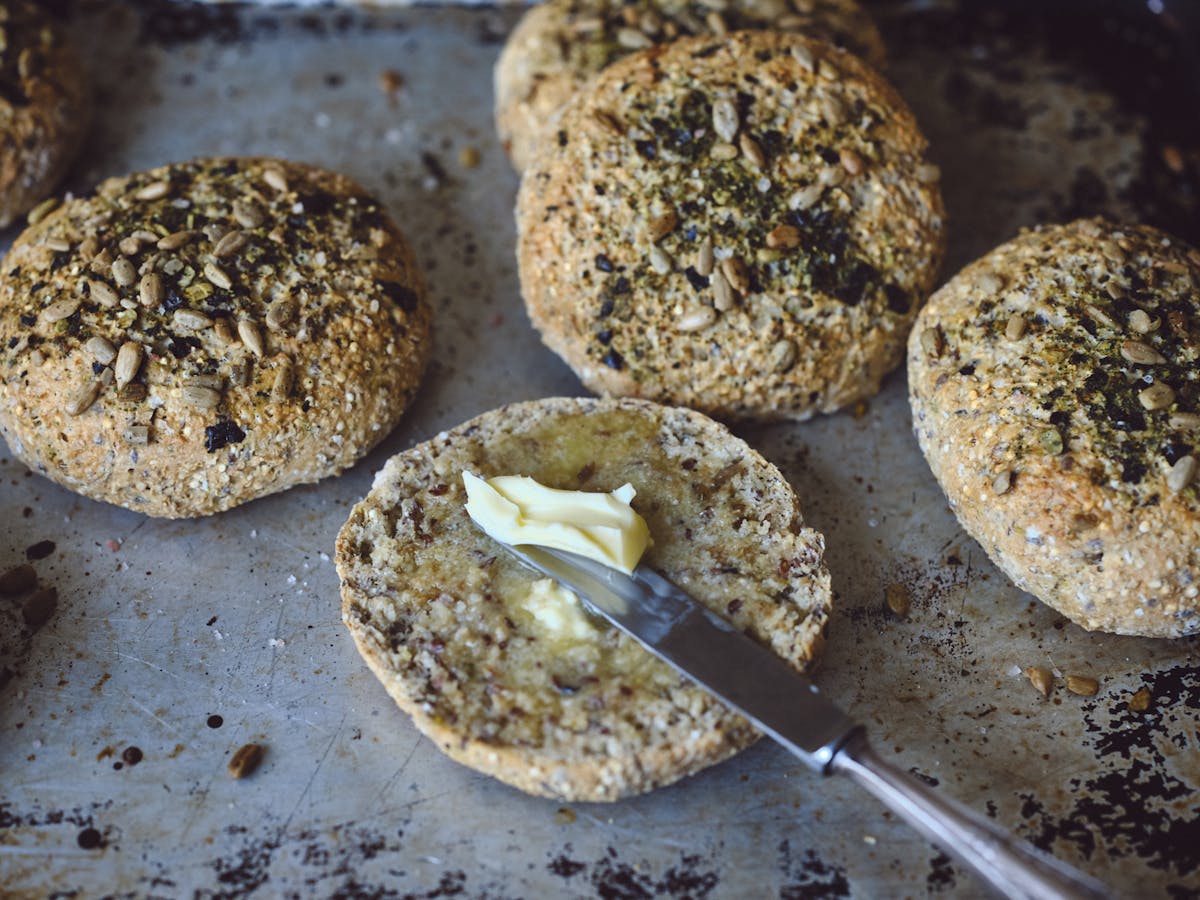 The Big Sur Bakery sits back off California's famous Highway 1 a bit, nestled next to a gas station. The owners, three of them, left the Los Angeles restaurant scene years ago, determined to turn a property with a lackluster track record into something special. They set their sights on a house-turned-abandoned-restaurant, eventually wrangling it into what is now the beloved Big Sur Bakery.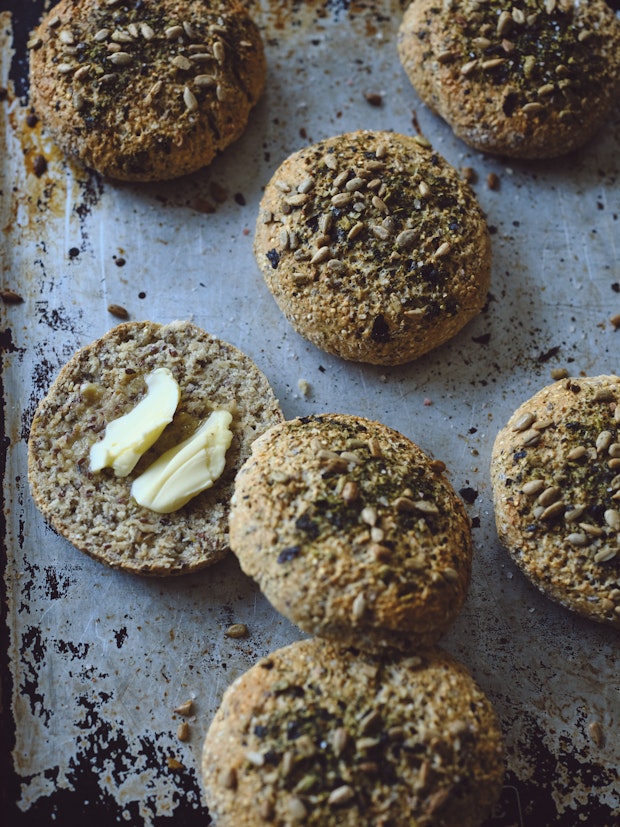 It was tough choosing a single recipe to feature from their namesake cookbook, but a seed-packed pocket bread contributed by a good friend of the bakery jumped out at me. Sesame, sunflower, flax and poppy seeds, millet, oat bran, and a splash of beer impressively cram themselves into palm-sized hearty rolls in a way that doesn't disappoint.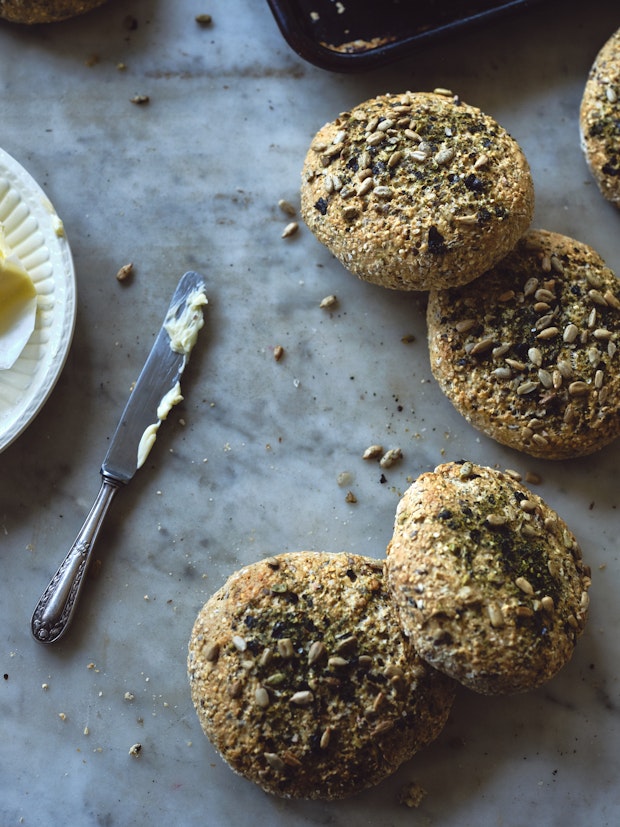 Big Sur Bakery Hide Bread
The recipe is from Terry "Hide" Prince, one of the bakery's earliest friends. If you can imagine dense, seed and grain-packed soda bread, you're in the ballpark. Rather than using salt, Terry gathers kelp from the coast and uses it to season the bread. I use sea salt (and salad booster), or dulse flakes if I have them. Use what you have. The key to enjoying these delicious little breads (and I can't emphasize this enough), is splitting them open, toasting until they are deeply golden, then slathering generously with butter (or drizzling with olive oil). Then sprinkle with a bit more salt. Blissful buttery crunchiness.
Variations
These are divisive little pucks. People either have deep love for them, or….don't. You can browse the comments for insight into both camps. They also take well to endless variations. As you can see from terry's comment below, that's the spirit of it!

More from Terry: He says, "There's no need to be intimidated by making my bread. It was born out of a sea voyage, from Hawaii to New Zealand, because it was easier than yeast bread. I used my friend, Jay's, Irish soda bread recipe, only I added my own super foods. Amaranth, millet, and quinoa all have the 8 essential amino acids for building muscle, flax seeds for digestion, and kelp or seaweed for vitamins and minerals. I keep a 5 gallon pickle bucket with my dry bread mix, adding whatever sounds healthy."
A gluten-free version: Obsoletepostergirl says, "t

his recipe adapted very well to gluten free. I used my usual mix of brown rice flour, millet flour, oat flour, and tapioca starch in place of the flour. I used coconut milk in place of buttermilk as well. They turned out wonderfully when toasted!"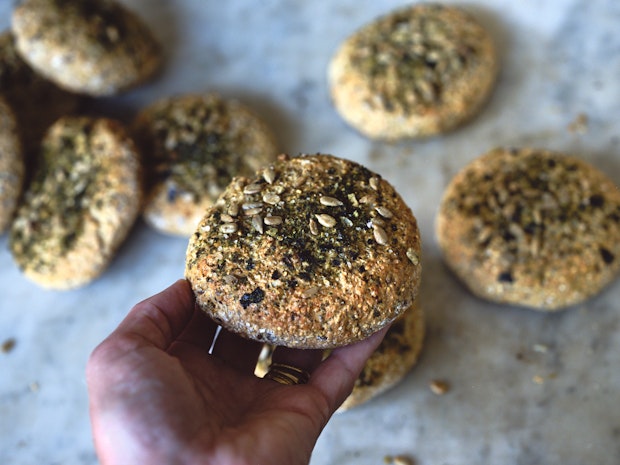 The Big Sur Bakery Cookbook
The cookbook captures a year in the life of the restaurant through a series of vignettes, purveyor profiles, and recipes. Anyone who dreams of starting their own restaurant should have a read. One of the things I like about this book is the way it illustrates many of the things that make creating a restaurant so fulfilling. At the same time it isn't afraid to touch on some of the stuff that also makes it so difficult. As I'm sure many of you know (or can imagine) Big Sur is remote, and running any sort of business in a town connected by a single power line to Carmel isn't without its challenges.
How To Make Big Sur Hide Bread
Here's a quick guide to the major steps needed to make this bread.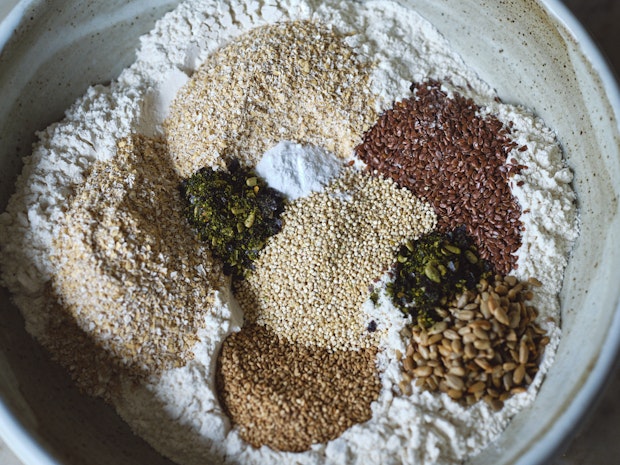 Step 1: This bread comes together like a soda bread. No yeast is called for, it's a quick bread that comes together in no time with baking soda as the leavener. Start by combining the dry ingredients in a large mixing bowl. Add buttermilk to this dry mixture and stir until everything comes together.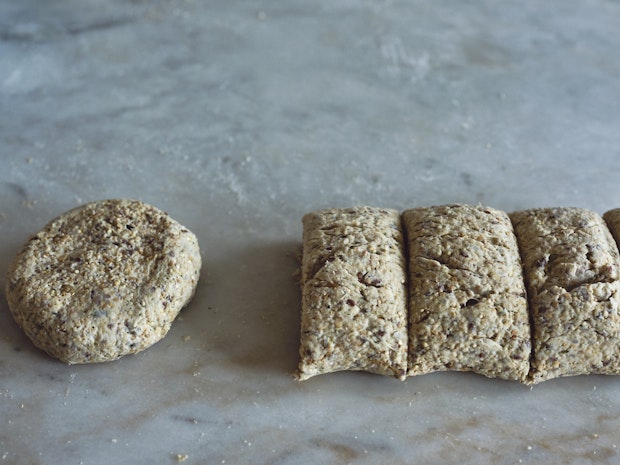 Step 2: Turn the dough out onto a countertop, roll into a wide log. Slice into equal pieces and for into patties. The shape I aim for is like a small English muffin.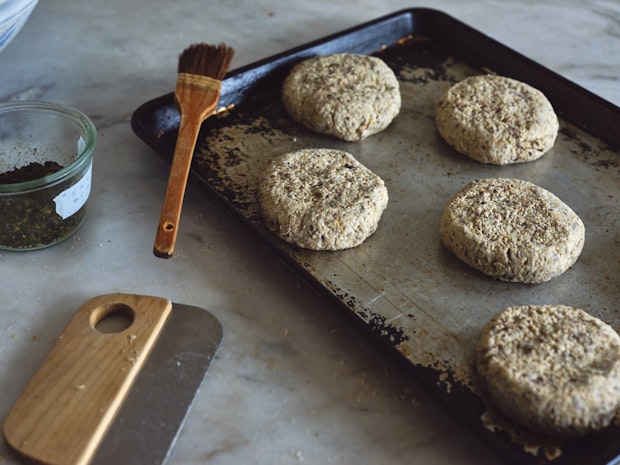 Step 3: Brush the tops of each roll with buttermilk and sprinkle with seeds and seaweed.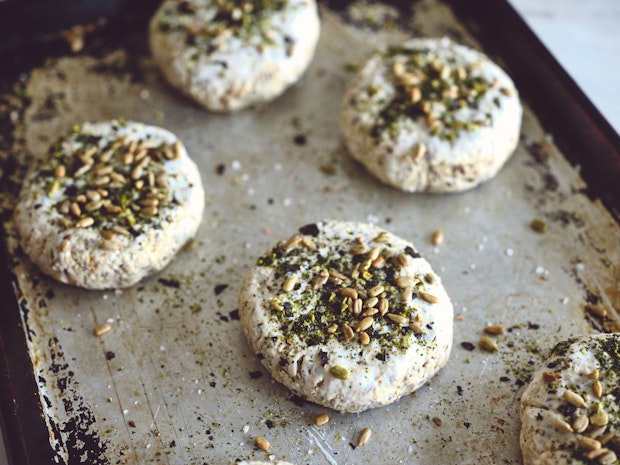 Step 4: Bake for about 45 minutes or until the bottoms are golden.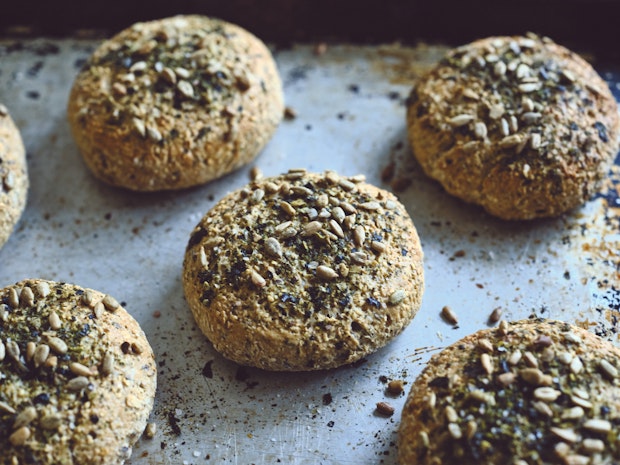 A Few Things That Make the Big Sur Bakery Special
I've been to the bakery a number of times over the years. I love the dark wood, the beautifully rustic morning pastries, and the mix of locals and people just-traveling-through intersecting at the counter. The bakery serves coffee and pastries in the morning and early afternoon, lunch on certain days, as well as dinner (hours listed here). The heart of the bakery is the wood-fired stove - and much of the food served (and featured in the cookbook) is inspired by it.
A Bit More About the Cookbook
The Big Sur Bakery Cookbook includes a wide range of recipes, not simply pastries and baked treats. Also plenty for vegetarians and non-vegetarians alike. I've earmarked the Dresden Stollen (legendary), Nine-Grain Pancakes, Date & Quinoa Muffins, and the Fresh Garbanzo Bean Stew. Sara Remington did the photography for the book - a beautiful combination of portraits, images of Big Sur, meals shared, and of course, no end to the photos of the food. In all, 262 pages, full color. If you haven't been able to visit in person yet, the book is next best.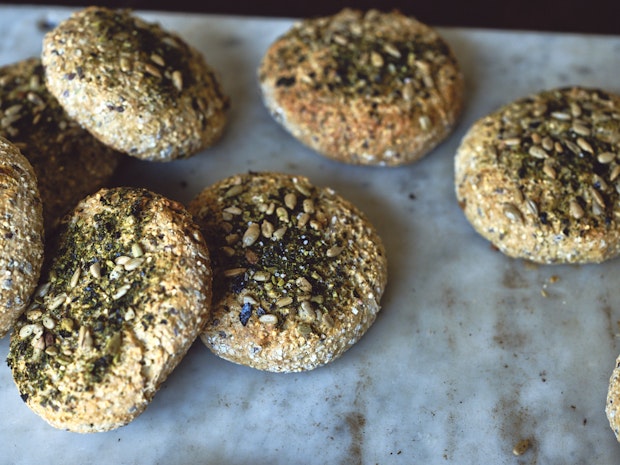 More Bread Recipes
Big Sur Bakery Hide Bread
This is an adapted version of the recipe incorporating tweaks I've made over the years including adding seeded tops and incorporating weight measurements. If you don't have salad booster on hand, use dulse flakes which are called for in the original recipe, or skip the seaweed component if you like.
Ingredients
5

cups

/ 625 g unbleached all-purpose flour, plus extra flour for dusting
.

1/2

cup

/ 90 g flax seeds

1/2

cup

/ 80g sesame seeds

plus more for sprinkling on top

2

cups

/ 220 g oat bran

1/4

cup

/ 36 g sunflower seeds

1/2

cup

/ 95 G amaranth, quinoa, millet, or poppy seeds (or any combo of these)

2

tablespoons

salad booster

or dulse flakes

1 1/4

teaspoon

fine grain sea salt

1

teaspoon

baking soda

1/4

cup

plus 2 tablespoons beer

2 1/2

cups

buttermilk, half-and-half, milk, or water

unsalted butter, softened for serving
Instructions
Adjust the oven rack to the middle positions and preheat the oven to 375°F / 190°C degrees. Line two baking sheets with parchment paper if desired.

Place all the dry ingredients in an (extra-large) bowl, stir them together, and make a well in the center. Add the beer and the buttermilk. Mix with the handle of a wooden spoon until a thick, wet batter forms.

Sprinkle a layer of flour over the top. Turn the batter onto a lightly floured surface and roll it into a loose log about 2 inches in diameter. Cut it into 1 1/2-inch-thick slices and pat them down with your hands to form chubby patties.

Place the patties on the baking sheets, brush them with a bit of buttermilk and sprinkle with seeds and crumbled seaweed / dulse. Bake for 45 minutes, or until golden brown. Let them cook completely.

To serve, slice each patty in half, either warm from the oven (or toast it well). Smear with butter, and sprinkle with salt. Hide bread is similar to an English muffin in that if you don't toast it, it can taste a bit raw.
Notes
Makes about fifteen homemade bread rolls.
Related Recipes
More Recipes
Popular Ingredients