Meyer Lemon Focaccia
You can make this. I promise! It's a golden crusted focaccia draped with whisper thin rounds of Meyer lemon, studded with black olives, and a showered with sliced almonds. It's the one focaccia recipe you need.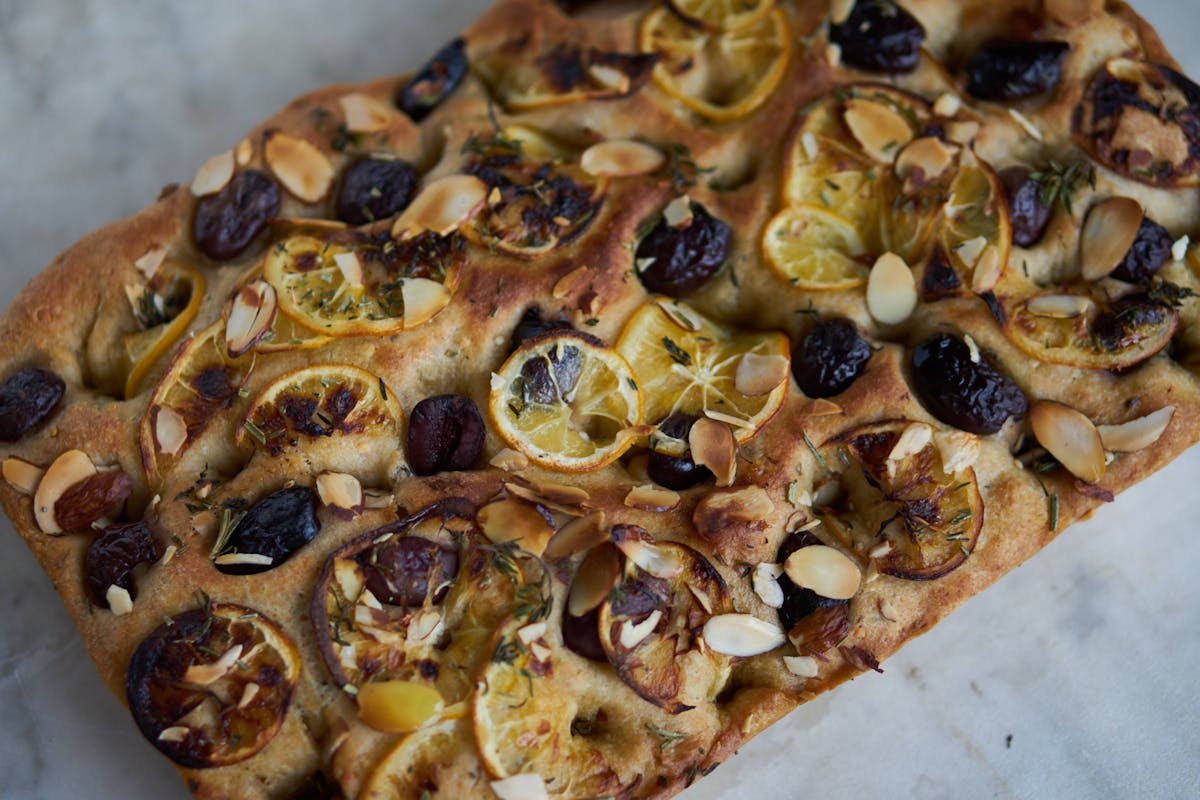 You can make this. I promise. Even if you don't think you're much of a baker. It's a golden crusted focaccia draped with whisper thin rounds of Meyer lemon, studded with black olives, and a showered with sliced almonds. The dough is herb-flecked with a generous boost of hemp seeds, and a percentage of rye flour if you happen to have some on hand. It's the same one I posted to my Instagram feed, and It's the one focaccia recipe you need!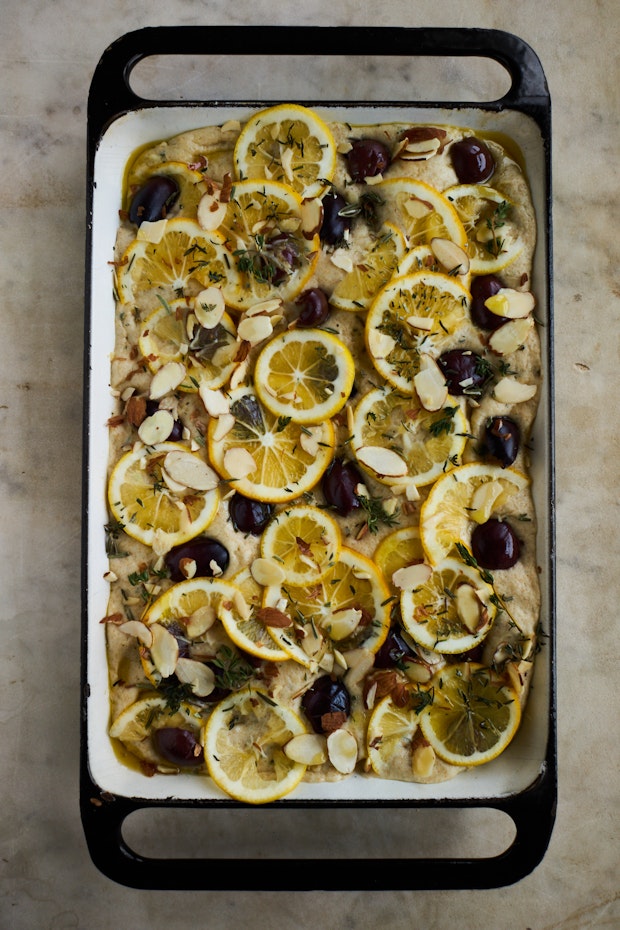 The Pre-bake:
The shot above is what the focaccia looks like prior to baking. I used an enameled cast-iron baking pan, but(!) you can absolutely make the focaccia free-form (just shape it on a standard baking sheet). A third option is a cast iron skillet. I baked the last version I did in a 9-inch cast iron skillet. Experiment and have fun with it!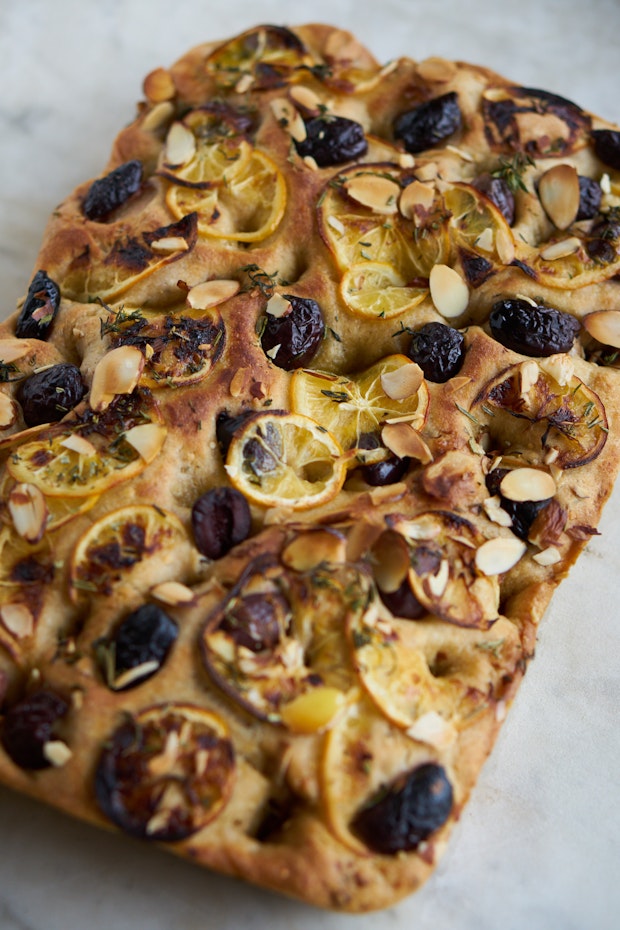 Focaccia Inspiration
I've been on a bit of a focaccia bender lately after making Nigel Slater's Cranberry Focaccia for New Years Eve (from The Christmas Chronicles). I forgot how simple and satisfying it is to make, and all the different ways you can top it based on what you have around the kitchen. You can adapt the recipe with all sorts of alternate toppings! Have fun experimenting.

Choosing the Correct Yeast:
This recipe calls for instant yeast, and I'm including a shot of the exact yeast I used for reference below. You can add it directly to the dough. Different than active dry yeast.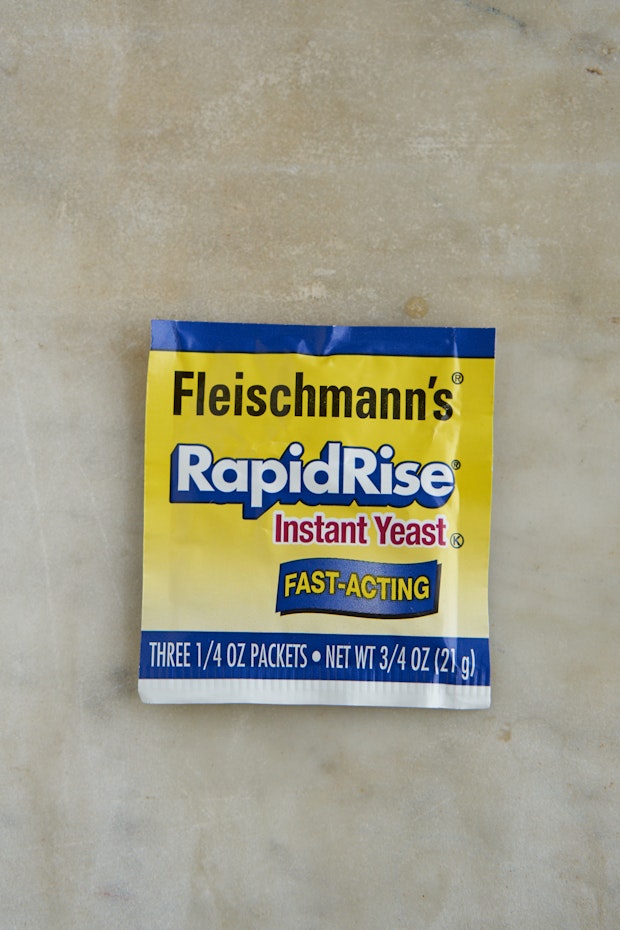 If you're ready to give your oven a workout, here's where you can browse all the baking recipes. This braided onion bread is a beauty, and you likely have most of the ingredients for this Easy Little Bread. Don't miss this black bread, or the Big Sur Bakery Hide Bread. And this oatmeal bread is so good, with lots of opportunity for variations. Have fun baking!
And, if you make this, or a riff on it, tag me on Instagram (heidijswanson) so I can see :)!
Meyer Lemon Focaccia
You basically want 500g of flour here, and you can play around with different flour blends. Here I use strong white bread flour, with a boost of (sprouted) rye flour, plus a good dose of chopped herbs and hemp seeds. I like this ratio - it results in a focaccia that is hearty without being heavy.
Ingredients
400

g

/ 3 cups strong white bread flour

100

g

/ 3/4 cup rye flour

1

packet fast-acting instant yeast

1

teaspoon

fine grain sea salt

1

tablespoon

extra virgin olive oil, plus more for drizzling

3

cloves

chopped garlic

3

tablespoons

hemp seeds, (optional)

2

tablespoons

finely chopped rosemary

2

tablespoons

chopped thyme

1 1/2

cups

/ 350 ml warm water (~120F)

2

Meyer lemons, sliced razor thin

15

black olives, pitted and halved

1/4

cup

slices almonds
Instructions
Combine the flours, yeast, salt, olive oil, garlic, hemp seeds, and half of the rosemary and thyme in a large bowl. Stir in the warm water, and mix until the dough comes together. Turn out onto a work surface and knead for five minutes or so, until the dough feels smooth and elastic. Rub the dough with a bit of olive oil, and return to a clean bowl. Cover the bowl with a tea towel and allow the dough to rise in a warm cozy place until doubled - 45 minutes, to an hour-ish.

Preheat your oven to 400F, rack in the middle.

You can bake the focaccia in a (8x12 or larger) pan or free form on a baking sheet. Tip the dough into baking pan, and deflate with flat hands. Arrange the lemons, olives, and almonds on top, and cover with a tea towel again. Leave to rise for another 20-30 minutes, until the dough is nice and puffy. At this point, use your finger to press deep holes into the dough. Drizzle with more olive oil, sprinkle with any remaining rosemary and thyme, and bake for thirty minutes, or until golden and cooked through. Remove from oven and cool on a rack for a bit before cutting and serving. Sprinkle with a bit more salt if needed.
Related Recipes
More Recipes
Popular Ingredients