Chocolate Dipped Biscotti
Sesame studded and heavily scented with crushed fennel seeds and chamomile, these chocolate dipped biscotti punctuated my espressos this week.
Sesame studded and heavily scented with crushed fennel seeds and chamomile, these chocolate dipped biscotti punctuated my espressos all week. They were the petite treats I looked forward to. If you've never baked biscotti before, they're a lot of fun, and quite adaptable. The main thing? You double bake them. First with the biscotti dough shaped into a long loaf. And a second time after you've baked and sliced those loaves into biscotti.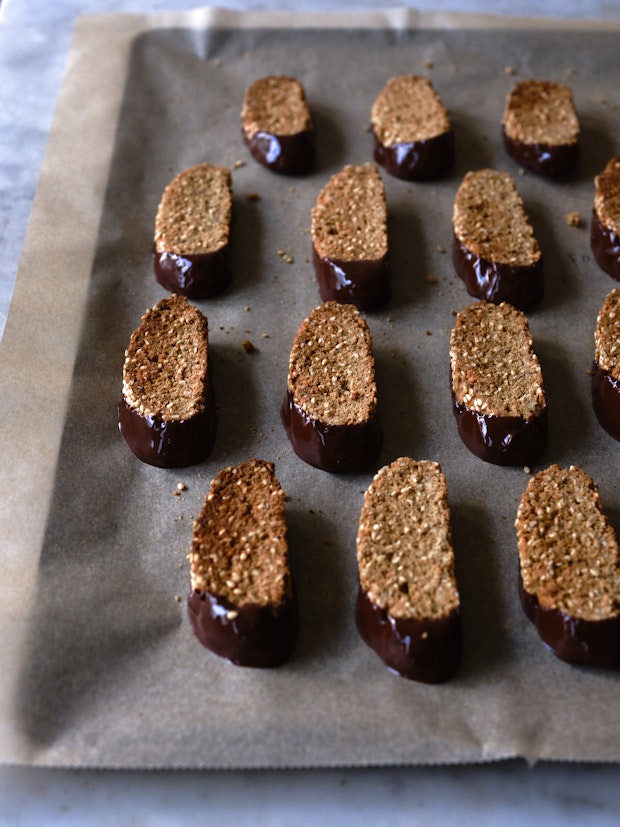 You can play around with the flavors here, but the way the fennel seeds and chamomile complements the chocolate is really fantastic (I used, and loved, Guittard 66% organic semisweet). That said, I'll offer up some alternative suggestions down below, because I totally get that not everyone keeps chamomile around ;) xx!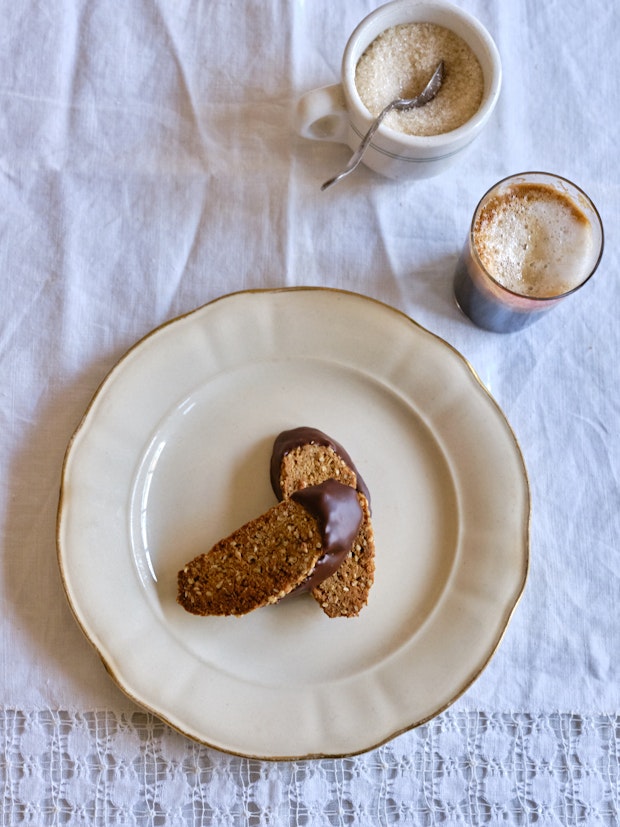 Biscotti Tips:
A couple things I should point out:
Rolling Technique: First, make sure to roll your dough into a tight shape (pictured below). This way, when you go to slice your biscotti after the first bake, they'll hold their shape. You don't want crumbling biscotti going into the second bake. A serrated knife is the way to go for slicing, using a quick sawing motion, and not too much downward pressure.
Texture and Baking: If you like a cake-y biscotti, slice them a shade thicker and bake them for a hint less time. If you like a crunchier, more structured biscotti, slice them a shade thinner, and bake them a bit longer (consider flipping them toward the end to really get both side toasty).
Storage: On the storage front. They'll keep in an air-tight container for a couple of weeks.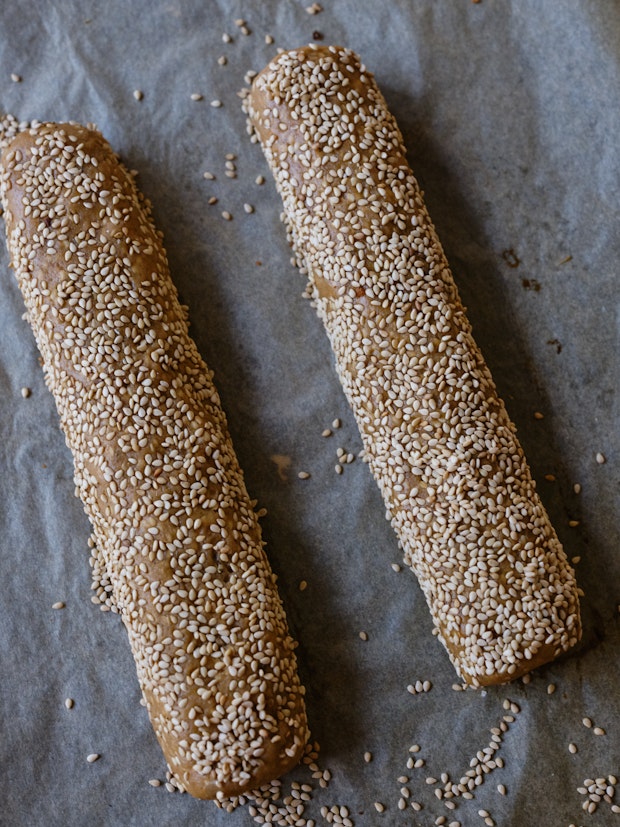 Variations
Herbs: I love herbs like rosemary, thyme, and lavender in biscotti. You can experiment with those. Chop and add to your dough with the other dry ingredients. Go easy, make notes, and adjust each time you bake them. A teaspoon is a good place to start.
Spices: A bit of turmeric, cinnamon, ginger, cloves, all are welcome here. Basically if it's a flavor you can imagine being good in a muffin, it's fair game here. Or, pre blended spices. My favorite chana masala blend is magic here, and garam masala is a good fit as well.
Citrus Zest: Lemon zest, makrut lime zest (or minced leaves), orange zest - all add a sunny punch of flavor.
Outer Texture: I rolled these biscotti in sesame seeds to add some texture and boost the flavor inside the cookies, but you could go in all sorts of directions. You could roll them in large grains of sugar, for a crunchy, shardy texture. Or, poppy seeds (or a blend of seeds) could be nice. Or, you could add some sort of flavor boost or ingredient to the egg wash you do before the first bake.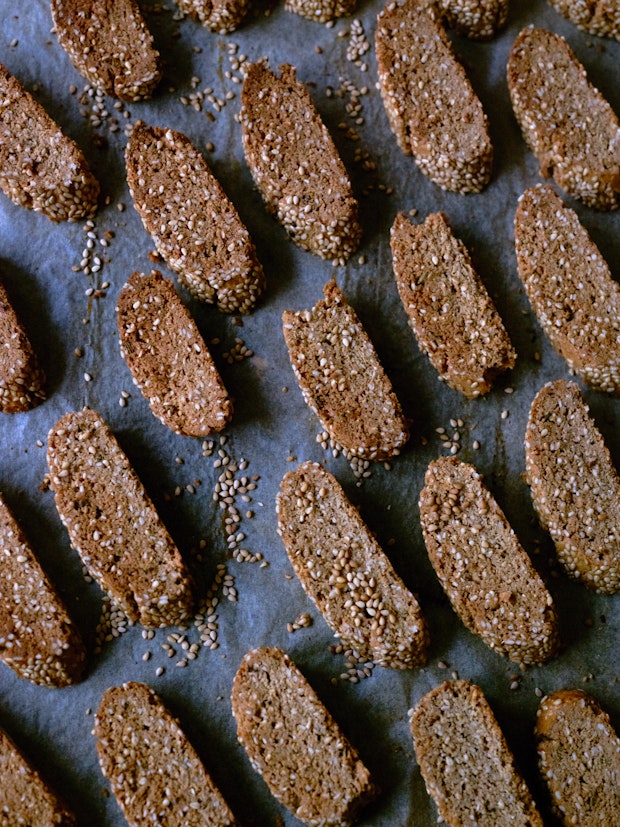 This is what my biscotti looked like when they came out of the oven after their second bake. Once you've sliced your biscotti, for the second bake, you can put them all on one pan. They've already risen, so you don't need to distance them the way you would with most other cookies.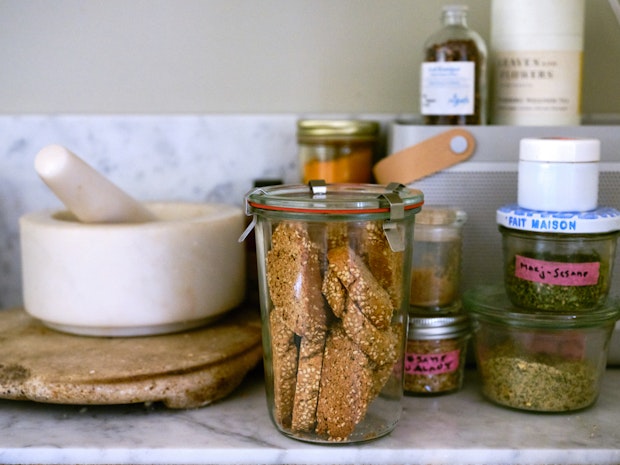 More Biscotti Recipes
Chocolate Dipped Biscotti
I love these cookies made with almond extract in place of (more typical) vanilla extract - but either are great! I've also made these using oat flour in place of the cornmeal resulting in a slightly softer biscotti. You can use fresh or dried chamomile here, it lends a honey-sweet scent to the cookies - or skip it altogether.
Ingredients
2

eggs

1/4

cup

unsalted butter, room temperature

3/4

cup

brown sugar / 100g

2

teaspoons

almond (or vanilla) extract

3/4

cup

/ 100g whole wheat pastry flour

1/2

cup

/ 70 g unbleached all-purpose flour

1/4

cup

/ 20g fine cornmeal

1/2

teaspoon

baking powder

1/2

teaspoon

fine grain sea salt

2

teaspoons

fennel seeds, crushed

1

teaspoon

crushed chamomile (optional)

1/2

cup

/ 60g toasted sesame seeds, plus more for coating

semi-sweet chocolate, for dipping
Instructions
Preheat the oven to 350F / 180C. Line a baking sheet with parchment paper. Whisk one of the eggs in a small bowl and set aside.

Use a mixer with paddle attachment to cream the butter and sugar together until light and fluffy. You can also do this by hand. Add the remaining egg and the extract, and mix until uniform.

Combine the flours, cornmeal, baking powder, salt, fennel seeds, and chamomile in a medium bowl. Add this dry mixture to the wet ingredients. Stir until the dough comes together into a soft dough. Stir in the sesame seeds. Gather the dough into a tight ball, cut in half, and refrigerate for 15 minutes.

On a floured surface, roll each portion of dough into a tight 1 1/2-inch wide tube. Sprinkle more sesame seeds on the counter and roll the dough over the seeds to coat the roll. Carefully transfer to the baking sheet, flatten a bit, brush with the egg wash, and bake for 25 minutes, or until nicely golden. Allow to cool completely.

Transfer to a cutting board and use a serrated knife to cut 1/2-inch slices. Arrange on the baking sheet in rows and bake for another 10-15 minutes, or until golden. Allow to cool completely. At this point you can dunk them in melted chocolate if you like, or enjoy straight. If dipping allow them to set on the parchment paper. I love these dunked into a shot of espresso!
Notes
Makes 1 1/2 - 2 dozen biscotti.
Related Recipes
More Recipes
Popular Ingredients