Blistered Green Beans with Walnut Sauce
Blistered green beans paired with a favorite garlic-spiked walnut sauce and topped with extra toasted walnuts and grated cheese.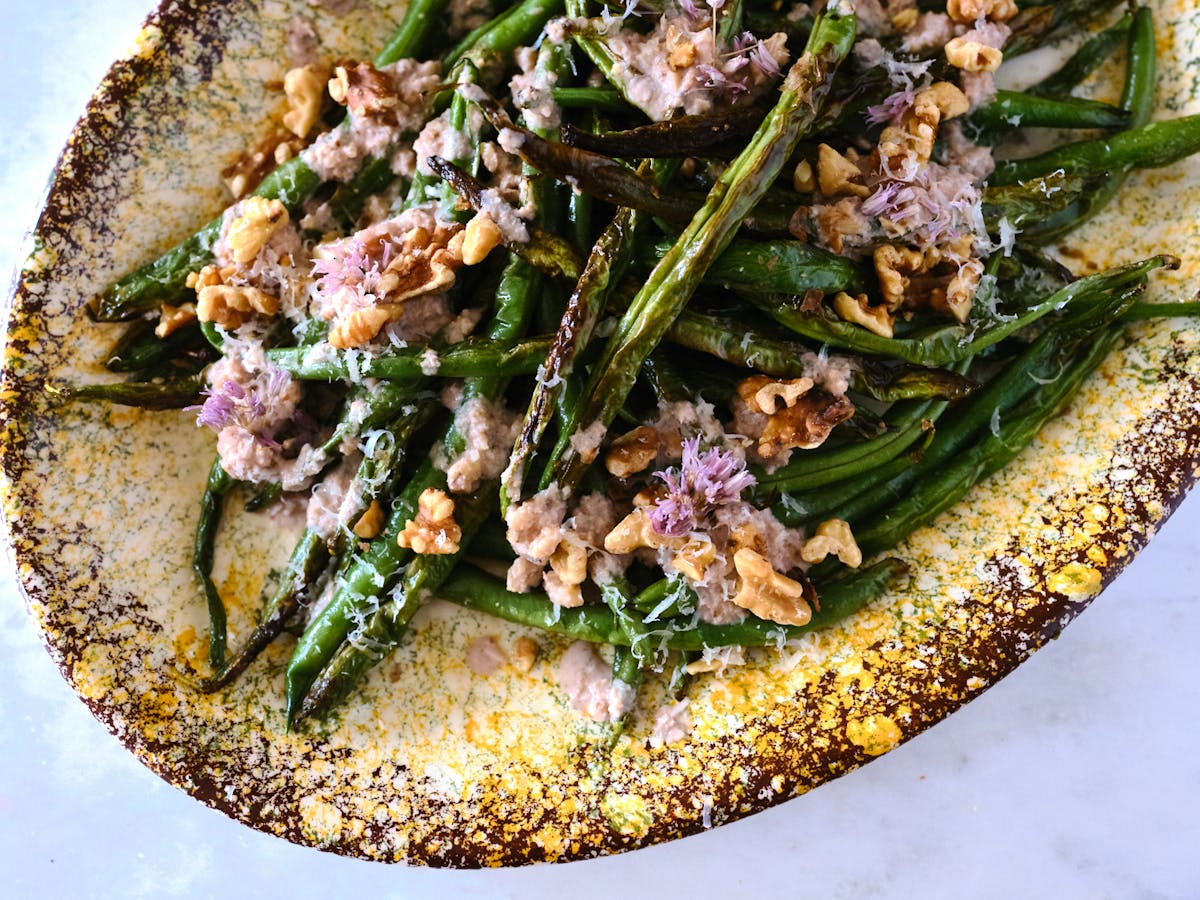 I've been cooking green beans a dozen different ways recently. They're all over the markets right now, and as a bonus, we also had a good crop at our garden this year. These blistered green beans were the stand-out green bean recipe of the season.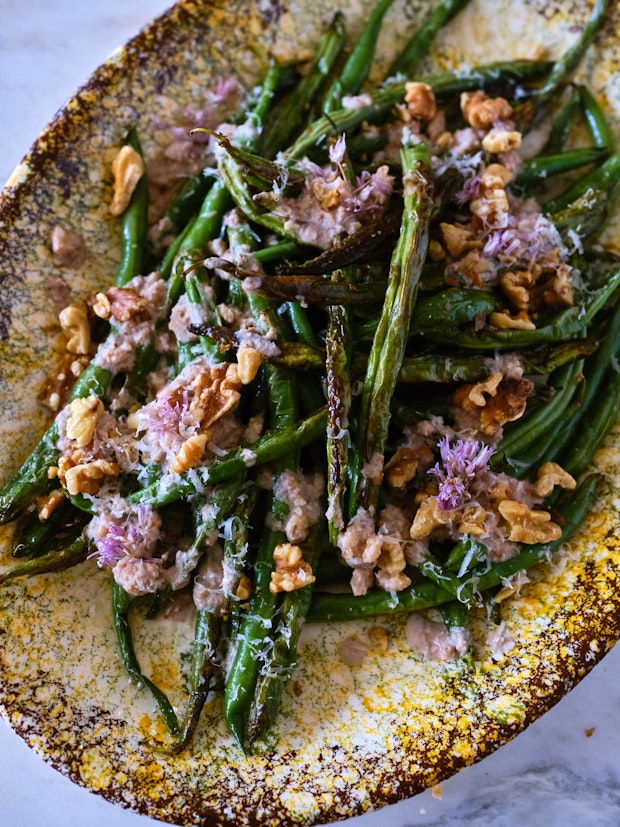 Blistered in a scorching hot pan, paired them with a favorite garlic-spiked walnut sauce and topped with extra toasted walnuts and a bit of grated cheese. Simple and incredibly good. You can make the sauce ahead of time, and then, when you're ready, you're literally under ten minutes from green bean perfection.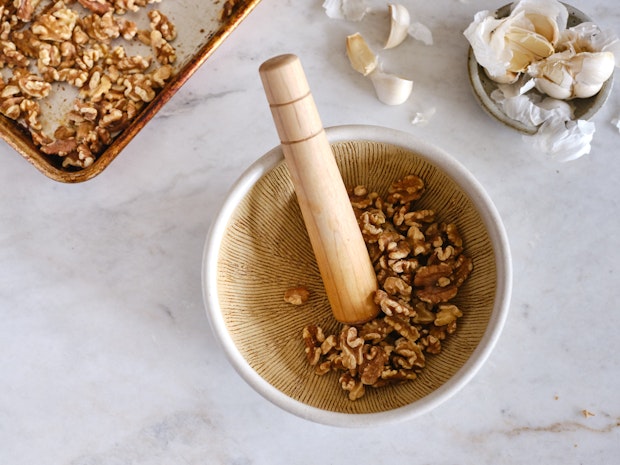 Do I need to Trim the Green Beans?
This is basically up to you. I often don't bother with topping and tailing each bean, particularly if the beans are still fresh and tender. You're cooking these quite intensively, so keep that in mind. That said, trimming any stems, or tough spots is recommended.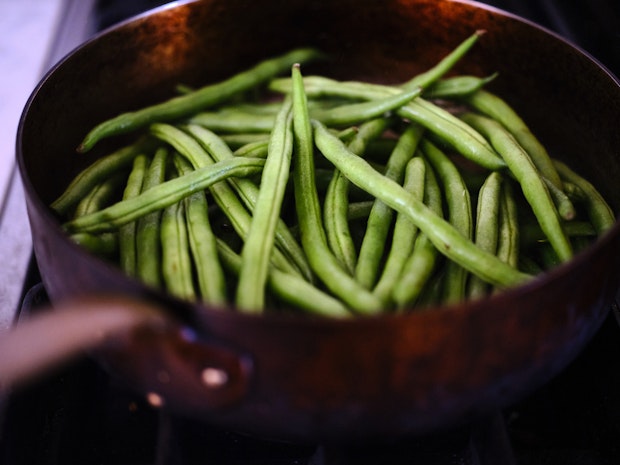 Some Variations
There are a number of alternate directions you can take this! For a spicy version, you can finish the green beans with a drizzle of chile oil, or toasted sesame chile oil. If you love herbs shower the green beans with chopped basil, mint, chives, and/or marjoram after you've finished cooking. Or, make a meal of it. I enjoyed these over a bowl of pasta noodles with extra walnut sauce. So good! The blistered green beans and walnut sauce are also A+ over simple brown rice.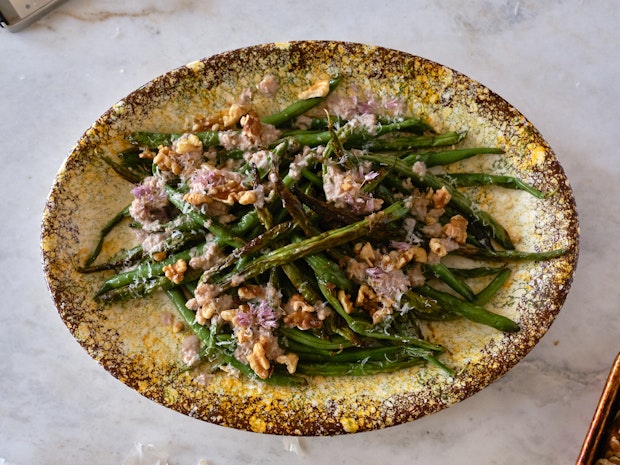 More Green Bean Recipes
If you're looking for other ways to cook green beans there are some really special ones in the archives.
The simplest: Vibrant Tasty Green Beans
Wildcard favorite green bean recipe: Anna Getty's Feisty Green Beans
This green chile-spiked Yellow Bean Salad
This nut-studded, slaw-like Green Bean Slaw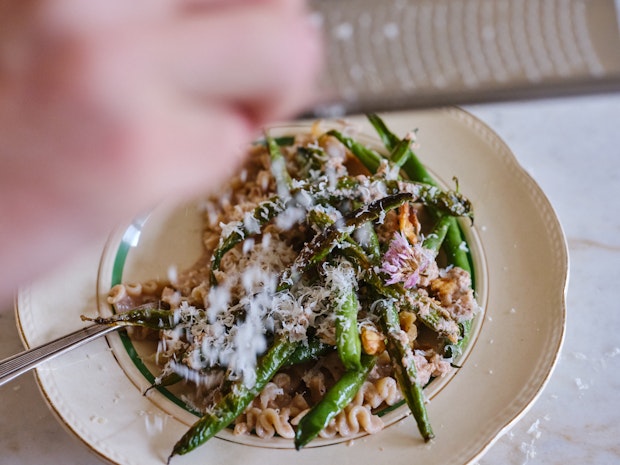 You can see the blistered green beans here over pasta tossed with the walnut sauce. Enjoy!
Blistered Green Beans with Walnut Sauce
The main thing here is to avoid over-toasting your walnuts. It can make the sauce bitter. This recipe makes quite a bit of sauce. Use the leftover with pasta, or boosted with a bit of extra lemon juice for a salad dressing. It will keep refrigerated for up to a week.
Ingredients
2

cups

toasted walnuts

4

cloves

garlic, peeled

1/4

t

salt

1 1/2

cups

hot water

1/2

cup

grated Parmesan cheese

Juice and zest of one lemon

Freshly ground black pepper

12

ounces

/ 3/4 pounds green string beans

2-3

tablespoons

extra virgin olive oil

Bonus: chives and/or chive flowers for serving
Instructions
Make the walnut sauce:
Crush most of the walnuts and garlic and salt together in a mortar and pestle. Alternately, you can pulse with a hand blender, but leave a bit of texture & chunkiness.

Gradually work a cup of the hot water into the walnut mixture, adding more until your sauce is thick as heavy cream. Err on the thick side. Stir in half the cheese, a couple tablespoons of lemon juice, and more freshly ground black pepper than you think you'd want. Taste and add a bit more salt to the sauce if needed. If it's all in balance, this should taste Awesome. Capital A awesome. Set aside.
Blister the green beans:
Now you're going to cook the green beans in your largest skillet. Warm the olive oil over medium-high heat. Stir in the the green beans, until they're coated with the oil, and sprinkle with salt. Dial the heat to high. Cook, uncovered, for 7-10 minutes stirring when you start to get some browning and blistering where the beans touch the pan. You really want to get some color here.

Transfer the green beans to a serving plater and spoon the walnut sauce over them. You'll have plenty of sauce left over in case you want to toss some pasta into the mix as well. Serve topped with remaining walnuts, lemon zest, cheese, and chives/chive flowers if you have them.
Related Recipes
More Recipes
Popular Ingredients